When we embarked on our trip around the United States, one of the things we counted on was finding free overnight parking spots without any hookups. There are many RV friendly businesses that allow one night of parking on their premises, Walmart is one of them. Not every location offers overnight parking, so it's important to call ahead and ask the manager. Cities like Fort Collins, Colorado have ordinances that prohibits overnight parking in parking lots. The Allstays Camp & RV app is a good tool to find free overnight RV parking at Walmart.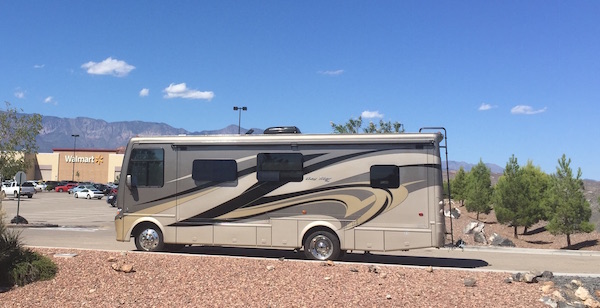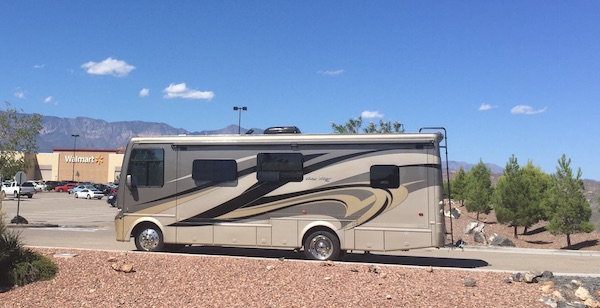 Free Overnight RV Parking at Walmart
We stayed at our first Walmart in Hurricane, Utah and had a great experience. The store was open 24 hours, very clean and had the nicest employees. The parking lot was large with RVs of all sizes scattered throughout. We were able to park in a spot towards the back corner that was out of the way. The parking lot was well lit and we felt safe our entire stay, allowing us to leave our RV for most of the day and come back without a worry. We also made a few trips into the store to buy supplies.
Why Not Go To a RV Park or Campground?
The cost of living in a RV full time and traveling around the country can add up quickly from fuel to campground fees. Being able to take advantage of the free parking opportunities will help us save money and travel for a longer period of time.
Can You Put the Slides Out and Run the Generator?
It depends. We were able to put our slides out and run the generator with the store's permission. We made sure to park in the back corner and did not block anyone else from accessing the parking area or run the risk of them hitting our slides when they were out. As it was in the 90s during the day, we ran the generator so we could put the AC on and charge up the batteries. Many people on the internet will state that you should do neither of these things as it might ruin the Walmart hospitality for others, however we'll continue to ask as we go and be respectful.
Interested in more free overnight RV parking options? List of RV friendly business in our Boondocking/Dry Camping post.