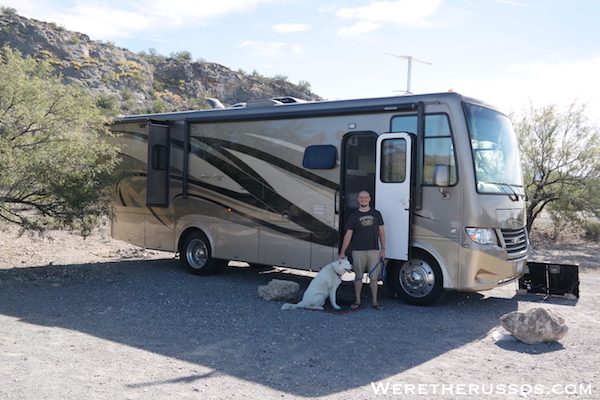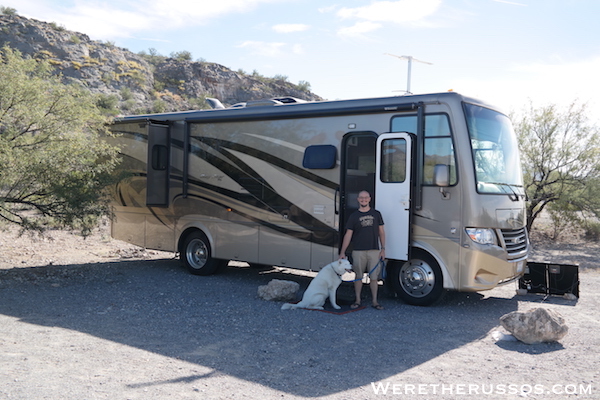 As we make our way east, free camping is becoming harder and harder to find. It makes us appreciate all the free campgrounds we've been able to use. We found free RV camping on BLM Land in Tucson, Arizona. About eight miles west of the city on Ajo Highway, the BLM land is right along the edge of an Indian Reservation and close proximity to Tucson Mountain Park. The BLM land is quite small in comparison to the national forest camping we found outside the Grand Canyon. Each campsite is well established and close to each other – not the type of place to go for peace and quiet.
This was our first time boondocking or dry camping on BLM land and we weren't quite sure what to expect. To make sure our motorhome would fit and the road was drivable, we detached at the Costco in town and drove the Jeep in to scope out the site. GPS coordinates 32.157842,-111.115391. There are multiple entrances into the campground, some are narrow and steep with brush on either side that could easily scratch a motorhome or cause it to bottom out. The roads around the campsites are mostly dirt with some rocky areas and large ruts. We were able to find a wide entrance that was fairly flat and found a good path to the campsite we picked out. We did see a Class A with a toad bottom out on a dip so sure to scope out the area if you plan to camp here.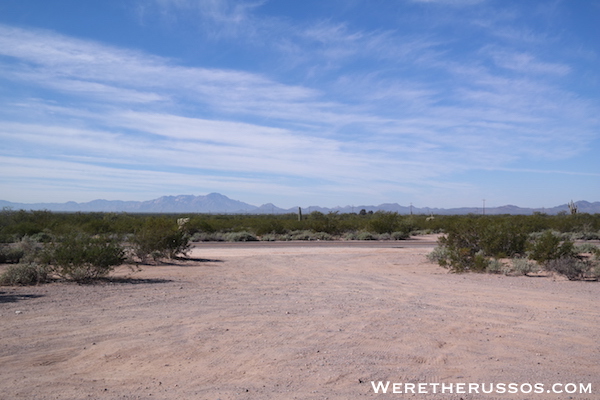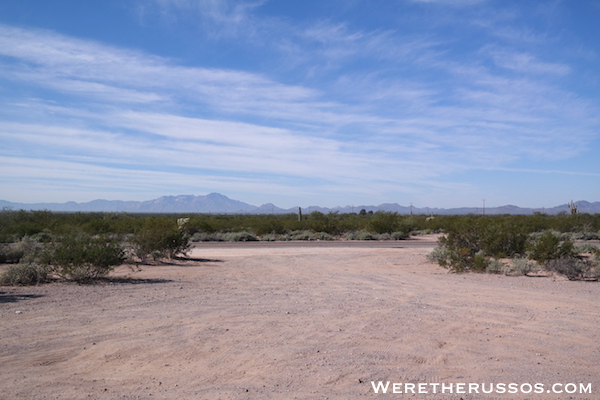 This BLM land has a 14 day limit and there are no facilities. We arrived on Thursday and the area was more than half full with tent campers, truck campers, trailers, fifth wheels and Class A and C RVs. During our eight day stay, we saw many campers moving through the area staying for only a day or two.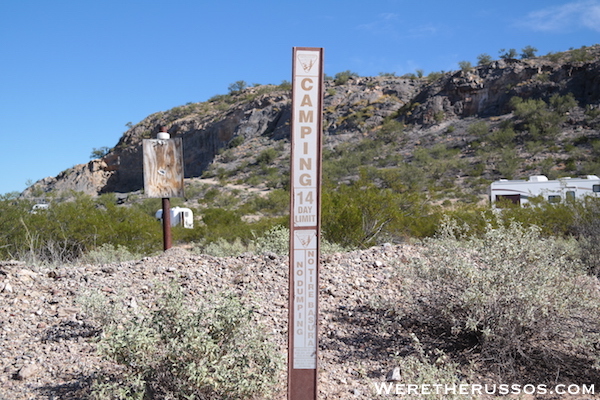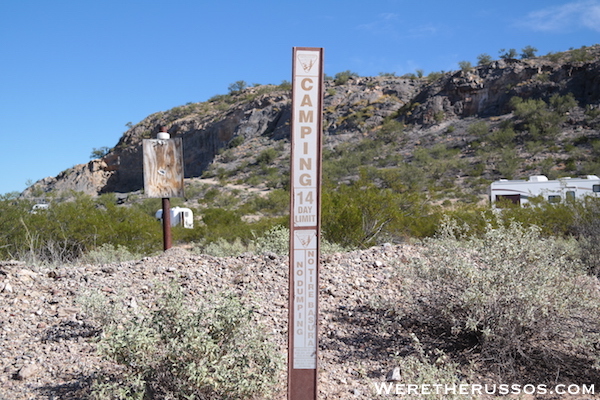 Safety is always a concern and it's a question we get asked often by RVers who don't dry camp on public lands. We felt safe the entire time we were camped here and never felt like we would come back to an empty space after being gone for the whole day. The one nuisance was our last night at the campground, a man drove around with his truck lit up flying a confederate flag.
This campground is not ideal for anyone looking to get away from it all and not have any neighbors. However, if you don't mind having neighbors, then this is a great area to camp in while you explore Tucson. We never felt unsure about leaving the RV for the day while we saw the sites. It was a convenient place for us to spend a week and hang out with my parents who drove in from California to visit. We went to Pima Air Museum together, which ended up being the highlight of our time in Tucson and we highly recommend it especially because the museum is dog friendly. The only issue we had was the last night we were there, a group of people camping near us were getting drunk and being very loud late at night.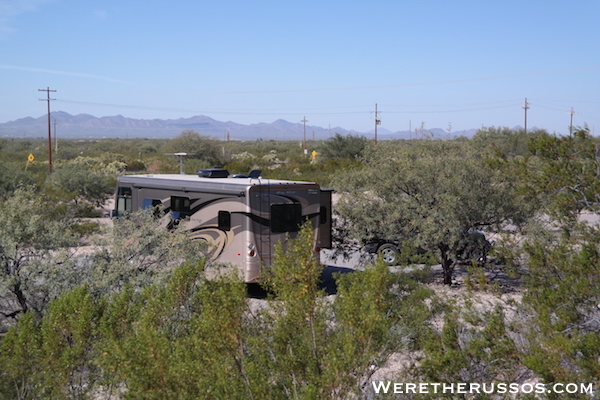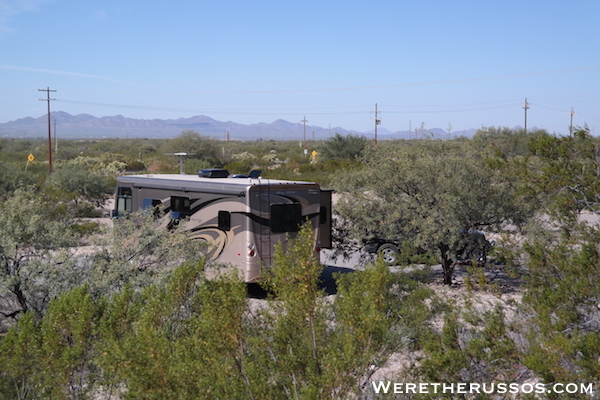 One great thing about our time here was the solar power. We didn't have to run our generator for the eight days we were dry camped, which was a first. Usually we run the generator for an hour or two each day when we are dry camping. The 100 watt portable solar unit we have was able to sustain us for eight days.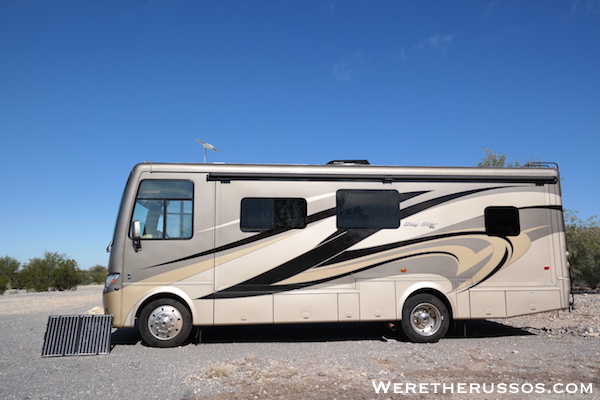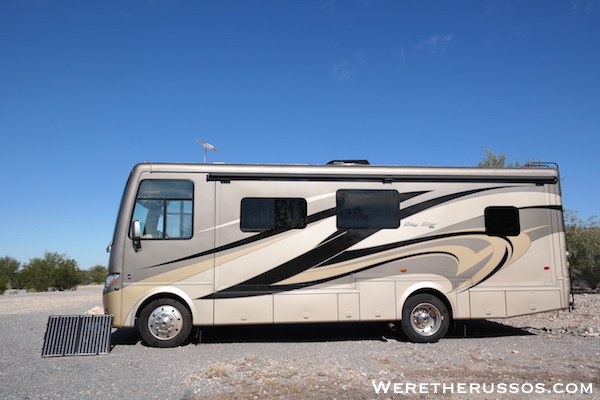 One of our favorites things about this campground were the beautiful desert sunsets. The locals have a saying "when the mountains turn pink, it's time for a drink."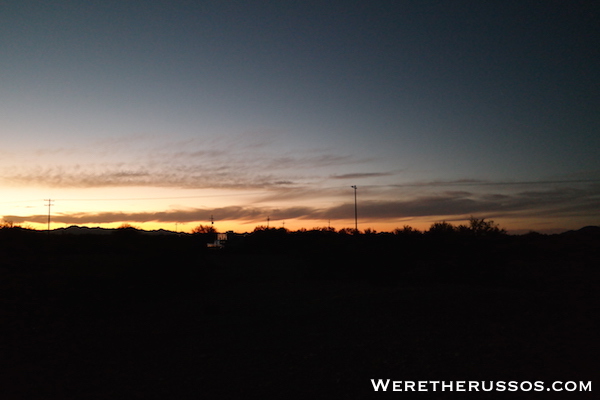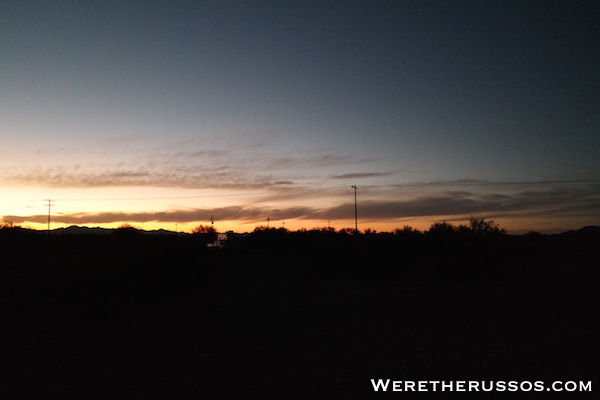 On our way out of Tucson, we found a free dump station at the Shell gas station near Pima Air Museum.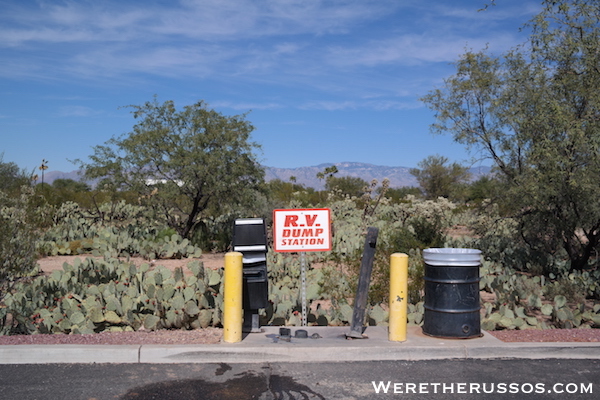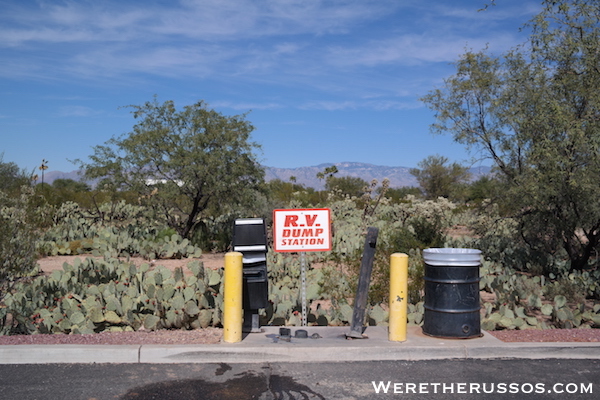 There was good AT&T cell/data coverage at the campground. It's worth mentioning that there is a Skeet Club nearby and shooting can be heard during the day. The club also has RV hookups for members at a decent price. We drove by and probably saw over a 100 RV's ranging from Airstreams to Prevosts all lined up behind the firing line.