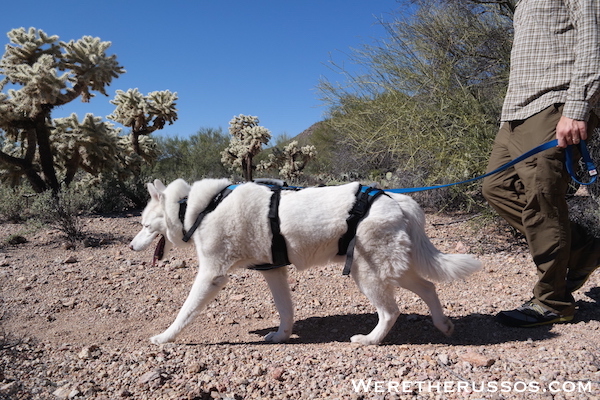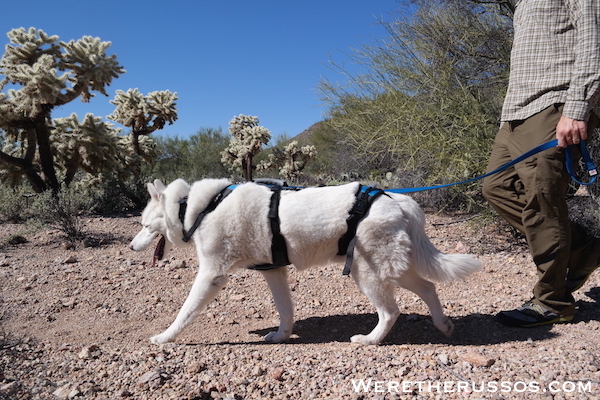 We first reviewed the Help 'Em Up harness with our dog Duke in April. He was having trouble getting in and out of our Jeep and the harness allowed us to help him with ease. Duke passed away in September, but during the time we used the harness with him, Duke regained his confidence and his quality of life was noticeably improved. We have also been able to use the harness on Leo our Siberian Husky and my mother's yellow Labrador Retriever. It's helped both of them in different ways and we wanted to provide a follow-up to our first review of the Help 'Em Up harness.
One drawback we mentioned in the first review was a concern with the stitching and how well it would hold up long term. It's been 7 months and we have not had any issues with the stitches on the harness.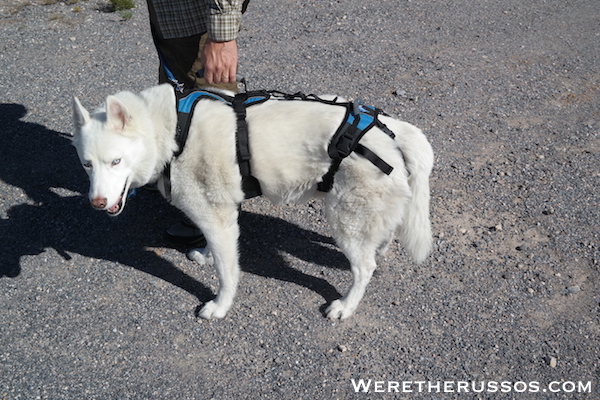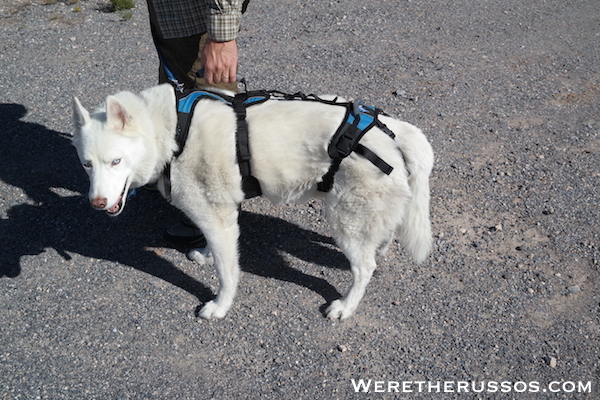 Leo is a very active dog and doesn't have any hip problems, but we've found many uses with the Help 'Em Up harness. He loves to go for hikes with us and if we know a trail is going to be difficult, we put the harness on him. This makes hiking with him much easier because we can clip his long leash to the attachment point on the harness. Not only do we have more control over Leo, but it prevents him from walking over the lead and getting tangled. When the trail gets difficult, we can use the harness to lift him up and over obstacles.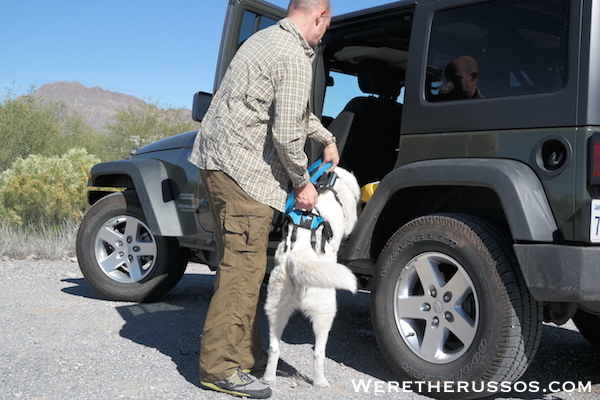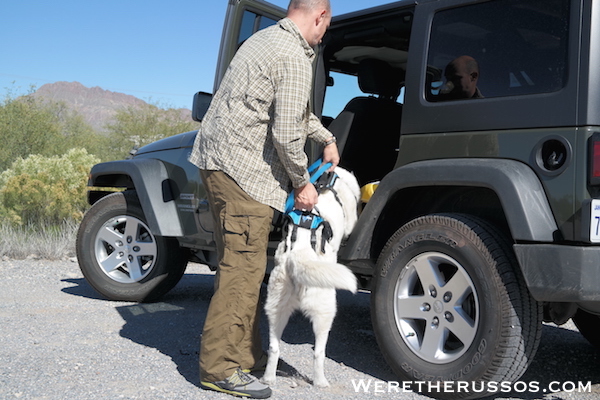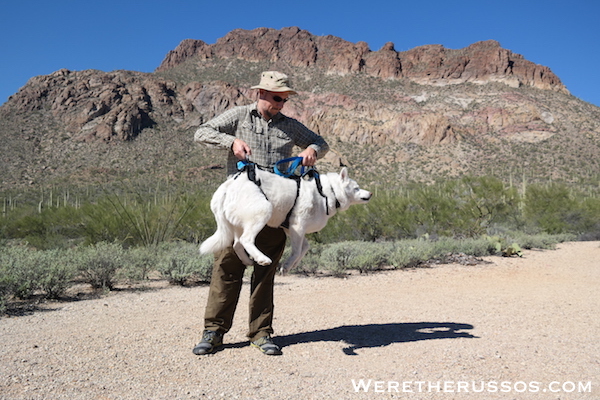 We also use the harness on Leo when we're walking through a new town and need better control of him. It's especially helpful if there are large crowds. The harness also comes in handy when we take him to a place with slippery surfaces often found at the veterinarian's office or pet stores. Leo has furry paws and tends to slip so we use the harness to help him glide along. When we forget to bring the harness, I have to bend down and pick him up.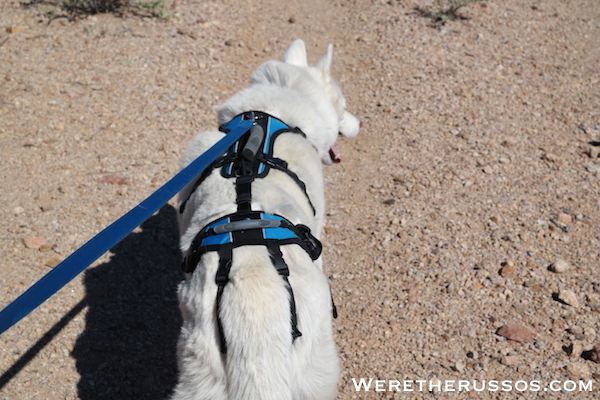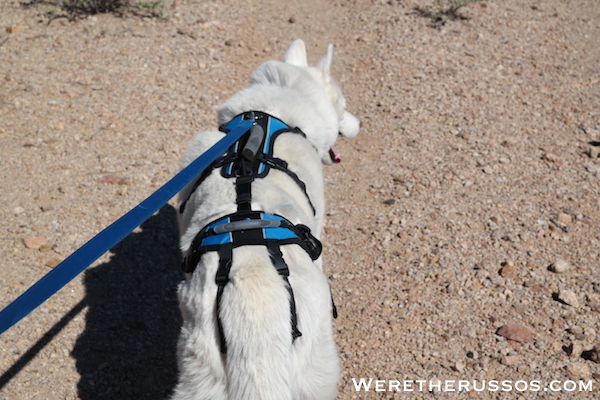 One question we always get is about how the dogs go potty with the rear harness on. Leo is able to go freely without any issues and that includes #1 and #2. The harness fits well around his privates and Leo doesn't seem to mind it.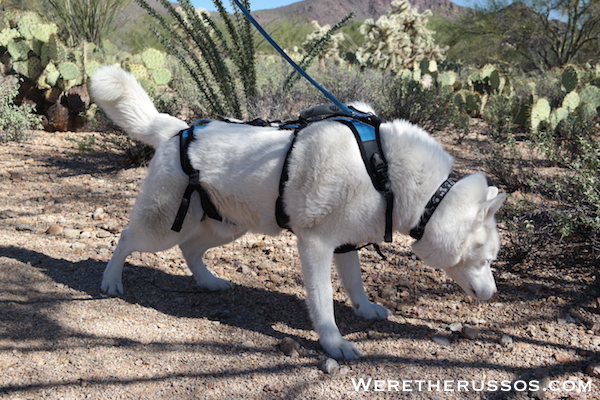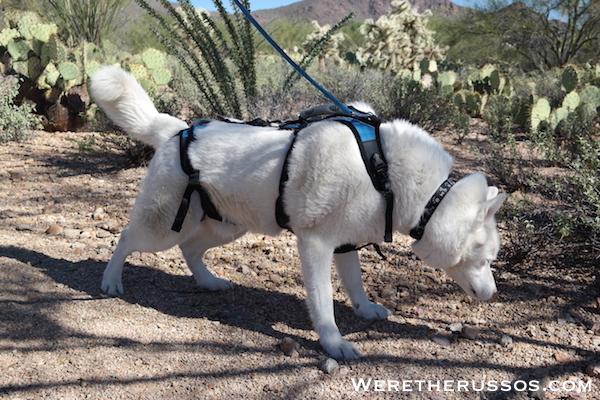 Tucker is my mother's yellow lab with bad hip and knee problems. We used to dog sit for my mom before we started our journey around the United States. Tucker is too big to pick up, so we used the harness on him to get him in and out of our Jeep as well as up and down tall steps.
Overall, we are very glad to have the Help 'Em Up harness and have found many great uses for it with our dogs. It's easy to put on and to take off. It's light weight and breathable. The fit can be easily adjusted with the straps. We would recommend Help 'em Up to any dog owner looking for a quality harness for their pup.
GIVEAWAY:
Help 'Em Up has generously provided us with a full harness to giveaway to a lucky reader. To enter in the giveaway, sign up for our newsletter AND leave a comment below to let us know why you want the harness. The email used for the newsletter must match the one used to comment. Giveaway Ended. Congratulations to Bree Chotiner, who was random selected as the winner of the Help 'Em Up giveaway!