One topic that comes up around the campfires quite a bit (at least when we're around) is about warehouse memberships. Most people who have a membership either belong to Costco or Sam's Club and we fall into the Costco category. Joe and I have been members for over 10 years and we've done the calculations. A Costco membership, is worth it for the way we use it. Even for our small family of two humans and one canine. Now that we are full time RVers, we still see the benefits. This post will share how we use our Costco membership and some ways to save money.
So, is a Costco membership worth it?
Ways to Save Money at Costco
Executive memberships. Costco offers three memberships: Gold ($55), Business ($55) and Executive ($110). We are Executive Members which comes with an annual 2% cash back reward on most purchases made at Costco. If you plan to spend more than $2,725 a year on eligible purchases, then it makes sense to choose the Executive membership. That would cover the cost of the membership. Everything you spend beyond that will be extra money back. Now that we travel full time we have cut down on our expenses. We are going to keep an eye on our Costco purchases to see if it makes sense for us to keep the Executive membership or downgrade to Gold.
Fuel up with Kirkland gasoline. On average, we've found Costco gas to be about $.03 to $.05 less per gallon compared to other gas stations in the same area. When we fueled up in Los Angeles, the Costco was $.30+ less per gallon. If gas is your only consideration for a membership, make sure you plan to purchase a lot of gas at a significant discount. At a $0.03 discount per gallon, it would take 1,833 gallons of gasoline a year to pay for the $55 membership. However, at a $0.30 discount per gallon, it would only take 183 gallons. Another thing to keep in mind is the availability of Costco gas around you and occasionally a Pilot or Love's may have the same price and it's easier to get to.
Note: Diesel is available at some Costco gas stations, but not all. You can check Costco's website for a list of gas stations with diesel. The height clearance is 13'6″ at all locations.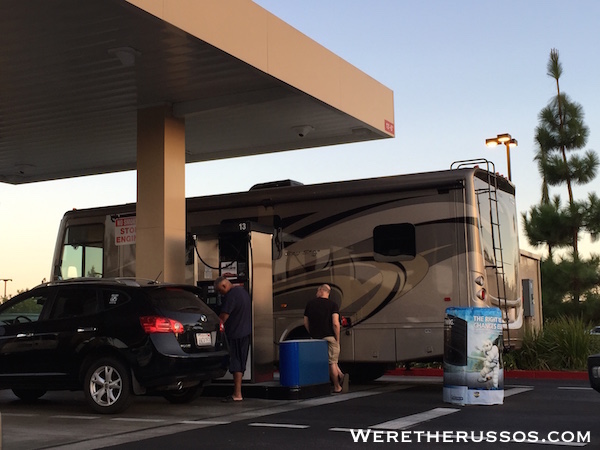 Propane. The newer Costcos have propane stations and the price is significantly lower compared to U-Haul, RV parks and other propane providers. Our last fuel up was $1.89/gallon and the RV park was charging $4.04/gallon. Let's assume other propane services charge double the price at $3.78/gallon, it will take over 29 gallons of propane in one year for the $55 membership to pay for itself. Our RV has a 25 gallon propane tank and we have purchased 39 gallons in less than 6 months, 26 gallons were purchased at Costco. The best price we found was $1.69/gallon at the Costco in Mobile, Alabama. No RV? You can also fuel up those 5 gallon tanks for the gas grill. There's usually a line of people waiting with their little tanks while our tank is being filled.
Note: Propane is not available at all Costco locations.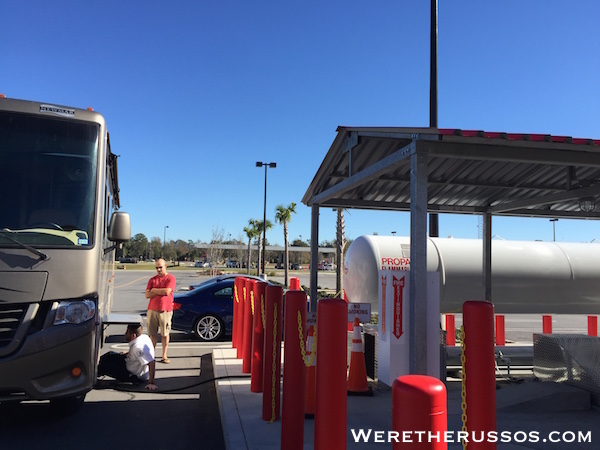 Warehouse coupons. Each month, Costco releases their warehouse coupons online and it's a great way to figure out what items go on sale and when to buy them. Since we've been Costco members for so long, we know which items typically go on sale and will wait for the coupon before we buy it again. Mobil 1 Motor Oil is one item we keep an eye on since Joe performs the oil changes on our Jeep and motorhome (video of Joe changing the oil on a Ford V10 RV – F53 Chassis). A 6-pack of 1 quart bottles will usually go on sale at a $10 discount, so instead of paying $36.99, we can pick it up for $26.99. We've found that the prices at Costco are already competitive and when you add a coupon, it's even a better deal! One item could save you more than the $55 membership fee.
Note: If an item goes on sale within 14 days after your purchase, you can request a price adjustment at the refund counter of any Costco with the original receipt.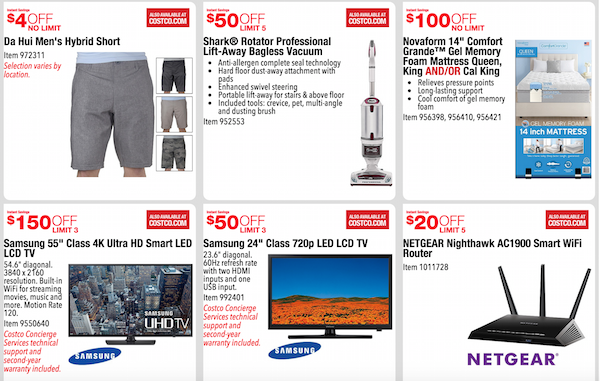 Manufacture rebates. Separate from warehouse coupons, some manufactures will offer an instant rebate on their product. These rebates are not publicized on Costco's website and we find them while shopping. So keep your eyes peeled for these special offers to save more money. The latest rebates we found included $3.50 off a bag of dry roasted almonds (normally $15.99) and $2 off a package of pork sausages. Some have limits on how many each person can buy and others do not. Buy 16 packages of almonds and the $55 membership will have paid for itself. If we had the room to store the almonds, we probably would have bought 10 bags.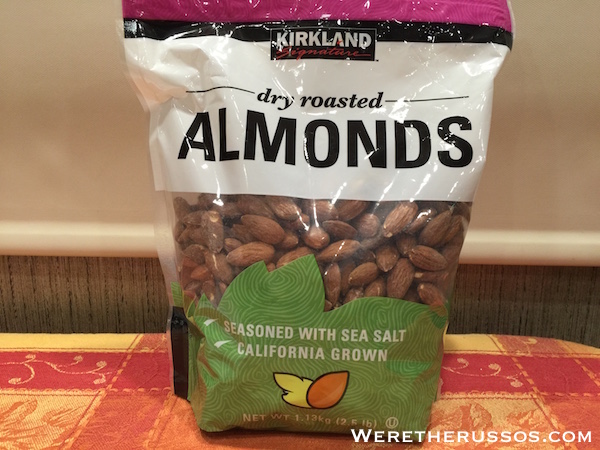 Clothes. Costco has a surprisingly decent number of items at very reasonable prices. When these items go on sale, it's can be hard to resist. One of Joe's favorite hoodies is from Costco, it was less than $20 and a name brand. They also carry seasonal items such as swim wear, halloween costumes and winter clothes.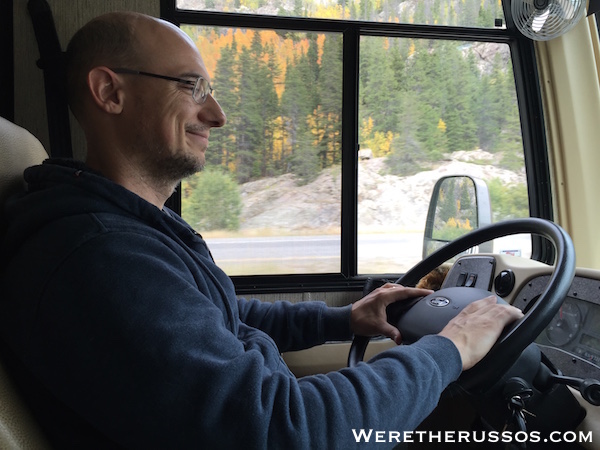 Tires. There is an ongoing $70 discount on Michelin or Bridgestone tires when you purchase four and it comes with free tire rotations and flat tire repairs (read more about their road hazard warranty program). We purchased a new set of tires from Costco for one of our old cars and never had an issue getting rotations and other services at the tire center. Our Jeep Wrangler doesn't have tires from Costco yet,  but we are still able to get a tire rotation and flat repair for a very reasonable price compared to other tire services. A flat repair cost us $10.99 and a tire rotation cost $25.99. We've already used the tire repair service twice in less than six months.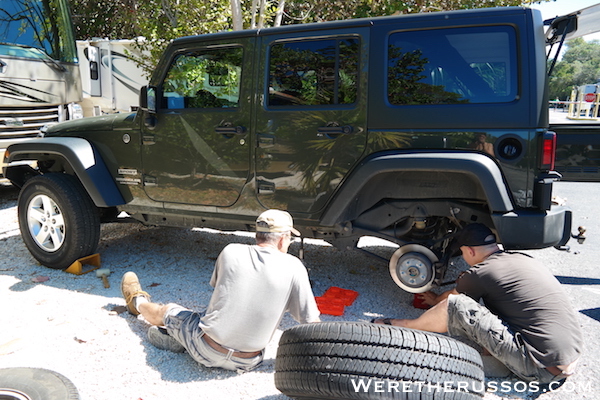 Online specials and free shipping. When we lived in a sticks and bricks home, we looked for online specials with free shipping on bulky items like outdoor furniture and office supplies like scanners and printers. Items purchased online can be returned to a Costco warehouse.
Alcohol. Costco is the largest wine buyer in the world and has a good wine selection with a variety of bottles on sale at any given time. Their prices are usually the same or lower than Total Wine or BevMo. The best time for discounts on alcohol is towards the end of the year, around the holiday season. We've seen $4 discounts on Red Label to $24 discounts on Blue Label. The wine discounts tend to be all over the place, but we've found some good wines under $10 at Costco. When we have guests, we typically pick up the Kim Crawford Sauvignon Blanc that has been available at every Costco we've visited so far.
Kirkland Signature Products. Costco has their own brand of products labeled as Kirkland Signature at a discount compared to its name brand equivalent. Costco offers quite a selection of products including organic options such as tortilla chips and maple syrup along with items such as liquor, wine, toilet paper, peanut butter and dog food to name a few. We've found that the Kirkland brands tends to be as good or better than the name brand equivalent.
100% satisfaction guarantee. Their policy on membership is "We will refund your membership fee in full at any time if you are dissatisfied." Their policy on merchandise is "We guarantee your satisfaction on every product we sell, and will refund your purchase price." There isn't a time limit to return items with the exception of some electronics (TVs, computers, cameras, etc) which is 90 days. How does this save you money? If you're not satisfied with a product, you can return it for a full refund. This means you spend money only on products that you're satisfied with. Many other stores have a 30 day return policy and it seems products always fail right after the return window. Costco's policy offers a piece of mind that if the product fails on day 31 you can still return it for a full refund.
Buying For a Family of Two at Costco
Costco isn't just for big families and bulk purchases. Before Joe and I even knew each other, we shopped at Costco on our own. Now that we're a family, we shop there even more. In this section, I will highlight how we shop at Costco.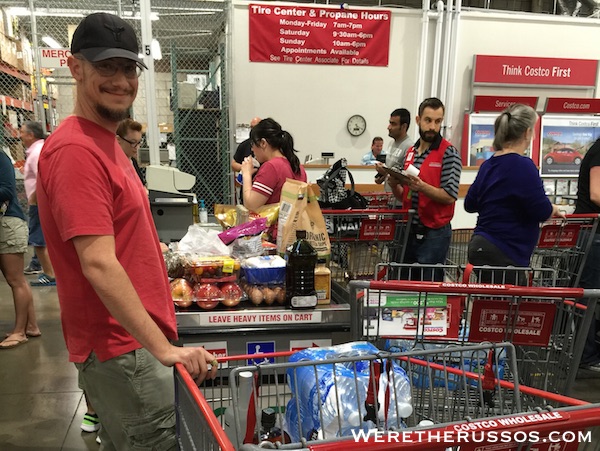 Basics. Coconut oil, extra virgin olive oil, salt and spices last a long time and we have the room for it. Select protein such as steaks and individually packaged meats are great because they can be frozen.
Fruits and vegetables. When fruits and vegetables are in season, they are typically well priced and good quality. Watermelon is probably one of our favorite items to purchase in the summer. Never buy more than you can eat because instead of 2 grapefruits you get 7 or 8. We typically limit ourselves to one type of fruit and one vegetable per trip.
Canned goods. Canned tomatoes, tomato paste and tuna store well and come in small containers that can be broken up and stored in different places. Organic diced tomatoes come in quite handy and a good buy when Costco has their organic items sale.
Bulky items. Water, paper towels, and dog food are the main items we purchase in bulk. The water and towels are individually packaged and can be placed throughout the motorhome where there's space. The water usually ends up in the fridge and on the floor. We keep one package of paper towels inside the coach and rest is distributed among the bays.
Hot food items. Costco is well known for their $4.99 whole rotisserie chicken, $1.50 hot dog/soda combo and their huge $9.99 pizzas (any topping). Costco has stated that they don't plan to raise the prices on these food items because they get people in the stores. Every once in a while, we like to pick up a combo pizza on game day while rooting on the Packers. Here's a tip: when you get home with the pizza, grab a non-stick frying pan and place it over medium heat, add a few slices to the pan to crisp up the bottom and enjoy!
It was much easier to spend money at Costco when we lived in a sticks and bricks home with plenty of storage and we didn't have to worry about weight. I even had a rule for myself, which was to only buy what I could carry. Now that we're in a motorhome, we have to be selective in what we purchase and practice the one in and one out policy.
Disclosure: We paid for the Costco membership and this post represents our own opinions.