As mentioned in our last review on Jeep Cargo Nets, we looking for cool, functional accessories for our Jeep Wrangler. The Jammock is about one of the simplest and coolest hands down. What is a Jammock – well, it's a hammock for your Jeep! When I saw this thing online I knew Kait would love it (she loves lounging in hammocks) and even more so if we could lounge on top of our Jeep. Read our Jeep Jammock review to see if this is the accessory for you!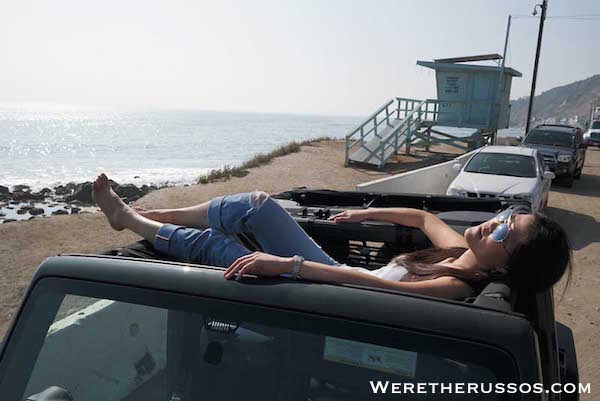 Jeep Jammock Review
What We Received:
Jammock 2.0 Black
MSRP: $159.99
What We Like:
It extremely easy to install (takes about a minute).
Uses high quality straps, buckles and material.
350lb working load so Kait and I can both use it at the same time.
Versatile – use it as a hammock for one or two, a sunshade, lounge chair off the back of the Jeep, a divider or even string it up between trees as small hammock.
Really comfortable and about the coolest place to hang out in our Jeep Wrangler.
It works well as a sunshade. I'm bald, so cruising with the freedom tops and doors off makes it hard to wear a hat – the Jammock blocks the sun and doesn't flap around while driving, even on the freeway.
Made in the U.S. and Veteran Owned.
What We Don't Like:
The only thing we could think of as being a negative was that they shipped the Jammock without installation instructions. You'd think with something so simple we wouldn't need instructions, but that wasn't the case. It's fairly easy to put the rear strap in front of rather than (correctly) behind the B Pillar. We did this the first time we put it up and ended up with a saggy fit. There are installation instructions on their website that outline how to do it properly. We cover most of this and more in the video:
Overall:
We spent a long day with the Jammock, cruising into the hills then to the beach and absolutely fell in love with the Jammock. The Jammock was provided to us in order to do this review but had we bought it, we would consider it money well spent. It was pretty awesome to be able to park at the beach and jump up into the Jammock and relax while Kait walked around. I even did it at the supermarket while she was shopping (there's probably some meme of me floating around the internet now). Kait can't wait until we get into Spring/Summer and can use the Jammock more!
If you found this review helpful and decide to purchase the Jammock, please consider ordering through our Amazon affiliate link. There is no additional fee for the buyer and in return we receive a small percentage of the sale. Thanks for your support! We really appreciate it.
Disclosure: Jammock provided the product free of charge in exchange for an honest review. This review represents our own opinions of the product.