It's our third month on the road and we seem to be finding our groove! We've continued to try and take it slow in order to save money on fuel (although we did drive nearly 900 miles in two days from Tucson to San Antonio!). Our food expenses were quite a bit more this month because we restocked on many essentials items at Costco. For those of you with a Costco Membership, you know how easy it can be to spend money there. It took a lot of self control not to fill up two carts worth of goodies. We're happy to report this site has grown almost 300% in November, however, our advertising income actually dropped which was a surprise.
To view all our reports, visit our Cost of Living Full Time in a RV page.
Statistics for November:
Total Expenses: $2,929
Cost Per Day: $97.63
Total Miles Driven: 2,609
Generator Hours: 21
Jeep MPG: 18
RV MPG: 6.5
Nights At RV Parks: 6
Nights Spent Dry Camping: 24
Meals Eaten Out: 19
Expenses:
This month our expenses went up, spending a total of $2,929 compared to $2,686 last month.
Here are a few notes about our expenses this month compared to last month:
Food costs were much higher for two main reasons. We stocked up on many essential items at Costco that should last us quite a while such as a giant bottle of Organic Extra Virgin Olive Oil. We also had more social activities which included eating out more. Kait's parents visited us in Tucson for three days and we got a chance to meet up with fellow RVers which was like meeting up with extended family. Total spent on food was $1,121 compared to $713 last month.
We didn't have any dog expenses last month, but Leo needed flea treatments and more food this month, adding $83 (our boy's gotta eat!).
More savings on fuel! We continued to drive fewer miles which saved us just over $190 on gas and GasBuddy continues to help us find the best gas prices.

Miles on the RV: 1,405 – avg mpg 6.5
Miles on the Jeep: 1,204 – avg mpg 18

MPG on the RV dropped this month because we have been getting more comfortable driving it and consequently setting the cruise control at higher speeds (around 70 mph).
We spent more nights dry camping than at RV parks. 5 of the 6 nights we did spend at RV parks were comped, which helped quite a bit.
Still haven't paid to dump thanks to the Allstays Camp & RV app! We did buy a ladder holder and ladder so we could clean the windshield and the RV.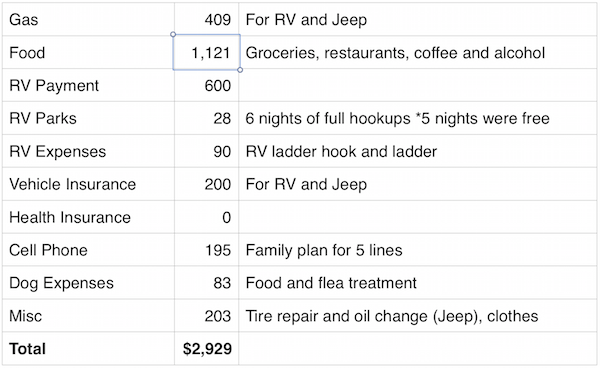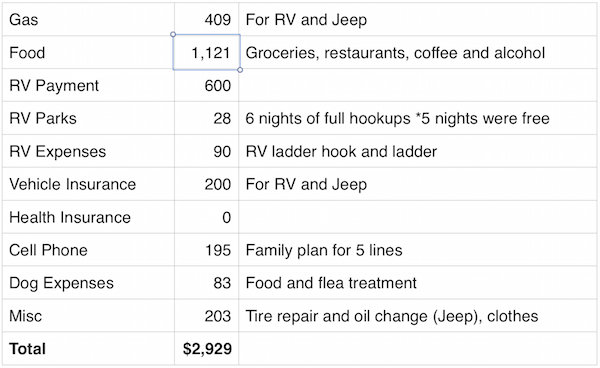 Lessons Learned:
Some things we learned this month that we'd like to pass along.
Drive slower and shed some weight! When we increased the setting on our cruise control from around 62 to 70 mph, we noticed a decrease from 7 to 6.5 MPG. We consulted our Ford chassis manual and found that for every 400lbs we shed, we gain about 1 mpg. Since we do a lot of dry camping we always top off our fresh water tank (75 gallons) whenever we can. This means that we typically drive long distances with an extra couple hundred pounds of water. Shedding the extra weight will help our MPG. We're going to start looking for potable water at our destinations to try and lose some water weight on the drive there.
Stocking up at Costco can be expensive but saves us money in the long run. Before we left on this trip, we stocked up on items like canned goods, oils and spices, alcohol, etc. At the end of October, many of those items ran out and we made a pilgrimage to Costco to replenish. Most of the items we picked up should last us a few months (if not more) which means our grocery bill next month won't be as high (hopefully). Stay tuned for a separate post on how much we spent at Costco and how long those items lasted – broken down on a per day cost.
Cracker Barrel is better than Walmart for overnight RV parking. We've found that Walmart is very hit or miss in terms of allowing RVs to park overnight. When we call ahead to ask if we can park, we're told yes – but when we arrive we're told they do not allow overnight parking. This has happened on multiple occasions and can throw a wrench in our plans. That said, many Cracker Barrels not only have dedicated RV parking spaces, but they are always extremely friendly and consistent with regards to their overnight policy. Since they close at 9pm, the parking lot is typically quiet during the night, unlike Walmart. "The Barrel" also has some great breakfasts and we're now officially addicted to the hashbrown casseroles.


Income:
This site is our primary source of income and we earn money thru ads, Amazon affiliate links and our YouTube Channel. Our readership exploded, growing from 5,642 pageviews in October to 15,586 pageviews this month. – however our revenue dropped by 65% which is attributed to fewer ads clicked. We did launch Our Store this month and stocked it with items we use and like. If you are interested in starting your own site, read our post on How to Setup a Self Hosted WordPress Website.