In this series, we share our costs to live on the road full time in a Class A gas RV and how much income (if any) we generate. We are through our second month on the road and it's been quite the adventure. Based on the learnings last month, we slowed down our pace and put fewer miles on our vehicles. We started the month in Pagosa Springs, Colorado and ended in Sedona, Arizona. Total miles driven this month was 2,600 compared to 3,019 last month. This may not seem like a significant difference, but we drove 600 miles less in the RV.
To view all our reports, visit our Cost of Living Full Time in a RV page.
Expenses:
We have a monthly budget of $4,600 which includes everything that we plan to spend money on. This month we did fairly well spending a total of $2,686 compared to $3,827 last month.
Here are a few notes about our expenses this month compared to last month:
No dog expenses this month compared to $751 last month
Fewer miles on the RV and Jeep saved us just over $300 on gas

Miles on the RV: 1,009 – avg mpg 6.9
Miles on the Jeep: 1,591 – avg mpg 18

Our food expense went up $42 because we ate out more often this month
Cost of RV parks almost doubled because we decided to splurge in a few cities for full hookups
We didn't have to buy any RV accessories or pay to dump this month which saved us $169
Without the credit on our cell phone bill, it's back to the normal level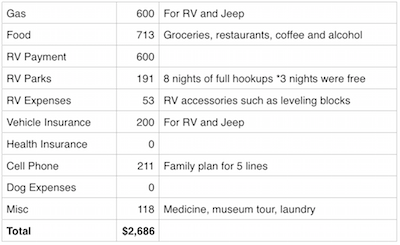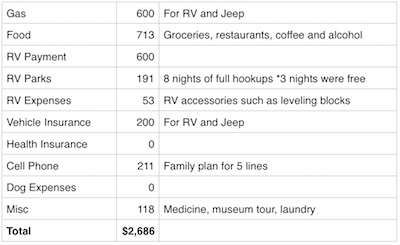 Lessons Learned:
Some things we learned this month that we'd like to pass along.
Gas Buddy saved us quite a bit on fuel ups this month. This free mobile app displays user updated gas prices in an area and has been accurate every time we've used it. The best part is we can look up gas prices in cities we are going to compare prices.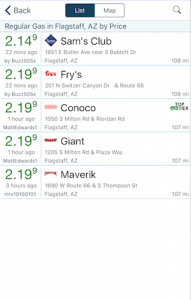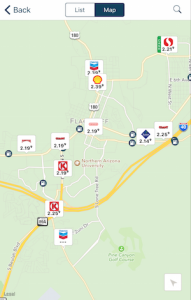 Free and low cost camping isn't always available. We found this to be true while going through Colorado and ended up paying for campgrounds and full hookups. Many places we would typically park for free overnight did not allow overnight parking due to city ordinances. We also found most dispersed camping spots in Colorado were difficult, if not impossible to get to with our Class A RV.
Take advantage of free dump stations. We found many free dump stations throughout our travels this month and used them as often as possible. This was a refreshing change to the $30 dump fee we were paying in Los Angeles, California.
Full hookups are well worth the splurge. We stayed at two full hookup RV parks this month for a total of 8 nights. Although we enjoy dry camping, having full hookups gives us the ability to fully recharge our house batteries, take long hot showers, run the heater, enjoy amenities such as spas, laundry, free wifi, unlimited electricity and water.


Income:
This site is our primary source of income and we earn money thru ads, Amazon affiliate links and our YouTube Channel. One change we made this month was swap out our Amazon RV focused ad to a general ad to see if we can generate more income from the affiliate program. We made $4 more this month, a 15% increase. It's not much, but it will pay for a pint of beer…just one…during happy hour…in a college town…on Thirsty Thursday. If you are interested in starting your own site, read our post on How to Setup a Self Hosted WordPress Website.