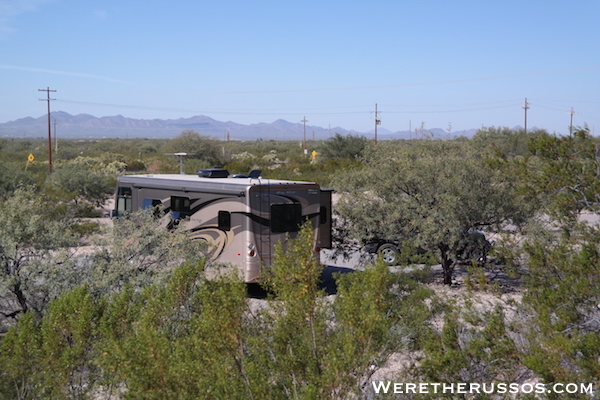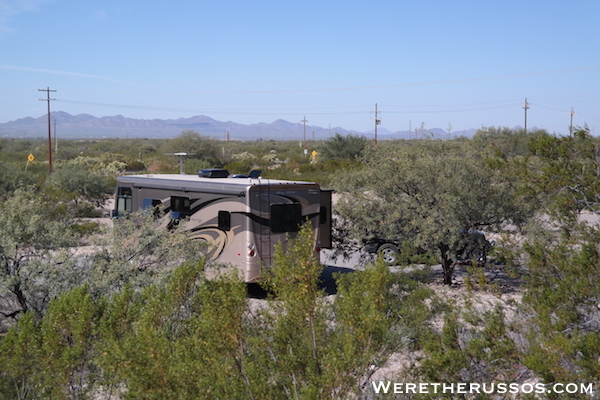 RV dry camping or boondocking is camping without any hookups. Essentially, you rely on everything in your RV to make it for a day, a week or longer. We've been on the road full time for 207 days as of writing this post and 112 of those days were spent dry camping without any hookups. Below is a breakdown of the pros and cons of RV dry camping, the different types of dry camping and our thoughts on safety.
RV Dry Camping or Boondocking
Before we dive in, here is some information about our motorhome. Find out how long we can dry camp before we have to go to a dump station.
We own a Newmar Bay Star with a 70 gallon fresh water tank, 60 gallon gray tank and 40 gallon black tank. When we were RV shopping, one of our requirements was good tank capacity for dry camping.
The RV has a 4,000 watt Onan generator. Two standard house batteries which we swapped out for two deep cycle golf cart batteries. No solar on the roof, but we do use a 100 watt portable solar panel.
Starting with a full tank of gas and fresh water, empty gray and black tanks, we can last 10 to 12 days. In our case, the black tank will fill up first and that's when we know it's time to go. If we had a larger black tank, we could dry camp for a longer period. Read our post about dumping RV tanks.
We do not have water cans nor a portable holding tank. Some RVers use this to extend the length of time they can dry camp in the same spot.
One main factor that affects how long we can dry camp is how much time we spend in the motorhome. When we take our tow car out to explore, we make sure to use the facilities at the businesses we visit. This way the tanks won't fill up as fast.
Types of RV Dry Camping or Boondocking
Through our experiences and research, we've discovered many types of dry camping options. As we discover more, we will add them to this list below. Keep in mind, it's important to do research before dry camping at any of these locations. Not all Walmarts allow overnight parking, some truck stops have limited parking spaces, states like Florida do not allow overnight parking in their rest areas and city ordinances on overnight parking vary from not allowed to up to 48 hours or longer. If there is a phone number, we will call ahead to speak to the owner/manager to obtain permission and information on restrictions, road access, and availability.
Businesses
Truck stops. Flying J, Love's, Pilot, T&A are a some of the truck stops that allow overnight parking. We are staying at the Pilot in Tifton, Georgia as I write this post. The spots are first come first served. Some spots are reserved parking and designated RV parking. Allstays Camp & RV app includes the number of parking spaces at truck stops, which comes in handy when we're looking for options.
Rest areas (post on overnight parking at rest areas)
Visitor centers. We've come across several visitor centers that allow dry camping in their parking lot. The one in Savannah, GA charges a parking fee.
City streets. Street camping is legal in certain cities and some offer designated RV parking to encourage visitors. One example is Saint Marys, Georgia.
Private property. Boondockers Welcome is a club made up of RVers across the United States and around the world that allow fellow RVers to stay on their property. Some offer full to partial hookups, while others offer dry camping on their property.
BLM land or National Forests. More commonly referred to as dispersed camping, the bureau of land management and national forests allow dry camping in designated areas. Popular locations have been written about and can be found on sites such as Campendium, Free Campsites, and in the Allstays Camp & RV app.
Campgrounds
National, state, and county parks have campgrounds that are dry camping only and Mather Campground in the Grand Canyon is one example.
Fairgrounds such as the one in Tampa, FL charge a fee for dry camping during the RV SuperShow every year.
RV parks including Rainbow's End in Livingston, Texas offer dry camping spots at a significant discount with access to all the amenities. When we became Texans through the Escapees RV Club, we stayed in a dry camping spot for $5/night.
Pros of Dry Camping
Unique camping experiences. From staying on farms and vineyards through the Harvest Hosts program to camping at the Grand Canyon, dry camping opens up more RVing experiences.
Escape. Dispersed camping on BLM land and off forest roads offers an opportunity to getaway from the crowd and the hustle and bustle of city life. The time we spent dispersed camping outside the Grand Canyon and near Flagstaff, Arizona have been some of the most peaceful and enjoyable RVing experiences.
Quick overnight. If we get a late start or drive a long distance and need a spot to sleep for a night, it's nice to be able to pull into a dry camping spot instead of having to find a campground with hookups. Depending on where we stay, some spots are large enough for us to leave our tow car attached.
Save money. Most dry camping options are free which helps us keep our monthly expenses down. If we run the generator, we track the number of hours and estimate that into the cost of dry camping. In the 112 days of dry camping, there was one time where we ran the generator for 18 hours straight and it would have made more sense to pay for a campground. Other options that charge for dry camping are fairly inexpensive compared to a partial or full hookup site.
Cons of Dry Camping
Generator. When there isn't enough sun to keep our coach batteries charged with our portable solar panel we have to run the generator. Other times the weather is too hot and we need to run the AC. This means we're consuming fuel and we have to listen to the generator.
Conserve. We have to keep a closer eye on our tank levels and electricity consumption when we're dry camping for long periods of time. A couple nights of dry camping is a breeze, but if we want to go for 10 days or more, we have to be very conscious of our tanks.
City ordinances. Some cities have ordinances that make it illegal to park overnight. Some don't enforce the rule while others cite violators. One Walmart we called informed us the fine was $300 and the sheriff will show up randomly to dish out citations.
Limitations. Many dispersed camping spots have a 14 day to 30 day limit. While we can't last that long with our current setup, it is something to take in to consideration.
Bad neighbors. We've had two negative experiences with bad neighbors and both were dispersed camping spots. One night, a car drove up right next to us around 10pm and decided to setup in our campsite. The second incident involved a pickup truck driving around the campground at night with a spot light on their confederate flag in the truck bed. Once they were done and in earshot, we heard some of the most off-color conversations.
Safety While Dry Camping
When we meet fellow RVers who've never dry camped, safety is usually their number one concern. As with trying anything new, there is that fear of the unknown and for us, the more we dry camped, the more comfortable it became. If we arrive at a place and fear for our personal safety, we will leave and find another place. Our advice is to follow your instincts. If you don't feel good about a place, don't stay there. It's not worth putting your safety in jeopardy.
There are times where we are concerned for the safety of our motorhome. That's usually when we find a new dispersed camping spot and leave it for the first time to go explore. The likely hood of someone stealing a giant motorhome is slim, especially when it has our website on it, but the question of "wonder if our home is still there" does come up. So far, we haven't had any issues and enjoy dry camping as much as being hooked up at a campground.
What are your thoughts on dry camping or boondocking?