Before we hit the road full time in our Newmar Bay Star, we took a weekend trip to Rincon Parkway in Ventura, California to get familiar with our new home and to acclimate the dogs. We could not have asked for a better first trip in the RV. This is still one of our favorite boondocking or dry camping spots and we can't recommend it enough. Whether you live in the area or are driving on Pacific Coast Highway or highway 101, it's worth the stop even just to park in the day use area for a break and to enjoy the view. For RVers who love the beach, Rincon Parkway is a great spot to spend a few days.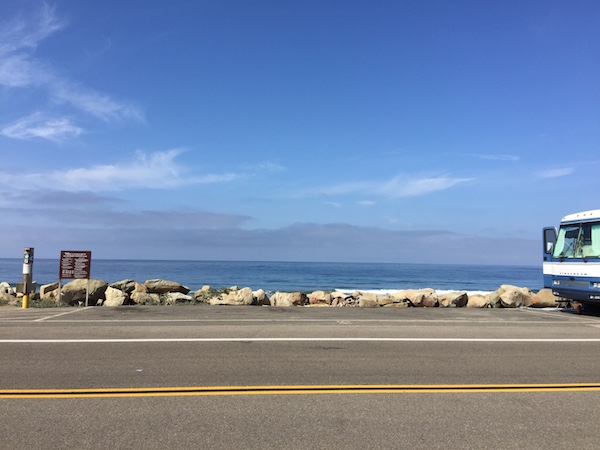 Rincon Parkway Beachfront RV Camping
Since Rincon Parkway doesn't accept reservations, we decided to take our chances and drove up from Los Angeles early Saturday morning. We arrived before 9am and were lucky to find an open spot to call home for the next two days. Campers that frequent this park told us we had won the lottery and couldn't believe we got a spot on a Saturday during peak season. According to the park ranger, it's much easier to find a spot on Sundays and during the week.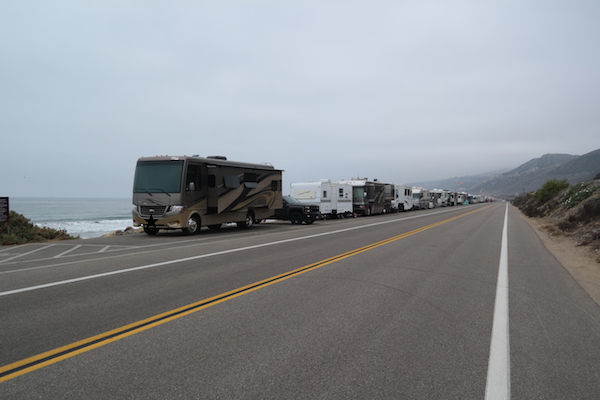 The sky was overcast for most of the morning so we stayed inside to have breakfast and enjoy the sound of the waves. By mid-day the marine layer had burned off and we setup our camping chairs and spent the afternoon outside.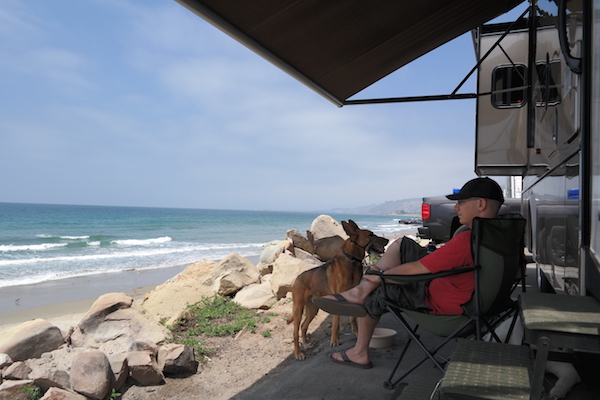 There was beach access from our campsite, but it required climbing down rocks, which made it difficult for the dogs.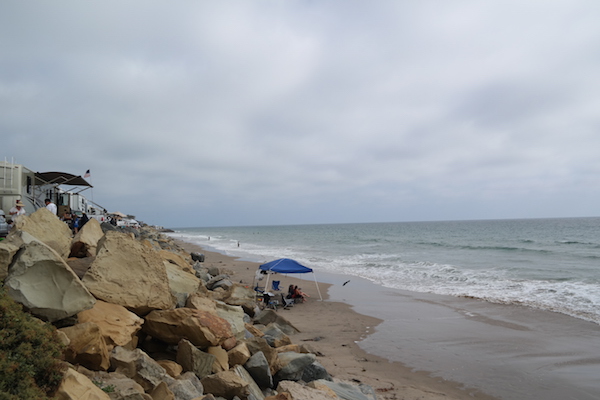 We did find easy beach access by one of the campsites and Cathy and Greg were gracious enough to let us and the dogs use their path to get to the beach. Duke and Joe had a great time playing in the water, while Leo and I hung out on the sandy beach.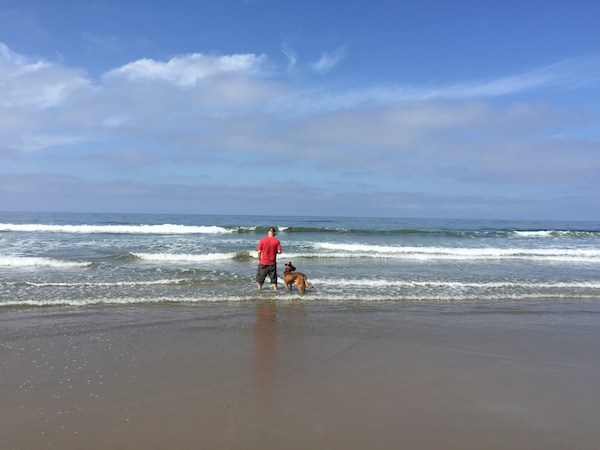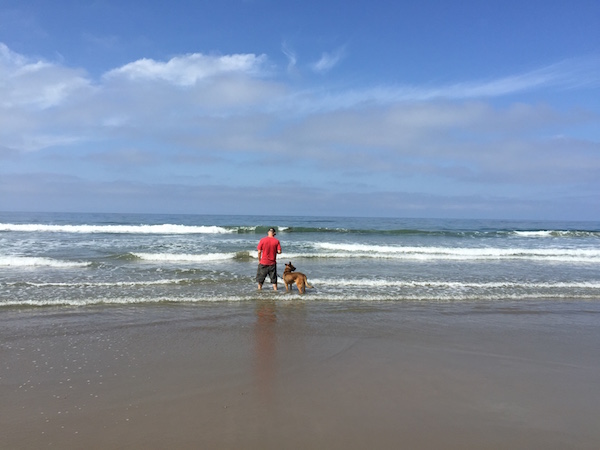 We ended each day by watching the sunset from our campsite and falling asleep to the sound of waves. It was the perfect weekend getaway and we look forward to staying for a week or longer the next time we are in the area.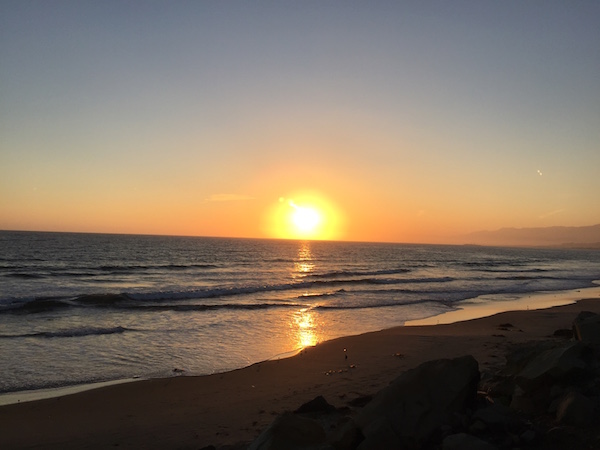 Rincon Parkway Details
The park has 127 overnight level asphalt sites that measure 45' x 20'. According to the park's website, RVs are limited to 35'x16' (we did see some RVs over 35'). One RV and one vehicle per campsite. The RV has to be self-contained. Each space is numbered and we ended up at campsite 105.
No hookups. Portable restrooms (we spotted one that was handicap accessible) and trash bins are available by the pay stations. A third party offers RV pumping and portable water on Tuesdays, Thursday and Saturdays 10am-2pm all year long. Contact them at 800-350-3331. Price at time of this post was $60 per RV (includes 50 gallons of water) or $40 without water.
Cost is $28/night plus $1 per dog per night. We ended up paying $30/night for two nights. The length of stay is based on arrival time and each night is good for 24 hours. We arrived at 8:50am on Saturday and paid for two nights, which meant we were paid up until 8:50am Monday.
Limit of stay is based on two seasons. 5 day limit from April 1 thru October 31. 14 day limit from November 1 thru March 31.
No reservations. All spots are on the first come first served basis. We were very lucky to find a spot on a Saturday during the peak season. Spots are easier to find during the week and in the off season.
Beach access varies depending on the campsite. Some spots have a nice walkable path right down to the beach. Other spots have large boulders with sandbags that require some flexibility and agility to maneuver up and down. Nearby parks Faria and Hobson do have stairs that lead down to the beach, which is open to the public.
Pets are allowed and must be on a 6' maximum leash. Dogs are also allowed on the beach.
Directions. Rincon Parkway is between Faria Beach Park and Hobson Beach Park. Whether you're headed northbound or southbound, it's best to take Seacliff exit from highway 101 so you are driving south on PCH. All RVs must park facing south, which makes pulling into a spot a lot easier. If you exit State Beaches and head north on PCH, the spots will be on your left, which means having to turn around.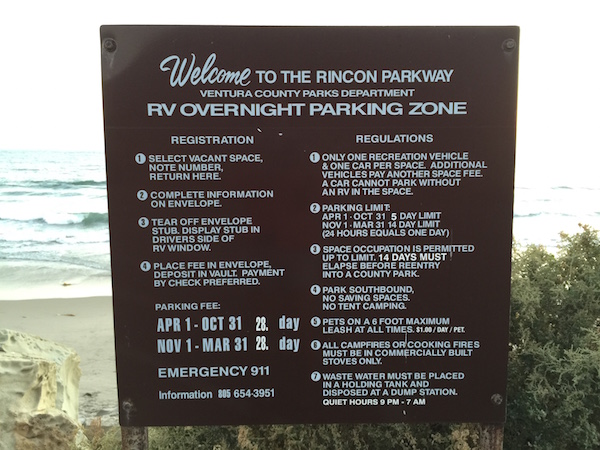 Let us know if you end up at Rincon Parkway. We'd love to hear about your experience.