When we tell people that we live on the road full time, we're always asked how we are able to do it and how much it costs to live full time in a RV. We plan to cover the "how we are able to do it" question in a separate post. This will be the first in a monthly series where we detail the cost to live on the road full time in a Class A gas RV and how much income (if any) we generate.
To view all our reports, visit our Cost of Living Full Time in a RV page.
Expenses:
We have a monthly budget of $4,600 which includes everything that we plan to spend money on. This month we did fairly well spending a total of $3,827.
Here are a few notes about our expenses this month.
We worked full time until 9/4 and did not start tracking expenses until 9/5.
We have not had medical insurance since leaving our jobs at the beginning of the month. Depending on the type of plan we choose, we expect this to cost anywhere from $350 to $800/month.
We had to put our dog Duke to sleep on the road and that was an unexpected loss and expense. Leo and Duke also received a health exam, blood work and teeth cleaning prior to leaving on our trip which added to the expenses.
We hit the road fast and furious putting on more miles than we planned. This made our fuel bill a bit high this month, but still came in budget thanks to the lower cost of gas outside of California.

Miles on the RV: 1,587 – avg mpg 6.7
Miles on the Jeep: 1,432 – avg mpg 17

Kait was able to score us a huge credit on our AT&T bill (she's awesome at stuff like this) and that saved us quite a bit on our cell phone bill.
Now down to the nitty gritty…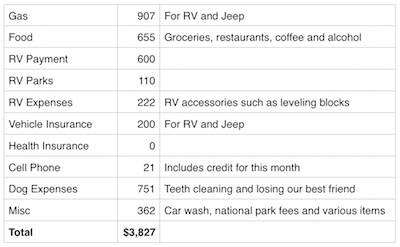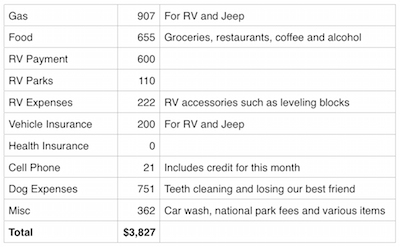 Lessons Learned:
Some things we learned this month that we'd like to pass along.
Don't try to drive so much, slow down and smell the roses. Consequently, watch the fuel bill go down.
Buy a National Park pass ($80/year for non-seniors, $10/lifetime for seniors). Individual fees for each park adds up quickly, if you plan to go to more than a few parks in a year, this could offer a huge savings. The pass also grants entry to Forest Service and BLM land but does not cover camping fees.
Take advantage of free services (dump stations, wifi, bathrooms, etc).
The Allstays Camp & RV App has more than paid for itself. The app costs $9.99 and provides valuable information on free dump stations, BLM campgrounds, free to luxury campsites with reviews, LP stations, RV services and MUCH more. The best thing is you don't need internet to access the data.
Harvest Hosts is a network of vineyards, farms and various other places that allow free RV parking in exchange for making a purchase during your stay. The membership is $44/year and we've found some amazing places to stay including this beautiful vineyard in Paso Robles, CA. We would recommend this to anyone looking for alternatives to RV parks. If you do join, let them know the Russos sent you and we each get a free month added to our membership.
Income:
Now that we are working for ourselves, this site is our primary source of income. We currently earn money thru the ads on this site, our Amazon affiliate links and our YouTube Channel. We are off to a slow start, but we just started this journey and hope to see an increase as our audience grows.

That's it for September 2015. As we mentioned, this will be an ongoing monthly series so if you have any questions or suggestions on things to include, feel free to leave us a comment or send us an email.