We're the Russos In The Media
Thank you to all the media outlets, business and organizations below for sharing our story so we can continue to inspire people to live the life that they want.

September 13, 2023
When It's Time to Quit Van Life:

August 3, 2023
Ask the RV Experts – How to act, what to buy and where to stay on your RV trip
The Roads & Stays Audio Magazine

July 28, 2023
RV Life Beyond Borders with the Russos

November 17, 2022
5 Tips For A Successful Vansgiving

November 5, 2022
Ford reaches out to modern #Vanlife nomads with the 2023 Transit Trail

August 23, 2022
5 Best Van Life YouTube Channels

August 1, 2022
Relationship Advice for Van Life

July 25, 2022
Everything About Tiny Living: Tips From the Experts

May 25, 2022
Q&A 6 Years Full Time Travelers on What's Up Wednesday

January 7, 2022
Is Disney's Fort Wilderness Campground Worth $100+ A Night?

January 3, 2022
RV Influencer Series: Joe & Kait Russo of 'We're the Russos'

November 10, 2021
Everything you wanted to know about alternative housing: Q&A with the Experts, RV Edition

May 12, 2021
Join the Adventure with the Russos

March 31, 2021
Episode 5: Joe and Kait (We're the Russos)
El Viaje De Viajes Publish

March 30, 2021
Joe and Kait Russo from U.S.

December 17, 2020
Dinosaur National Monument – Hidden Gem Straddling Utah and Colorado

Publish Date: November 25, 2020
Issue #38 – Making Money While Traveling

October 26, 2020
We're the Russos Travel the
Country With Battle Born Batteries

August 11, 2020
#VanLife – The Movement for New Adventure!

July 31, 2020
Walmart used to be a haven for RV parking, but more stores won't allow it

July 16, 2020
Fascinating We're The Russos footage from a trip on the world's highest railway in Tibet

May 18, 2020
Living in a Truck Camper

May 11, 2020
The Russos Switch from Van Life to Truck Camper Life

April 21, 2020
Road Worriers and Other Wonders with Joe Russo
The RV Entreprenuer Summit

March 22, 2020
How Much Should I Charge?

November 18, 2019
Episode 17: Full Time RVers, Joe and Kait Russo
The RV Entrepreneur Podcast

August 17, 2019
Episode 172: How Joe Turned Youtube from a Hobby into a Profitable Business

July 17, 2019
Episode 251: Tales on the Open Road

July 13, 2019
We're the Russos Joins Rollin' On TV

July 10, 2019
Episode 22: Joe Russo

July 10, 2019
Russos to Join ROTV as Contributing Media Partner

June 27, 2019
The Top 10 RV Blogs You'll Want To Follow

May 28, 2019
Burned Out Couple Ditches Jobs to Go RVing

May 24, 2019
"It doesn't matter what you are in, as long as you are out."
RV Family Travel Atlas Podcast

July 26, 2018
RVFTA #195: Downsizing Your RV with Joe and Kait Russo

March 6, 2018
Living Out Your Dream

February 16, 2018
World Travelers, YouTube stars visit El Paso

February 5, 2018
Couple Quits Their Jobs to Travel the Country (Video)

January 12, 2018
WPC-137 – Taking Risks With Joe And Kait Russo

January/February 2018 | Vol 39 Issue 4
Vol 39 Issue 4: Sharing the RV Lifestyle Escapees
The RV Entrepreneur Podcast

December 19, 2017
Episode 111: Why Risk it All to Go Travel Full-Time in a Van?
Living the RV Dream Podcast

December 8, 2017
Episode 36 – Interview with We're the Russos

December 6, 2017
Episode 169: How To Quit Your Job and Live On the Open Road
Writer On The Road Podcast

December 5, 2017
It's 5 o'clock Somewhere; Writing on the Road & Making Money Doing It
Travel Channel's Big Time RV

March 5, 2017
Season 4, Episode 1 Europe or Bust

September 30, 2016
WPC-093 – RV Life On Their Terms With Joe And Kait Russo

May 11, 2016
Episode-1784- RV Living and Freedom From the Corporate Grind
Living Unconventionally Podcast

May 2, 2016
Episode 040: RV Living w/ the Russo's – Part 1
RV Family Travel Atlas Podcast

January 22, 2016
RVFTA #72: Live from the Florida RV Supershow!

November 17, 2015
Queen of the Road: RVing Ladies Share Their Best Driving Tips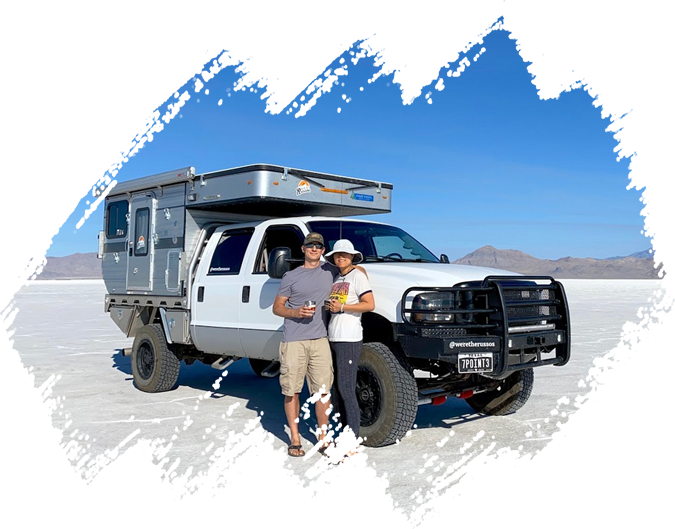 About Joe and
Kait Russo
We're Joe and Kait Russo. In 2015 we transitioned to a nomadic lifestyle and this is where we share our experiences.