Want to travel and live out of your RV full time? Welcome to the club! There are so many factors that can affect RV cost of living from the type of RV you have, how you like to travel, what you like to do when you arrive at a destination. We've found this lifestyle to be incredibly liberating and less expensive than what we originally budgeted. Cost of living is so unique to each person/couple/family that it's difficult to know what the actual costs will be until you do it.
Since no two budgets are a like, here are a few notes about our full time RV lifestyle to serve as a point of reference.
Cost of Living Full Time in a RV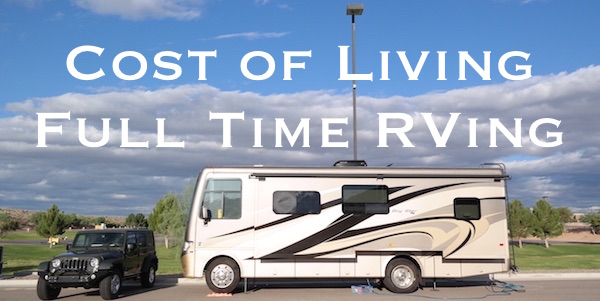 What To Expect In Each Report
Each monthly report includes our fixed costs (vehicle payment, insurance, mail forwarding service) along with our variable costs (food, entertainment, gas, RV supplies). The lessons learned section is where we share tips that helped us or mistakes to avoid. We also include a quick snapshot of our stats for the month with cost per day, miles driven, generator hours, MPG, nights of paid camping, nights of free camping and meals eaten out.
Note: Businesses expenses such as hosting costs for this site, camera gear, computer gear are not included in these reports.
Annual Cost of RVing
Full Time in a Motorhome for One Year
Monthly Expenses and Income Reports
September 2016 Expenses – Cost/Day $93.86
August 2016 Expenses – Cost/Day $104.80 August 2016 Income
July 2016 Expenses – Cost/Day $82.68 July 2016 Income
June 2016 Expenses – Cost/Day $85.93 June 2016 Income 
May 2016 Expenses – Cost/Day $99.86 May 2016 Income
April 2016 Expenses – Cost/Day $88.08 April 2016 Income
March 2016 Expenses – Cost/Day $87.18 March 2016 Income
February 2016 – Cost/Day $97.76
January 2016 – Cost/Day $92.13
December 2015 – Cost/Day $91.26
November 2015 – Cost/Day $97.63
October 2015 – Cost/Day $86.65
September 2015 – Cost/Day $127.60
Chris and Cherie of Technomadia also share their monthly travel expenses along with links to other full timers who share their cost of living. Check out their site for additional resources.