Welcome to our store! These are some of our favorite accessories, gear, gadgets that WE USE linked directly from Amazon. There is no additional charge for buying through our store, however we do get a small commission.
Thank you for shopping with us and for your support!
One of the most essential items we have is a water purification system. We've been using the Travel Berkey for over eight years for clean drinking water and highly recommend it whether you live in a stationary home or in a home on wheels. Read our review for all the details and benefits.
We're the Russos T-Shirts and Stickers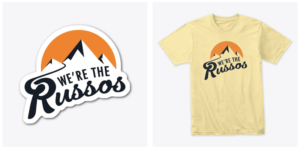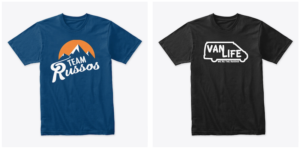 RV Accessories
These are a few of the accessories we love and use for RVing. For more, check out Top 10 Gadgets for RVing.

Camping Gear
Light and mosquito repellent are essential for camping. We've put these to the test in in the desert and the wetland.

Joe's Coffee Gadgets
It's no secret that Joe loves coffee. Every morning Joe grinds coffee beans with a Breville smart grinder and brews it in a Hario V60 pour over. To learn more about how Joe makes his coffee, head over to how to make a great cup of coffee.

Kait's Cooking Gadgets
The Instant Pot just might be the best thing since sliced bread and now they have an air fryer version. We use this multi-cooker almost every day. For those times we want to bake things we use the stove top Omnia Oven. All the water we use for cooking goes through the Berkey water filtration system a.k.a. the "shiny thing" in our camper.

Joe and Kait's Book Corner
If you enjoy reading, here are a few books we recommend including Joe's books: Take Risks and Tales From the Open Road.
Camera Gear
To learn more about the camera gear we use, head over to our post all about Video Equipment.

If for any reason you cannot see the banners on this page, an ad blocker maybe installed on your browser.
Affiliate Disclosure
This website contains affiliate links, which means Joe and Kait may receive a small percentage of any product or service you purchase using the links. You will pay the same price for the products and services, and your purchase will help keep this website up and running. Only products used and loved by Joe and Kait are linked to on this website. Thank you so much for your support!
weretherussos.com is a participant in the Amazon Services LLC Associates Program, an affiliate advertising program designed to provide a means for sites to earn advertising fees by advertising and linking to Amazon.com.