I love coffee. It doesn't matter if I'm tent camping at Joshua Tree National Park or living out of a camper van on the coast of Oregon, I can always make a great cup of coffee. Since my love affair with coffee makes a regular appearance in our online video series, I receive quite a few questions about how I make coffee. In this post, I'm going to share how to make coffee when you're camping, RVing or traveling internationally.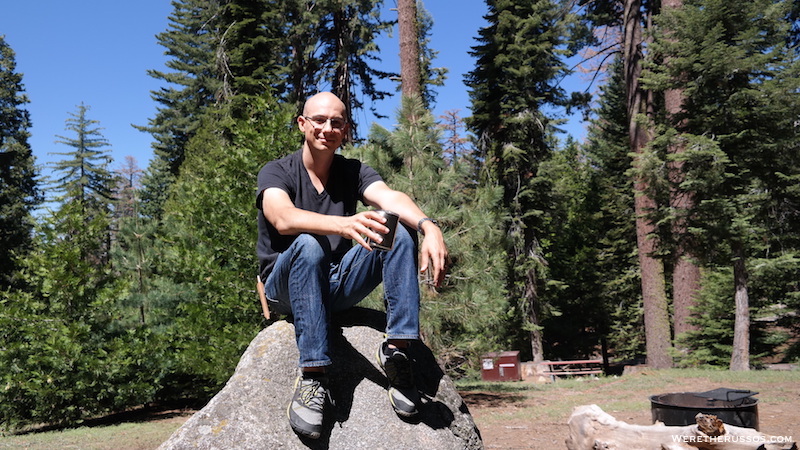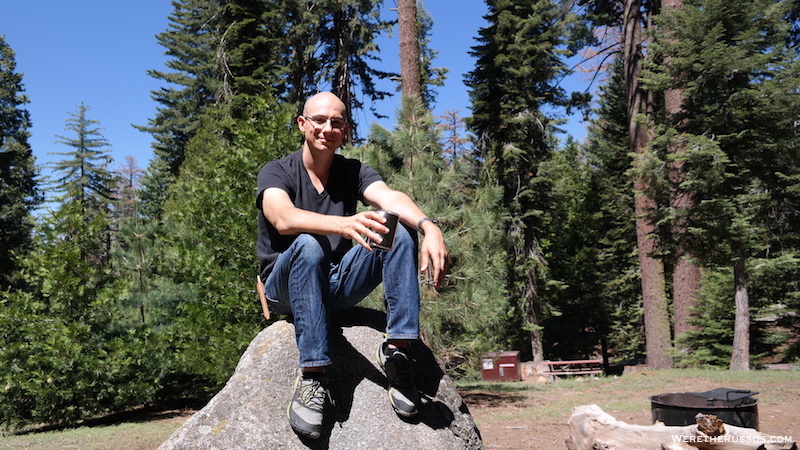 How to Make Coffee On the Road
When you're camping or traveling, having a lightweight, compact and easy to clean coffee setup is essential. More importantly, you want to brew a great cup of coffee. If you're like me, there's nothing like that first sip of coffee in the morning to get the day started.
Start With Quality Coffee Beans
To make a great cup of coffee, you have to start with great beans, filtered water and the right grind. Once you have those three components then you can bring it all together with the coffee maker.
This is where I order the best coffee beans:
Thump Coffee – Bend, Oregon and Denver, Colorado – the Ethiopia washed is incredible with tea like flavors and aromas. It is one of Kait's favorite coffees because of the Earl Gray and Jasmine tea notes.
Demitasse Cafe – Santa Monica, California – the coffee beans at Demitasse change regularly. When available, I purchase the Costa Rica or El Salvador beans.
Blue Bottle Coffee – various locations – the Bella Donovan blend offers a nice balance of flavors from several famous coffee regions in the world. This roast is slightly darker than what I typically drink.
Doma Coffee Roasting Company – Post Falls, Idaho – the organic Ethiopia is the only bean I have tried so far, which gets two thumbs up. I look forward to trying more of their beans.
How to Make Coffee When You're Camping
Once you have the coffee beans, it's time to figure out how you want to brew the coffee. In this post, I offer two methods for making coffee when you're traveling or camping.
Both methods are easy to clean, lightweight and compact.
My favorite way to brew coffee on the road is the pour over method. I use a plastic pour over most of the time, but I also have a collapsible pour over when space is limited. Regardless of which one you choose, make sure you purchase the correct filters for the pour over.
The reasons I like the pour over are because it's a simple, easy and very controllable way to make coffee. You can see exactly how much water is being added, how the grounds are interacting with the water and once it's done, you just toss the filter/grinds and either wipe down or rinse the pour over.
I used to make coffee in an AeroPress coffee maker every day, but I have switched to the pour over method. I will use this every once in a while when I'm in the mood for something different.
Regardless of which coffee making method you choose, for either option, you will need a grinder, water kettle, and a way to heat the water.
Below is a list of the coffee gear I use.
Burr grinder – this grinder has settings that allow me to get the perfect grind for the coffee beans I want to use. Due to it's size, when I am flying somewhere, I will pre-grind the coffee beans and leave the grinder behind. I have tried the hand burr grinder and found my regular sized grinder to be the best option.

Gooseneck Water Kettle (electric) – this is my preferred water kettle for making coffee because I can set the temperature of the water. Depending on the coffee beans, I will set the temperature as low as 190F or as high as 205F.
Gooseneck water kettle (stovetop) – when I don't have access to electricity, I will use this water kettle. The gooseneck allows me to control the pour when brewing coffee using one of the methods below.
Insulated cup – this will keep the brewed coffee hot for a longer period of time compared to a regular coffee mug. NOTE: I've found that if I put a lid on my coffee to keep it hotter, longer, the taste will begin to change in an unpleasant way.

Coffee Talk – How I Make Pour Over Coffee
Kait and I hosted a live stream on our YouTube channel a while back where I explain in more detail about how I make pour over coffee. You can watch that video below.
Thanks for reading my post on how to make coffee when you're camping, RVing or traveling internationally.
Check out Kait's post on her Favorite Kitchen Gadgets.
Editor's Note: This post was originally published on July 24, 2017 and has been updated for comprehensiveness.