Some of the links below are affiliate links, which means we will earn a commission on the products or services you purchase using the links. There is no additional cost to you and the earnings help keep this website running. Read the Affiliate Disclaimer for more information.
I love coffee. Since my love affair with coffee makes a regular appearance in our YouTube video series, I receive quite a few questions about how to make coffee in an RV or while traveling. In this post, I'm going to help you make a great cup of coffee.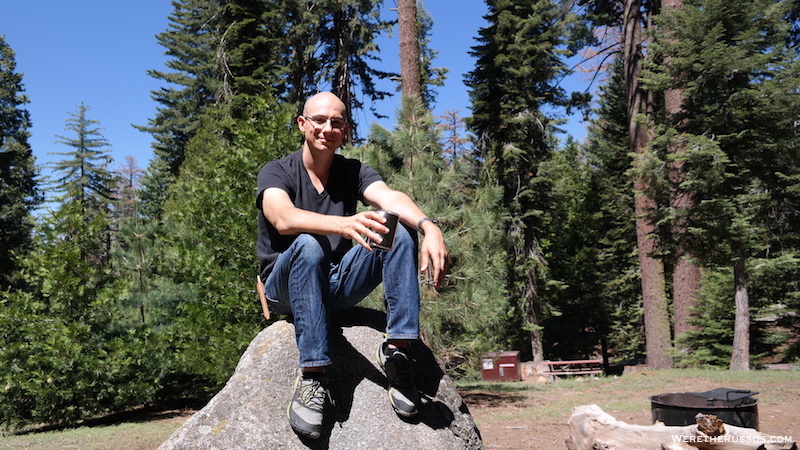 How to Make Coffee in an RV
When you're making coffee in an RV, having a lightweight, compact and easy to clean coffee maker is essential. More importantly, you want to brew a great cup of coffee. If you're like me, there's nothing like that first sip of coffee in the morning to get the day started.
Whether I'm tent camping at Joshua Tree National Park, living out of our overland truck camper or making my way to Everest Basecamp in Tibet, I can always make a great cup of coffee. Here's how:
1. Start With Quality Coffee Beans
To make a great cup of coffee, you have to start with great coffee beans. This is true whether you're out exploring in your RV or hanging out at home.
I prefer light roasts because they have more flavor notes and much higher levels of caffeine. Most people think the darker the roast the "stronger" the coffee but that's incorrect. The more the beans are roasted, the more caffeine they lose along with all of the nuanced flavors.
My Favorite Coffee Beans
These coffee beans are roasted and hand packed in Post Falls, Idaho. DOMA's organic Ethiopia, Summer Lovin' and Veloce are some of my favorite coffee beans. DOMA also launched a line of craft instant coffee packets that are great when I'm pressed for time or don't have my coffee maker with me.
If you'd like to try their coffee beans or instant craft coffee, use RUSSOS10 to get 10% off your DOMA Coffee order.
Based in Los Angeles, California, Cafe Demitasse has a variety of quality coffee beans that change regularly. When available, I purchase the Costa Rica or El Salvador beans. Bobby, the owner of Cafe Demitasse is offering We're the Russos readers a 10% discount on all coffee bean orders with promo code RUSSOS10.
I first discovered Blue Bottle Coffee before we decided to quit our jobs to travel full time (more about that in my first book, Take Risks). At the time I was traveling to New York for business and would grab a cup of coffee at one of the many cafes in the city. Blue Bottle has expanded quite a bit but their coffee bean quality has stayed consistent. The Bella Donovan blend offers a nice balance of flavors from several famous coffee regions in the world. This roast is slightly darker than what I typically drink.
Based in one of our favorite cities Bend, Oregon with locations in Denver, Colorado. The Ethiopia washed is incredible with tea like flavors and aromas. It is one of Kait's favorite coffees because of the Earl Gray and Jasmine tea notes.
This was an unexpected discovery while we were visiting friends at Storyteller Overland in Birmingham, Alabama. Seeds Coffee has a nice Ethiopia Biftu Gudina bean that I really enjoyed.
Tip: Quality coffee roasters will include a roast date on the coffee bag. Try to find coffee beans that have been roasted within in last week or two.
Since we travel full time in an RV, I usually order coffee from one of the coffee roasters online and have the beans delivered to our next destination.
2. Choose the Right Grind
Depending on where you buy the coffee beans, they will be sold as whole coffee beans or ground coffee. I only buy whole beans and grind the beans in my conical burr coffee grinder.
The benefit to grinding the coffee beans myself is it allows me to play around with the coarseness of the grind and adjust it accordingly based on the roast and the brew method.
When you love coffee as much as I do, you make room for the right coffee gear. As Kait always jokes, the first thing we have to figure out when we move into a new camper is where I'm going to put all my coffee gear. This coffee grinder has been with me since we lived in a traditional house, when we moved into our first RV, downsized to van life and now it's in our 4×4 truck camper.
For those of you wondering, "why don't you get a hand grinder?" Well, I did buy this hand burr grinder when we first transitioned to van life in 2017. The challenge for me was the amount of time it took to grind the coffee and the grinder did not hold up long term. That said, hand grinders have improved since then and there are some out there with good reviews like this manual coffee grinder.
If you end up grinding your own coffee, my suggestion is to play around with the different settings and find what works for you.
3. Pick Your Coffee Brewing Method
Now it's time to make that great cup of coffee. In this section, I offer two methods for making coffee. I like these two methods because they are lightweight, compact and easy to clean. All important considerations when you're living out of a small camper or traveling internationally.
Before you pick a coffee brewing method, I want to point out that water will effect the taste of your coffee. I use purified water from our Berkey which you can read more about in my water filter review.
Method 1: Pour Over Coffee
My favorite way to making coffee is the pour over method. I started out using this Hario coffee dripper and paper coffee filters. I've since switched to the Kalita Wave Dripper using paper filters.
This is one of the best RV coffee maker setups. I like how simple, easy and controllable it is to make coffee in a pour over. You can see exactly how much water is being added and how the grounds are interacting with the water. Once the coffee is brewed, you toss the filter and grinds away and wipe down the cone with a rag or paper towel. No water or washing needed which is helpful when you have a limited amount of water.
My step-by-step guide to pour over coffee
I typically heat the water to 205 degrees for a light roast. A medium to dark roast will require a slightly cooler temperature.
Once the water reaches the set temperature, I place the filter in the pour over and pour a small amount to wet and rinse the paper filter and dump that water.
Then, I coarsely grind 20 grams of coffee, add it to the filter and wet the grinds to allow them to bloom.
After about 30 seconds, I begin pouring the water over the grounds in a circular motion without touching the side.
I now make coffee using a digital scale and will use either a 15:1 or 16:1 ratio of water to beans. For example, I will add a total of 320 grams of water for 20 grams of coffee (this includes the water used to bloom).
Tip: to make more than one cup of pour over coffee you can brew it into a small carafe.
When traveling and living out of a backpack or suitcase, I bring my collapsible pour over.
This is perfect because it takes up very little room and can fit in a small suitcase or carry-on bag. I will pre-grind coffee to bring with me, but if I don't have the room or run out of coffee, I will buy some at a local market.
If you have more room and want to make more than a cup or two at a time, I enjoy using a CHEMEX glass coffee maker. It makes a distinctive cup of coffee and is still relatively easy to clean.
Regardless of which pour over coffee maker you choose, make sure you purchase the correct filters. There are reusable coffee filters, but I have not tried them.
Method 2: Press Coffee
When I want to make more than one cup of coffee at a time, I use this French press from BruTrek. In the past, I've advocated against a French press in small campers. The reason is because the French press requires more water to clean after each use and it can be difficult to keep the coffee grounds from going down the camper sink which can cause issues in an RV gray tank. However, the BruTrek solves this problem with a removable bottom which allows you to easily clean it.
For a while, I made coffee in an AeroPress every day. I still enjoy the coffee from an AeroPress but the pour over method and French press have become my preferred way to brew coffee.
Bonus Method: Pod Coffee
While I don't own or use pod coffee makers on a regular basis, I have tried a wide variety of pod coffees from our travels. I also acknowledge that some people out there just want to be able to push a button for a cup of coffee. For those of you who fall into that category, this pod coffee maker is my favorite.
Our friends have this in their 40′ Class A diesel pusher and would not trade it for anything. I have enjoyed the coffees brewed from this machine and if I was going to buy one, this Nespresso coffee machine would be it.
Regardless of which coffee making method you choose, as long as you enjoy the cup of coffee that you make, that's all that matters.
Coffee Making Gear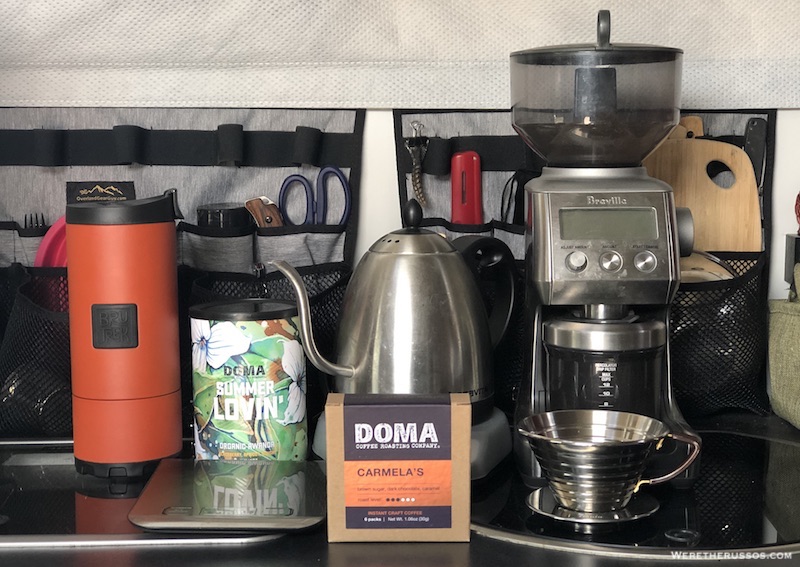 This is a list of my essential coffee gear for making a great cup of coffee.
This conical burr grinder has settings that allow me to get the perfect grind for the coffee beans I want to use. Due to it's size, when I am flying to a destination like Tibet or Barcelona, I will pre-grind the coffee beans and leave the grinder behind.
The electric gooseneck kettle is my preferred water kettle for making coffee because I can set the temperature of the water. Depending on the coffee beans, I will set the temperature as low as 190F or as high as 205F.
Gooseneck Water Kettle (stovetop) – when I don't have access to electricity, I will use this water kettle. The gooseneck allows me to control the pour when brewing coffee.
I used to eye ball the amount of coffee and water I was using. This resulted in a slightly different cup of coffee every time. With the scale, I can get my cup of coffee to come out the way I like it every time. Using my water to coffee ratio, it also allows me to make more or less coffee depending on what I want.
A well insulated cup will keep the brewed coffee hot for a longer period of time compared to a regular coffee mug. Note: I don't use the lid on these cups because I have found that when I use the lid to keep it hotter, longer, the coffee will begin to get a very bitter taste.

Video of How to Make Coffee
Kait and I hosted a live stream on our YouTube channel a while back where I explain in more detail about how I make coffee in the camper van. You can watch that video below. Keep in mind, my coffee making method is constantly evolving.
If you want a blast from the past, here's a video of me making an AeroPress coffee from our Class A RV days.
Take a Course on How to Make the Best Coffee
There are a lot of videos and courses out there for anyone looking to learn more about coffee. I took this free course Brew An Amazing Cup of Coffee with Skillshare and learned quite a bit. If you have 60 minutes to spare, I highly recommend it.
Can I Send You My Favorite Coffee?
People often ask to send me their favorite coffee beans and I really appreciate the thought. However, I have become very particular about my coffee and only prefer to drink my favorite coffee.
If you'd still like to send me coffee, Blue Bottle has egift cards on their website. You can send it to joe[at]weretherussos[dot]com
Are you looking for the best kitchen accessories for your RV? Check out these 15 RV Kitchen Gadgets we love.
Thanks for making it all the way to the end. I'd love to know how you make coffee when you're out on the road.