Some of the links below are affiliate links, which means we will earn a commission on the products or services you purchase using the links. There is no additional cost to you and the earnings help keep this website running. Read the Affiliate Disclaimer for more information.
"Is Costco membership worth it?" Well, the answer is different depending on who you ask and how they use their membership. Joe and I have been Costco members since 2005 and we have done the calculation. For us, a Costco membership is absolutely worth it.
Is Costco Membership Worth It?
Yes. As long as you use it enough to cover the cost of the membership. As of the post publication date, the base membership cost is $60 a year. The video breaks down the ways you can save money at Costco to make the membership worthwhile.
Ways to Save Money at Costco
Fuel Up on Costco Gas
Kirland gas can be anywhere from $.01 to $.20+ less per gallon. If gas is your only consideration for a membership, make sure you will buy enough gas to cover the membership cost. At a $0.03 discount per gallon, it would take 2,000 gallons of gasoline a year to pay for the $60 membership.
Note: The height clearance is 13'6″ at all locations. Diesel is available at some Costco gas stations.
Costco Locations with Diesel: https://www.costco.com/gasoline-diesel.html
Costco Propane Refill
Newer warehouse locations have propane stations with lower prices compared to U-Haul or RV parks. Our last propane fill was $1.49/gallon in Prescott, Arizona. Let's assume other propane services charge $2.99/gallon, it will take 40 gallons of propane a year to cover the cost of the base membership.
Note: Propane refill is available for fixed tanks on RVs and portable tanks. The service is not available at all Costco locations.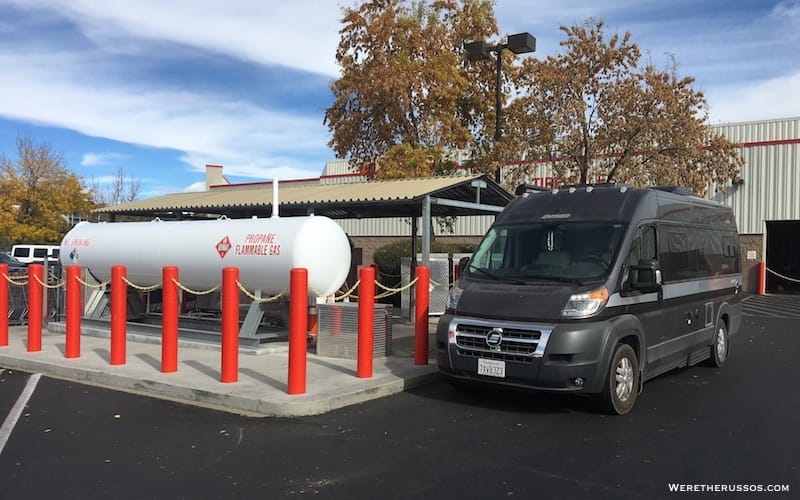 Check Costco Warehouse Coupons
Each month, Costco releases warehouse coupons online. It's a great way to find out what items are on sale. After being a member for a while, you will notice certain items go on sale regularly. Unless you need an item right away, save money by waiting for the next sale.
One example is Mobil 1 Motor Oil. You can pick up a 6-pack of 1 quart bottles at $10 off. Instead of paying $36.99, its $26.99. Costco prices are already competitive so when you add a coupon, it's even a better deal.
Note: If an item goes on sale within 14 days after purchase, you can request a price adjustment at the refund counter with the original receipt.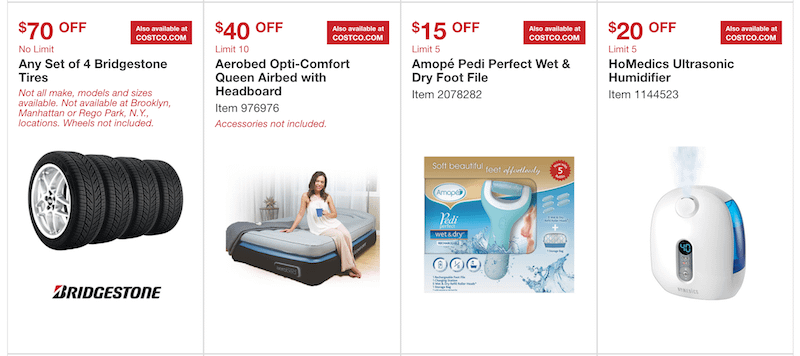 Look for Manufacture Rebates
Keep an eye out for instant rebates when you're walking around the warehouse. These rebates are not publicized on Costco's website and only last for a limited time. One rebate we recently found was $1.50 off each bag of apple pears.
Women, Children and Men Can Shop for Clothes
Costco carries a limited selection of clothes at reasonable prices. You can also find seasonal items such as swim wear, halloween costumes and winter clothes. Some of Joe's favorite articles of clothing are from Costco. You can pick up a pair of well made shorts for $10-$15. It's even better when clothes go on sale.
Buy Costco Tires – Warranty Included
There is an ongoing discount on tires when you purchase four. It comes with free tire rotations, flat tire repairs and nitrogen fill. Some warehouse locations even provide free air to fill up your tires.
Note: Costco will work on tires not purchased from their warehouse. At one of the locations it cost us $10.99 to repair a flat and $25.99 for a tire rotation.
Read more about Costco's tire warranty aka Road Hazard Warranty.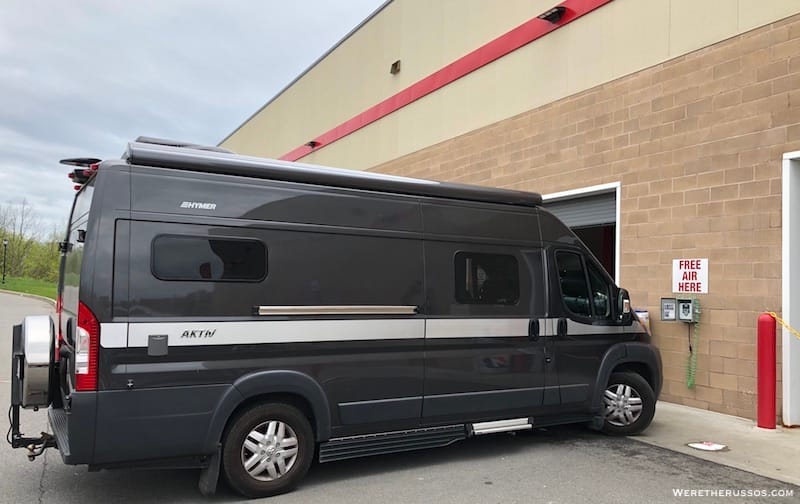 Shop Costco Online – Free Shipping
Many items on Costco's website offer free shipping. This is a great option when there isn't a warehouse nearby or the item is only available online. We have noticed that certain items are priced higher online compared to the warehouse.
Note: Items purchased online can be returned to any Costco warehouse.
Buy Beer, Wine and Liquor at Costco
Costco is the largest wine buyer in the world with a good wine selection to choose from. The prices are the same or lower than a Total Wine or BevMo. Take advantage of discounts on alcohol especially around the holiday season.
Note: Alcohol discounts are not advertised in the coupon book.
Kirkland Signature
Costco has its own brand of products labeled as Kirkland Signature. These are always cheaper compared to its name brand equivalent. Items include, but are not limited to, food items, alcohol, toilet paper, clothes and dog food. We've found the Kirkland Signature products to be as good or better than the name brand equivalent.
Kirkland Signature Products: https://www.costco.com/kirkland-signature.html
Use the Costco Credit Card
Costco Anywhere Visa credit card offers 4% cash back on all eligible gas fuel ups including Costco gas. 3% back on eligible travel and restaurant purchases. 2% back on all Costco warehouse and online purchases. 1% on all other purchases. We spend enough money on fuel (breakdown of travel expenses) each year to more than cover the cost of the $60 membership.
Citi Costco Credit Card: https://www.citi.com/credit-cards/
Costco 100% Satisfaction Guarantee
Their policy on membership is "We will cancel and refund your membership fee in full at any time if you are dissatisfied."
Their policy on merchandise is "We guarantee your satisfaction on every product we sell, and will refund your purchase price." There is a 90 day time limit for returns on some electronics (TVs, computers, cameras, etc).
If you're still asking Is Costco worth it? Then reread their membership policy. If you're not satisfied with the membership, you can get a full refund.
Costco's Return Policy: https://customerservice.costco.com/app/answers/detail/a_id/1191
Sign Up for a Costco Membership
If you found this Costco review helpful and decide to purchase a membership, please consider using our Costco Affiliate link. There is no additional fee for the buyer and in return we receive a small percentage of the sale. Thanks for your support! We really appreciate it.
Join today and get a Costco Shop Card: $20 for new Executive Members, $10 for new Gold Star Members.
*Valid only for nonmembers for their first year of membership. Limit one per household. Nontransferable and may not be combined with any other promotion. You must join in person with a Costco representative. New members will receive their Costco Shop Card by mail in 4 to 6 weeks. Costco Shop Cards are not redeemable for cash, except where required by law. A Costco membership is $60 a year. An Executive Membership is an additional $60 upgrade fee a year. Each membership includes one free Household Card. May be subject to sales tax. Costco accepts all Visa® cards, as well as cash, checks, debit/ATM cards, EBT and Costco Shop Cards. Departments and product selection may vary.
Costco Membership In Action
Costco isn't just for big families or bulk purchases. We are a family of two living in a tiny home on wheels. Watch the video to get an idea of how we use our Costco membership.
Some of our favorite items to purchase at Costco are: spices, nuts, fruits, vegetables, organic diced tomatoes, sardines and hot sauce.
Costco Warehouses in Canada
Locations in Canada are similar to the ones in the United States. A major difference is Costco Canada accepts Mastercard versus Visa. You will also find different food court items such as poutine and cappuccino.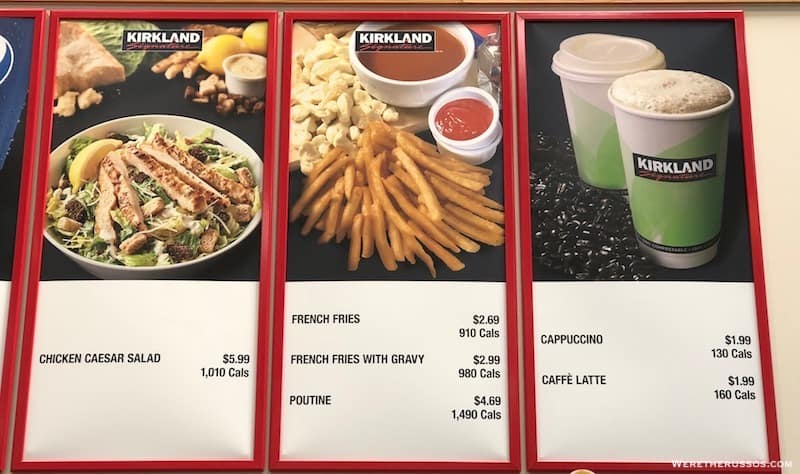 Thank you for reading! Check out our list of Money Saving Memberships.