"What tools do you carry in the RV?" I get asked this question all the time. With limited space and carrying capacity, it can be a challenge to figure out which tools you need in your RV tool kit. I have been RVing since 2015 and this is a list of my must have tools for your RV tool kit.
20 Must Have Tools For Your RV Tool Kit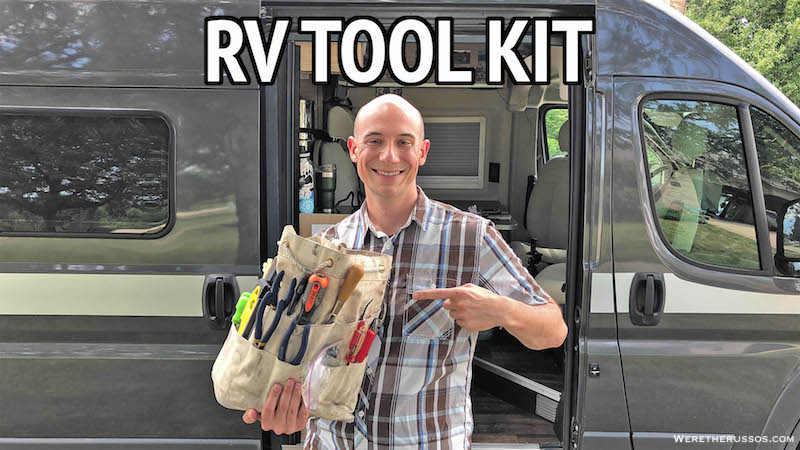 Where to Store Your RV Tools
Since you won't want your tools rattling around in your RV, you'll need something to store them in. While a traditional tool box is great for the home, it doesn't always work well for an RV. I prefer soft sided tool bags and boxes that allow you to compress them but also helps prevent rattling.
My go-to tool bag is this Nantucket #711 Diddy Bag. I've used mine for over 10 years now and I honestly think it's indestructible. The bag can be used with the pockets on the inside or outside. I chose to have them on the outside where I can easily see/grab my tools and use the inside of the bag to store various things like wires, connectors, etc. I've also been able to fit this bag just about anywhere since it can be squished down to fit most spaces.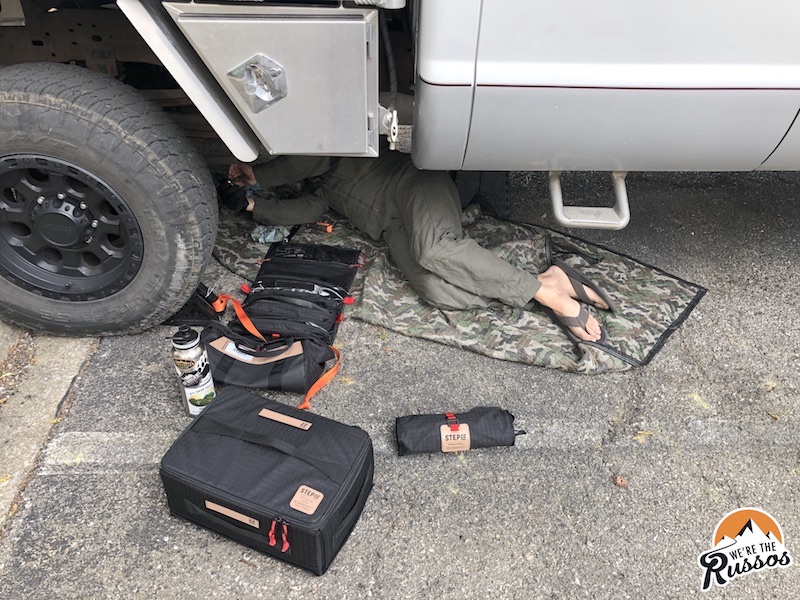 For all of the wrenches and sockets, I have the Step22 Pangolin Tool Roll with their wrench roll. This makes it very easy to store and find the wrench/socket I need. Another benefit is that I don't have to pull out my entire tool bag if I just need a couple wrenches. I can pull the Pangolin out and it's much easier to carry around rather than trying to carry everything in the Nantucket bag.
For all of the my "garage" items like tools I rarely use, spare parts, electrical items and various other things, I have two Step22 Stingray Flat Box. When not in use, this box will fold down flat. While I love this feature, I've found that when you put heavy items into other folding boxes, they tend to break (ask me how I know) but the Stingray has been rock solid. These are VERY durable and you can toss them around without worrying about them breaking. I have two stacked in the back of our truck cab and I want to get more.
What to Do When You Don't Have a Tool You Need
Somewhere down the road you may find yourself in need of a tool that you don't have in your RV tool kit. You have a few options: rent it, borrow it or buy it.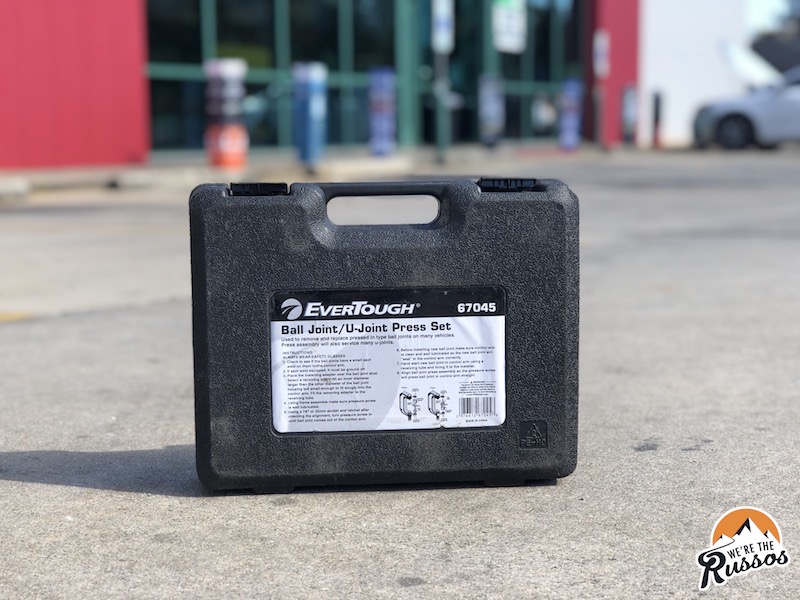 Rent it. Most auto parts stores will have loaner tools you can rent. Typically, the rental is free but when you take the tool out, they charge you the value of the tool as a deposit. You're given a couple days to return it and they refund the deposit when you do. If you love the tool or forget to return it in time, you forfeit the deposit and the tool is now yours. I used the O'Reillys loaner tools program to rent the ball joint press set to work on our 4×4 truck with a pop-up camper on the back.
Borrow it. When I needed a specific power tool for a project on the Ram ProMaster van, rather than running out and buying one, I knocked on a neighbor's door and borrowed it. I've lent out my tools many times to friends and neighbors who needed something specific to finish a project.
Buy it. This is pretty straightforward but if you're going to invest in a tool, make sure to buy something that will last. On occasion when I've needed to pick up a tool like a deep socket, rather than just buying the single size I need, I'll pick up a set because eventually I'll buy the set and I hate having random doubles of sockets.
If you don't have the room or budget to add everything on this list, or find yourself in need of a specific tool you don't have, ask a neighbor. RVers tend to be a very helpful group and most will be happy to lend you what you need. Plus, it's a great way to meet new people.
What essential tools do you carry in your RV tool kit? Let me know by leaving a comment at the end of this post.
Protect your RV from electrical surge damage. Check out our Top 30 Amp & 50 Amp RV Surge Protectors & EMS.