Did your motorhome come with a spare tire? Ours didn't. Before we discovered the Roadmaster spare tire carrier, we discussed getting a roof rack for the Jeep to carry a spare and a few other options. Then we met Don Simpson at the 2016 Florida RV SuperShow. After we saw Don's demonstration of the Roadmaster Spare Tire Carrier, we knew it was the solution we had been looking for. This hitch mounted carrier works on almost every type of RV with tire sizes ranging from 16" to 24.5". If you're in the market for a spare tire carrier for your motorhome, read our Roadmaster spare tire carrier review to see if it's the right fit for you.
Roadmaster Spare Tire Carrier Review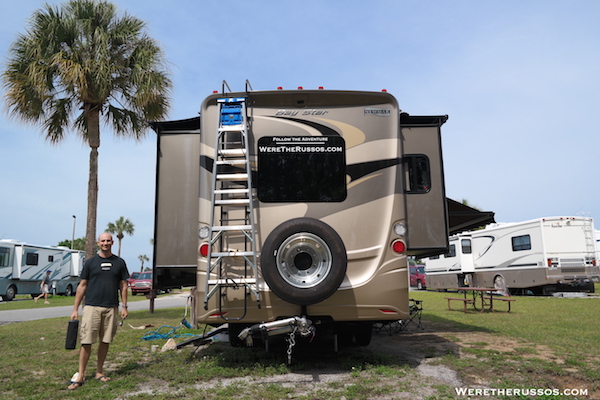 What We Received:
Roadmaster Spare Tire Carrier
MSRP: $595
Note: Rim and tire must be purchased separately
What We Like:
Peace of mind. If we blow a tire, we have a spare that can be put on quickly by roadside assistance. We've heard stories of people who damaged their rim as they were trying to get to the side of the road on a blown tire. With as much trouble as we had finding the spare rim, I don't want to imagine how hard it would be to find one if we are in the middle of nowhere. Hopefully we never have to use it, but having the spare gives us peace of mind.
Simple install. The Roadmaster Spare Tire Carrier comes in a few pieces that have to be bolted together and mounted to the receiver hitch of the motorhome. This was an easy process and the instructions were clear and easy to follow. Since the carrier weighs in at 75 lbs, we decided to mount the base in the receiver first and then assemble the rest of it.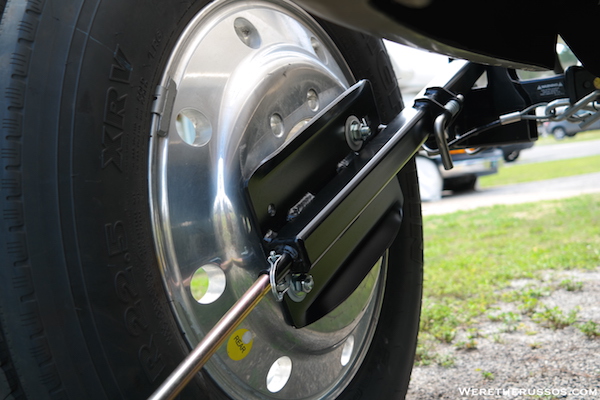 Easy to use. To mount the tire to the carrier, the back plate pivots downward on either side and all I had to do was roll the wheel over and bolt it to the back plate – there is no need to lift the wheel, which is great, especially when it can weigh in excess of 100 lbs. To pivot the wheel back up, Roadmaster provides a long lever that makes it easy to lift the wheel. Once it's in place, the the auto-latching mechanism catches. This latch prevents the wheel from swinging to the other side and locks it in place. An additional bolt is installed in the back once the wheel is in place – Roadmaster gave us a bolt with wings mounted on it so we could install/remove the bolt with our hands.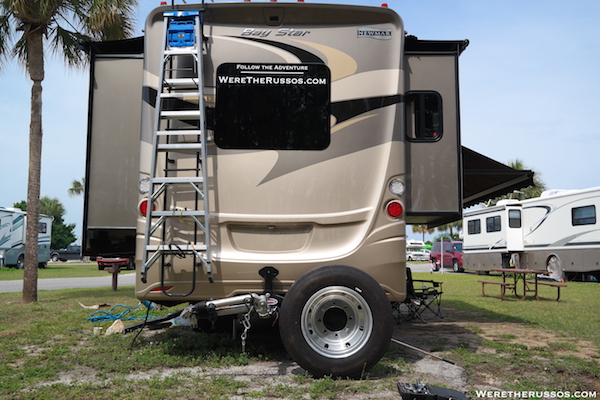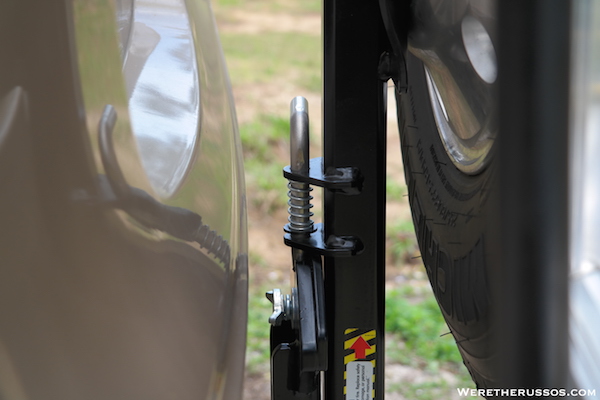 Out of the way. We have been driving around with the Spare Tire Carrier for over a month and it stays out of the way. One modification we had to make was to zip tie our license plate to the wheel because the carrier covers the license plate holder. For those who own a diesel pusher, it's easy to lower/raise the wheel when you need access the engine.
Well made. This Spare Tire Carrier is made of steel and has a powder coated finish. The unit it very sturdy and well made so there is no concern of the spare tire falling off or coming loose while we're driving down the highway or down bumpy roads.
We can still tow our Jeep. The carrier has a standard 2" receiver and a capacity of 10,000 lbs. The receiver on the carrier sits 2" lower than the receiver on the motorhome so we had to compensate by lowering the tow bar bracket on our Jeep. Since the tow bar is mounted to the end of the carrier, it now sits about 12" further away from the motorhome. We haven't noticed any issues with towing the Jeep due to the extension.
What We Don't Like:
It's expensive. The Roadmaster Spare Tire Carrier is around $595, which isn't a bad price considering what you are getting, but you also need to factor in the cost of the spare rim and tire. Buying used can save quite a bit of money, but it can be difficult to find a quality used rim and/or tire. For the tire and rim, we were looking at spending around $300 for a used rim (or new knock off) and around $150 for a used tire in good condition. When it's all said and done, the cost can get up to $1,000.
Sourcing our spare. The tire was easy to find, but the rim was nearly impossible. We thought finding a used rim would be as easy as calling the RV dealership or their tire supplier. We tried numerous places and no one sold the rim we were looking for. The only option left was to buy a new or used rim online, which would have cost us about $300. The difficulty of finding a used rim will vary depending on the rim size. We found that the rim we needed is only used on the Ford RV's, which is why they are difficult to find. Motorhomes that share a rim size with big rigs or vans will most likely have an easier time sourcing a rim. Luckily, we found a rim at an RV dealership with some cosmetic damage. Since they couldn't sell it, we were happy to take it off their hands.
Other Things to Note:
Affects RV tongue weight. The Spare Tire Carrier and wheel weigh in around 200 lbs and we have a 500 lbs max tongue weight. If we chose to tow a trailer, this would prevent us from towing anything with a tongue weight greater than 300 lbs. If you have a motorhome with a greater max tongue weight, you will be limited by the 400 lb max tongue weight of the Roadmaster Spare Tire Carrier.
Since we use the Roadmaster Spare Tire Carrier and tow our Jeep, we're unable to add a hitch mounted bike carrier or motorcycle carrier to the hitch. We decided that we would rather carry a spare than anything else with the hitch.
Overall:
We would recommend the Roadmaster Spare Tire Carrier to anyone in the market for a hitch receiver spare tire carrier. It is well made and offers peace of mind and insurance against a tire blow out. You might wonder why we wanted a spare tire for our motorhome. Watch the video below to find out more.
If you found this review helpful and decide to purchase the spare tire carrier, please consider ordering through our Amazon Affiliate link. There is no additional fee for the buyer and in return we receive a small percentage of the sale. Thanks for your support! We really appreciate it.
Disclosure: Roadmaster provided the Spare Tire Carrier free of charge in exchange for an honest review. This review represents our own opinions of the product.