Some of the links below are affiliate links, which means we will earn a commission on the products or services you purchase using the links. There is no additional cost to you and the earnings help keep this website running. Read the Affiliate Disclaimer for more information.
January is the start of the busy season for RV Shows in the U.S. with the Florida RV SuperShow being one of the most popular and largest RV shows.
Whether you're window shopping for an RV, looking to upsize or downsize, check out new and essential RV gear, the Florida RV SuperShow is a good show to attend for any RV enthusiast.
Joe and I attended this Florida RV show three years in a row and highly recommend it to anyone shopping for an RV.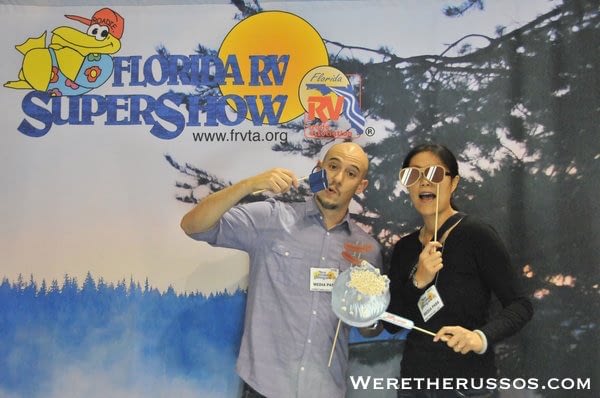 Florida RV SuperShow Details
The 2021 Florida RV SuperShow is organized by FRVTA (Florida RV Trade Association) and will take place at the Florida State Fairgrounds from January 13th through January 17th.
General admission is $12 per adult and will include second day entry for free. Seniors receive a $2 discount on Wednesday, Thursday and Friday. Active and retired military receive $2 discount on all RV SuperShow days.
Parking is $8 per day for cars and $16 per day for RVs.
Dogs are allowed at the show, but they need to be leashed and "mild-tempered" according to the show website.
Temperatures will be checked at the entrances, face masks will be required and hand sanitizer stations will be provided throughout the RV SuperShow grounds. For all the details and information about the show, visit the FRVTA website: http://www.frvta.org/show/florida-rv-supershow/
Although we will not be attending the 2021 Florida RV SuperShow, we want to share our experience from previous shows to give you an idea of what to expect.
Camping at the Florida RV SuperShow
Many attendees prefer to camp at the RV show or at a nearby campground either in their own RV or a rental RV.
The Super Rally is the most popular camping option at the RV SuperShow. Make sure to purchase tickets in advance as these sites often sell out quickly.
Camp with an RV club. Some RV manufacturers and clubs will organize their own rally at the SuperShow in Tampa. You can book a camping spot through them. For example, the Newmar Kountry Klub usually hosts a rally at this show. For $250, you get five nights of camping with 30amp service, unlimited admission to the RV Show, entertainment, and more.
Don't want to camp at the fairgrounds? There are plenty of RV parks and campgrounds in the area. One of them is the Lazydayz RV Resort, which we have stayed at.
There is also a separate camping area for vendors and media. You can find out more by contacting the Florida RV Trade Association organizers.
Wide Selection of RVs for Sale
Once you're at the SuperShow, expect to see all types of RVs for sale including:
Navigating a large RV show like this one can be overwhelming. Check out our RV Show Survival Guide for tips on how to make the most out of your visit.
Popular RV Accessories and Gear
There will be two supplier buildings at the RV SuperShow filled with vendors selling essential RV gear. If you're looking for an accessory for your camper, you'll likely find it here. Vendors range from campground organizations and RV mattresses to gear you need to dump your RV tanks and everything in between.
Some of our favorite RVing gear were discovered at this show, including a hitch mounted spare tire carrier for RVs, recycled rubber leveling/jack pads, and the WiFi extender and repeater.
Our SuperShow Experiences
To get an idea of what the show is like, below is a recap of the first time we attended the show along with videos. As you'll see, we both have less hair now and still chuckle when we see videos with Joe's attempt at growing a beard.
We spent three days checking out RVs, products, resorts and everything in between. To say the show is huge would be an understatement. For anyone in the market to buy an RV or accessosires, this RV show offers one place to see it all.
Not every model and layout was at the show, but there was plenty of inventory to get an idea of the options available. The opportunity to see new models with a different point of view was one of the highlights for us.
Are you going to the Florida RV SuperShow? Have you been? Leave me a comment below.