Some of the links below are affiliate links, which means we will earn a commission on the products or services you purchase using the links. There is no additional cost to you and the earnings help keep this website running. Read the Affiliate Disclaimer for more information.
Having a good RV WiFi booster is essential when traveling in your camper. We use this WiFi Booster Kit to help us get consistent, reliable internet access when RVing.
I originally wrote this RV WiFi booster review in 2016 when we started to using the booster and repeater setup in our Class A motorhome. While many things have changed since then, surprisingly, reliable internet access is not one of them.
When we camp somewhere with WiFi, the signal is usually weak, slow or non-existent. Since we run our online business from the road, having good internet access is important.
Many campgrounds and RV parks offer WiFi for free or for a fee. However, we've found that unless you're parked close to a repeater, you will likely
have trouble connecting to the WiFi
experience a slow internet connection
not see the WiFi network at all
That's where an RV park WiFi range extender and an RV WiFi booster comes in. Keep reading to see how we use the WiFi booster kit to solve this problem.
What's the Best RV WiFi booster Setup?
When we met Eric from TechnoRV at the Tampa RV Show, we asked him for recommendations on the best WiFi booster to use in our RV. The solution he recommended was the Alfa WiFi Booster and Repeater Kit.
RV WiFi Booster Review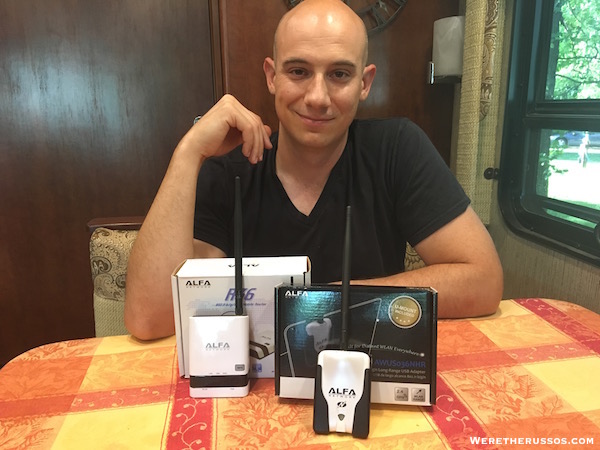 What is an RV WiFi booster?
The WiFi booster is a powerful antenna that can pick up WiFi signals from further away than a laptop or smartphone can. The booster connects to the repeater and the repeater rebroadcasts the signal, similar to a home WiFi router.
You can also setup a password to prevent other people in the area from accessing the WiFi signal.
The caveat is the WiFi booster can only boost the signal it's receiving. If the speed at the source is slow or everyone at the RV park is logging on at the same time, you're going to have a slow connection. While there are limitations, you'll still be getting a better, stronger signal by using the booster.
Is the WiFi Booster Mac Compatible?
There are several RV internet boosters available on the market, but not all of them are Mac compatible. This camper WiFi booster kit allows us to connect with any device.
Mac Owners – The WiFi booster cannot be plugged directly into your Mac computer. The WiFi repeater is required to use the booster.
PC Owners – The WiFi booster can be plugged directly into your computer via the USB connection. A repeater is needed for multiple devices to access the signal at the same time.
For the full review, watch my video review below. I discuss in detail what the WiFi booster and repeater do, how they work, what we like and don't like about them.
We've been using this WiFi signal booster on and off since we first got it in 2016. Four years later and it still works like the day we received it. This RV WiFi extender setup has gotten us online and given us a usable signal more times that I can count.
The one issue we've run into is that it can be difficult to connect to WiFi networks that use a sign in landing page. You may encounter this at coffee shops or libraries – when you try to connect to the WiFi. A webpage will open up and ask you to register in order to use the WiFi. While are still able to connect, it does take multiple tries.
What About Using a Hotspot?
For the most part, we use the personal hotspot on our cell phones to get online. However, when we do stay at a campground with good WiFi or driveway surf with friends, this booster kit comes in very handy. To learn more about ways to stay connected on the road, read our post on Internet for RVers.
Why You Should Buy From TechnoRV
When we got the WiFi Booster and Repeater Kit from TechnoRV, it came with what they call their "Learning Series." In this case, an email with step by step instructions on how to set up the WiFi booster kit and a phone number to call if you need to talk to a human.
I consider myself very competent when it comes to stuff like this so I didn't bother with the TechnoRV setup instructions and just read the one in the Alfa package. To say I was lost was an understatement. The directions made no sense and after thirty minutes, I gave up and read TechnoRV's instructions. Five minutes later, I was online.
We've heard similar stories from people who bought this setup from another retailer and were unable to get it set up. So my suggestion is to buy from TechnoRV and their customer service is great. I recently had to reset the login password on our setup and gave TechnoRV a call. They walked me through the reset procedure which was so much easier than trying to figure it out myself.
If you found this review helpful and decide to purchase the RV WiFi booster kit, please consider ordering through our Amazon affiliate link. There is no additional fee for the buyer and in return we receive a small percentage of the sale. Thanks for your support! We really appreciate it.
Disclosure: TechnoRV provided the Alfa WiFi Booster and Repeater free of charge in exchange for an honest review. This review represents our own opinions of the product.