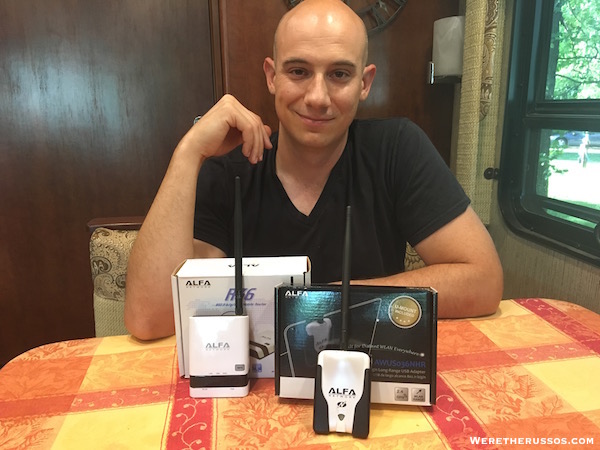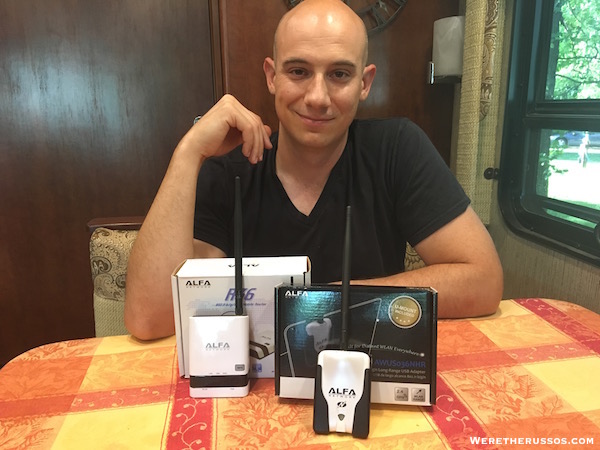 Traveling full time means we don't always have consistent reliable internet access. When we stay at a place with WiFi, the signal will be weak/slow or non-existent. Our business is this website and YouTube channel so internet access is important. Also, we need a way to speed up a slow connection to get faster WiFi speed. Local coffee shops are one solution, but we also wanted a booster to extend WiFi range on our laptops and mobile devices.
Extend WiFi Range – WiFi Booster and WiFi Repeater
We met Eric from TechnoRV who had the solution we needed: Alfa WiFi Booster and Alfa WiFi Repeater. There are many WiFi boosters on the market, but not all of them are Mac compatible. These two devices allow us to connect with any device.
The WiFi booster is a powerful antenna that can pick up WiFi signals from further away than the laptop can. The booster connects to the repeater and rebroadcasts the signal similar to a home WiFi router. A password can be setup to prevent other people in the area from accessing the signal.
Mac Owners – The WiFi booster cannot be plugged directly into your Mac computer. The WiFi repeater is required to use the booster.
PC Owners – The WiFi booster can be plugged directly into your computer via the USB connection. A repeater is needed for multiple devices to access the signal at the same time.
What We Received:
Alfa Network WiFi Booster
Alfa Network WiFi Repeater
For the full review of the Alfa WiFi Booster and Repeater, watch my video review below. Learn more about what these products do, how they work, what we like and don't like about them. Note: the booster and repeater came with great setup instructions created by TechnoRV. These were significantly better than the instructions provided by Alfa Network.
Additional Resources: Cherie and Chris over at Technomadia have written extensive articles about their internet setup that is a very good resource. You can read their article How We Keep Online or check out their RV Mobile Internet Resource Center.
If you found this review helpful and decide to purchase the products, please consider ordering through our TechnoRV Affiliate link: Alfa Network WiFi Booster, Alfa Network WiFi Repeater. There is no additional fee for the buyer and in return we receive a small percentage of the sale. Thanks for your support! We really appreciate it.
Disclosure: TechnoRV provided the Alfa WiFi Booster and Repeater free of charge in exchange for an honest review. This review represents our own opinions of the product.