Some of the links below are affiliate links, which means we will earn a commission on the products or services you purchase using the links. There is no additional cost to you and the earnings help keep this website running. Read the Affiliate Disclaimer for more information.
We have been camping near Flagstaff, Arizona since 2015 and it has become one of our favorite areas in the United States. If you're looking for dispersed camping options or free camping around Flagstaff, this is the post for you.
Skip the campgrounds and head into the Coconino National Forest to camp among the ponderosa pines. Below are a some of our favorite spots for free camping near Flagstaff.
Keep in mind there are no facilities at these free camping spots so you are boondocking. However, there are several places to dump your RV tanks in Flagstaff and fill up on potable water. We use Allstays to locate free RV dumps, places to fill propane tanks, and to find more free camping spots in Flagstaff.
1. Walnut Canyon Dispersed Camping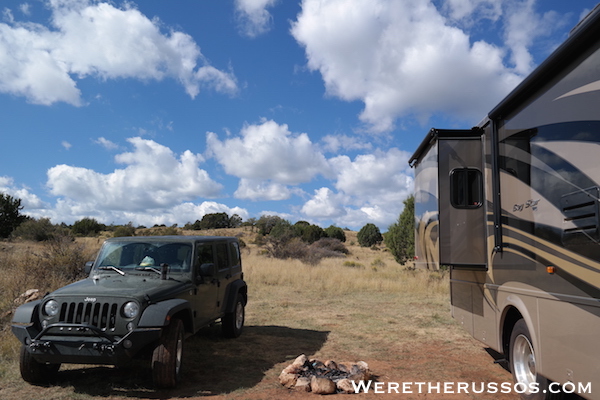 GPS coordinates 35.179492,-111.489035. Cosnino Road is a dirt road with some rough washboards. There is a sign at the entrance stating camping is allowed for up to 14 days.
There are quite a few established campsites in the area, many of them are close to the entrance.
Some sites are private with trees surrounding the entire campsite. Others sites are out in the open with plenty of sunshine.
You can get an idea of the dispersed camping spots near Walnut Canyon by watching the beginning of this video.
Most of the campsites are accessible by an RV or regular vehicle. Large ruts or narrow entrances may prohibit larger RVs access to some of the free campsites near Walnut Canyon.
2. A-1 Mountain Road Free RV Camping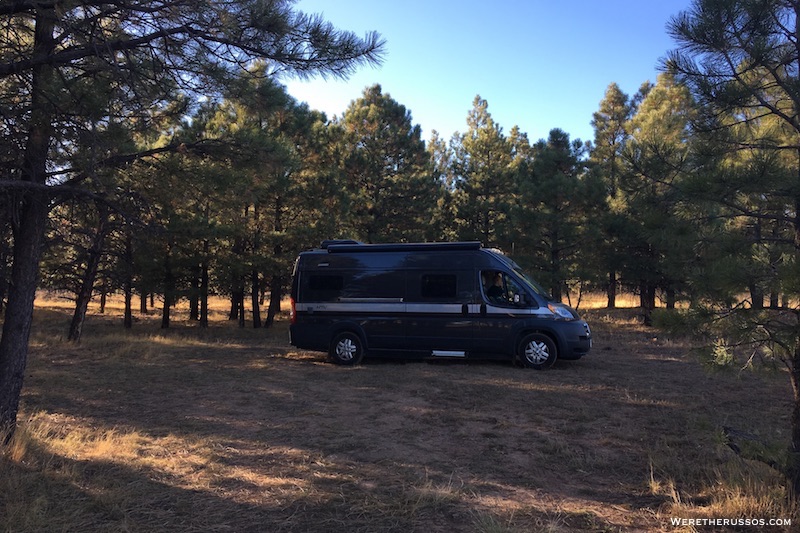 (Update: reports of "no camping" signs have gone up in this area. You can call the local the forest service office to check on the status.)
GPS coordinates: 35.210253, -111.733172. A-1 Mountain Road turns into a dirt road with some washboards. This area seems to be more popular than Walnut Canyon, it could be that it's closer to downtown Flagstaff.
Established sites are easy to spot as they are right along the road as you drive in.
To get an idea of A-1 Mountain Road conditions and free camping options, watch the video below.
Both of these Flagstaff free camping options are close enough to town where you can get supplies, dump, fill up on fresh water.
It makes for a good basecamp to explore Flagstaff and nearby attractions.