Some of the links below are affiliate links, which means we will earn a commission on the products or services you purchase using the links. There is no additional cost to you and the earnings help keep this website running. Read the Affiliate Disclaimer for more information.
Where to Fill RV Fresh Water Tank
An RV related question that Kait and I get asked frequently is where to get fresh water for an RV while traveling? Since we started RVing in 2015, we've never had issue finding RV fill stations to get potable water for the RV's fresh water tank. While it's been easy for us to find potable water for our RV fresh water tank, I know it is a big concern especially for new RVers. In this post, I will share some tips on how and where to fill up RV fresh water tank when you're out on the road.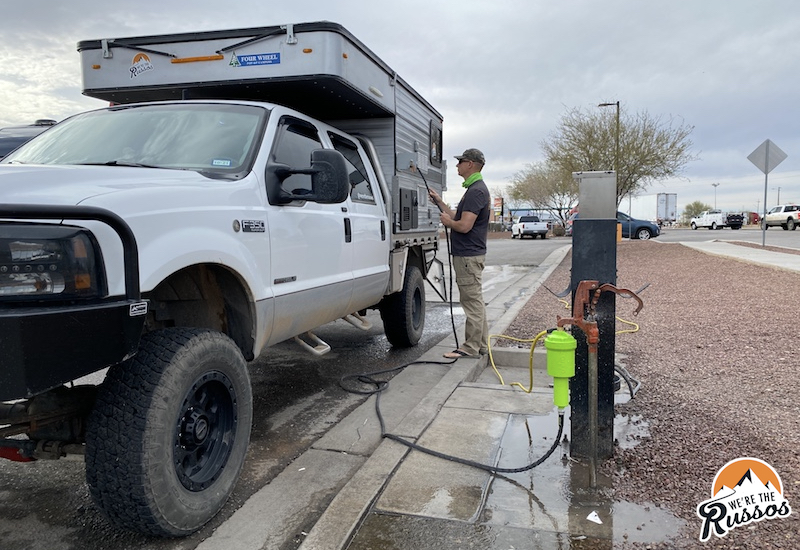 1. RV Fill Stations
The most common place to get potable water for your camper is at RV fill stations. To locate an RV water fill station near by, log-in to Allstays Pro and use the "water" filter under the amenities section. Once the filter has been selected, the map will display all the RV fill stations near you or an area you're traveling to.
Read our AllStays Camp and RV App Review to learn more about why we love this essential RVing app.
As you discover all the places where you can fill an RV fresh water tank, you will notice many of the RV fill stations are located at places like campgrounds, public parks, travel centers and businesses you've visited throughout your travels. Keep reading for more tips on where to get fresh water for your RV water tank.
2. Campgrounds
Public and private campgrounds are a great source to fill your RV fresh water tank. While this may be an obvious answer to the question "where can I fill my RV water tank with potable water?", what some new RVers may not know is that even if you're not staying at the campground, some will allow you to use the RV dump station and fill up with potable water for a small fee (or sometimes even for free).
Throughout our RVing experience, we have visited several National Parks and state campgrounds that allow visitors to use the RV dump station without a campground reservation. Typically there is no an additional fee to use the dump station, especially if there is a park entrance fee. These RV dump stations usually include potable water to fill up the RV fresh water tank.
3. Public Parks
Some town, city, county and public state parks will have potable water spigots or stations where you can fill up the RV's fresh water tank. Depending on the time of year, some water fill stations may be turned off for the winter. To find out if a public park has potable water for an RV, either call the office or ask a park ranger when you arrive.
Make sure to have a long hose that is rated for drinking water as some public parks place their potable water spigot in areas that can be a challenge to reach. If you have the room, they make a 50′ version of the RV water hose we use.
4. Gas Stations & Truck Stops
Beyond being able to park overnight at truck stop in an RV, these travel centers can also be a great option for filling up the fresh water tank in your RV. Most gas stations and truck stops will have a potable water spigot and will typically let customers fill water for free. We also go inside to ask the gas station attendant before filling up the fresh water tank.
The location of the RV water fill station will vary at each gas station or truck stop so if you don't see it right away, go inside and ask an attendant. Loves, Pilot and Flying J are the most popular truck stops we go to to fill up the RV fresh water tank. The potable water spigot is typically located at the RV fuel station and/or by the RV dump station, just be sure to double check which spigot has the potable water.
Based on our experience, some truck stops and gas stations do charge a fee to use the sewage dump, but if we tell them we only want to use the potable water, they will waive the fee. Every business is different so it's always good to ask and attendant.
5. RV Dealerships
RV dealerships will typically have a potable water fill station and some will even have an RV dump with access to potable water. Once you've located an RV dealership on the road, call ahead to ask if they have potable water to fill your RV fresh water tank. If they do have an RV fill station, be sure to find out where it's located so you know where to pull in.
Camping World has a network of RV dealerships and stores around the country making it an easy destination to locate to fill up on fresh water for the RV. You can easily locate Camping World stores by using Allstays or by visiting the Camping World locations page.
6. Rest Areas
Having traveled in 49 U.S. states in an RV, we have visited our fare share of rest areas and welcome centers throughout the years. While some rest areas allow overnight RV parking, other rest areas will provide free RV dump stations and potable water. So the next time you pull into a rest stop or welcome center, check to see if there is an RV fill station with potable water for your RV.
7. Fire Stations
Friends of ours who travel in a Class B RV fill up their RV fresh water tank at the local fire station. They always go in to ask before filling up and have not never been denied.
Whether it's a fire station, church, or another local business, sometimes all you have to do is go in to ask if they have potable water to fill your RV's fresh water tank.
8. Friends & Family
One of the things we love about the RV lifestyle is visiting friends and family along the way and driveway surfing with them if it's an option. Assuming you're leaving on good terms, you can always ask if you can fill up your RV fresh water tank before you get back on the road.
This is where that long hose rated for drinking water comes in handy. We've had to get pretty creative with filling the water tank when driveway surfing. Sometimes the water spigot is located right next to the house with a lot of obstacles and manicured landscaping between the spigot and the camper.
10. Cabela's
Cabela's and Bass Pro Shops not only offer a wide selection of camping and outdoors gear, but they can also be a great place to get potable water for your RV. Some Cabela's stores have dedicated RV parking and RV fill stations with potable water. The best way to find out if a store location has potable water is to give them a call and ask an associate. Some Cabela's locations allow overnight RV parking so you can inquire about that as well when you call about filling up the RV fresh water tank.
Use an RV Water Filter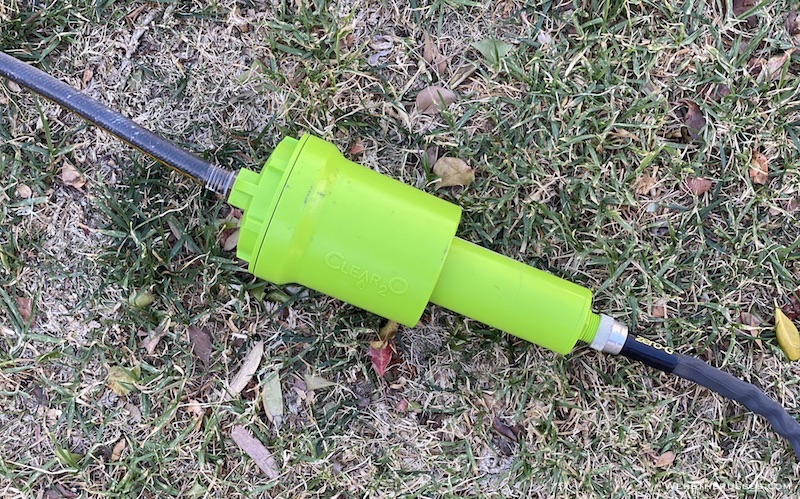 Regardless of where you fill up on fresh water for your RV, it's important to use an RV water filter, especially when it's hard to know what the water quality is while traveling. The last thing you want to see when you turn on the tap is to see questionable water coming out of the faucet. And dirty, gritty water isn't just bad for you – it's bad for the RV's plumbing system, too. We always connect an inline RV water filter to filter the water coming into our tanks and then use a Berkey water filter to purify all of our drinking water.
Read our RV water filters article to learn more about the different types of filters for your RV and read our Berkey water filter review to see if this is the right water purifier for your RV.
Thanks for making it all the way to the end. I hope you found these tips helpful in finding potable water on the road to fill your RV fresh water tank.
Where do you fill your RV fresh water tank? Share your tips below!