Some of the links below are affiliate links, which means we will earn a commission on the products or services you purchase using the links. There is no additional cost to you and the earnings help keep this website running. Read the Affiliate Disclaimer for more information.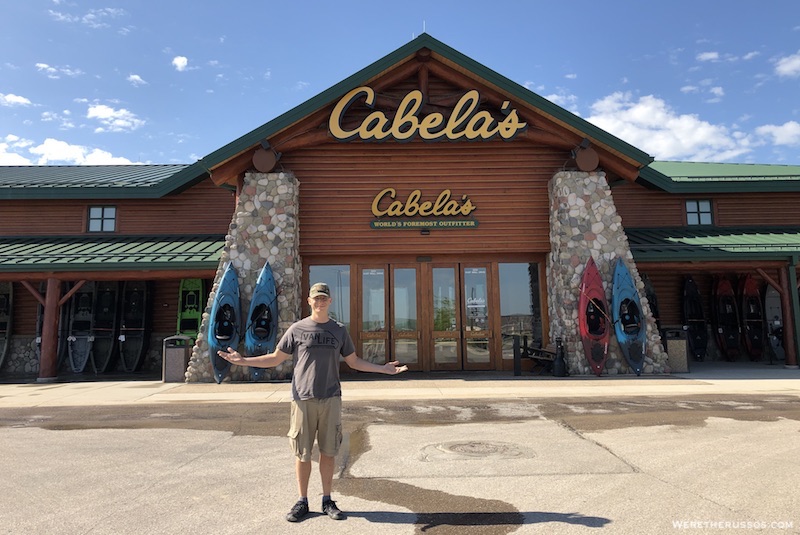 Throughout our travels, several RVers have mentioned that overnight RV parking is available at select Cabela's locations around the United States.
The first time we parked overnight at Cabela's was in Georgia. Since then, we have slept at quite a few Cabala's locations throughout the U.S.
Keep reading to learn more about overnight parking at Cabela's and using the dump stations at Cabela's.
Overnight Parking at Cabela's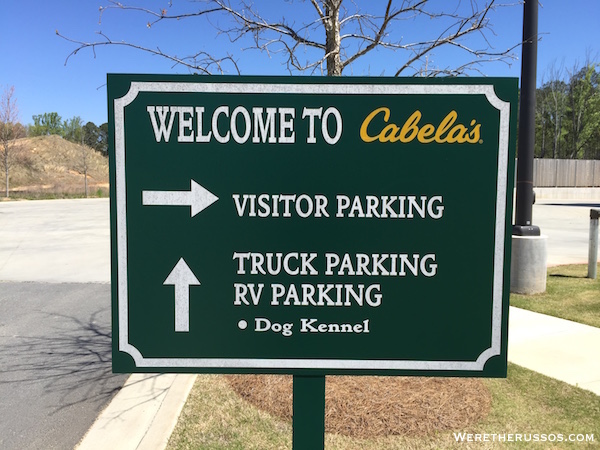 What is Cabela's and why would you want to spend the night in their parking lot? Cabela's is a large outdoors retailer with over 80 locations throughout the United States and Canada. The stores are popular stops for outdoor enthusiasts, especially those traveling around in recreational vehicles.
Anything you could possibly need for your adventure, there's a very good chance you can find it at Cabela's.
It's worth mentioning that Cabala's was acquired by Bass Pro Shops in 2017. When you combine the two brands, there are over 170 locations. Visit Cabela's website for store locations.
Which Cabela's Allows Overnight Parking?
To find out which Cabela's location allow overnight parking, call the store and ask the manager. We've slept in quite a few Cabela's parking lots since 2015 and some stores are welcoming while others will respond with a firm no. Each store has a different policy which is why you want to call and speak to the manager.
It's important to point out that these overnight parking spots are provided by Cabela's for their customers.
My favorite way to find a Cabela's store near by is to use Allstays. If you have an iOS device, you can also download the Allstays Camp & RV App.
Spending the Night at Cabela's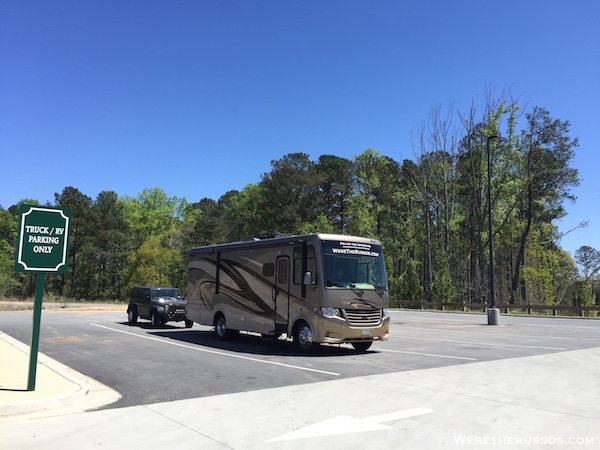 Our first experience overnight parking at Cabela's was in Georgia. Joe was in need of some camping gear so I called ahead to ask if they allow overnight RV parking for customers. The employee told me not only do they allow overnight parking, but they have a special parking area in the back of the store for RVs and trucks.
When we arrived, there were clear signs in the parking lot on where to go for RV and truck parking. The signs lead us to the back of the store with five large parking spots.
The area was very quiet at night. We had a few neighbors including a family that parked next to us in their small travel trailer. We bonded over how terrible the mosquitos were at Flamingo Campground in the Florida Everglades.
Leo got a new dog toy and we were tempted to buy this hammock, but at last, we must follow the one in one out rule (12 Tips to Survive RV Living).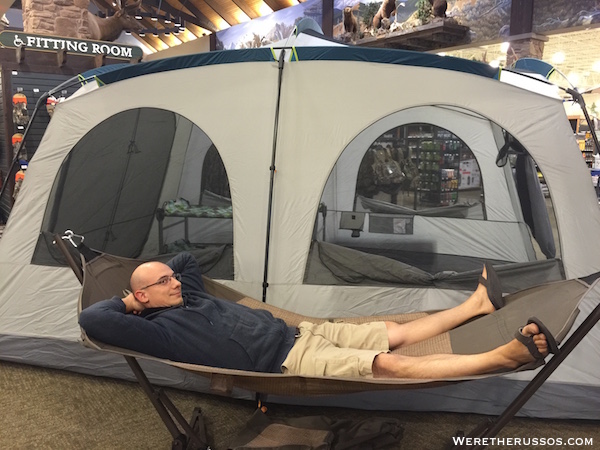 Cabela's RV Dump Station
Some Cabela's locations have Sani Star dump, where you can dump your RV tanks. When you make a purchase at Cabela's, ask the cashier for the dump station code at check out. Otherwise, you can pay to dump by using your credit card.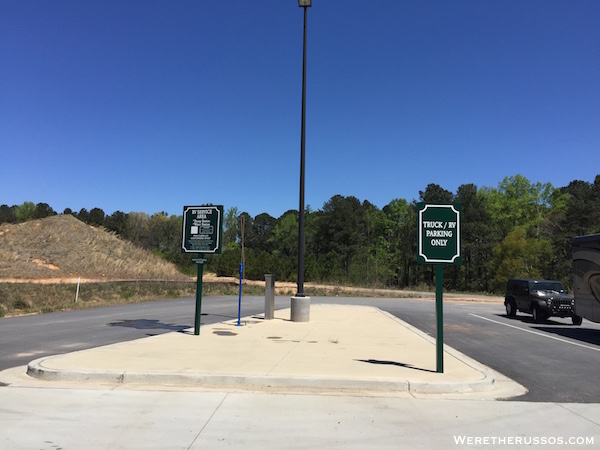 To our surprise, there was also an RV dump station at the Cabela's in Acworth, Georgia.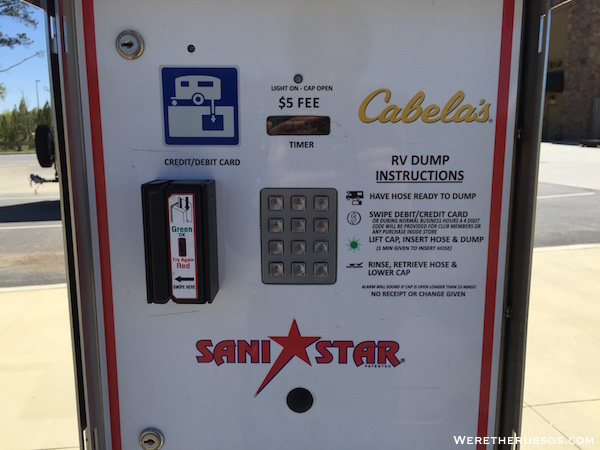 The cost was $5 to dump and the machine only accepted credit cards.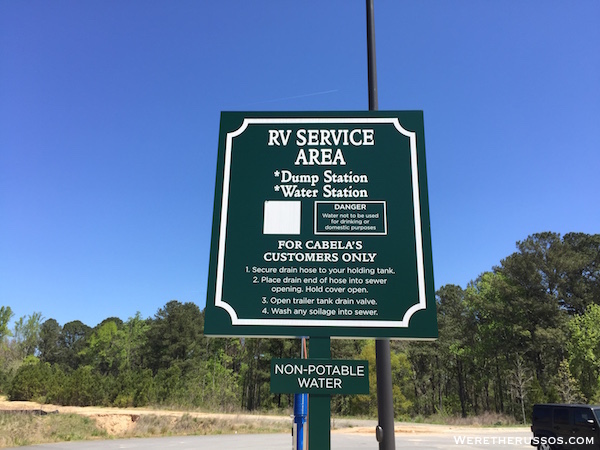 The dump station was very clean and the instructions were clear on how to use it. Unfortunately, the station at this RV dump did not have potable water. Check out our post on finding an RV Fill Station for potable water.
Tips for Spending the Night at Cabela's
Find out if the parking area is level when you call to ask about overnight parking. If you plan to get a good nights sleep, you will want to make sure you can get your vehicle level (How to Manually Level Your Camper).
Park in a way where you will not get blocked in by other vehicles. As customers arrive in the morning, they could be parking their vehicles around you. If you are in a large RV, it may be a challenge to maneuver out of your spot.
Ask for the RV dump station code at check out. If the location has a Sani Star you can ask the cashier for the code to use the RV dump (How to Dump RV Tanks).
Have you experienced overnight parking at Cabela's? Leave us a comment below.