Some of the links below are affiliate links, which means we will earn a commission on the products or services you purchase using the links. There is no additional cost to you and the earnings help keep this website running. Read the Affiliate Disclaimer for more information.
During our RV downsizing journey, we looked at quite a few small travel trailers. The number one requirement was the travel trailer had to be lightweight. Specifically, we were looking for travels trailers under 3,500 pounds. Between all the research, visiting dealers and attending RV shows, we got to check out quite a few small camper trailers.
This is a round up of some of our favorite lightweight travel trailers under 3500 lbs.
Small Travel Trailers Under 3,500 lbs (A-Z)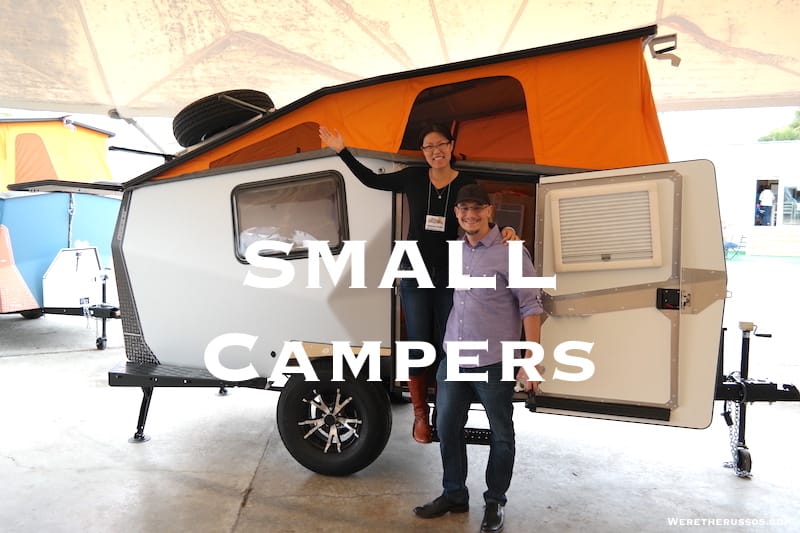 Alto Teardrop Camper Trailer by Safari Condo
Based in Saint-Nicolas, Quebec, Canada. The Alto trailer by Safari Condo is by far our favorite teardrop camper. Kait's aunt and uncle own the Alto R1713 and let us film a walk-through of their teardrop trailer which you can watch below.
They found the Alto travel trailer easy to tow with their Jeep Wrangler and took it on many camping trips before they sold this unique teardrop trailer. Safari Condo currently makes two Alto R series trailers with a retractable roof: Alto R1713 and Alto R1723.
GVWR: 2,700 lbs – 3,500 lbs
Feather Weight: 1,816 lb (824 kg) – 1858 lb (843 kg)
Website: http://www.safaricondo.com/en/
Barefoot and TAB Teardrop Trailers by nuCamp
Based in Sugarcreek, Ohio. nuCamp manufactures a handful of lightweight travel trailers that can be towed by a half-ton truck. The TAB teardrop trailers are the most well known in the nuCamp trailers product line. The nuCamp Barefoot is an European style lightweight camper that is still in the prototype phase. Watch the video below for a tour of the nuCamp Barefoot trailer.
GAWR: 2,220 lbs- 3,900 lbs
Total Gross Weight (Dry): 1,269 lbs – 2,840 lbs
Website: https://nucamprv.com/
Basecamp 16 Aluminum Travel Trailer by Airstream
Based in Jackson Center, Ohio. The Basecamp travel trailers joined Airstream's line of aluminum travel trailers in 2018. This small RV trailer comes with a decent sized wet bath and a wrap around window in the galley. Watch our tour of the Airstream Basecamp below.
GVWR: 3,500 lbs
Base Weight (with LP & Batteries): 2,650 lbs
Website: https://www.airstream.com/travel-trailers/basecamp/
Bean Trailers – Ultra Lightweight Travel Trailer
Based in Salt Lake City, Utah. Bean Trailer makes lightweight trailers with a fiberglass shell. The most lightweight travel trailers in the product line are the Bean Stock and Classic Bean trailer. Keep an eye out for these cool teardrop trailers at the different Overland events and expos around the country.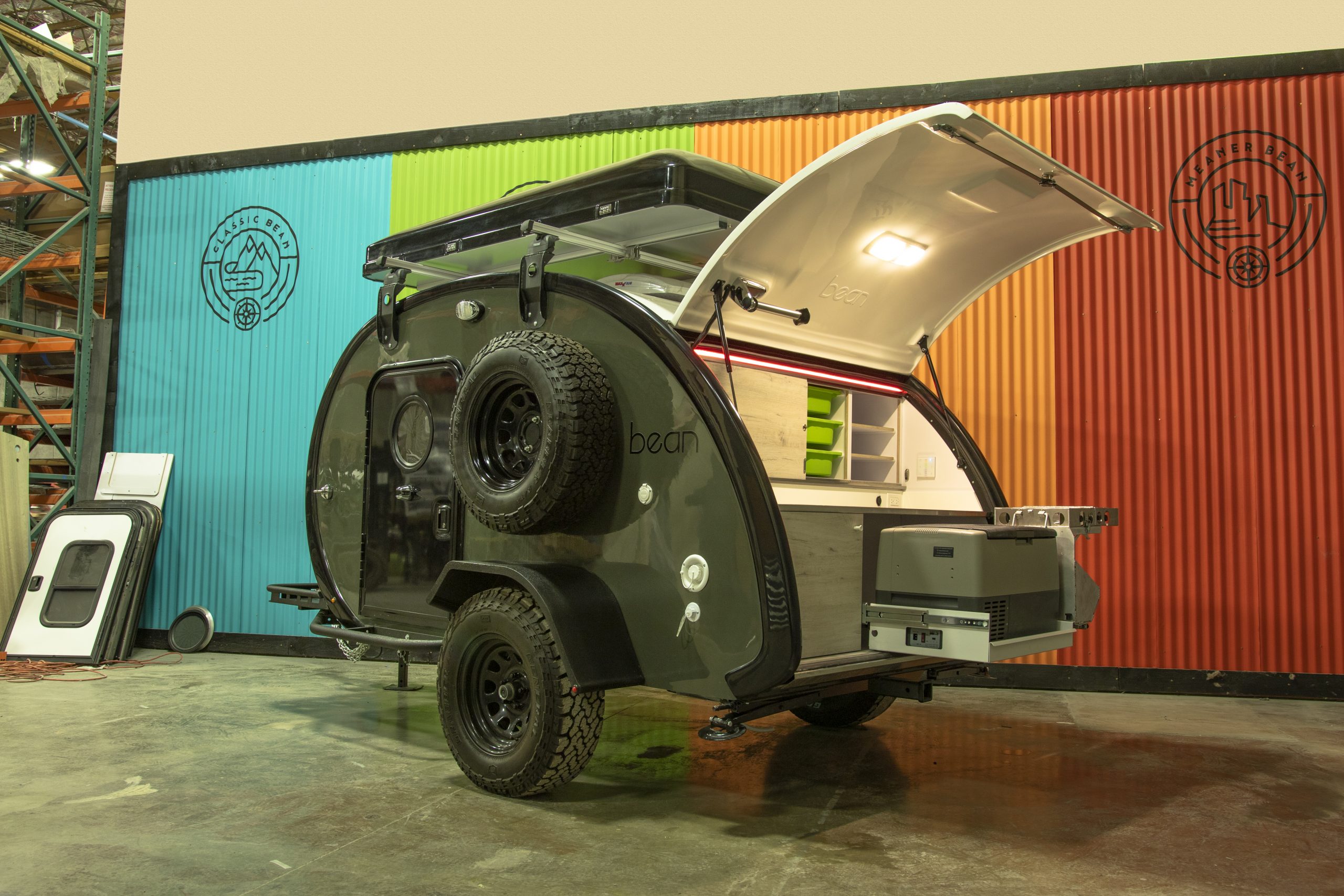 GVWR: 3,500 lbs
Dry Weight: 1,650 lbs – 2,500 lbs
Website: http://www.beantrailer.com/
Boreas Campers Off-Road Travel Trailers
Based in Arvada, Colorado. Boreas Campers makes several models of off-road overland campers. The Boreas XT camper featured in the photo below has a dry weight of 2,200 lbs with a GVWR of 3,500 lbs and 19″ of ground clearance.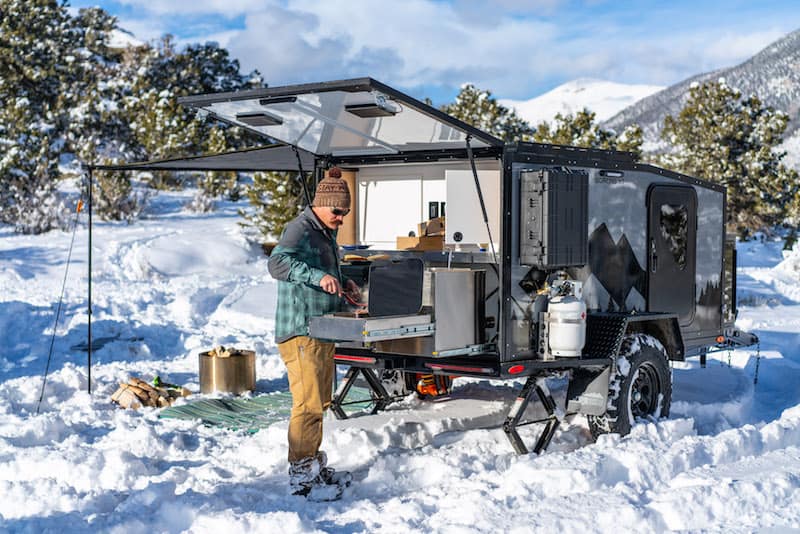 GVWR: 3,500 lbs
Website: https://boreascampers.com/campers/
Casita Spirit Fiberglass Travel Trailers
Based in Rice, Texas. This lightweight travel trailer manufacturer has been making small campers since 1983. Designed to be durable and aerodynamic, these fiberglass travel trailers can be easily spotted rolling down the road. Casita Spirit is the lightest travel trailer the company makes with the Casita Spirit 16 standard weighing in at 1,970 pounds dry.
GVWR: 3,500 lbs
Website: http://casitatraveltrailers.com/
Cricket Trailer by TAXA Outdoors
This small camper trailer's big selling point is the "NASA inspired design." We briefly considered towing the Cricket trailer behind our Jeep Wrangler Unlimited when we were downsizing from our small Class A RV. The dry weight is 1,800 pounds with a GVWR of 2,700 pounds and GAWR of 3,500 pounds. For more overland and off-grid adventures, check out the Cricket Overland edition of this lightweight camping trailer.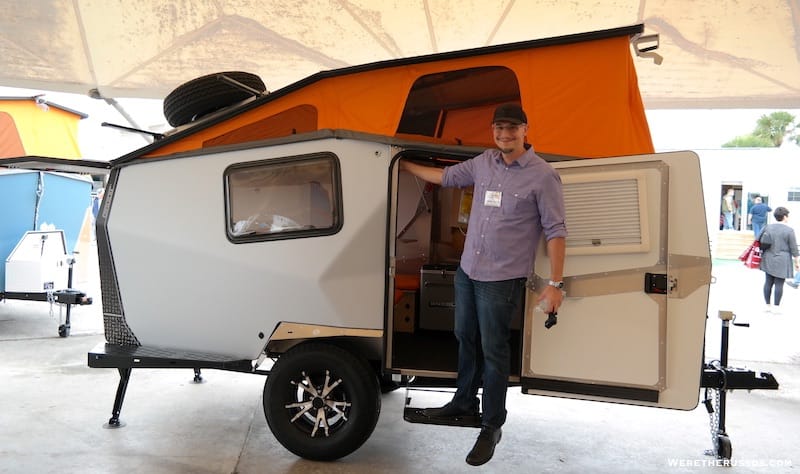 GVWR: 2,700 lbs
Website: https://taxaoutdoors.com
Happier Camper HC1 Fiberglass Travel Trailer
Based in Los Angeles, California. The Happier Camper HC1 is the Lego of fiberglass travel trailers. This small pull behind camper is so modular, you can configure it in many ways to make it fit your camping trailer needs. We haven't seen any other lightweight campers quite like the HC1 and the base dry weight is 1,100 pounds.
GVWR: 3,500 lbs
Website: http://happiercamper.com/
InTech's Flyer, Luna & Sol Trailers
Based in Nappanee, Indiana. In 2010, the founders of InTech RVs set out on a mission to build the best travel trailers. The company now offer a variety of lightweight aluminum travel trailers that range in size and layout.
GVWR: 2,220-3,500 lbs
Website: https://www.intechrv.com/
Lance 1475 Small Travel Trailer
Based in Lancaster, California. Before Lance released the 1475, we considered towing the Lance 1575 camper. This small travel trailer doesn't have any slides and the most notable feature are the large windows by the swivel chairs. Below is our video tour of the Lance 1475 travel trailer.
GVWR: 3,500 lbs
Website: http://www.lancecamper.com/
Scamp Fiberglass Travel Trailers
Based in Backus, Minnesota. Scamp Trailers make fiberglass travel trailers to order at the factory and use suppliers based in the U.S.A. "When you purchase a Scamp, know that they are quality-manufactured by Americans who are proud to uphold the Scamp tradition of excellence."
GVWR: 2,200-3,500 lbs
Website: http://www.scamptrailers.com/
SylvanSport VAST Lightweight Travel Trailer
Based in Brevard, North Carolina. SylvanSport has a few towable options with the VAST being their first travel trailer. The company's slogan is about "adventurous comfortable camping" with the aim to reset consumer expectations for RV trailers.
GVWR: 3,000 lbs
Website: https://www.sylvansport.com/
TetonX Hybrid Camper Trailer
Based in St. George, Utah. We learned about TetonX Hybrid through our friend Jason. This lightweight camping trailer is designed for off road adventures with a GVWR of 3,500 pounds. Check out the video tour we filmed of our friend's small travel trailer below.
Key features of the new model include composite core, larger entry door, air bag suspension, full pop instead of the wedge pop, and upgraded bunk beds.
GVWR: 3,500 lbs
Website: https://tetonx.com/
Timberleaf Teardrop Trailers
Based in Grand Junction, Colorado. Timberleaf Camping Trailers offers three models of teardrop trailers. The budget friendly Kestrel camping trailer starts at $7,800 and weighs in at 860 pounds. The Classic teardrop model starts at $21,500 with many of the bells and whistles that customers want in their travel trailer.
GVWR: 3,500 lbs
Website: https://timberleaftrailers.com/
Vistabule Teardrop Trailers
Based in St. Paul, Minnesota. We learned about these cool teardrop trailers camping next to one in Big Bend National Park. Kata and Marina, the owners of the Vistabule teardrop trailer below, were gracious enough to give us a tour. At the time, they were towing this small RV trailer with their Subaru. Check out their adventures on Instagram at Vistabule302.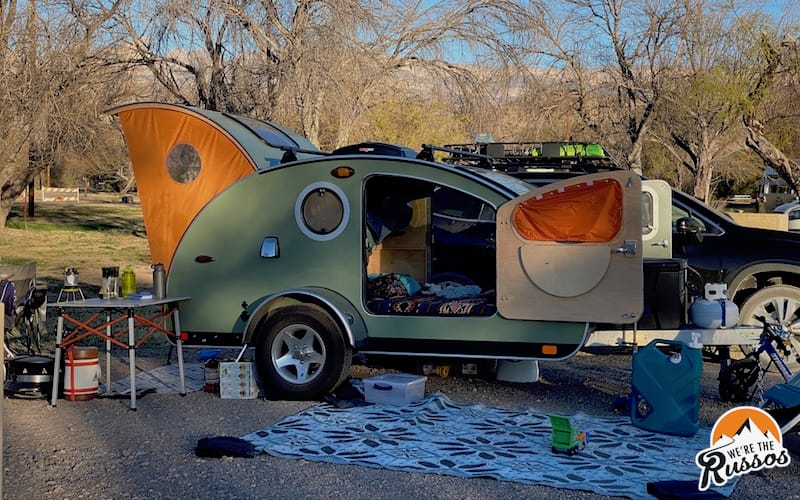 GVWR: 2,200 lbs
Website: https://vistabule.com/
Other Small Camper Trailers to Consider
These small camper trailers are over 3,500 pound GVWR (gross vehicle weight rating), but worth looking into if you're in the market for a small pull behind camper.
Bigfoot Fiberglass Travel Trailer
Bigfoot RV is based in British Colombia, Canada. They manufacture fiberglass travel trailers and truck campers for four season camping. The smallest travel trailer has a dry weight of 3,179 with a GVWR of 4,300. The video walk-through below is the 25B21RB model.
GVWR: 7,500 lbs
Website: http://bigfootrv.com
Black Series Off-Road Travel Trailers
Black Series is based in Australia. They make rugged off-road caravans and pop-up tent campers that have been roaming around the Australian outback for over a decade. You can now buy the Black Series of travel trailers in the U.S. which come with a 5 year structural warranty.
GVWR: Wide range
Website: https://www.blackseriescamper.com/
Escape Fiberglass Travel Trailers
Based in Chilliwack, British Colombia, Canada. Escape Trailer manufactures fiberglass travel trailers that are sold direct to consumers. While most of of their small camping trailers are well over 3,500 lbs, the Escape 17A and 17B have a GVWR of 4,000 lbs.
GVWR: 4,000 lbs
Website: https://escapetrailer.com/
Oliver Fiberglass Travel Trailer
Oliver Travel Trailers is based in Tennessee. They make double-hulled fiberglass travel trailer that are heavier than other options listed in this post. If staying under 3,500 lbs isn't a criteria for you, then check out the Legacy Elite II travel trailer.
GVWR: 7,000 lbs
Website: https://olivertraveltrailers.com/
Layout, length, GVWR. There is quite a bit to consider when shopping for a small travel trailer. Try out a few travel trailers to see which one is the right fit for your camping needs.
>>Browse Small Travel Trailers for Rent<<