Some of the links below are affiliate links, which means we will earn a commission on the products or services you purchase using the links. There is no additional cost to you and the earnings help keep this website running. Read the Affiliate Disclaimer for more information.
Jeep Wrangler has been around since 1941. The current day Wrangler is a rugged, purpose built vehicle that can go almost anywhere. Because of this, many people consider the Jeep Wrangler one of the worst choices for people who never plan to take it off-road. The vehicle has the aerodynamics of a brick, get about 17mpg and doesn't have a smooth ride. That said, the Jeep Wrangler Unlimited is a great vehicle to tow behind a motorhome.
Jeep Wrangler Unlimited Review
About Our Jeep
We purchased a 2015 Jeep Wrangler Unlimited Sport Hard Top with Tow Package (includes 3.73 gear ratio).
There are a limited number of vehicles that can be pulled behind a motorhome with all four wheels on the ground without extensive (and expensive) alterations. If you're considering a tow vehicle, read our Jeep Wrangler Unlimited review to see if it's the right fit for you.
Reasons We Bought a Jeep Wrangler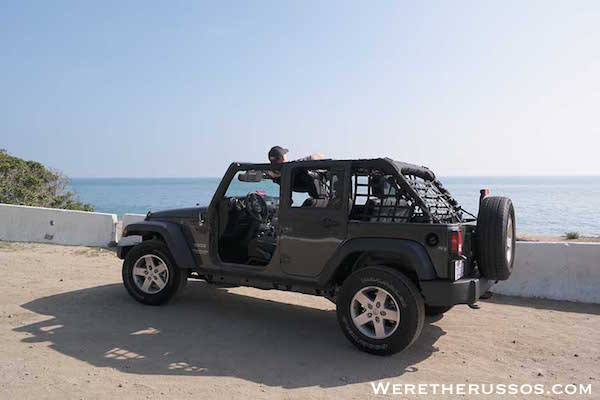 4×4 Capability
This was important because we want to explore the back country and take the Jeep on off-road trails like Broken Arrow in Sedona. The Jeep, even in its stock form, is able to tackle roads and obstacles that most vehicles can't.
The Jeep can do this because of its high ground clearance, 4 wheel drive system with a 4hi and 4lo setting. 4lo setting allows the Jeep to climb obstacles and steep grades without needing to apply much, if any, throttle. The Hill Assist feature holds the Jeep steady if we stop on a steep incline and release the brake to begin moving forward. Hill Decent feature prevents the Jeep from picking up speed while going down steep dirt trails. Also doesn't hurt to have a rear mounted full size spare tire so we don't have to worry about trying to get home on a "donut" (we've needed the spare twice now).
Plenty of Room
The rear seats can be folded flat, which gives the Jeep an enormous amount of room for our dog and cargo. There is an additional storage under a flap in the rear bed which includes a place to hold the screws removed when the top is off so they don't get lost. The interior is designed to get wet so the carpeting can be easily removed along with plugs in the floor to let water drain. Leo's favorite spot is the rear bench where he can walk from side to side and put his head out the windows. Watch our video Life with a Siberian Husky.
Automatic Transmission
When we bought the Jeep, I was using it to drive in gridlock traffic 60 miles every day and Kait's not comfortable driving stick. This ruled out many potential tow vehicles which are manual. Fortunately, the Jeep can be towed with an automatic or manual transmission. Read about how to tow the Jeep behind a motorhome.
New Bumper
Although we didn't have to make any mechanical modifications to the Jeep, we did swap out the factory bumper for Rock Hard's fully integrated bumper in order to connect the Jeep to the tow bar rather than using a base plate, which is the more common option. The process to connect and disconnect the Jeep to the tow bar and put it in and take it out of tow mode is quick and simple. Kait is much better at doing this than me so she is our designated tow vehicle specialist. I'm still in charge of dumping the RV tanks.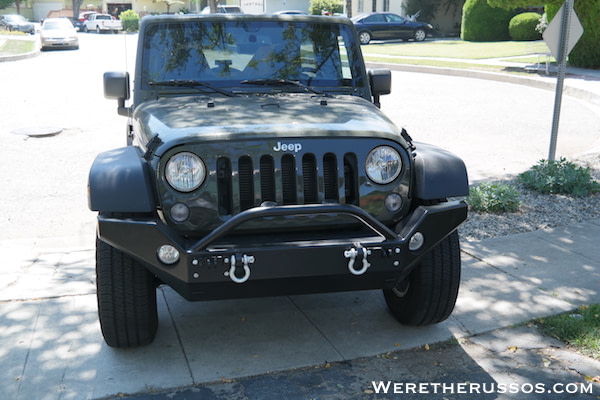 Rugged
The Jeep is designed for off-road trails with its plastic fenders, skid plates along the bottom, etc…When we do get a scratch, it's more of a badge of honor. After all, it's a Jeep!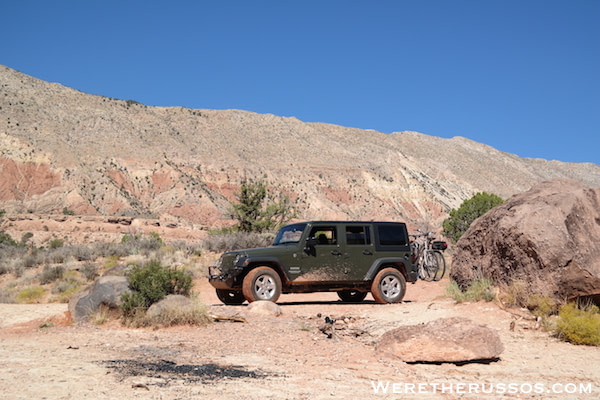 Brings out the Adventurous Side
When it's a nice day, we can take the front portion or the entire roof off, plus we can remove the front and rear doors. There isn't another car currently on the market that allows us to do this.
Taking the doors off is a fairly easy process – remove two screws on each door, unclip the electrical connection and remove the door strap (which is used in place of typical door stops). All of the window controls are in the center console so the front doors can be removed and still give the driver control of the rear windows.
Jeep Wrangler Accessories and Parts
Thanks to the overwhelming support Jeeps have in the aftermarket, there is an unlimited number of things we can do to our Jeep and, as we've found, each one becomes a reflection of its owner.
One of the first things I got was cargo nets for the back area. This way we can remove the hard top and take the dogs with us on ride alongs. Like most Jeep accessories, there are many companies that make cargo nets. Look for one made from durable material that's easy to put on and take off.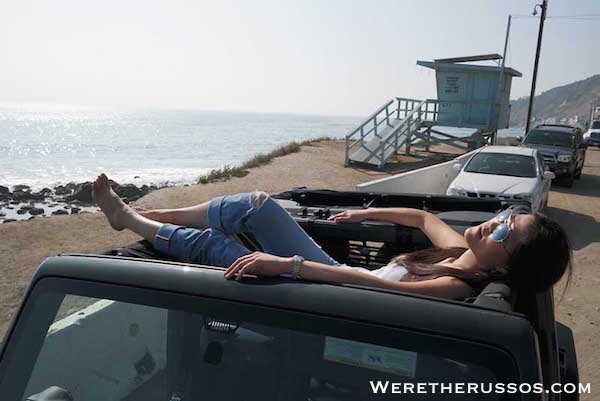 The Jammock is about one of the coolest Jeep Accessories available. What is a Jammock? Well, it's a hammock for your Jeep! When I saw this thing online I knew Kait would love it (she loves lounging in hammocks) and even more so if we could lounge on top of our Jeep.
What We Don't Like About the Jeep Wrangler:
Terrible Gas Mileage
We track our MPG on a regular basis and typically get between 16-18 mpg regardless of the style of driving. As we add accessories in the future like a roof rack, larger tires and a lift kit, we can only expect this number to go down. With a 22 gallon gas tank, we typically fill up every 340-360 miles, which is quite often for the amount of driving we do.
Hard Top Gets Extremely Hot
When the Jeep is parked in the sun, our black hard top gets very hot. When it's cool outside, we don't mind, but when it's 90 degrees, all we can feel is heat radiating from the roof onto our heads. There almost no insulation with the hardtop, it can get so hot that even with the AC on full blast, we can feel the heat on our heads. Sometimes we have to point all the vents upwards to help cool the roof and our heads.
Road Noise
The lack of insulation also means that there is more road noise when we're driving. It's almost pointless to use the bluetooth when we are on the highway going 60+.
Limited Towing Capacity
With the tow package, the Jeep is limited to a 3,500 lb towing capacity. Standard towing capacity is 2,000 lb. This is fine when all we want to tow are a few motorcycles, but it greatly limits the camper trailers we can tow.
While the Jeep has been made to work well off-road, there are a few other things about it which make on-road driving a bit unenjoyable. For example, the Jeep has solid axles rather than independent suspension so when we hit a bump, we really feel it. The brakes tend to squeak when they are cold but as told by many other Jeep owners, "It's a Jeep thing". The speakers in the Jeep are also pretty bad and would need to be upgraded for any audiophile.
Overall
The Jeep Wrangler is the perfect vehicle for us. We can go anywhere and do anything we want to with it. Although we have our dislikes, the only thing we can't fix using aftermarket parts is the gas mileage – which we can live with. We've embraced the saying "It's a Jeep thing." It's one of those vehicles that makes you look for the road less traveled.
Want to tow a Jeep? Read How to Flat Tow a Jeep Wrangler.