Some of the links below are affiliate links, which means we will earn a commission on the products or services you purchase using the links. There is no additional cost to you and the earnings help keep this website running. Read the Affiliate Disclaimer for more information.
The Jeep Wrangler has been around since 1941. The current day Wrangler is a rugged, purpose built vehicle that can go almost anywhere. Because of this, many people consider the Jeep Wrangler one of the worst choices for people who never plan to take it off-road. The vehicle has the aerodynamics of a brick, gets about 17mpg and doesn't have a smooth ride. That said, the Jeep Wrangler Unlimited is one of the best cars to tow behind a motorhome.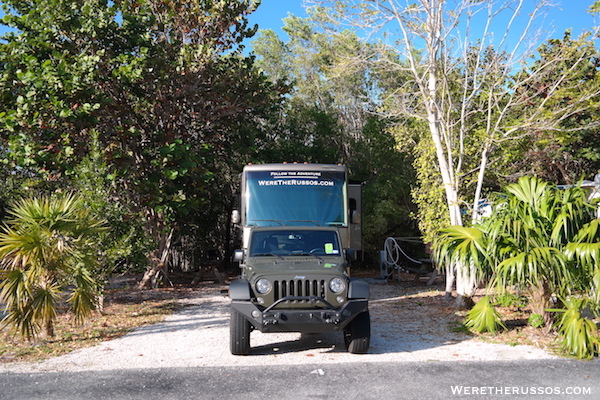 We purchased a 2015 Jeep Wrangler Unlimited Sport Hard Top with Tow Package (includes 3.73 gear ratio).
The Jeep Wrangler Unlimited met our requirements for a "toad" (a car to towed behind RV).
four wheel drive
automatic transmission
four doors to accommodate RV living with dogs
under 5,000 pounds so not to exceed the max tow capacity of our 29′ motorhome.
There are a limited number of cars that can be flat towed behind an RV with all four wheels on the ground without extensive (and expensive) alterations. If you're looking for the best flat tow vehicles, read our Jeep Wrangler Unlimited review to see if it's the right fit for you.
Jeep Wrangler Unlimited Review – One of the Best Cars to Tow Behind a Motorhome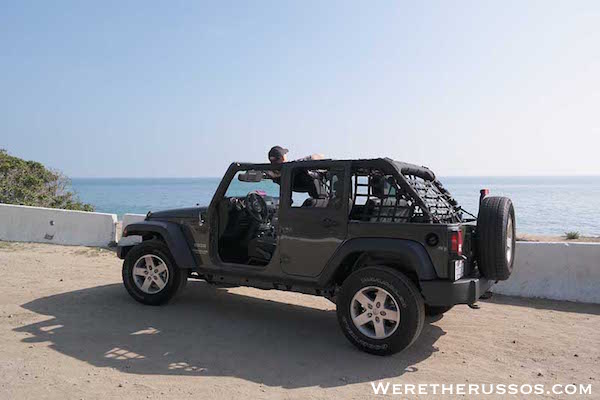 Reasons We Bought a Jeep Wrangler Unlimited
1. Ability to be Flat Towed
The ability to flat tow a Jeep Wrangler was the main reason we considered it for RV living. Because of the vast number of aftermarket Jeep accessories, there are various options to choose from when setting up a Jeep Wrangler to be flat towed. Read How to Flat Tow a Jeep Wrangler.
On the road, we had no problems towing the Jeep Wrangler with a 29′ gas powered motorhome. It tracked well with the RV and went around corners smoothly. Most of the time we had no idea it was back there, which made it helpful to have a rear view camera so we can monitor the vehicle while driving.
The Jeep Wrangler was easy to connect and disconnect from the RV as well as getting it in and out of tow mode. The ease of disconnecting the Jeep was great because the only downside of flat towing a vehicle is that you cannot back up with it attached. While this wasn't typically an issue for us, we did get stuck on a dead end street once and had to disconnect the vehicle before we could turn around.
2. The 4×4 Capability
We love to explore the backcountry and being able to go on off-road trails like Broken Arrow Trail in Sedona, Arizona is one of the main reasons to have a capable four wheel drive vehicle. The Jeep Wrangler Unlimited, even in its stock form, is able to tackle roads and obstacles that most vehicles can't.
The Jeep Wrangler can do this because of its high ground clearance, 4 wheel drive system with a 4hi and 4lo setting. 4lo setting allows the Jeep to climb obstacles and steep grades without needing to apply much, if any, throttle. The Hill Assist feature holds the Jeep steady if we stop on a steep incline and release the brake to begin moving forward. Hill Decent feature prevents the Jeep from picking up speed while going down steep dirt trails.
Also doesn't hurt to have a rear mounted full size spare tire so we don't have to worry about trying to get home on a "donut" (we've needed the spare twice now).
3. Plenty of Room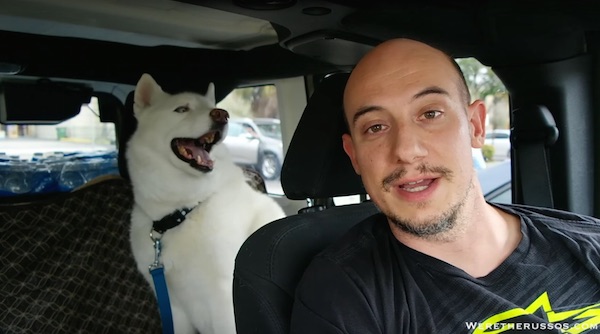 The rear seats in the Jeep Wrangler can be folded flat, which allows for plenty of room for two large dogs and cargo. There is an additional storage under a flap in the rear bed which includes a place to hold the screws removed when the top is off so they don't get lost.
The interior is designed to get wet so the carpeting can be easily removed along with plugs in the floor to let water drain. Leo's favorite spot is the rear bench where he can walk from side to side and put his head out the windows.
Watch Life with a Siberian Husky.
4. Automatic Transmission
When we bought the Jeep Wrangler, I was using it to drive in gridlock traffic 60 miles every day and Kait's not comfortable driving manual transmission cars. As a result, we decided that an automatic transmission was a requirement. This ruled out many manual vehicles on the best cars to tow behind a motorhome list.
Fortunately, the Wrangler can be flat towed with an automatic or manual transmission.
Read How to Flat Tow a Jeep Wrangler.
5. Rugged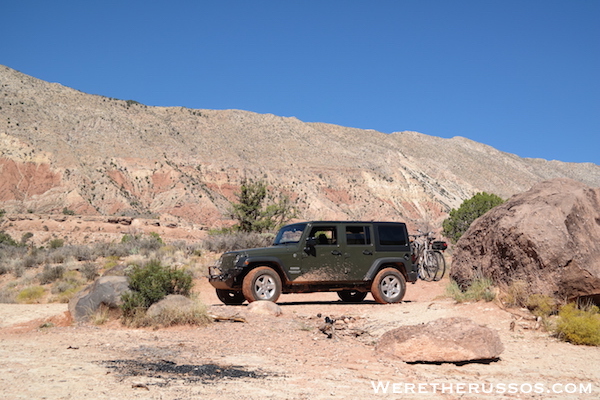 The Jeep is designed for off-road trails with its plastic fenders, skid plates along the bottom, etc…When we do get a scratch, it's more of a badge of honor. After all, it's a Jeep!
6. Brings out the Adventurous Side
On a nice day, you can remove the front portion or the entire roof to enjoy the sunshine and cool air on your head. If you're feeling really adventurous, you can even remove the front and rear doors.
Taking the doors off our Jeep Wrangler is a fairly easy process. Remove two screws on each door, unclip the electrical connection and remove the door strap (which is used in place of typical door stops). All of the window controls are in the center console so the front doors can be removed and still give the driver control of the rear windows. The side view mirrors however are attached the the doors so in order to be legal and see better, we fabricated a side view mirror for the driver's side which mounted to the upper door hinge.
Watch How I take the doors off our Jeep Wrangler.
7. Accessories and Modifications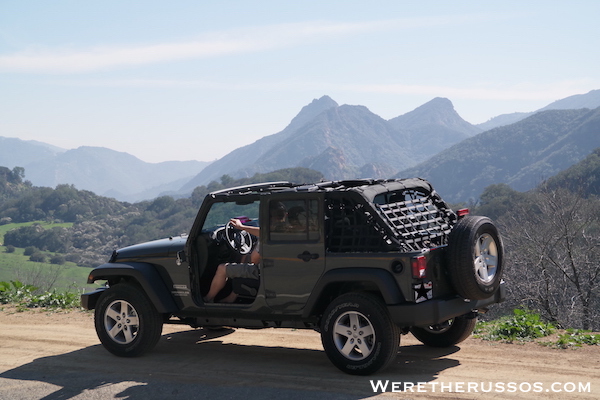 Thanks to the overwhelming support Jeep Wranglers have in the aftermarket, there is an unlimited number of accessories and modifications. Each Wrangler becomes a reflection of its owner.
Many of the vehicle's shortcomings can easily be overcome through aftermarket solutions. What we've found is that with a Jeep Wrangler, you're only limited by how much monty you want to spend.
One of the first things I bought were cargo nets for the back area. This way we could remove the hard top and take the dogs with us. Like most Jeep accessories, there are many companies that make cargo nets. Look for one made from durable material that's easy to put on and take off.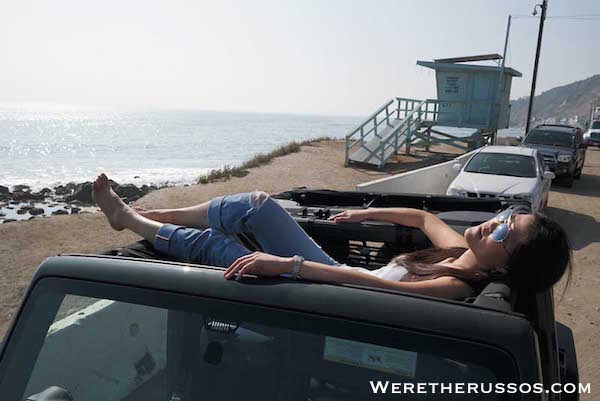 The Jammock is about one of the coolest Jeep Accessories available.
What is a Jammock? Well, it's a hammock for your Jeep! When I saw this thing online I knew Kait would love it (she loves lounging in hammocks) and even more so if we could lounge on top of our Jeep.
Once we were ready to setup the car to be flat towed, we upgraded to an aluminum front bumper for the Jeep.
The Cons of a Jeep Wrangler
1. Terrible Gas Mileage
We track our MPG on a regular basis and typically get between 16-18 mpg regardless of the style of driving. If we had added accessories like a roof rack, larger tires and a lift kit, this number would only go down.
With a 22 gallon gas tank, we typically had to fill up every 340-360 miles, which was quite often for the amount of driving we do.
2. Hard Top Gets Extremely Hot
When the Jeep was parked in the sun or it was 90 degrees out, our black hard top got very hot. On a hot, sunny day all we could feel was heat radiating from the roof onto our heads. There is almost no insulation with the hardtop and it got so hot so days that even with the AC on full blast, we could feel the heat on our heads.
There are aftermarket solutions to help combat this, however it wasn't something we purchased.
3. Road Noise
The lack of insulation also means that there is more road noise when we're driving. It's almost pointless to try and make a bluetooth call when we were on the highway going over 60 mph.
4. Limited Towing Capacity
With the tow package, the Jeep Wrangler is limited to a 3,500 lb towing capacity. Standard towing capacity is 2,000 lb. This is fine when all we want to tow are a few motorcycles, but it greatly limits the camper trailers we can tow.
5. On-Road Manners
While the Jeep has been made to work well off-road, there are a few other things about it which make on-road driving a bit unenjoyable. For example, the Jeep has solid axles rather than independent suspension so when we hit a bump, we really feel it. The brakes tend to squeak when they are cold and the speakers would need to be upgraded for any audiophile.
As many other Wrangler owners will tell you, "it's a Jeep thing."
Towing a Camper Behind the Jeep
While the Jeep Wrangler is a great vehicle to two behind a motorhome, it's also a popular vehicle for towing small travel trailers.
We briefly considered towing a camper behind the Jeep when we decided to downsize from a Class A RV to a Class B RV.
One of the first questions we had to answer was "what is the towing capacity of the Jeep Wrangler?"
During our research we found out that Jeep Wranglers have a towing capacity that ranges from 1,000 pounds to 3,500 pounds. Typically the two-door Jeeps can tow up to 2,000 pounds while the four-door Jeeps can tow up to 3,500 pounds.
The specific options for an individual Jeep like year, model, engine, transmission and gear ratio will determine the maximum towing capacity for that Jeep. For example, Jeep Wranglers that came with 3.21 gears prior to the 2013 model year are limited to a tow capacity of 1,000 pounds while model year 2013 and newer Jeep Wranglers can tow 2,000 pounds.
If you're looking to two a camper behind your Jeep, be sure to check the owner's manual to confirm the towing capacity of that specific Jeep.
Are you searching for the best RV tow bar? Check out our review of the Ready Brute Elite Tow Bar.
Overall
The Jeep Wrangler was the perfect vehicle for us. We could go anywhere and do anything we wanted to with it. When we sold our Jeep, it had over 40k miles (not counting how many miles it was flat towed which were not counted on the odometer) and we never had any problems with it.
Although we had our dislikes, the only thing we couldn't fix using aftermarket parts was the gas mileage – which we could live with. It's one of those vehicles that makes you look for the road less traveled. Embraced the saying "it's a Jeep thing."