Some of the links below are affiliate links, which means we will earn a commission on the products or services you purchase using the links. There is no additional cost to you and the earnings help keep this website running. Read the Affiliate Disclaimer for more information.
Looking for unique overnight RV camping experiences? How would you like to wake up on a vineyard in your camper or spend the night on a farm? Or maybe find yourself stepping out of the RV, parked alongside historic war birds? You can experience all of this in your RV and more with a Harvest Hosts membership. Harvest Hosts is an RV membership program that provides unique camping opportunities for RV owners and renters across the United States and Canada. We have been members since 2015 and absolutely love Harvest Hosts. If you are looking for a different type of RV camping experience, read our Harvest Hosts review to see if it's the right RV membership for you.
Harvest Hosts Review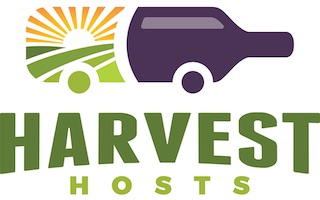 What is Harvest Hosts?
Harvest Hosts is an RV membership program that offers a different kind of RV camping experience by providing members with the ability to spend the night at wineries, farms, museums, breweries, restaurants and other types of businesses. We even used our Harvest Hosts membership to camp at a bowling alley one night!
As of writing this Harvest Hosts review, there are nearly 4,000 locations available to members with new hosts being added regularly. The map below will give you an idea of where the hosts are located around the U.S. and Canada.
How Does it Work?
When you become a Harvest Hosts member, you get access to businesses across the United States, Canada and Mexico that have signed up with the program to allow RV owners and renters to park overnight on their property. While the the hosts do not charge a fee to park overnight in the RV, the expectation is that Harvest Hosts members will patronize their business in someway. Harvest Hosts suggests a minimum spend of $20 to support the business members are staying with.
Here are some ways to patronize a Harvest Hosts business:
Wineries: purchase a wine tasting, glasses or bottles of wines. Every Harvest Hosts winery we've stayed at also have a gift shop where visitors can purchase non-alcoholic items. This is a great option for members who want to stay at a beautiful vineyard but may not want to drink or buy wine.
Museums: pay for admission to the museum and/or purchase items in the gift shop.
Farms: stock up on in season and local produce
Do Hosts Offer RV Hookups?
Each Harvest Host location is different with what they offer in terms of parking and amenities. We've stayed at just about every type of Harvest Host out there and while we've found a few hosts that offer water, electric and bathrooms, most Harvest Hosts simply offer members a place to park overnight in their RV.
Harvest Hosts members can see which amenities are offered by visiting the host's page. Here are some examples of amenities offered by hosts in the program:
Gift Shop
Picnic/Patio Area
Farmers Market
Restaurant/Food
Hiking
Birding & Wildlife Viewing
Water Hookup
WiFi (learn more about How to Stay Connected on the Road)
Separate Tow Vehicle Parking
How Much Does it Cost?
The cost of a Harvest Hosts membership is $99 per year, which gives members access to a listing of nearly 4,000 hosts around the United States, Canada and Mexico. Each host listing contains information such as GPS coordinates, max RV length, number of spaces, pet policy, facilities, reservation requirements, reviews and photos from members and the ability to book a stay online.
Limited Time Offer: Use our referral link to save 15% on your Harvest Hosts membership.
3 month 100% money back guarantee on Harvest Hosts membership. Try it risk free to see if a Harvest Hosts Membership is worth it for you.
Your Harvest Hosts membership starts on the day you join and will be up for renewal on the same day the following year.
Harvest Hosts Lifetime Membership is no longer offered. When it was available, the cost was $300 for a Harvest Hosts lifetime membership.
Harvest Hosts Plans
There are currently three types of Harvest Hosts Plans to choose from.
Harvest Hosts Classic is the base level plan for $99/year which gives members access to nearly 4,000 businesses.
Harvest Hosts + Boondockers Welcome is the second tier plan for $169/year which gives members access to over 7,000 locations to spend the night in their RV. The additional locations are made up of community hosts in the Boondockers Welcome program. Check out our Boondockers Welcome Review to learn more about the program.
All Access Plan is the all inclusive plan for $179/year which gives members access to over 7,500 locations. This Harvest Hosts Plan is great for RVers who enjoy golf as it includes access to over 400 golf courses where members can spend the night. Although, you don't need to be a golfer (we're not) in order to use the golf benefits. Some golf courses allow members to spend the night without playing a round of golf. Instead, members can enjoy other amenities and restaurant(s) the Golf hosts have to offer.
What's it Like to Stay at a Harvest Host?
The first Harvest Host we ever stay with was a winery and vineyard in Paso Robles, CA in 2015. A few days prior we called and told them we were a Harvest Hosts member and wanted to come stay for a night at their winery. After checking availability and making sure they could accommodate our Class A motorhome and tow vehicle, we were told they would love to have us.
When we arrived a few days later, we went inside to check in with the owner who then showed us to our overnight RV parking spot. Once we were set up, we walked to the tasting room to sample their wines. After going through almost every wine they made, we purchased a couple bottles and walked back to our RV, set up our camp chairs and enjoyed one of the bottles while we watched the sun set over the vineyard.
When the winery closed for the night, we had the entire place to ourselves and the owners even told us we could walk through their vegetable garden and pick anything we liked…which we did and had an amazing dinner. Read more Tales From the Open Road: The Adventures and Misadventures of RV Living.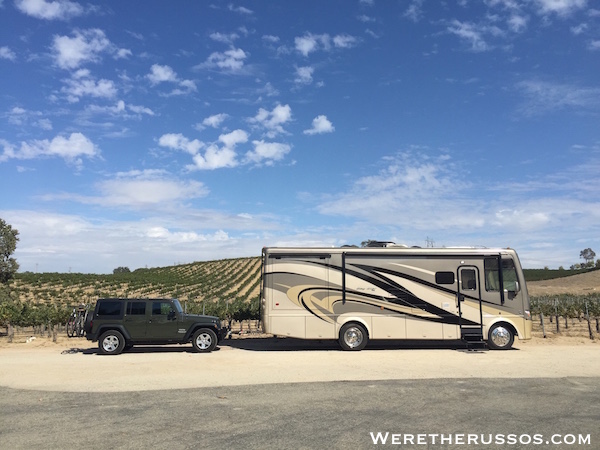 In the seven plus years we've been using Harvest Hosts, we have enjoyed every stay with one exception. We booked a stay at a dairy farm in Arizona and did not think about the fact that there would be cows on property…a lot of cows. So naturally it smelled like a dairy farm. Luckily for us, the hosts were very nice and provided power for us to plug into so we could close the windows and run the A/C. This host also made some amazing dairy products which we thoroughly enjoyed. After this Harvest Hosts experience, we learned to inquire about livestock when planning a farm stay.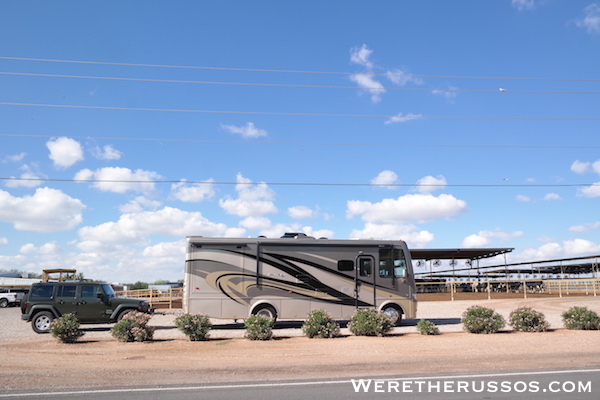 When to Use Harvest Hosts?
For us, Harvest Hosts is great for those times we're driving cross country and need a place to stay along our route. A Harvest Hosts experience is so much more enjoyable than staying in a Walmart parking lot, overnight parking at a truck stop or boondocking at Cracker Barrel. Plus, we get to experience whatever our host has to offer and we haven't been disappointed yet.
Since we don't need RV hookups, we would rather take the money we would spend at a campground and put it towards supporting a local business in the Harvest Hosts program. A lot of times, we'll look for farms along the route in order to stock up on produce, eggs and other goods. We even have a farm in Washington that we always make a detour to visit because we love their products and the owners are great people.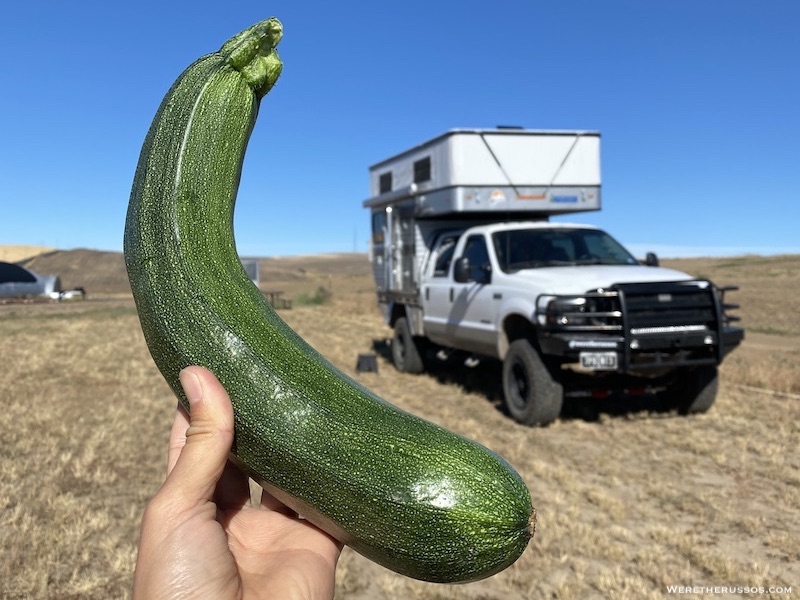 How Much Do You Have to Spend at a Harvest Host?
The amount members spend at Harvest Hosts will vary, but the suggested minimum is $20. The amount we've spent has varied from nothing to well over the minimum. One Harvest Host business we stayed with was renovating their facility and did not have any products to sell, but they invited us to spend the night anyway. Most of the time, we absolutely love the products and stock up as much as we can because we have no idea when we'll be back in that part of the country.
The Harvest Hosts member portal makes it easy to read about each hosts and what products or services they offer. If we don't think a host will have anything we're interested in buying, we simply won't book a stay there. Here's an example of a host description to get an idea of what to expect:
"A farm destination including a year round plant nursery with fresh produce and farm fresh eggs. Christmas tree farm, pumpkin and corn patches, outdoor event venue with catering and amateur landscape photography. Hosting several annual, family friendly events throughout the year! Park along the road and check-in with the host for parking instructions."
What Types of RVs are Allowed?
All types of RVs are allowed including Class A, Class C and Class B motorhomes, camper vans, 5th wheels, travel trailers, truck campers and schoolies. 80% of Harvest Hosts are able to accommodate any size RV and for those other 20%, each Harvest Host will list what limitations they have.
Pop-out trailer style campers where the sides pop up and out are prohibited. Also prohibited are bikes, motorcycles, roof-top tents, ground tents and sleeping in cars, trucks or minivans. Vans and truck campers with pop-up roofs are allowed as well as tear-drop style trailers, however outdoor kitchens may not be used.
Keep in mind, all types of campers must be self-contained. This means that your camper must have an interior toilet and waste water holding tanks. Cassette, porta-potti and composting type toilets are allowed as long as they are dumped off-site.
If you're traveling with other RVers, each RV must have someone who has a current Harvest Hosts membership.
Can I Use Harvest Hosts in a Rental RV?
Absolutely! We've met people who don't own an RV but have a Harvest Hosts membership because they enjoy traveling in rental RVs. Since you're typically moving from spot to spot when you have a rental, Harvest Hosts can be a great option for those overnight stops and a place to wind down from a long day on the road. Just make sure to plan ahead and not arrive after hours.
Harvest Hosts memberships are not tied to the RV, so you can use it in whatever recreational vehicle you want as long as it adheres to the rules.
Why We Love Harvest Hosts
More Than Wineries.
We've stayed at a number of Harvest Hosts location since 2015. Only a handful have been wineries. Others types of Harvest Hosts we've stayed at included:
Every Harvest Hosts stay offers a unique experience and it's always a nice surprise when we pull up in our camper. The most unique has been a Titan II missile silo that the owners had converted into a vacation rental and would give tours when it was not occupied. We parked on property and got an extensive tour by the owner.
More Than a One Night Stay
The guidelines state that members are limited to one night with each host. We've found that after we arrive and meet the owners/managers of the property, they will sometimes invite us to stay longer than one night.
At our very first Harvest Hosts stay, the owner offered to let us stay three days on their property since we were visiting during the week and had the availability. Other hosts have offered us the option to stay longer in the years we have been members, but we still go into each stay with the expectation that it is for one night.
Also, some Harvest Hosts are only open on weekends or have events going on which can limit the number of nights a member can stay.
Support Local Businesses
We find staying with Harvest Hosts to be a great way to shop local and support small businesses. As mentioned earlier, the suggested minimum spend at each host is $20. Instead of going to a chain grocery store to buy produce, we can plan an overnight stay at a local farm and buy directly from them.
Most of the time we get a chance to meet the owners of the business and learn more about their products and hear their story. One of our favorite farms is North Ridge in Almira, Washington. We've stayed there twice in one year and got to enjoy two seasons of fresh produce grown on the farm.
Dog Friendly Harvests Hosts
One of the main reasons we decided to RV was to travel with our dogs and we are not alone. With many RVers traveling with pets, Harvest Hosts makes it easy to find pet friendly hosts in the program. There is a "pet allowed" filter on the find hosts page as well as a "Pets Welcome" listing on the host's page.
Pets are expected to be kept on leash at all times and members should read the description for additional information about pets, such as whether or not the business owner has pets on property. It goes without saying that members are expected to pick up after their pets.
Connect with Other RVers
Harvest Hosts members are awesome! We've met some great people along the way that we stay in touch with. Especially if you're new to RVing, it's a great way to find and build community on the road.
There have been plenty of times where we are the only members parking overnight and that's pretty cool too.
Peace and Quiet
The hosts we've stayed with are typically outside the hustle and bustle of the city. Once the business is closed for the day, the parking lot is empty and silence falls over the property. We take advantage of those peaceful and quiet times to enjoy a good book, watch the sunset or star gaze.
We have not run into a situation where the area was so remote we could not get cell coverage. If you're concerned about connectivity, check out our post on Internet for RVers.
Member Reviews and Photos
The Harvest Hosts member portal includes comments, photos and videos submitted by users. Often times we will find helpful information in the reviews section such as cell coverage and road noise.
Harvest Hosts Mobile App
The Harvest Hosts app is one of our essential apps for RVing for a reason. Available for Android and iOS devices, this app is full of features that make it easy to find and book a stay with hosts. Here's some of our favorite features:
A full directory of Harvest Hosts with the ability to search by state, location or route
Individual host's information page that provides information such as a description of the host, hours of operation, contact information, website, amenities, photos and reviews.
Request-to-Stay system that allows you to see the host's calendar and submit a request to stay online.
Great Customer Service
Whether you're an existing Harvest Hosts member or looking to join, you can contact Harvest Hosts customer support by sending an email to team@harvesthosts.com.
The One Downside
Although Harvest Hosts has grown significantly since we first joined in 2015, more hosts covering more areas is always a plus. Some states/regions have more hosts than others and we wish there were more everywhere, including Baja, California.
On a bright note, new hosts are added regularly and we're notified of those via the member newsletter. As we travel, we also encourage businesses that can accommodate RVs to join the program.
As new hosts are being added, some existing hosts are also being removed. One of our favorite hosts in Colorado was removed this year due to expansion of their facility and taking over the space they had reserved for Harvest Hosts stays.
Harvest Hosts Video Review
Take a step back in time and watch the video we made about our Harvest Hosts experience when we were still traveling in a Class A motorhome.
Is Harvest Hosts worth the $99 yearly fee?
It all depends on how you use your Harvest Hosts membership. If you only use it once or twice a year, then it's probably not worth the cost. However, if you're using it a bit more frequently then Harvest Hosts is a great RV membership to have.
We have found that since we became members in 2015, there have been time we just flat out forget to use it and go months without visiting a host. Other times, we find ourselves visiting hosts back-to-back especially in areas where free camping on federal land is not available.
Harvest Hosts has a referral program so if you love it and refer friends, they will get 15% off and you'll earn $15 in cash! The referral program can help off-set your yearly cost (or even pay for the membership entirely). If you decide to join Harvest Hosts, here's our referral link so you can get a discount.
We have seen a steady increase in the Harvest Hosts yearly fee (the last increase was from $79 to $99) and there is no reason to think it won't continue to rise as they work to add new hosts and features. That said, one thing that has been consistent is your rate is locked in as long as you continue your membership year-over-year.
Harvest Hosts Code of Conduct
When signing up for your Harvest Hosts membership, they have a code of conduct you must agree to:
All RVs must be self-contained
Please do not arrive unannounced. Always call ahead or use the app to request a stay.
Arrive during business hours. As I mentioned before, some hosts have given us permission to arrive after hours with specific instructions.
Let your host know what size/type vehicle you have and ask what the best way is to get to your parking spot
Introduce yourself and present your membership card
Please make a purchase
Do not stay longer than 24 hours unless invited by your host.
Only park where indicated. Keep in mind not all parking spots are level.
Keep a low profile and turn off loud music and generators by 10pm
Indoor cooking only
Do not use jacks on asphalt without jackpots. Always ask before putting jacks down.
Remember that many of the sites are working farms and historic locations so do not explore closed or restricted areas and do not leave children unattended.
Ask before using your generator
Take all trash with you
When departing, thank your host
Be aware of local alcohol restrictions
Members acknowledge that they are insured according to all local, state, provincial laws.
Summary
We would recommend Harvest Hosts to RVers looking for unique dry camping opportunities across the United States. It's a great way to visit areas off the main road, discover new experiences and test your boondocking skills.
At $99 for a single year membership, it's more than worth it. Read more about our first Harvest Hosts experience in Tales From the Open Road: The Adventures and Misadventures of RV Living.
If you found our Harvest Hosts review helpful, consider using our referral link to join Harvest Hosts to receive a 15% discount on your membership.
Thanks for reading! Don't forget to share your Harvest Hosts experiences in the comment section.