Some of the links below are affiliate links, which means we will earn a commission on the products or services you purchase using the links. There is no additional cost to you and the earnings help keep this website running. Read the Affiliate Disclaimer for more information.
During our search for the next adventure vehicle, one option that was recommended to us over and over again were flatbed truck campers.
Unlike the Class A, Class B and small Class C motorhomes we've lived out of, a lightweight flatbed truck camper is a very different type of recreational vehicle.
For us, the benefits of flatbed truck campers are:
Small and nimble like a Class B RV
Go anywhere the truck can go (especially with 4wd)
Can be less expensive (buy a used truck and a used camper)
Replace just the camper or just the truck
Many options and modifications
We ended up buying a pop-up flatbed truck camper, but as you'll discover below, there are quite a few options to choose from and the list of flatbed truck campers continues to grow.
List of Flatbed Truck Camper Manufacturers
Alaskan Campers
Based in Winlock, Washington. Alaskan Campers designed its first truck camper in the 1950s to travel the Alcan Highway. Now the company manufacturers telescopic campers that slide into most truck beds. You can also work with them on a custom truck camper for a flatbed. This 8.5 foot side entry flatbed Alaskan Campers is on the GMC 3500 4×4.
Website: http://alaskancampers.com
All Terrain Campers
Based in Sacramento, California. All Terrain Campers builds pop-up truck campers with an aluminum frame. There are several models you can choose from depending on the size of your truck or work with them on a custom build.
Website: https://www.allterraincampers.com
AT Overland
Based in Prescott, Arizona. AT Overland recently introduced the Aterra XL Flatbed Camper that will be available starting May 2021. According to their website this lightweight flatbed camper uses a "reinforced thermoplastic honeycomb composite camper design."
Website: https://atoverland.com/pages/aterra-xl-flatbed-camper
Bahn Camper Works
Based in Hood River, Oregon. Bahn Camper Works builds 100% custom truck campers with shells made with resin-infused fiberglass. These lightweight campers are available for long, short and flatbed trucks.
Website: https://www.bahncamperworks.com
Bison Overland Campers
Based in Okalahoma. Bison Overland Campers makes all aluminum flatbed pop-up campers. According to their website, the 2020 introductory pricing for a shell camper is $20,000.
Website: https://www.bisonoverlandcampers.com/
BunduTecUSA Truck Campers
Based in Iowa. Rory started the company in 2013 after retiring as president of Northstar Campers. BunduTecUSA makes a wide selection of pop top and hard wall truck campers including a custom Bunducamp flatbed truck camper.
Website: https://bundutecusa.com/
Cache Camper Manufacturing
Based in Palmer, Alaska. Cache Camper builds custom campers in addition to selling parts and providing repair services. Most of the photos on their website show custom slide in truck campers, but the company can and will work with customers on a custom flatbed truck camper.
Website: https://www.cachecamper.com
EarthCruiser Overland Vehicles
Based in Bend, Oregon. EarthCruiser makes expedition vehicles for avid outdoor enthusiasts. The company's latest model is the Terranova, a pop-top flatbed truck camper that can be built on a Ford F350, Ram 3500 or Silverado 3500.
The EXD model was built for a one-ton American truck that can be integrated into the chassis or mounted to a flatbed. We had a chance to tour the EarthCruiser EXD on the Ford chassis and you can watch the video tour below.
The EarthCruiser GZL is a light-weight truck camper made to go in the bed of a truck. While it was not built for a flatbed, customers have the option to build boxes around it for additional storage.
Website: https://earthcruiser.com
Four Wheel Campers
Based in Woodland, California. Four Wheel Campers manufactures lightweight pop-up truck campers that are very popular with the overland community. The Granby, Hawk and Fleet models are available as a flatbed truck camper option. Read about our Four Wheel Camper Hawk Flatbed.
Website: https://fourwheelcampers.com
Hallmark RV
Based in Fort Lupton, Colorado. Hallmark RV currently manufactures pop-up truck campers constructed of pre-formed composite fiberglass. The flatbed models are available in two lengths: 6.5′ and 8.5′.
Website: http://www.hallmarkrv.com/
Nimbl Vehicles
Based in Colfax, California. Be Change LLC purchased XP Camper in 2019 and launched Nimbl Vehicles in 2020. Their first production lightweight truck camper is built on the latest gas version of our Ford F350 Super Duty 4×4. Based on the specs provided by the manufacturer, the transport heigh is 8'9″ with 35″ tires and a 2.5″ lift.
Website: https://nimblvehicles.com/
Overland Explorer Vehicles
Based in Red Deer, AB, Canada. Overland Explorer Vehicles or OEV is a division of LITE Industries. The companies makes composite cabins that can be mounted on a truck chassis. The Camp-HBE 6.75′ is their pop-up truck camper flatbed model designed for the Aluma Tray with a 8′ kick out.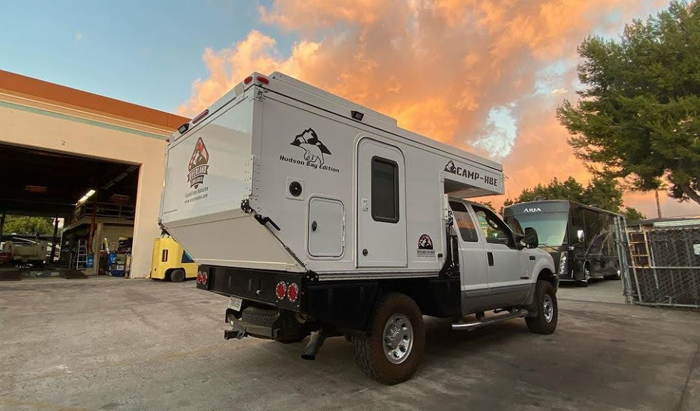 Website: https://overlandex.com
Phoenix Pop-Up Campers
Based in Commerce City, Colorado. Phoenix Pop-Up Campers launched in the 1980s after the family sold the name Four Wheel Campers. Now they manufacturer custom pop-up truck campers with a welded aluminum cage frame. Their flatbed truck camper option can be found under chassis mounted.
Website: http://phoenixpopup.com
Rossmonster Overland
Based in Longmont, Colorado. Rossmonster Overland manufacturers The Baja with a starting base price of $175,000. According to their website, the truck camper is "currently available on F150, F250, Ram 2500 and Chevy or GMC 2500 truck models (2019 or newer) with 6.5 ft beds." The idea of The Baja is to be a lighter and more compact expedition truck camper that can go where other vehicles can't.
Website: https://www.rossmonsteroverland.com
Tommy Campers
Based in Australia with an office Elizabeth, Colorado. This father and son duo aim to "build the fastest and easiest slide on camper available" to fit any size UTE tray.
Website: https://www.tommycampers.com.au/
New and Innovative Truck Bed Campers
While these campers are not (yet) designed for a flatbed, they are worth checking out.
Hiatus Campers
Based in Issaquah, Washington. Erin and Tyler of Hiatus Campers have designed a hard-sided pop-up camper that is lightweight and customizable.
Website: https://www.hiatuscampers.com
Kimbo Campers
Based in Bellingham, Washington. Mark King is manufacturing aluminum shell truck campers designed for mid and full-size trucks with a short bed.
Website: https://www.kimboliving.com
Scout Campers
Based in Yakima, Washington. Scout Campers is part of Adventurer Manufacturing. This truck camper manufacturer is building "simplistic, lightweight, and versatile truck campers that allow people to travel more freely and self-sufficiently off-the-grid."
Website: https://www.scoutcampers.com/
With so many truck camper options to choose from, it can be a challenge picking the one that's right for you. RV rental sites now make it easy to try different campers before you make a decision. Find a Truck Camper for Rent.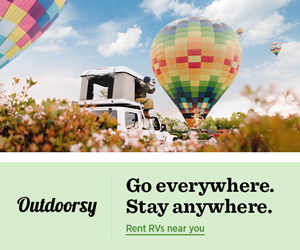 Full write up about our FWC Flatbed Truck Camper
Slide-In or Flatbed Truck Camper?
Many people have asked us about the pros and cons of a lightweight flatbed truck camper vs a slide-in truck camper. In this video, we share our thoughts and compare the two types of lightweight truck campers.