Some of the links below are affiliate links, which means we will earn a commission on the products or services you purchase using the links. There is no additional cost to you and the earnings help keep this website running. Read the Affiliate Disclaimer for more information.
Ever since we transitioned to a nomadic lifestyle, we have been fascinated by the idea of traveling around the world in a 4×4 expedition vehicle. While visiting Bend, Oregon, we scheduled an appointment at EarthCruiser to learn more about their overland vehicles.
In this post, you'll find a series of videos about the overland vehicles built by EarthCruiser and interviews with Founder and Chief Floor Sweeper, Lance Gillies.
EarthCruiser Overland Vehicles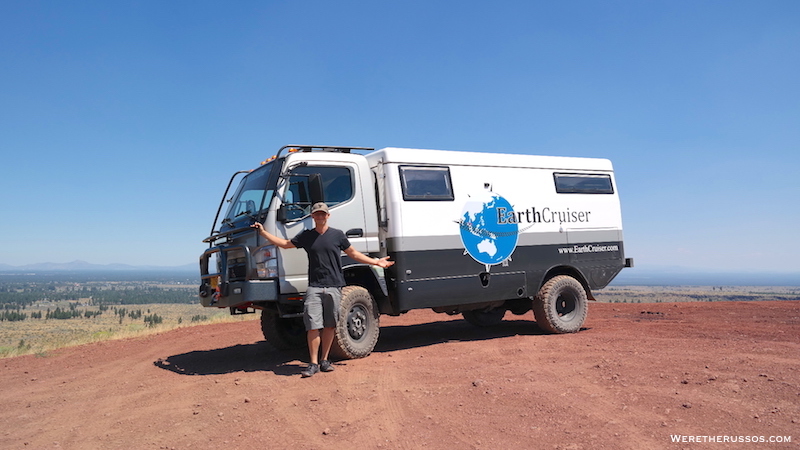 "The truck is designed around the travel experience, the travel experience is not designed around the truck." – Lance Gillies, EarthCruiser Overland Vehicles
EarthCruiser EXP
The EarthCruiser EXP is a overland vehicle built for traveling around the world. It fits in a standard parking spot and into a standard shipping container. When we stopped by EarthCruiser HQ, we got to take an EXP out for a test drive.
Watch the video to learn more about the EarthCruiser EXP built on the Mitsubishi Fuso truck chassis and see what it's like to take an overland vehicle on some rough roads.
A huge thank you to Lance Gillies and Michelle Boltz for letting us test drive Alpha, their personal EarthCruiser EXP.
I do want to highlight that every EarthCruiser is 100% made in the U.S.A.
Here are some other vehicles made by EarthCruiser:
EarthCruiser EXD
The EarthCruiser EXD is a capable overland vehicle built on a one-ton 4×4 truck chassis. Watch the full walk-through video to learn more.
EarthCruiser FX
The EarthCruiser FX is similar to the EXP in that it's also built on the 4×4 Fuso truck chassis. The main difference is the FX has a fixed roof, making the vehicle taller. It can seat four people instead of two in the EXP.
EarthCruiser MOD
The MOD is a modular all season shell that can be customized to fit the customer's needs. With two options to choose from, the MOD can be paired with a wide selection of mid size and full size trucks.
EarthCruiser GZL
The GZL truck camper is an introductory overland vehicle for someone not quiet ready for the FX or EXP. These are made to fit in a variety of truck beds including the Toyota Tacoma, Nissan Frontier, and Ford Ranger.
Finding Your Overland Vehicle
In this interview with Lance Gillies, we talk about his philosophy of "starting with the end in mind" when looking for an adventure vehicle. We also discuss four wheel drive, water tank capacity, GVWR, insurance and resale value.
If you are shopping for an overland vehicle, go check out an EarthCruiser in person by visiting their factory in Bend or finding them at an Overland Event or RV Show.
Be prepared to take notes. There are so many details and considerations that go into building an EarthCruiser, it will make your head spin.
Learn more at https://earthcruiser.com/
Editor's Note: This post was originally published on September 14, 2017 and has been updated for comprehensiveness.