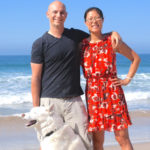 Howdy! We're Joe and Kait Russo.
"We travel not to escape life, but for life not to escape us." – unknown
Read our latest posts What's New.
Read more about our story About Us.
Currently, we are in the process of downsizing from a 29′ Class A motorhome to a Class B camper van. This website and our YouTube Channel is where we share our travel stories and experiences with special appearances from Leo, our rescue dog. Thanks for stopping by!
Popular Posts