At 7,000 feet in elevation, Flagstaff is nestled at the base of the San Francisco Peaks. This college town in the high country mountains of Arizona is unlike any other city we've visited in The Grand Canyon State. Flagstaff is a mix of small town feel and the great outdoors. As we gear up to attend Overland Expo West, I want to share some of our things to do in Flagstaff, including some dog friendly activities.
Things to Do in Flagstaff
Our first three trips to Flagstaff were to enjoy the natural beauty surrounding the area with Leo, our Siberian Husky. In the video below, you can see what it's like to travel in a ProMaster conversion van to Flagstaff, Arizona.
There are so many ways to spend your time in Flagstaff, this is a short list of our favorite things.
Attend Overland Expo West
Of course, if you're in Flagstaff during Overland Expo West, it's worth going for at least one day. If time allows, plan to attend the entire event and take some off-roading courses and educational seminars.
Take a Stroll Around Buffalo Park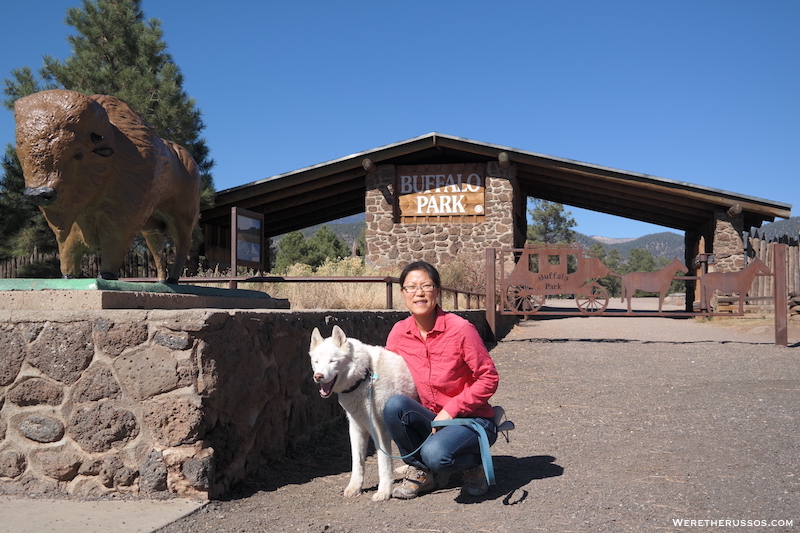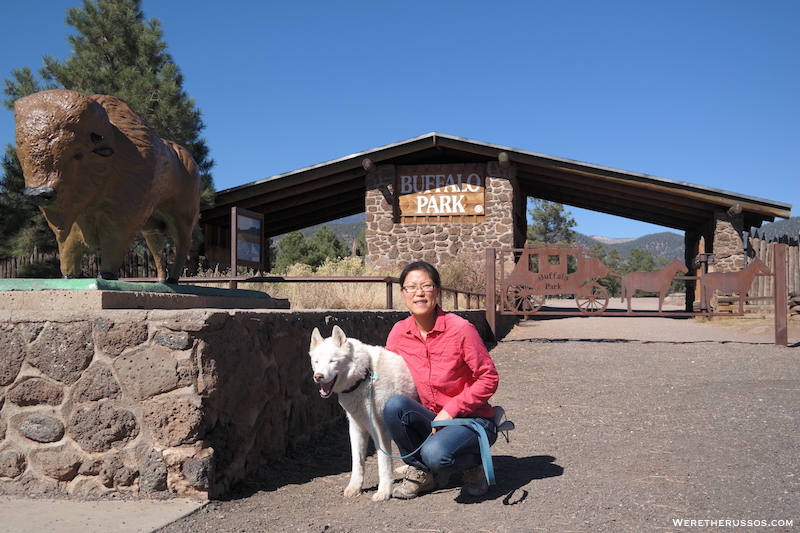 Start the morning with a brisk walk through Buffalo Park. The Nate Avery Trail is a 2 mile loop around the park with nice views of the San Francisco Peaks. Depending on the time of year, water fountains may be turned off. Best to bring your own filtered water.
Relax Outside with a Cup of Coffee or Tea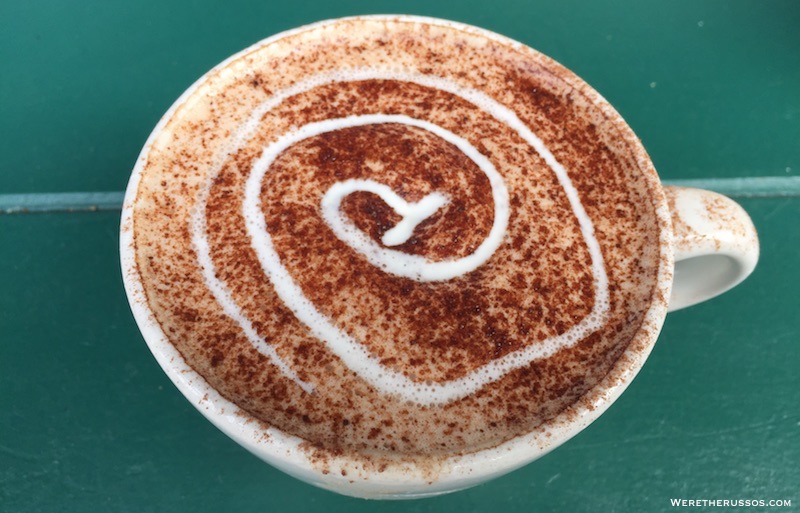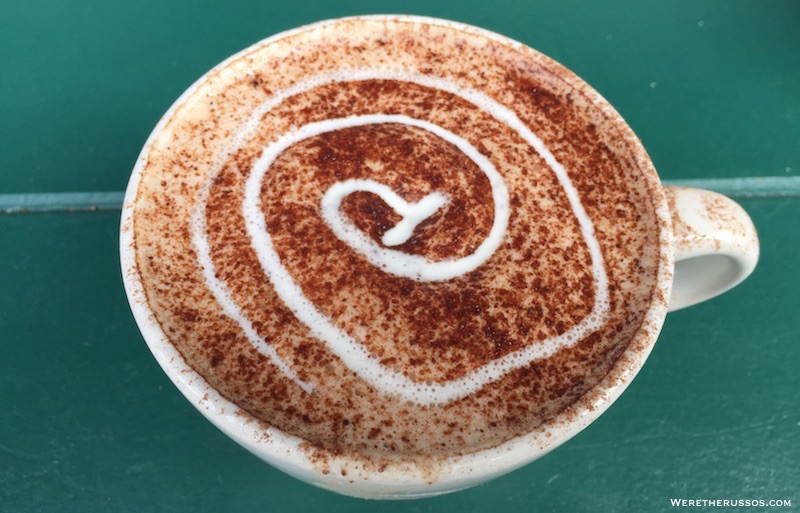 Enjoy a cup of coffee in Flagstaff's charming Historic Downtown. Popular coffee spots include Macy's European Coffeehouse and Single Speed Coffee. If you're looking for a coffee alternative, check out Flagstaff Tea Co for a cup of cheesecake chai.
Metered parking is enforced in this area of Downtown Flagstaff, read the signs to avoid a parking ticket.
Sample the Craft Beers in Flagstaff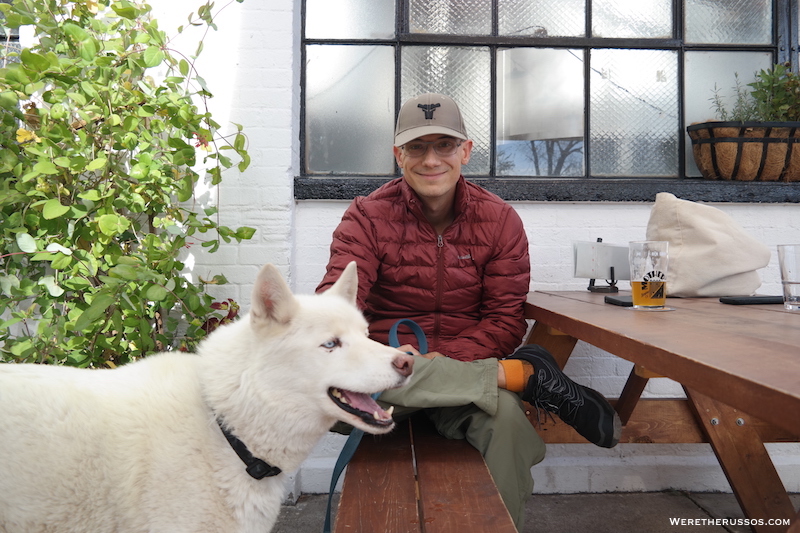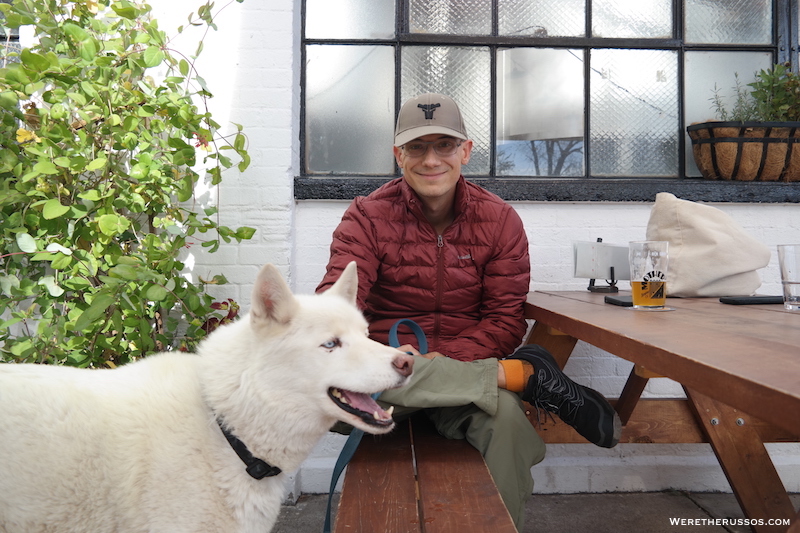 The founders of Mother Road Brewing live by the creed "finding joy in the adventure" and we're 100% on board with that. This craft brewery has a large outdoor patio that's dog friendly. Order a pint of Gold Road or Tower IPA. Bowls and water are available for four legged customers.
Other popular breweries in Flagstaff include Dark Sky Brewing and Historic Brewing Company.
Hang Out Indoors with Your Dog at Hops on Birch
This craft beer bar is perhaps the most dog friendly business we've discovered in Flagstaff. Escape the cold winter or warm summer by hanging out indoors with your dog. Hops on Birch has 34 beers on tap and live music five days a week making it a popular bar destination in Downtown Flagstaff.
Climb Up the San Francisco Peaks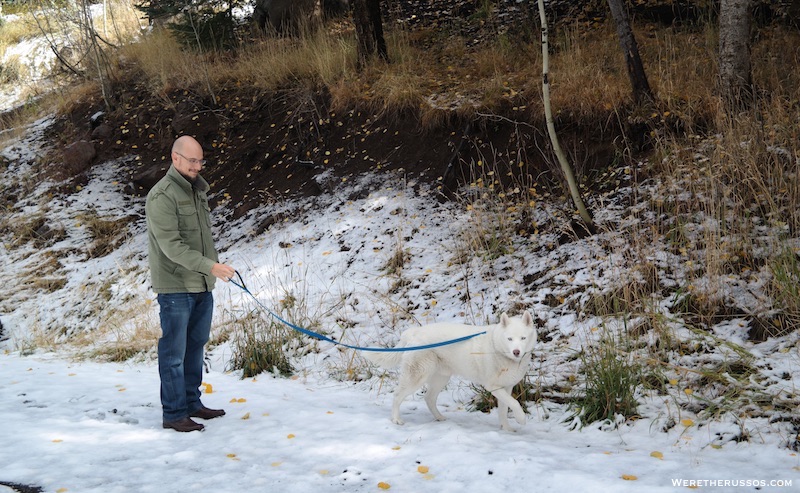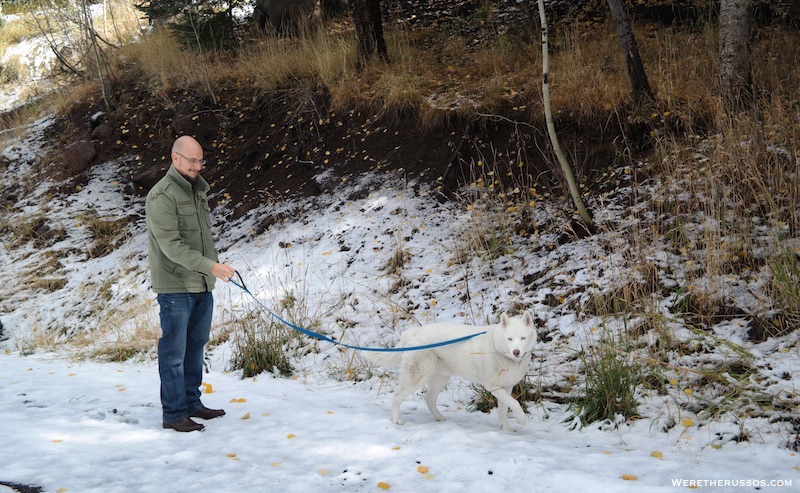 The mountains in Flagstaff are decorated with tall pines and snowy peaks. Drive up to the San Francisco Peaks, 9,500 feet above sea level. The first time we visited the Arizona Snowbowl it wasn't quite ski season, but Leo still had a great time in the snow.
Visit a Popular Attraction Near Flagstaff
Flagstaff is a great base for when you want to explore popular attractions around the area. Three of our favorite dog friendly things to do around Flagstaff are:
Other nearby attractions include Sunset Crater Volcano National Monument and Walnut Canyon National Monument.
Where to Stay in Flagstaff, Arizona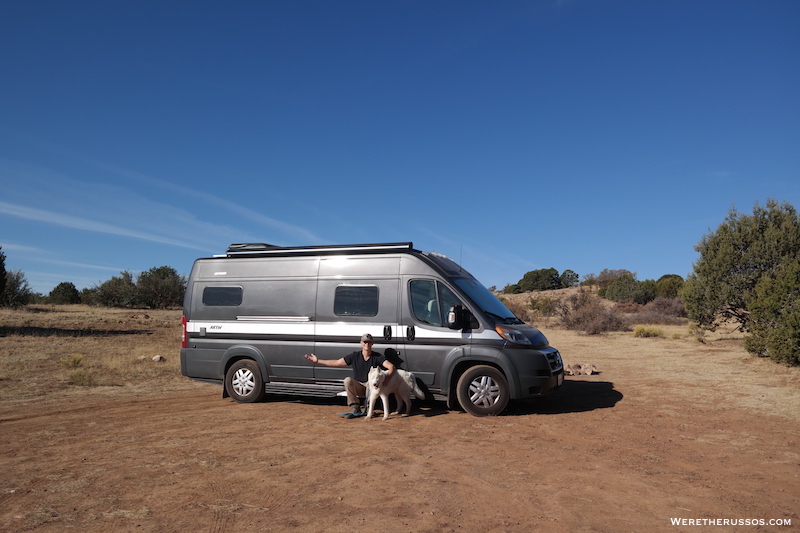 We usually camp for free in the Coconino National Forest or spend the night at Cracker Barrel. Below are some other options.
Find a Campground Through AllStays. Quick and easy way to find RV parks and campgrounds near you. Read our AllStays Review.
Free RV Stay with Harvest Hosts. Members have access to vineyards, farms, museums and more. Read our Harvest Hosts Review. Use our referral link to receive 15% discount.
Rent an RV. Choose from small travel trailers and camper vans to large Class A motorhomes. Read about our Maui RV Rental Experience.
Book a Place Through Airbnb. Our preferred option for affordable lodging when RVing isn't available. Use our referral link to receive a credit towards your first booking.
Bonus Tips for Campers and RVers
For those of you camping in Flagstaff or staying in your RV, here are a few helpful tips:
Showers are available at Little America Travel Center. Cost is $12 per use, which means couples can shower together for the same price. Towels, shampoo, bubble bath soap included.
Free RV dump at select gas stations in town. Check AllStays for the latest information.
There is a locker at the Whole Foods in Flagstaff where you can send your Amazon orders.
Discover Travel Destinations in the U.S. and Around the World
Editor's Note: This post was originally published on January 6, 2016 and has been updated for comprehensiveness.