Some of the links below are affiliate links, which means we will earn a commission on the products or services you purchase using the links. There is no additional cost to you and the earnings help keep this website running. Read the Affiliate Disclaimer for more information.
When we decided to build out a truck camper for overland travel, we knew we wanted a reliable full size truck. A Ford Super Duty with the 7.3 L Powerstroke seemed like one of the best options. After much research and scouring the internet for used 7.3 Powerstrokes for sale, we ended up with a 2000 7.3 Powerstroke. To learn more about the camper piece of our overland truck build, head over to Four Wheel Campers Hawk flatbed.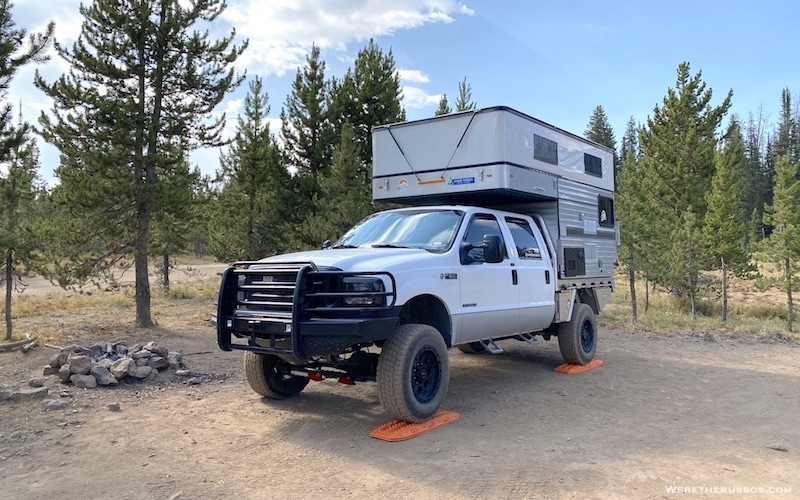 Why a 2000 7.3 Powerstroke Ford F350
When we were shopping for a truck, we were still considering different flatbed truck camper options. Because of this, we decided to focus our truck search based on these parameters:
3/4 or 1 ton truck so it would have the ability carry any of the campers we considering.
Four wheel drive so we can explore some of the backcountry roads we were hesitant to explore before.
Single rear wheel to keep the width of our build narrower than a dually.
Gasoline or pre-DEF diesel (2006 or earlier) engine.
Eventually we narrowed our search down to a Ford F250 or F350 with the Triton V10 gas engine or the 7.3 Diesel engine (not to be confused with Ford's new 7.3 gas "Godzilla" engine). Ford's older 5.4 V8 seemed like it would be too anemic to handle what we wanted to do with the truck.
We preferred the exterior / interior look of the truck
Proven reliability record
There are more of these used trucks for sale compared to other options we were considering
We ended up buying a used 2000 7.3 Powerstroke for the base of our full size truck camper build. It is the XLT short bed single rear wheel model with the 7.3L diesel engine, four wheel drive, automatic transmission, 3.73 gearing and crew cab (four full size doors).
From all appearances, the truck seems to have been well kept and is in good running order despite having just over 203k miles at time of purchase.
This truck gave us the most carrying capacity along with an engine that has legendary reliability. A quick internet search will yield stories of 7.3 L Powerstroke trucks with over 1 million miles.
Our 2000 F350 7.3 Powerstroke Specs
Below is a list of all the features and upgrades we've made to our 2000 F350 Super Duty 4×4.
Engine
7.3 L Powerstroke
Dual alternators
Custom 4" turbo back exhaust with 51″ muffler
While we want to leave the engine relatively stock, the Sinister Diesel components were chosen to address some known issues and "pretty" up the engine compartment a little.
The dual alternators (which came stock) give us additional amperage allowing us to charge the camper while we drive, run an air compressor and winch.
The PHP Hydra Tuner has 16 settings that allows us to adjust the tuning of the engine on the fly. We typically leave it in economy mode which provides 40 additional horsepower and better fuel economy. We typically get 14 mpg on level roads and 12 mpg in the mountains.
The truck came with a 5″ exhaust that we had removed because it was simply too loud. We replaced it with a stainless steel 4″ exhaust system and a 51″ muffler that has eliminated all of the exhaust drone noise when going down the highway.
Drivetrain/Chassis
ATS torque converter
Gear Vendors Gear Splitter
Redhead Steering Box
Rancho steering stabilizer
Gear Vendors Gear Splitter is a secondary overdrive. It provides a half or split gear for every gear in the truck. If we are traveling on the highway and turn it on, it will provide a second overdrive gear and drop our RPMs. We typically do not drive fast enough to engage it while cruising on the highway but we do use it when we are climbing hills. It's great for those times when you feel like one gear is too tall and the other too short.
Redhead steering box provides better turning power for larger wheels and the Rancho steering stabilizer helps keep things under control.
The 51 gallon Titan Fuel Tanks upgrade replaced the 29 gallon stock fuel tank. This has been one of our favorite upgrades because it provides us with a 600+ mile range. This is great when off-road when you don't know when the next fuel station will be and it allows you to bargain shop for fuel and fill up less often.
When we first got the truck, it had 35" tires on with 16" wheels. We decided to go with 18" wheels for a better ride and shorter 34" tires. This provides a great balance of on-road comfort and off-road capability along with better fuel mileage.
To air the tires back up, we have the VIAIR 450p air compressor. This is a 100% duty cycle compressor meaning it can run constantly without having to stop and cool. The compressor will air our tires up from 35 psi to 65 psi in 6 minutes/tire. We've found that gas station air compressors do not provide enough pressure to air up large truck tires.
With the weight of our camper, all of our stuff and us, we found that the stock suspension needed some help. The ride was comfortable on-road but we found that when off-road, the stock springs were too soft to control the body sway from bumps we'd go over. The solution was to add a heavy duty leaf in the front, one in the rear along with two additional overload springs. This has done wonders to help better control the truck off-road while still being comfortable on-road.
Exterior
Aluminess winch ready front bumper
Warn 16.5ti-s winch
LED headlights
LightForce 30″ single row LED light bar
LightForce ROK 40 spot lights
Norweld Weekender Deluxe Tray/Flatbed with boxes
When we bought the truck, it came with a Ranch Hand Sport winch ready front bumper and it was one of our favorite features of the truck. The steel bumper featured 1/4" and 1/2" steel plating, a mount for a winch along with a hitch receiver. It was also wide enough for me to stand on when working on the engine. Unfortunately, it with weighing in around 300 pounds, we decided to swap it out for a lighter bumper.
The replacement front winch bumper on our 2000 Ford F350 is by Aluminess based out of Santee, California. These aluminum winch ready front bumpers will fit a 1999-2004 Ford Super Duty truck. We were also able to make a few customizations in terms of the front cut out for aftermarket lights.
Once the new bumper was installed, we installed the Warn 16.5ti-s Heavyweight Winch with Spydura Pro Synthetic Cable Rope. The synthetic rope is lighter, stronger and safer than the old steel cables. This winch has a 16,500 pound pulling capacity which we wanted because of the weight of our truck and camper. While we're well under the 16.5k capacity, when a vehicle is stuck, it can take as much as 50% more capacity to pull the vehicle free. For example, a 10k pound vehicle could take 15k pounds to get it out of deep mud or sand. For a good instructional book on winching, I would suggest Bob Wohlers' book, The Total Approach to Getting Unstuck Off-Road.
For the headlights, we upgraded from the stock halogen bulbs to LEDs. The stock lights were terrible and the LEDs are only slightly better. We're currently looking for a better solution.
To help with the poor headlights, we installed four Lightforce ROK 40 spot lights. These are great on the road and help us see much better at night. That said, a pair of these lights is more an enough and four is almost overkill but when it's pitch dark out, the more light the better. When off-road, we also have the Lightforce 30″ single row light bar. It is has a spot pattern and is the perfect pairing with the ROKs to help us see on dirt roads at night. The combination of these lights will turn night into day!
When we bought the truck, it came with a steel flatbed which we sold and installed an all aluminum Norweld tray. This is what our camper is mounted to and it provides added storage along with a 43L aux water tank.
Interior
Solar Gard VortexIR Ceramic window tinting front and rear windows
Kenwood Stereo with Apple CarPlay
Our first upgrade to the interior was to remove the aging aftermarket stereo and install a new Kenwood that has Apple CarPlay. We've found CarPlay to be essential for us because it allows us to use the GPS on our phones and control and display it on the stereo along with audible turn by turn instructions. There is also support for numerous other apps like Pandora, Music and Gaia.
Scheel-Mann Vario Seats with Integrated Heating
While the front seats were comfortable for short drives, I found my back in pain after a couple hours of driving. The Scheel-Mann Vario seats offer 10 points of adjustment so I can now sit in the truck for hours on end without being in pain. Kait has also found that they help her to be much more comfortable on long drives. We also added an arm rest to each seat and opted for the heated seat option. While this was an expensive upgrade, we figured that with the amount of time we spend driving, the upgraded Sheel-Mann seats are well worth it.
Element E50 Fire Extinguisher
Along the driver's side front door, I installed the Element E50 fire extinguisher. It provides a 50 second discharge which is 4x longer than a standard 5lb bottle. This fire extinguisher will work on A, B, C and K classes of fires – which is good in case we have an engine fire. If we ever had to use the it to extinguish a fire, it's also non-toxic and non-corrosive.
Front and Rear Dash Cam with Loop-Recording
The Acumen Mirror Dash Cam was installed so we could record what is happening in front of us along with having a rear camera when backing up. The form factor of the Acumen is such that it's shaped like the rear view mirror and easily clips onto it. The rear camera is wide angle, allowing us to easily back into a spot. The front and rear dash cameras are on a loop-recording so we have to remember to pull the files we want before it automatically overwrite the oldest file.
Diesel Gauges for the 7.3L Powerstroke
The pillar diesel gauges were already installed in our 7.3 Powerstroke, but they are another essential item to have in a 2000 Ford F350 diesel truck. The gauges allow us to monitor boost pressure, transmission temperature and a pyrometer to monitor EGTs (exhaust gas temperatures) so we don't damage the engine or transmission by overheating.
In Cab Sound Deadening for 7.3 Powerstroke
While we love the 7.3 diesel engine, it is loud even with the custom exhaust and muffler. To further cut down on noise, I removed the interior of the cab (seats, rear storage system, pillar covers and rear wall cover) and installed sound deadening materials.
Above the metal, I put down a layer of sound deadening butyl rubber sheets. I also removed all the door panels to add the butyl rubber sheets on the sheet metal for each door. It took about 70 sq.ft of material to cover the bare metal on the floor and doors of our 2000 F350. This dampening material will also reduce the vibrations coming through the sheet metal.
Then I added a layer of this high-density closed cell foam padding to the front half of the cab floor. I used two packages for a total of 24 sq.ft. If I was doing the whole interior I will probably need at least 5 boxes (12 sq.ft/box).
The result has been noticeably less in cabin noise. Kait and I can easily have a conversation or listen to music. Before the in cab sound deadening, if we were climbing a hill, we would have to shout or blast the music in order to hear. For any 7.3 Powerstroke owners, I would say it's well worth the time, effort and cost to add sound deadening material to your diesel truck.
Before I put the interior of the truck cab back together, I ran the wiring for the heated Sheel-Mann seats and the cell booster.
weBoost Drive Reach Cell Signal Booster
Since we tend to drive in remote areas, we installed the weBoost Drive Reach in the cab of our truck. This device will boost our cellular signal while driving allowing us to make calls and use cell data in places where we might have weak or no cell service.
This upgrade has been essential because on some of those long mountain pass drives, we can still stream music and access cellular data to get work done. Now, if there is no cell signal at all, then there is nothing to boost and we just have to wait until there is a signal again. But when you earn a living on the road, any cell signal boost will help.
F350 Rear Seat Delete
Since it's only the two of us traveling in our pop-up truck camper, I removed the rear seats and built an all aluminum storage system. This custom storage solution helps me organize all of our stuff, especially all the essential tools I carry tools.
Future Upgrades
Rear locker. This would provide us with the ability to lock the rear axle in difficult terrain to gain better traction.
Rock sliders. These would replace our current steps into the truck and provide some protection from rocks as we go down the trail.
Winch. A winch is great insurance to have when off-road to help you self-recover if you're stuck or to potentially help others.
AGM batteries. Currently running two Interstate Group 65 CCA 850 lead acid batteries purchased from Costco.
We plan to take our truck to a Power Stroke specific shop to have them look through the truck in detail and repair / replace any of the aging items that are prone to fail in a 7.3 with this many miles.
That's it for now. As we continue to make changes to the truck, we will update this post.
7.3 Powerstroke Resources
We've come across quite a few 7.3 Powerstroke resources that have helped us during the research, buying and now maintenance/troubleshooting stage. The resources are listed below in alphabetical order and I'll continue to update this section.