Some of the links below are affiliate links, which means we will earn a commission on the products or services you purchase using the links. There is no additional cost to you and the earnings help keep this website running. Read the Affiliate Disclaimer for more information.
Not having cell service while traveling in an RV can range from inconvenient to life threatening. That's where having a cell signal booster can make the difference between having usable voice and cellular data and not having any cell phone signal at all. We've used different models of weBoost cell booster for RV since 2016 and in this article I will share what makes it a top cell booster for RV travel.
Don't have time to read the entire post on the top cell booster for RV? We use the weBoost Drive Reach cell signal booster in our RV. Please note, there are two versions of this cell booster.
The Best Cell Booster for RV Travel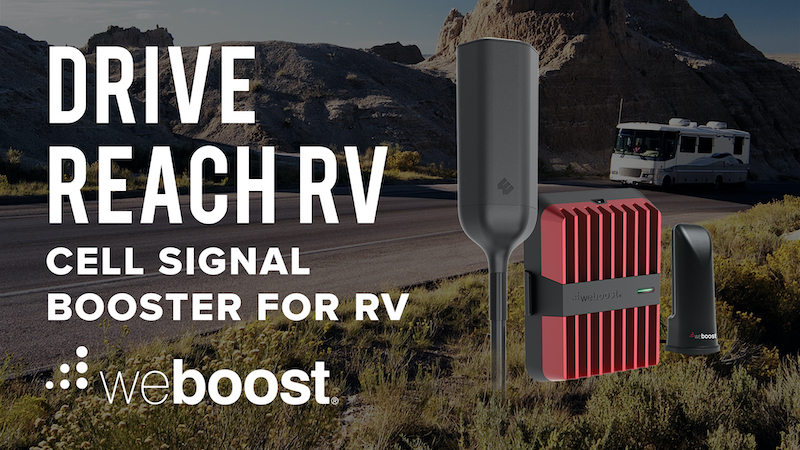 What is a Cell Signal Booster?
Just as the name implies, a cell signal booster boosts available cellular signals. It does this by using an outside antenna to pull in the cell signal to the amplifier which then sends the signal to cellular devices using a second indoor antenna. The outgoing signal from the device follows this path backwards and the signal is sent using the outdoor antenna.
The caveat is that a cell signal booster needs a signal, if only a faint one, in order to boost it. It does not create a signal. If there is no cell signal where you are, the booster will have nothing to boost. That said, we've had numerous occasions where our phones showed "No Service" and when we turned on our RV cell phone booster, it was able to pick up a cell signal and boost it in our RV.
Why Use a Cell Signal Booster?
A cell signal booster is for anyone who experiences dropped calls, poor data speeds and little to no signal (that your device can connect to). This is especially beneficial for RV travelers or for people that live/work in rural areas. Having traveled to 49 out of 50 U.S. states so far, we've been to plenty of places where we didn't have a usable cell signal unless we turned on our weBoost Drive Reach cell booster. In those areas, if we had an emergency, we would have had to drive until we could get a signal to call for help or use our Garmin satellite communicator.
Another example of the wide use of cellular signal boosters is driving through the oil fields of North Dakota or West Texas. We have seen many work trucks on the road with a cell booster antenna mounted to them.
If you are in a major metropolitan area, chances are your cell signal is pretty good in most places, but there are spots where where you can lose a signal and have to call someone back. There are also instances where a Verizon signal is stronger in the area, but you have AT&T cell service and need to boost the signal. For this reason, we have a Verizon and an AT&T cellular plan. Check out our Internet Guide for RV Travel.
Benefits of a weBoost Drive Reach
1. Get Usable Cell Signal
Since we work while we travel, being able to get consistent, usable cellular data is a requirement on most days. There have been many times where we have found a beautiful dispersed camping spot, but the location has very weak cell signal. The first thing we do is turn on our weBoost cell booster and many times we've been able to get a good enough signal to get work done without having to pack up the RV and move to another area or drive into town to find WiFi.
As mentioned earlier in the post, there are two versions of the weBoost cell booster that we have.
The one we currently use is the weBoost Drive Reach which has a magnetic roof antenna that we mount to our Class B camper van.
The weBoost Drive Reach RV comes with an antenna with a 13" mast extension. We used this version in our pop-up truck camper for increased antenna height.
2. Works on Multiple Devices
A single weBoost cell booster can support multiple cellular devices at one time. We have been able to connect multiple phones and a mobile hotspot device to the weBoost cell booster in our RV at the same time.
3. Works with All Carriers
weBoost products work across all carriers, boosting 3G, 4G LTE and 5G signals. We have Verizon service on our cell phones and AT&T for our mobile hotspot. The weBoost Drive Reach will boost both carriers signals at the same time – we don't have to pick between one or the other. Sprint, T-Mobile and other carriers will also work with this cell signal booster for RV.
4. Automatic Connection
When the weBoost Drive Reach is turned on, cellular devices will automatically connect to the cell booster if they are within range. There is no set up required on the device. Simply power the cell booster on and your phone or hotspot will connect. We have noticed that if we have no cell service, our devices will connect immediately. If our cell phones are already connected to a signal, it will take a bit longer to switch over and connect to the cell booster.
5. DIY Installation
Installation for each weBoost model is somewhat different. Models like the weBoost Drive Reach are very easy to install as they use an outside magnetic antenna that can be mounted on a vehicle's roof and the wires come through the opening of the door – so no holes need to be drilled and weBoost claims it can be installed in 15 minutes.
Set up of the weBoost Drive Reach cell booster for RV can be more work because not all RVs have roofs that are magnetic so you have to mount a different antenna and potentially drill a hole through the roof to route the cable. Some RVers will mount a steel plate on the roof of their camper for the smaller magnetic antenna.
6. True Plug-and-play
Once your weBoost cell signal booster is installed, simply turn it on. There is no software to install or settings to mess with.
Please note, a cell booster must be registered with your wireless provider and you need to have their consent before use. More information about this can be found at the bottom of the weBoost cell booster product pages.
7. Uses 12 volt or 120 volt
Depending on your RV set up, you can chose to either plug the cell signal booster into a 12 volt plug or turn on the inverter (if you have one) and plug it into a standard household outlet.
While we do have an inverter in our camper, we chose to use the 12 volt plug to power our cell signal booster for RV. This is because we typically try to conserve power and opt for the 12 volt as it is more energy efficient and doesn't require the inverter to be on.
Downsides of a weBoost Drive Reach
1. Limited Visual Confirmation
Limited visual confirmation your device is connected to the weBoost cell signal booster. When you connect to WiFi on your phone, you're able to see an icon on the display that shows you're connected. Unless your device has no signal, it can be difficult to visually confirm that your device is connected to the weBoost's signal.
There are times when my phone might go from 1 bar to 3 bars when it connects to the weBoost Drive Reach, but there are also times when the number of bars doesn't change. When this happens, I typically run a speed test on my phone to compare the download and upload speeds.
weBoost does provide instructions on how to enter your phone's diagnostic settings to see what the signal strength is. I've not found this to be helpful.
2. Finding the right spot for the antennas can be tricky
If your cell booster antennas aren't placed in the right spot in relation to each other, they can create a disturbance between each other. When this happens, a red light appears on the amplifier. We've found that, in our RV, since we put away our antenna each time, we have to find just the right spot the next time we set it up. There have been instances where moving the antenna a few feet away can make a huge difference in the signal strength.
Our Experience with weBoost Cell Booster for RV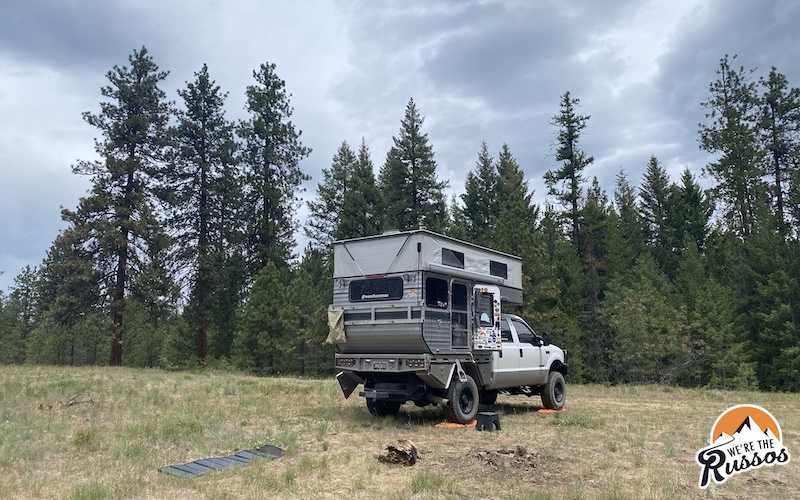 The first cell booster for RV we ever tried was the weBoost Drive X RV which we used in our Class A motorhome. At the time, we were in the process of getting our motorhome ready to sell so we did not permanently install the RV cell booster. Despite that, we noticed that in areas where we had cell signal but very slow data speeds and/or data that would come and go, the weBoost typically made the connection much more stable and would increase speeds slightly.
Through out the years as we moved into camper vans, we would mount the magnetic antenna to the roof of the van and run the cable through the driver's side door and into a cabinet where we kept the amplifier. Since we were almost always boondocking, we would leave the weBoost off to conserve power unless we were in an area where we needed the boost. The most notable success during this time was on a camping trip to the Mojave desert, essentially boondocking out in the middle of nowhere. Our phones showed "No Signal" and we had quite a bit of work that required internet access. Rather than leave our spot to search for cell service, we turned on the weBoost and had great cellular data.
In our aluminum sided truck camper, we were faced with the dilemma of how to mount the antenna for our weBoost. Our solution was to use the mount that came with the OTR (over the road) antenna in the "RV" model and mount it on the rear rack of the camper every time we needed it. While it was tedious, it kept us from having to find a place to mount it permanently and drill a hole into our camper to route the wiring.
On a recent visit to a National Forest campground we discovered the only way to pay for a site was through their website as they were not accepting cash or check on-site. Of course the campsite we found was in an area where we didn't have any cell service. Rather than walking or driving back out to the main road I set up the weBoost and was able to get a signal to pay for the campsite.
Other Cell Signal Boosters on the Market
While I've seen a lot of other companies coming out with similar products, weBoost is the more well known brand in the cell booster for RV space. Since I haven't used any other cell booster brands, I can not speak to how they compare to the weBoost.
We do have friends who had a Pepwave cellular router and loved it. Check out this article on Faster Speeds with Pepwave to learn more. While we have not used the Pepwave, we have heard good feedback from those who have the set up in their RV.
Overall Impressions of weBoost Cell Booster for RV
Over the years as cell service has been getting better and better, we find ourselves needing the weBoost cell booster less and less. However, when we do need it, it's invaluable.
We've never had a problem with our weBoost cell signal boosters and when they are permanently mounted, we forget that it's even there. When we were on the Summer with Mom road trip and forgot to pack our weBoost Drive Reach, there was a noticeable difference in our connectivity. Streaming music and podcasts would drop out as we went through mountains and other areas with limited coverage.
If you are in the market for a RV cell phone booster, considering making your purchase using one of our affiliate links below.
Do you use a cell phone booster in your RV? Share your experiences by leaving a comment below.