Some of the links below are affiliate links, which means we will earn a commission on the products or services you purchase using the links. There is no additional cost to you and the earnings help keep this website running. Read the Affiliate Disclaimer for more information.
You've asked for it, and here it is: our review of the Boondockers Welcome membership. Spoiler alert – we love it! Boondockers Welcome is a fantastic RV membership service for those who enjoy boondocking (camping without hookups) and want to meet other RVers in the process. We became members in April 2016 and met some really cool RVers as a result.

Boondockers Welcome offers two types of memberships.
Guest membership is for RVers looking to stay 1-3 nights on private property. This is similar to Harvest Hosts in that you pay an annual fee (outlined below) to subscribe to the service, and then each overnight stay is free. You can repay your hosts with small gifts, or by leaving positive reviews to confirm you had a good experience.
Host membership is half the cost of Guest membership, and is available for RVers who have property where they can host overnight guests. There are lots of perks to being a host, and you don't need to have acres of property or be available year-round. Even if you can only host a Class B van in your driveway every now and then, we highly recommend hosting!
Note: we paused our guest membership after we switched from our 30′ Class A motorhome to a smaller camper.
Boondockers Welcome Review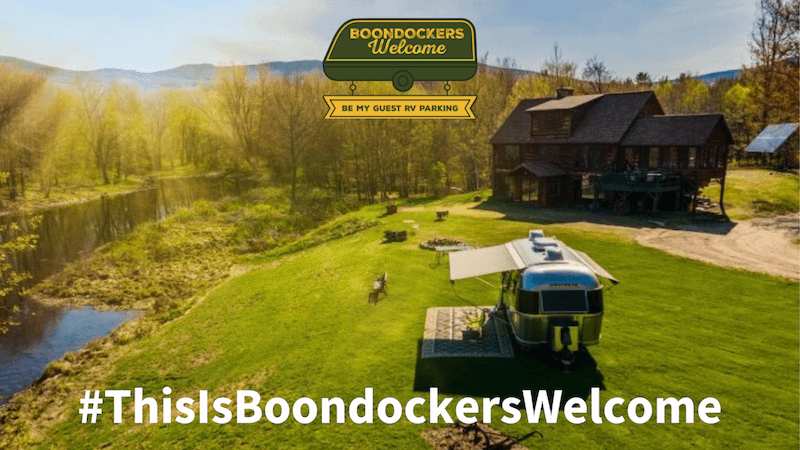 Boondockers Welcome Memberships:
A Guest Privileges membership costs $50 per year, which is about the price of an overnight stay in a campground. For this price, you have access to stay with hosts for free throughout the year duration of your membership. One of the things we love about Boondockers Welcome is that they offer a 90 day money-back guarantee, no questions asked.
A Host membership is discounted by 50%, so it's just $25 per year. Hosts will also receive three months of Guest Privileges for each positive Boondockers Welcome review they receive. They can save this to use any time they are ready to travel themselves.
If you're a member of Harvest Hosts, there's another way to get a discounted membership. Under the "Member Discount" section in Harvest Hosts, you'll find a discount code you can use to save on a Boondockers Welcome membership.
Host Locations:
There are over 2,700 Boondockers Welcome hosts in the network. Most of the hosts are located in the U.S. and Canada, but there are select hosts in Australia, New Zealand and Mexico, too.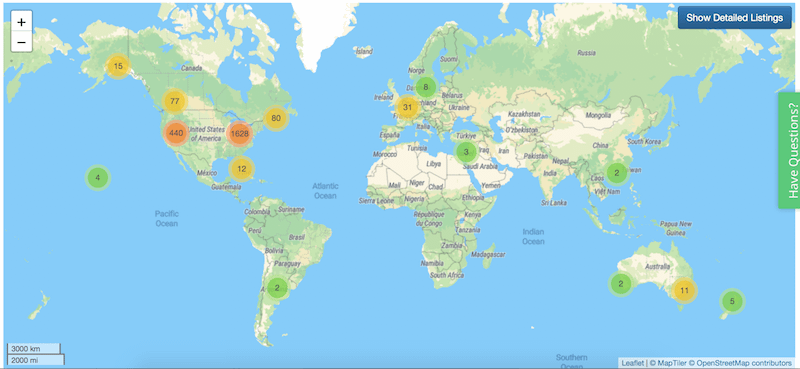 When searching for hosts, you can filter results by host location, RV size, or even amenities like water or electric hookup.
Member Profiles:
Host profiles include a general location, amenities, and additional information about their property that guests might want to know. Their physical address and email are not made available in the profile. Once the host confirms availability of their property, they will share their address with you.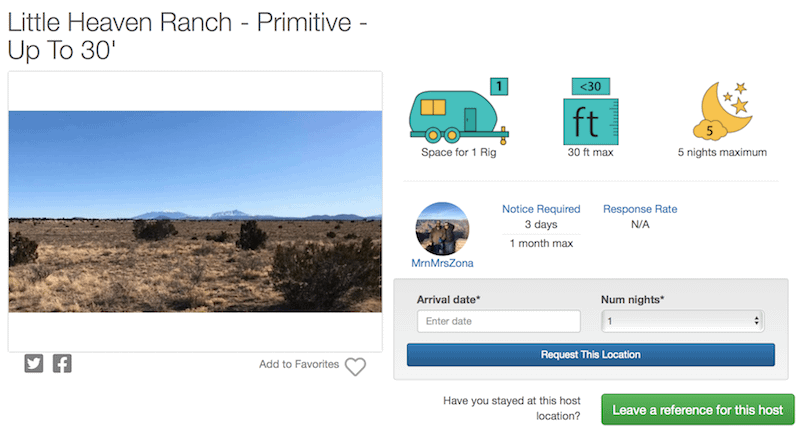 Guest profiles include information about the member, details about their RV, any pets, favorite boondocking spots, etc. We always made sure to let our hosts know that we'd have a dog with us when we were traveling with Leo!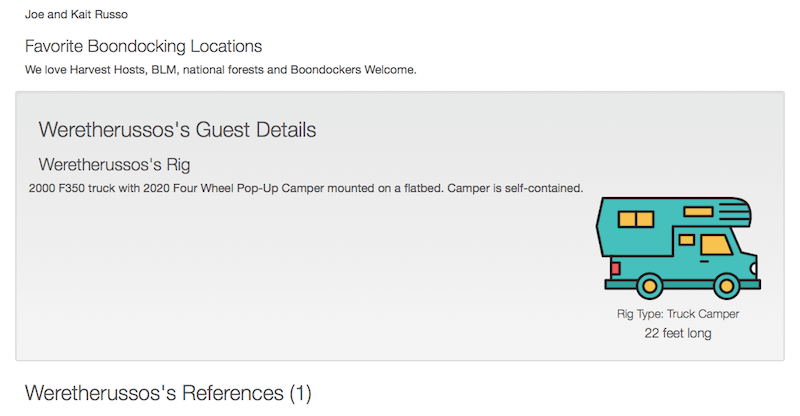 Booking an Overnight Stay:
As Guest members, once we've found a host that looks good to us, we send them a message through the Members' Portal. We'll get an e-mail notification when the host responds. All communication occurs within the Boondockers Welcome messaging service, unless the host chooses to provide their contact information. If you're curious, the average response time from hosts we've reached out to has been about 24 hours.
Here's an example of a message we might send to a host, back when we traveled with a dog:
Subject Line – Can we stay with you 8/15?
Message – Good morning! We are Joe and Kait and we travel in a Class A Motorhome with our rescue pup Leo. Want to find out if you have availability for us to spend a night or two. Depending on the weather, we may need to trouble you for the electric hookup so we can run the AC for our Husky. We look forward to hearing from you!
Boondockers Welcome Protection Program
Liability is a popular topic when it comes to RV membership programs such as Boondockers Welcome. Hosts often wonder what happens if a guest gets injured on their property? Boondockers Welcome recently announced their protection program which according to their website
provides liability coverage for up to US$1,000,000 per occurrence in the event of a third party claim for bodily injury or property damage related to a Boondockers Welcome stay that is not covered by your Home Insurance Policy that you, as a Boondockers Welcome Host, must hold.
This program has also changed the limit of guest stays to a maximum of 5 nights in a 90-day window.
Tips for Boondockers Welcome Guest Members:
Double-check directions and road conditions with the host. For example, some hosts cannot accommodate RVers after heavy rainfall due to flooding or soft ground.
If electric is provided, check to see if it's 20, 30 or 50 amp. You want to be careful not to trip a breaker!
Read Boondockers Welcome reviews left by other guests for additional information.
Message the host as far in advance as you can, and then again the day prior to arrival to confirm availability and to provide a reminder. If you won't make it for any reason, be sure to let the host know.
Download the Boondockers Welcome App for your iOS or Android device to easily access features such as search, requests to stay, messages and more.
All in all, using RV membership services like Boondockers Welcome can be a great way to keep your RVing costs low. It is especially handy if you have a long drive that you want to break up into two travel days with an overnight in between. For additional ideas on where to park your RV, see our overnight resource roundup.
If you enjoyed this Boondockers Welcome review and decide to sign up for a membership, please consider using our Boondockers Welcome affiliate link. There is no additional fee and in return we receive a small percentage of the sale. Thanks for your support! We really appreciate it.
Boondockers Welcome Video Review
We filmed a video about our Boondockers Welcome experience when we were traveling in our Class A motorhome.