We started our full time RV journey with two large rescue dogs: Duke and Leo. Duke was a Belgian Malinois mix who weighed in at 75 pounds. Leo is a Siberian Husky who weighs in at a husky 70 pounds. They played a major role in our decision to travel full time in a motorhome. In this post will cover our entire RVing experience from RV shopping to actually RVing with dogs.
Full Time RVing with Dogs
In this video, we discuss in detail what it's like to RV with dogs.
RV Shopping
Armed with a long list of must have items and nice to have items for our future home, we searched long and hard before we found the right RV. These are the items we added with our dogs in mind.
To learn more about our dogs and the RV shopping experience, check out Joe's book Take Risks.
Comfortable sleeping quarters with all the slides in. We knew there would be times when we couldn't put the slides out. One example is overnight parking at a truck stop. Comfortable sleeping quarters means Joe and I can sleep in the bed with enough room to lay both dog beds (48" dia.) on the floor. This also ensures a comfortable place for the dogs to hang out while driving.
Place for the dog beds in the bedroom. With all the slides out, there has to be enough room for both dog beds in the bedroom. This is where they like to sleep.
Easy access into the RV. Duke was having issues with his hind legs and Leo's not a fan of stairs. The entrance has to be wide enough where we can walk side by side with Duke to help him in. We made a note of the number of steps to get in and out of the RV.
No floor to ceiling windows. A few RVs had nice floor to ceiling windows. We had to avoid them because we didn't want to take a chance on the dogs potentially breaking the windows. Duke and Leo have strong prey drives. They will do just about anything to get after a squirrel. Blinds would not have deterred them.
Temperature control. Whether we're hooked up at a campground or dry camping out in the forest. We want to make sure there's a good way to keep the RV cool on hot days when we're gone either with an AC unit or overhead fans.
Least amount of carpet possible. Cleaning up after the dogs is much easier without carpet.
We made the decision not to bring the dogs RV shopping for a few reasons. One of the main reasons was not wanting them to have a bad first experience especially when we can't completely control the situation at a dealership. We also wanted to be able to focus on the RV and not be distracted by the dogs. Finally, we didn't want to have them out in the hot weather. For some reason when we had time to shop, it was always in the 90s.
Introducing the Dogs to the RV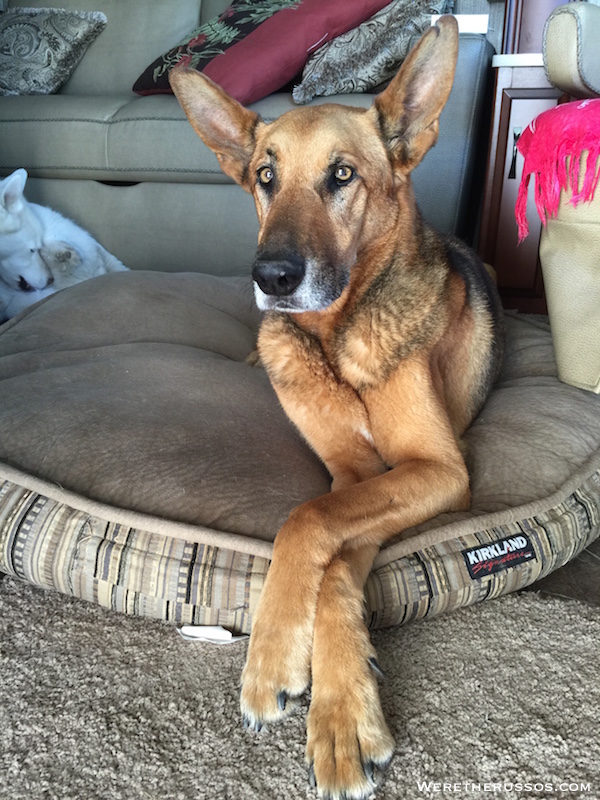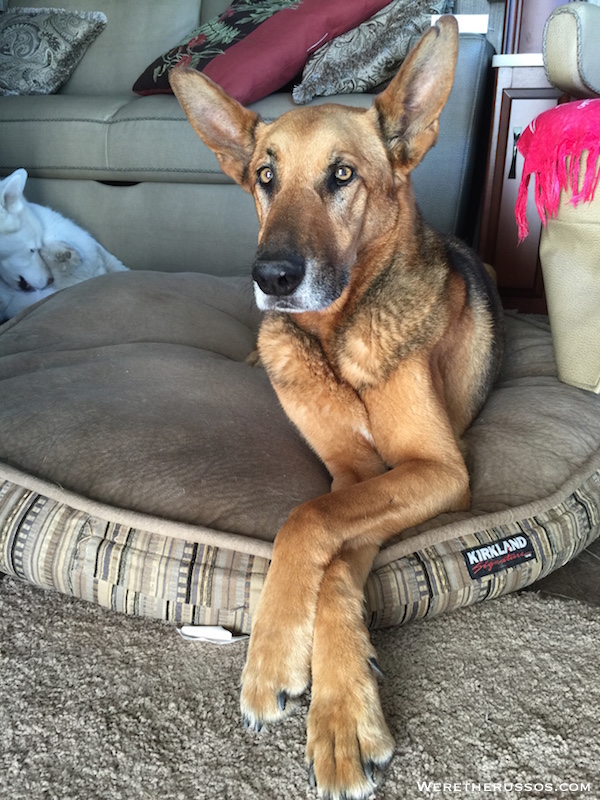 After we took delivery of our motorhome, we parked it in the driveway of our house which we were getting ready to sell. To prepare for the introduction, we put all the slides out, brought in their dog beds, blankets and water bowl. To our surprise, they both went up the stairs without any hesitation. We didn't even have to coax them with treats.
They were unsure of their surroundings the first few times we hung out in the motorhome. After a few visits, they started to feel at home and each found their spots. Duke, being the protector of the two would station himself by the door. Leo loved to hang out under the steering wheel. Once we completely moved into the motorhome and started living out of it, both dogs had become very comfortable sleeping in their new home.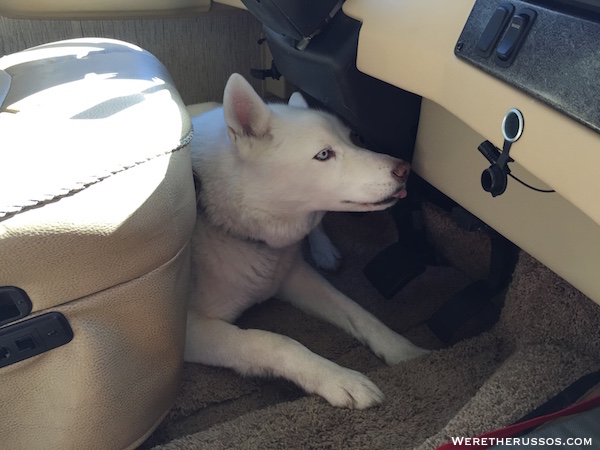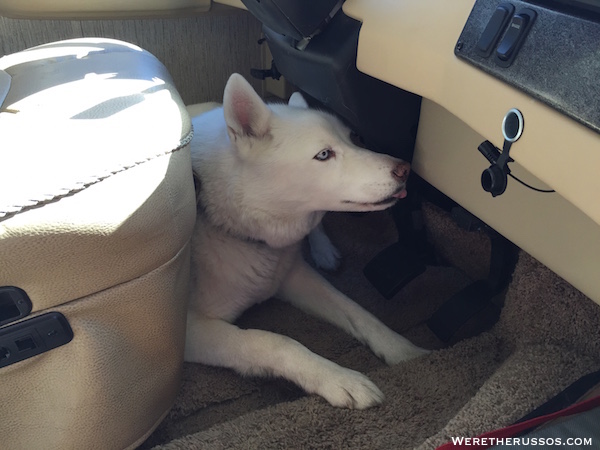 Going For a Drive in the RV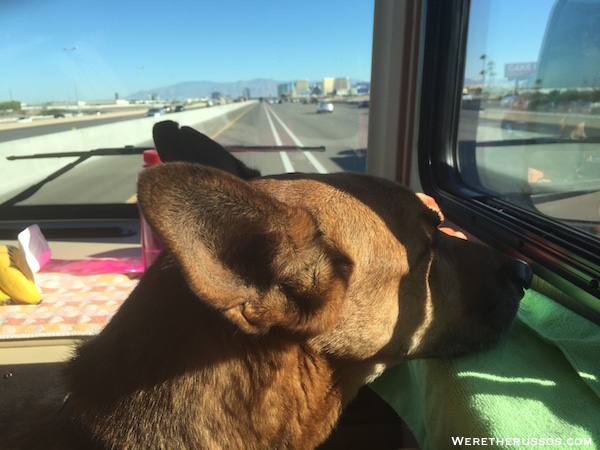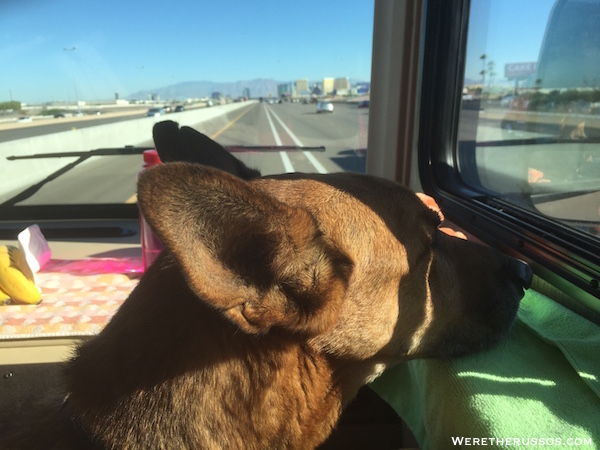 Both dogs love riding in the Jeep and have never been car sick so we weren't too worried about that. The first time they rode in the motorhome, Joe was driving by himself while I followed in the Jeep (we didn't have our ReadyBrute Elite Tow Bar installed at that time). That was a mistake! Once Joe got on the road, noises in the RV scared both of the dogs. Leo tried to go under Joe's legs to his favorite spot. Duke tried to get in Joe's lap. The dogs were probably wondering why their home was moving! Joe was able to stop and have me take both dogs in the Jeep Wrangler.
The next time we took the dogs for a ride, we went for a weekend trip to Rincon Parkway in Ventura, California. We left the Jeep at home and rode together. I was able to keep an eye on the dogs and help them get settled. Duke was anxious the entire drive pacing back and forth. Leo was sitting on his bed panting. They were more calm on the ride home because they were worn out from the weekend at the beach. We realized we needed to tire them out before we got back on the road. Once we started full timing, it took about a week for the dogs to become completely comfortable riding around in their new home.
Duke's favorite spot was at the feet of whomever was passenger. He would lay his head on the dashboard or on the window ledge and watch the road go by. Leo would lay on the bed by the entrance or hang out in his "taco shell".
RVing with the Dogs in Mind
These are some tips and tricks we've learned along the way and hope that you find them helpful in your RVing experience with your dogs.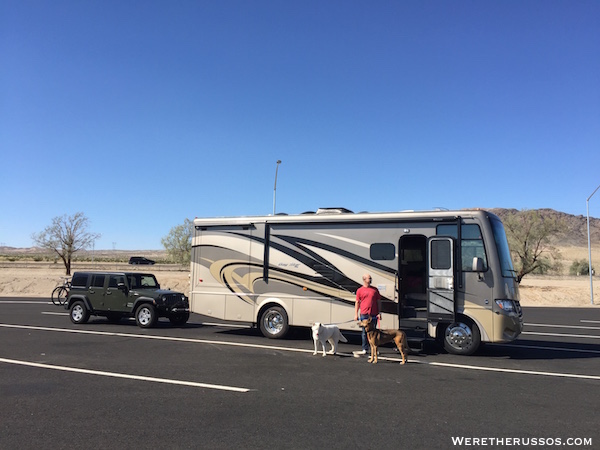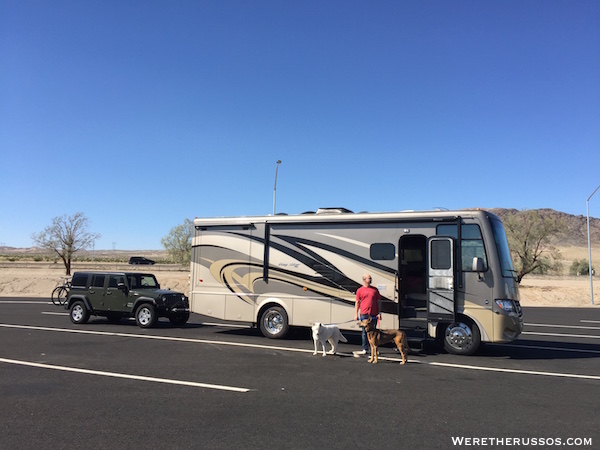 Go for a long walk before getting on the road. On travel days, we always go for a long walk. This way the dogs get all their business taken care of and are a bit worn out before we start driving.
Leave some water in the dog bowl. The water bowl is about 1/2 full before we get on the road. This way the dogs can take a drink whenever they want. There isn't too much water that it will spill when we're going around corners.
Take advantage of rest areas. When we started full timing, we drove long distances and took advantage of rest areas to walk the dogs. Now we travel 100-150 miles at a time and find that we don't need to stop for a potty break until we get to our destination. Leo will let us know if that's not the case.
Vacuum daily. Since we travel with a white husky that sheds 365 days a year, we vacuum daily to keep the hair under control. Otherwise, it will start look like it's "snowed" inside our motorhome. No one wants that! We use a handheld pet vacuum with an attachment that works well on carpet. Hopefully you won't need to vacuum as much as we do.
Finding a Veterinarian on the road. We're lucky to have friends and family all over the United States that we can call on to ask for recommendations. Most of them are dog owners and have veterinarians that they use and trust. As our extend family of full time RVers grow, we can also call on them for recommendations. Keep in mind vets are license in the state that they practice and we've been told that getting a prescription prescription filled across state lines may be tricky.
Losing a dog on the road. We lost Duke due to health issues and that was the most difficult thing we've experienced on the road. Finding a vet in an unfamiliar city and trying to figure out what to do with the remains were things we didn't expect to have to deal with. Loss is difficult, but dealing with loss on the road is even more difficult. We're lucky to have been able to share part of this journey with him and will always have the wonderful memories to look back on. In Memory of Duke.
Leaving the Dogs Alone in the RV
The first time we left the dogs alone it was for 30 minutes. Then we started to leave them longer and longer so they could adjust. Now we can leave Leo alone for up to five hours as long as we prepare him with a long walk and make sure he's taken care of all his business. It's very rare that we have to leave him this long because we try take him with us everywhere we go. Our rule of thumb is usually, if the business or town isn't dog friendly, then we'll keep on rolling. Of course there are a few exceptions to this rule such as Camping at Walt Disney World. After all, we chose RVing because we could bring the dogs.
On the rare occasions when we have to leave Leo, we check the weather forecast to decide if we need to put on the AC or turn on the fans. We won't leave him alone for an extended time in the motorhome unless we are fully hooked up at a campground. The reason for this is to make sure we can run the AC. If there's an emergency, the campground can also contact us.
We did run into a situation at a campground where the neighbors called security on us. They thought we left Leo in our home without the AC running.
Dog Products We Use and Love
There are two dog products we recommend for RVing.
Whether you're going hiking or have an older dog that needs a little assistance getting in and out of a vehicle, having a sturdy harness is essential for traveling. Read our Dog Harness Review.
The container is large enough to hold one 40lb bag of dog food. We store our container in one of the bays. Be sure to measure the area where you plan to put yours to ensure it will fit.
Check out this post for a full list of Must Have Dog Gadgets for RVing.
RVing is a great way to travel with your dogs and we can't imagine doing it any other way. We hope you enjoy RVing with your dogs and if you have photos of your dog's favorite spot in the RV feel free to share it in the comment section.
Since this post was published, we have downsized to a Class B RV and you can catch a glimpse of van life with dogs in this video.