Some of the links below are affiliate links, which means we will earn a commission on the products or services you purchase using the links. There is no additional cost to you and the earnings help keep this website running. Read the Affiliate Disclaimer for more information.
Bend, Oregon is one of those places that you can't help but fall in love with. This high-desert city in Central Oregon is a great vacation destination for just about anyone. Known for its wide selection of breweries and outdoor activities, there are plenty of things to do in Bend, Oregon and many of them are dog-friendly.
When you arrive in Bend, you'll immediately notice a popular RV and van life vibe which always makes us feel right at home. Don't be surprised if you see purpose built adventure rigs all over town from off-grid adventure vans to expedition vehicles and everything in between.
Joe and I have spent quite a bit of time here and these are some of our favorite things to do in Bend along with a few tips for fellow campers and RVers.
Things to Do in Bend Oregon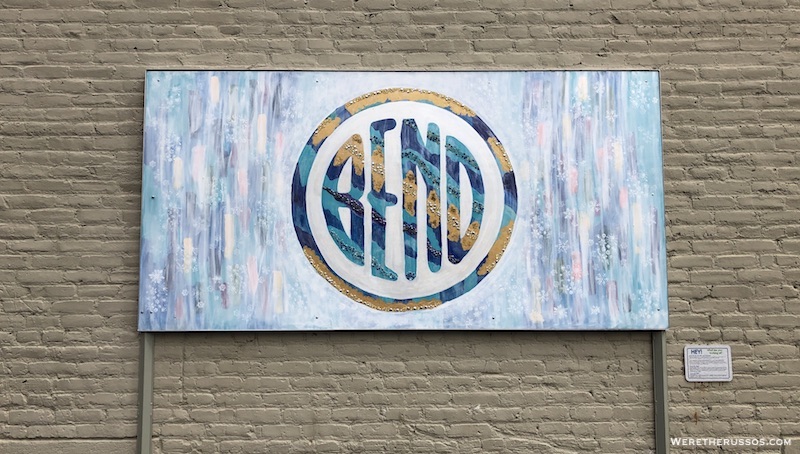 1. Stay Caffeinated at Thump Coffee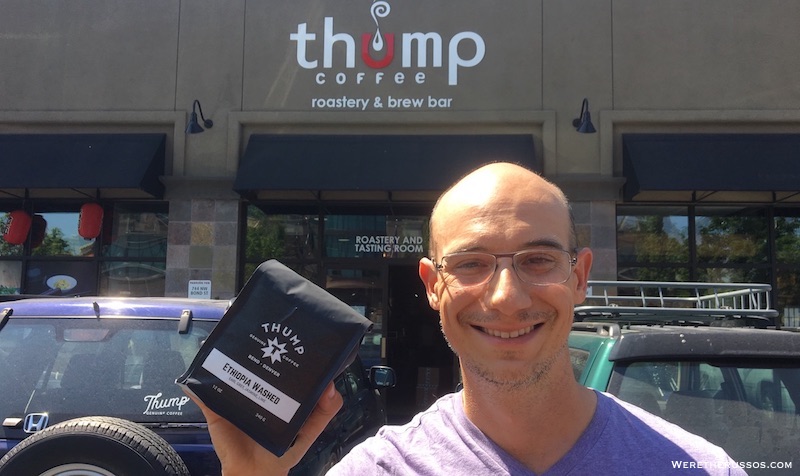 Start your morning with a cup of carefully roasted and precisely brewed coffee at Thump Genuine Coffee. The Ethiopia Washed ranks very high on Joe's favorite coffee list.
For those of you who prefer to brew your own coffee, you can find freshly roasted beans for sale at any Thump location in town as well as many of the local markets including Market of Choice and Newport Ave Market.
2. Feast on Delicious Thai Food at Wild Rose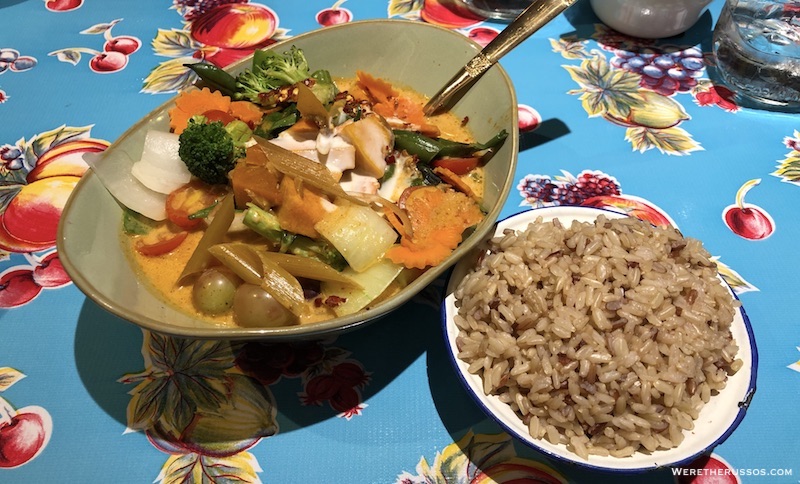 Wild Rose Thai is arguably one of the most popular restaurants in Bend, Oregon. Expect a wait at this Northern Thai restaurant during popular dining hours. Our favorite dishes include Grandfather's Tom Kha, Kabocha Curry (pictured above) and Kar Nar Moo Krob.
Tip: if you're traveling solo, lunch is a great option with smaller portions where you can try more than one dish.
Thank you Kym and Kevin of Bend Wine Storage for introducing us to this local gem in Bend. If you need some good wine and restaurant recommendations in Bend, they can definitely point you in the right direction.
Wild Rose also has a sister restaurant in Bend called Sen Thai Hot Pot and Noodle House. We stopped in for lunch on our most recent visit and had a wonderful meal. Things to order at Sen Thai include Poh Pia Sode Tod, Ba-Mee Moo Dang and Guay Teow Mun Goong.
3. Beer Hop In Bend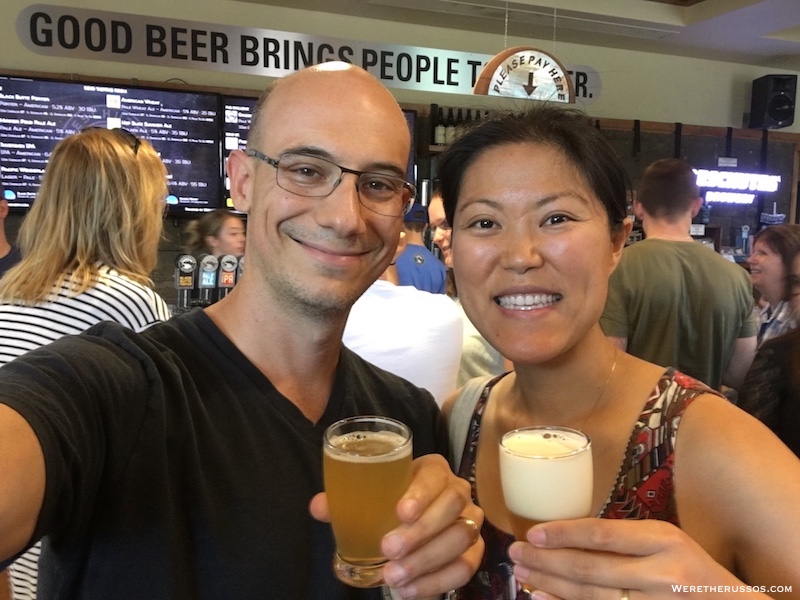 With the growing number of breweries in Bend, I'm pretty sure you can find just about any style of beer or non-alcoholic brew to satisfy your taste buds.
Deschutes Brewery is the most well known and established spot in town. Did you really visit Bend if you didn't try a Deschutes beer? Tip: you can find a 24 pack of the Black Butte Porter at the Costco in town.
Crux Fermentation Project is another popular brewery in Bend with a large tasting room and outdoor area. Joe likes their Gimme Mo Not Just Another IPA.
GoodLife Brewing is one of our new local favorites. The award winning Descender IPA is a must try for all you IPA drinkers out there.
10 Barrel Brewing is our most recent discovery. The brewery has been around for a while, but there's only so much time for brewery discovery each time we visit Bend. The Cucumber from their Crush series of sour beers is quite refreshing especially on a warm summer afternoon.
4. Tackle the Bend Ale Trail
Serious about beers? Check out the Bend Ale Trail. In the past, you could pick up a passport from any one of the participating breweries or grab one at the Bend Visitor Center. Now, there is a special edition where everything is digitally.
5. Grab a Loaf of Freshly Baked Bread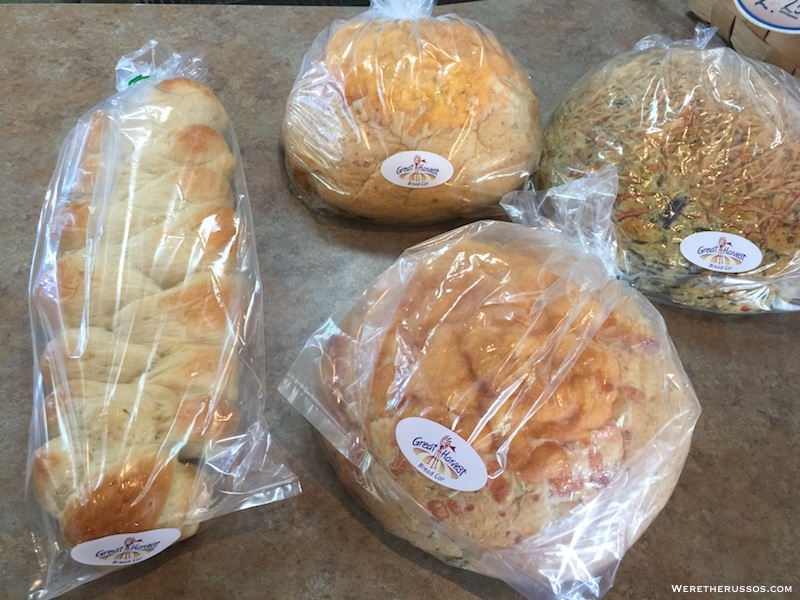 Bend has a good selection of bakeries and cafes making freshly baked bread.
Great Harvest Bread Company is known for their freshly milled and baked breads. Our favorites include the honey whole wheat and Dakota.
Jackson's Corner makes a wide range of traditional sourdough breads. We especially enjoyed the whole grain sourdough.
These bakeries are also well known in Bend serving some delectable baked goods that locals and tourists love. We haven't sampled these yet, but it's a good reason to come back to Bend right?
The Sparrow Bakery makes an croissant style pastry covered in cardamon sugar called the Ocean-Roll that customers absolutely love.
Nancy P's makes a cinnamon roll that our friends had said is an absolute must try. Go early to guarantee your cinnamon roll experience, because we've heard they do sell out.
6. Fresh Local Produce at the Farmers Market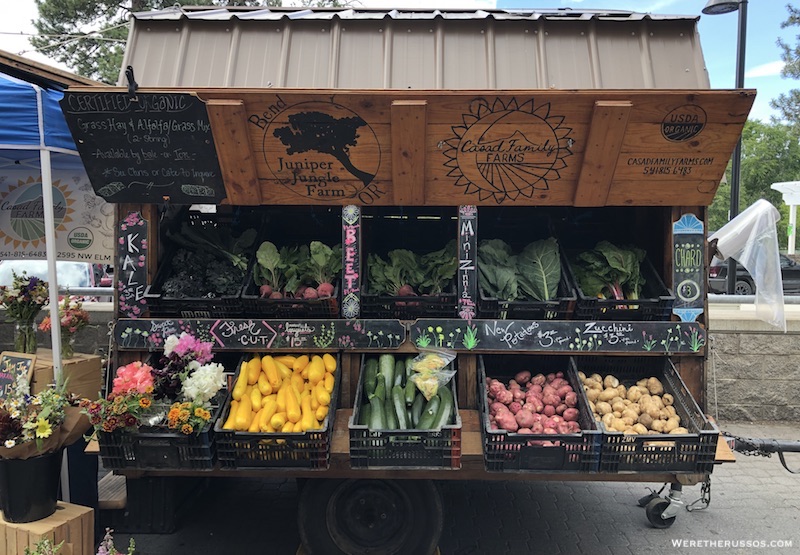 Wednesdays in the summer means an abundance of fresh local produce at the Brooks Alley farmers market in Bend, Oregon. In addition to in season fruits and vegetables, you'll also find artisan breads, pasture raised meats, wild caught fish, local honey, fresh cut flowers and specialty food vendors.
Tip: if you're not able to make it to the farmer's market, Central Oregon Locavore is open daily with a great selection of local produce and meats.
7. Relax at One of Many Parks in Bend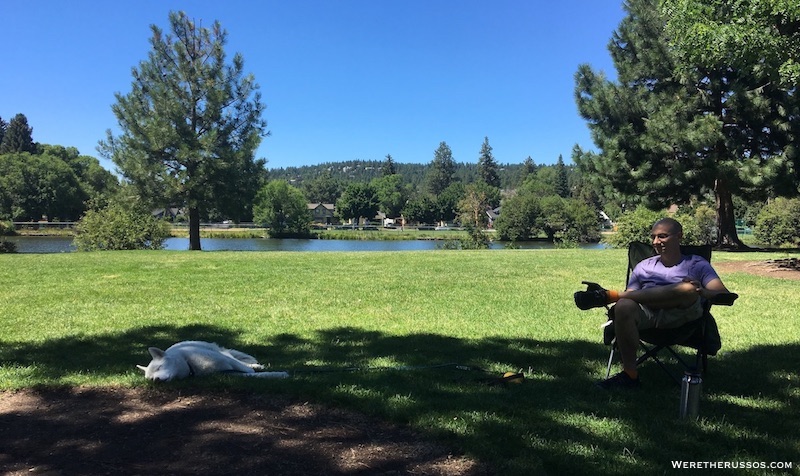 Bend Park & Recreation own a good portion of the land in the city. As a result, there are many wonderful parks to choose from.
Grab a blanket or the lawn chairs and head to Drake Park (pictured above). The 13-acre park offers lush green grass with well maintained paths along the river and through the park. Plan to stay a while, the sunsets over Mirror Pond are worth sticking around for.
Go for hike at Shevlin Park. You may be surprised to find the popular Tumalo Creek Trail such a short distance from Downtown Bend. When you need a break from the hustle and bustle of the city, enjoy peace and quiet at this tranquil park.
8. Keep an Eye Out for Happy Hours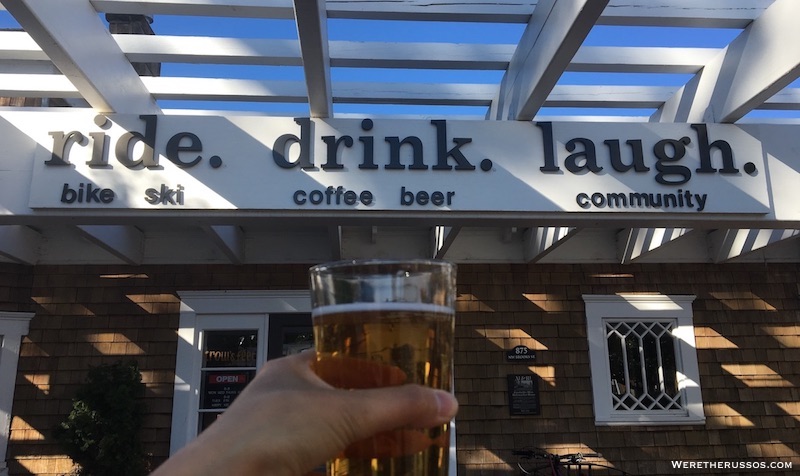 As you walk around town, keep an eye out for happy hours and daily specials. The first time we visited in Bend (in 2017), we stumbled upon a $1 beer happy hour at Crow's Feet Commons. Plus there was free wifi and outdoor seating with plenty of dog bowls.
9. Upfit Your Sprinter Van at Esplori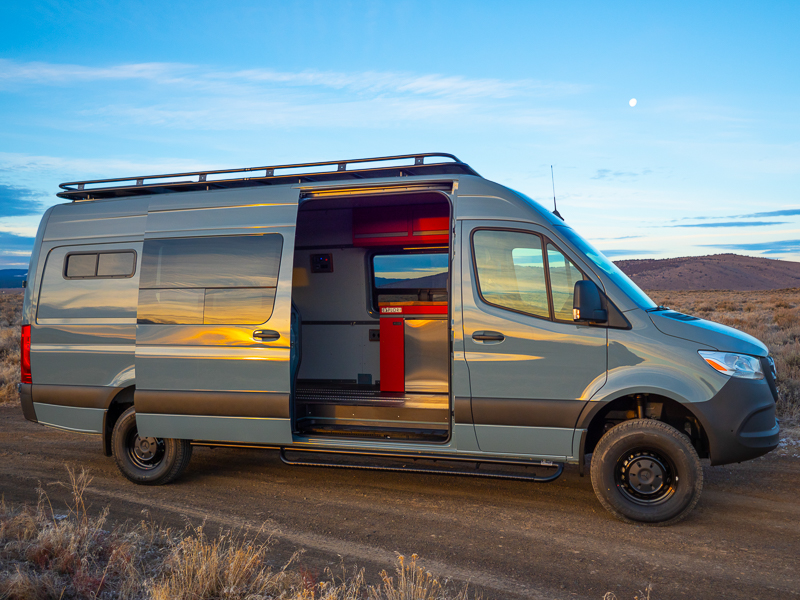 Brian and Colin over at Esplori are building custom sprinter vans and supplying DIY van builders with a line of custom engineered products made in the U.S. Stop by their shop in Bend where you can check out their floor trim kit and aluminum powder coated panels.
If you're into campers like we are, it's worth a stop just to check out the cool aluminum cabinets they are installing in their Sprinter van conversions.
10. Newberry National Volcanic Monument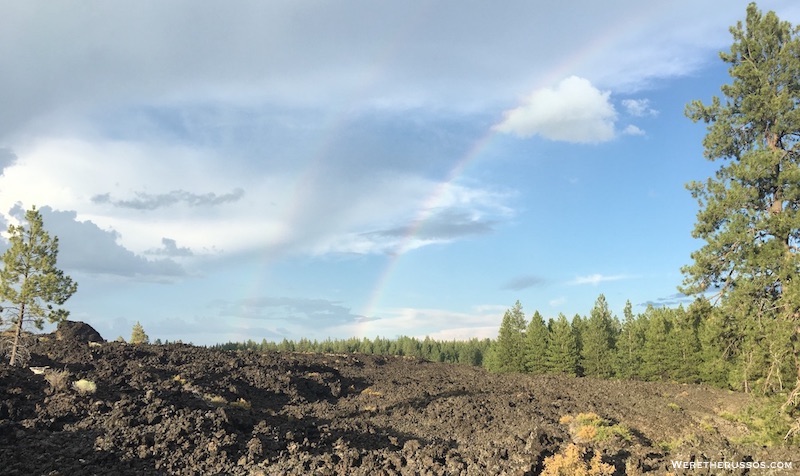 South of Bend is the Newberry National Volcanic Monument. Check out the Lava Lands Visitor Center to learn more about the lakes, lava flows and trails in this 50,000+ acre region. We were greeted by this double rainbow on the Trail of the Molten Land.
Whether you're on your way to Crater Lake National Park or on your way to Bend, definitely add this to your road trip.
RV Living Tips for Bend, Oregon
For those of you camping in Bend, here are a few tips:
The Chevron by the Blockbuster has water and RV dump for $5. Check AllStays for the latest information.
Cathy's Express Eco Laundromat has fast washing machines and good dryers. Credit cards are accepted.
There are several Amazon lockers in town including one at the Whole Foods in Bend.
Oregon Adventure Trucks is a local adventure rig outfitter and accessories shop that can help you build and modify your adventure vehicle.
Bend Battery has a wide selection of batteries and can troubleshoot electrical issues and help with upgrades.
Verizon internet speed can vary depending on where you are in the city. We had to use our cell signal booster in a few areas to get usable data. Read our post on RV Internet to learn more about ways to stay connected on the road.
To quickly find campgrounds, RV dumps, propane fills, potable water and more RVing/camping resources we use Allstays. Check out our AllStays Review.
Where to Camp in Bend Oregon
In the past we have camped on the street and driveway surfed with friends. This time we found plenty of free camping on public land. For tips on finding free camping around Bend, check out our post on how to find dispersed camping on public land.
Find nearby Harvest Hosts. Members have access to vineyards, farms, museums, breweries and more. Read our Harvest Hosts Review or use our referral link to receive a discount.
Check Boondockers Welcome to see if there's a host member in the Bend area that can accommodate an overnight RV stay. Read our Boondockers Welcome Review or use our affiliate link to sign up.
Having fun exploring in Bend, Oregon!