Some of the links below are affiliate links, which means we will earn a commission on the products or services you purchase using the links. There is no additional cost to you and the earnings help keep this website running. Read the Affiliate Disclaimer for more information.
Storyteller Overland is a Class B RV adventure van manufacturer based in Birmingham, Alabama. The company released its line up of 2022 Mode vans which includes the MODE4x4 vans on the Mercedes Sprinter platform along with the all new MODE LT on the Ford Transit AWD platform. All of Storyteller Overland's off-road and off-grid adventure vans are RVIA certified. Keep reading to learn more about these fully converted camper vans and why they are one of the best Class B RVs on the market.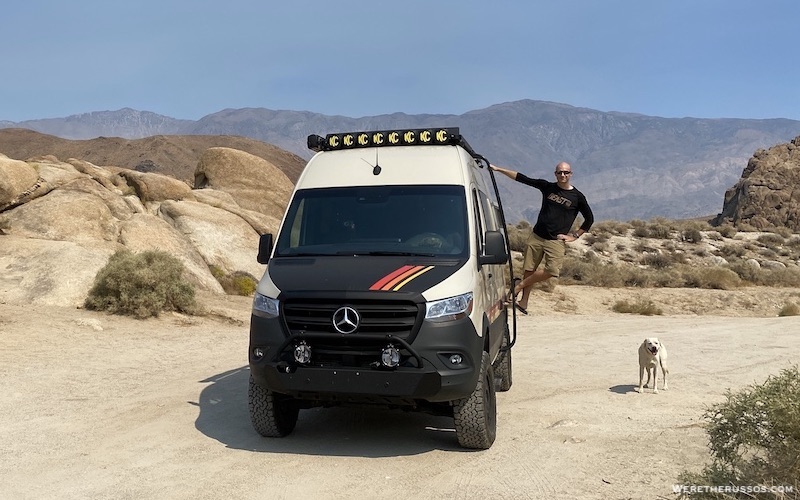 About Storyteller Overland
"Live Free. Explore Endlessly. Tell Better Stories." – That's the ethos behind each MODE adventure van rolling out of the Storyteller Overland factory in Alabama.
Storyteller Overland headquarters is located at 109 W Park Dr, Birmingham, AL 35211. You can stop by during business hours to tour the facility and meet the team. Kait and I have visited the HQ several times and highly encourage anyone shopping for a camper or visiting Alabama to stop in for a visit. Check out our Birmingham video to get some ideas of things to do while you're in town.
Storyteller Overland 2022 MODE Vans For Sale
For the 2022 model year, there are four Storyteller Overland Mode vans for sale.
MODE LT (Transit AWD) – $153,748
Classic MODE 4×4 (Sprinter 4×4) – $157,747
Stealth MODE 4×4 (Sprinter 4×4) – $169,454
Beast MODE 4×4 (Sprinter 4×4) – $198,746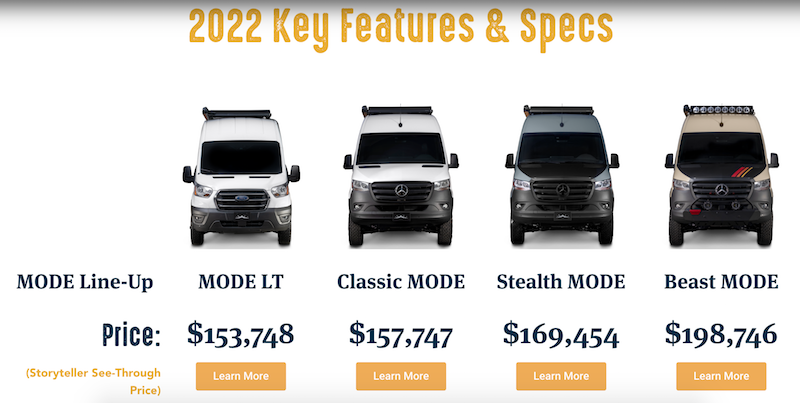 The MODE LT is built on the Transit AWD with the 148″wheelbase. The Classic, Stealth and Beast MODE4x4s are built on the Mercedes Sprinter 4×4 chassis with the 144″ wheelbase.
These RVIA certified Class B campers are sold through a dealer network across the United States with a price lock guarantee. This helps ensure Mode buyers pay the same price no matter where they are located in the nation.
Storyteller Overland MODE Van Tours
We've had the opportunity to tour and field test some of the MODE vans and below are some of the van tours we've shared on our YouTube channel.
Classic MODE 4×4 Van Tour
The production model of the Storyteller Overland Classic MODE 4×4 was first released in fall 2019. Please note that some of the features highlighted in the video below have changed with the release of each new model year.
Beast MODE 4×4 Van Tour
The Beast MODE 4×4 was released out into the wild summer 2020. This is the fully kitted out version of the Classic MODE 4×4 with suspension upgrades, exterior lighting package, front brush guard, defender bug screens and many more features.
MODE LT Van Tour
The all new Storyteller Overland Transit MODE LT was announced July 2021 and has been "more than 3 years in the making." The MODE LT will be built on the Ford Transit AWD platform with the 148" wheelbase, 350 3.5L EcoBoost V6 engine and have the trailer tow package for a 6,300lb tow rating.
Storyteller MODE Van Specs
Below are highlights of some of the features in the production MODE vans by Storyteller Overland.
Living area: seating for four: two on swivel front seats and two on bench seat with three point harness.
Kitchen: stainless steel sink, induction stove top, microwave, AC/DC fridge.
Bedroom: non-standard size bed, flares on driver and passenger side of the van to increase bed length to 77″ (east/west). Can be lifted and stowed out of the way to maximize garage area.
Bathroom: fold out shower and portable cassette toilet system
Tank sizes: 21 gallon fresh water tank, 24 gallon gray water tank
Hot Water & Heat: diesel/gas water heater and furnace
A/C: Roof mounted A/C unit that can be powered by the Volta Power System
Safety: smoke detector, CO2 detector and fire extinguisher
Insulation: natural high-performance wool insulation
Solar: 90 watts of solar, wired for max of 600 watts
Battery: M-Power 12kWh Energy Storage System by Volta
Inverter: 3,200 watt
Secondary Alternator: 8,000 watt charging system
Storage: removable overhead cabinets, garage area underneath the platform bed
How much does a Storyteller Overland cost?
The 2022 model year MODE vans are priced as follows:
$153,748 for the MODE LT
$157,747 for the Classic MODE 4×4
$169,454 for the Stealth MODE 4×4
$198,746 for the Beast MODE 4×4
The 2021 model year MODE vans are priced as follows:
$149,748 for the Classic MODE 4×4
$154,454 for the Stealth MODE 4×4
$189,743 for the Beast MODE 4×4
MODE Life Video Series
In total, we have spent over six months testing different MODE vans by Storyteller Overland. During that time, we created several videos about what it's like to drive and live out of these off-grid adventure vans. To watch all our MODE life videos check out our Storyteller Overland Playlist on YouTube.
Two Months in a Storyteller MODE
We had the opportunity to test the Transit MODE 4×4 prototype in 2019 and share that experience with our readers and viewers. It ended up being a two month adventure exploring the U.S. in the camper van and over 7,000 miles. During that time, we carried a DRZ 400 dual sport motorcycle on the hitch. Charley, my mom's yellow Labrador Retriever joined us for the first month so we could get a feel of what it's like to travel with a dog in a MODE 4×4 Transit van.
Summer with Mom
This summer, we had the opportunity to take my mom and her dog on a cross country road trip in a 2021 Beast MODE 4×4. In total, we traveled nearly 11,000 miles and got to show mom what it's like to travel in an adventure van. The final episode of our Summer with Mom series is below or you can watch all 10 episodes on our YouTube channel.
Rent a Storyteller Overland MODE 4×4
There are several Storyteller Overland vans for rent in the U.S. Below is a list of the available Mode4x4 vans for rent that we are aware of.
For MODE owners looking to rent their van, GoCamp is also an option. Check out their list your van page for more information. If you decide to list your van there, tell them We're the Russos sent you to waive the commission fee on your first rental.
Used Storyteller Overland MODE vans for Sale
With hundreds of Storyteller Mode vans out in the wild, some used vans are becoming available. However, these are sold fairly quickly to people who don't want to wait over a year for a brand new MODE.
If you have a used MODE 4×4 for sale, leave us a comment and we'll be happy to share it here.
Additional Storyteller Overland Resources
Below is a list of additional resources where you can learn more about Storyteller Overland, ask questions or just learn more about van life in general.
Disclosure: the Storyteller Overland MODE 4×4 vans referenced in this post were on loan to us to test and provide feedback on. No one told us what to write or say. All of the opinions are our own, 100%.