Some of the links below are affiliate links, which means we will earn a commission on the products or services you purchase using the links. There is no additional cost to you and the earnings help keep this website running. Read the Affiliate Disclaimer for more information.
Are you ready for an epic RV road trip through South Dakota? We first discovered the beauty of South Dakota in 2019 and recently revisited The Mount Rushmore State which made us fall in love all over again. Both of our South Dakota road trips were way too short so my first tip is to plan for at least three days. It's enough time to sample the diversity and beauty of South Dakota so you can plan for the next trip.
13 Destinations for Your South Dakota Road Trip
Many of the places and attractions on the list are also featured in our South Dakota road trip videos below.
2019 South Dakota Road Trip video:
2021 South Dakota Road Trip video:
1. The Mammoth Site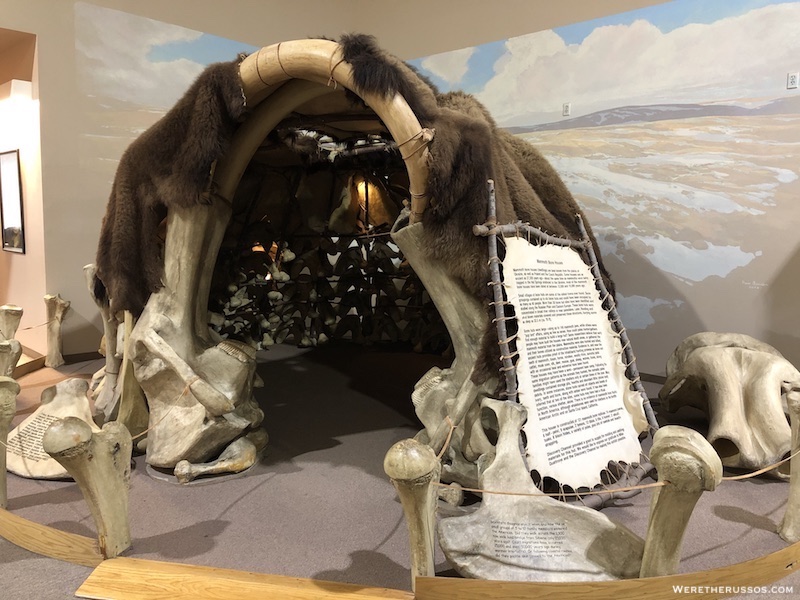 The Mammoth Site is a research facility where you can tour an active dig site of mammoth remains found in an old sinkhole. Depending on the time of year, you may see paleontologists digging and excavating on the 30 minute guided tour.
There is designated RV parking at The Mammoth Site to accommodate larger campers. Also, pets are allowed inside, but they must be in a pet carrier or carried on the portion of the tour through the dig site.
2. Wind Cave National Park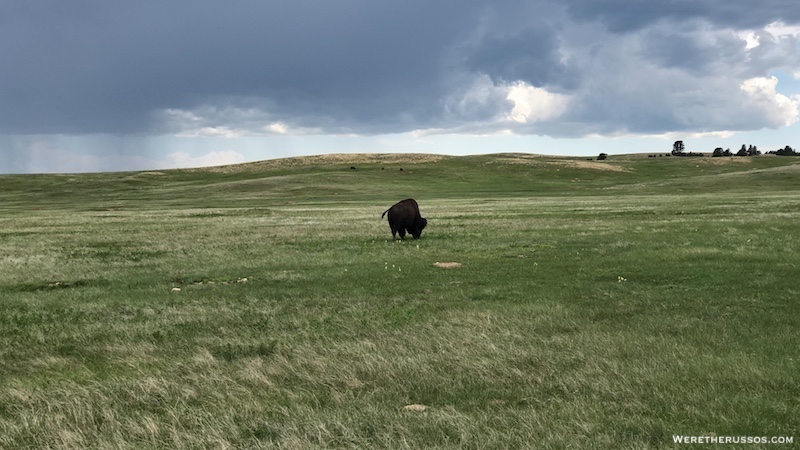 The good news is you don't need to tour the caves to enjoy Wind Cave National Park. There are nature trails and plenty of wildlife viewing to keep your attention at this national park. We spotted many bison and prairie dogs during our visit and enjoyed the trails around the visitor center. Plus, dogs are allowed on two trails at Wind Cave National Park: Prairie Vista and Elk Mountain.
3. Custer State Park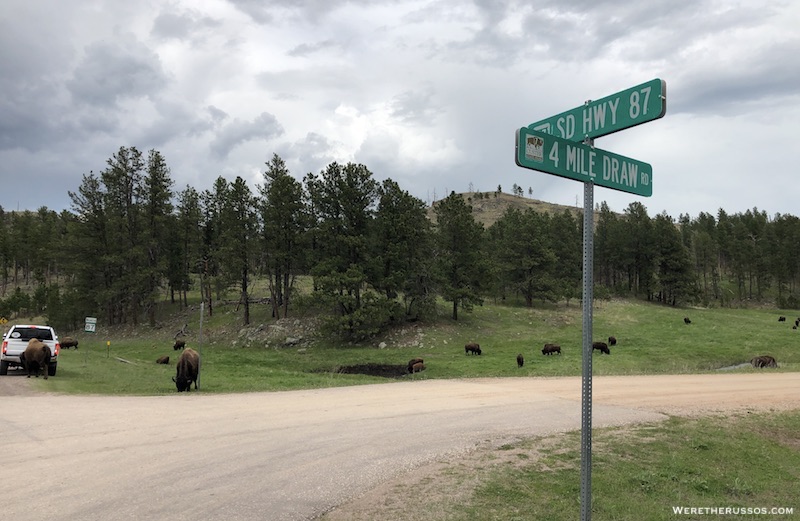 With over 70,000 acres of wildlife, camping, hiking and other activities in the Black Hills, Custer State Park is a great place to enjoy the outdoors. Drive the 18 mile Wildlife Loop Road to discover the wildlife that roam around the open prairie. We encountered a large herd of bison driving north on highway 87.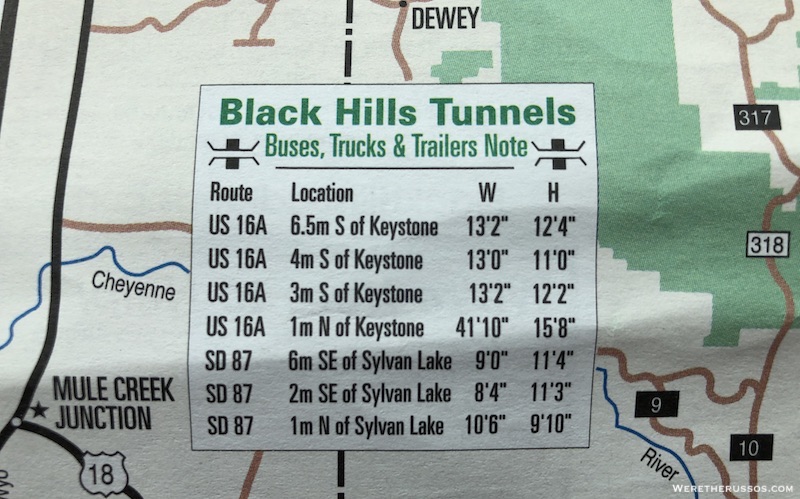 Needles Highway and Iron Mountain Road are popular drives in Custer State Park. Make sure to check tunnel height restrictions before embarking on your journey. Since the Class B camper van wouldn't fit through a few of the tunnels, Joe took his motorcycle on Iron Mountain Road and Needles Highway. Based on his experience, Iron Mountain Road was better for motorcycle riding.
4. Crazy Horse Memorial
My fellow chiefs and I would like the white man to know that the red man has great heroes also.

– Chief Henry Standing Bear
Visit Crazy Horse Memorial to learn the history and story behind the world's largest sculptural undertaking. We did not visit the memorial in 2019, but we did catch a glimpse of the sculpture in the granite mountain driving north on highway 385. Joe's mom really enjoyed the Crazy Horse Memorial when we stopped in on our 2021 Summer with Mom road trip.
5. Mt. Rushmore National Memorial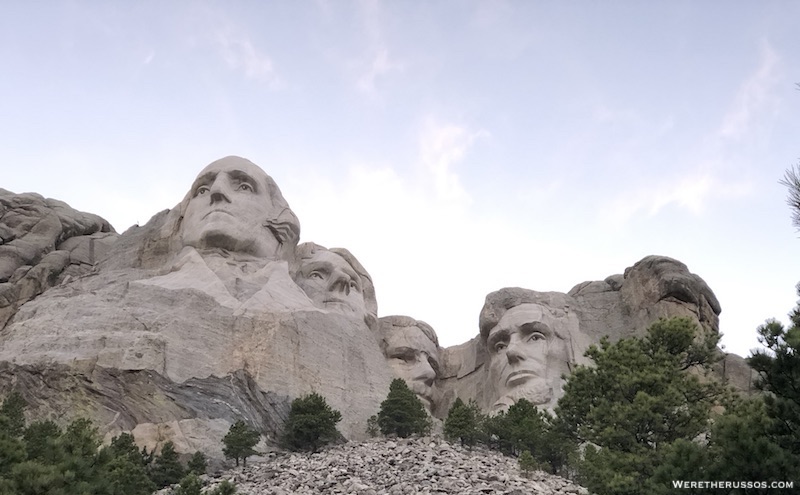 The number one attraction in the Black Hills is the Mt. Rushmore National Memorial. Meet the four U.S. presidents carved into the mountain: George Washington, Thomas Jefferson, Theodore Roosevelt and Abraham Lincoln.
There is no entrance fee to the memorial, but there is a $10 annual pass for parking. The parking pass came in handy when Joe took the motorcycle on a ride and used the pass to get in and out of the parking area. Both times, we were asked to park in the small RV section which is a very short walk to the entrance of the memorial
Plan to take a walk on the Presidential Trail so you can view the presidents from different vantage points. This was one of the highlights of our Mount Rushmore experience along with the Evening Lighting Ceremony which takes place at 8 p.m. or 9 p.m. between late May and September 30th. Visit the NPS website for lighting hours.
6. Minuteman Missile National Historic Site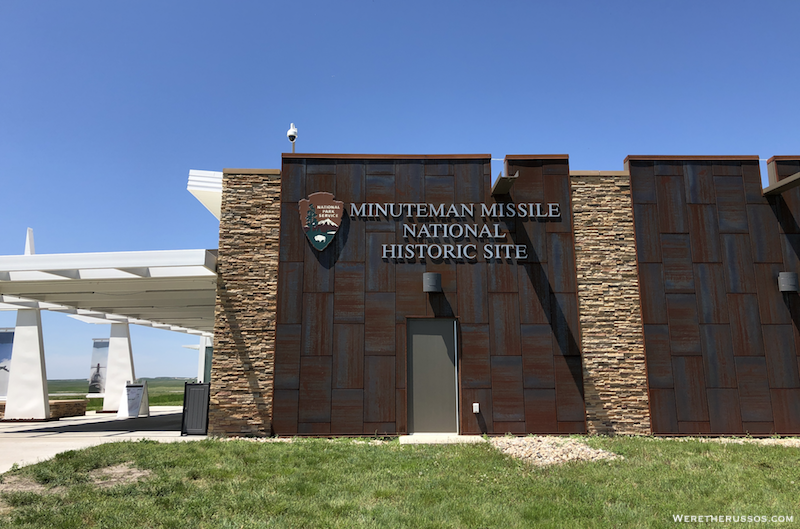 Learn about the Minuteman Missile program through the Cold War Era interactive exhibit and the film "Beneath the Plains." There is no fee for the Visitor Center, however, there is a fee for the guided tour of the missile silo.
Reservations are highly recommended for the Launch Control Facility Delta-01 tour. Some tours book as far as eight weeks in advance during high season. If the tours are booked, check out the Training Facility Silo tour at South Dakota Air & Space Museum (#8 on the list).
7. Badlands National Park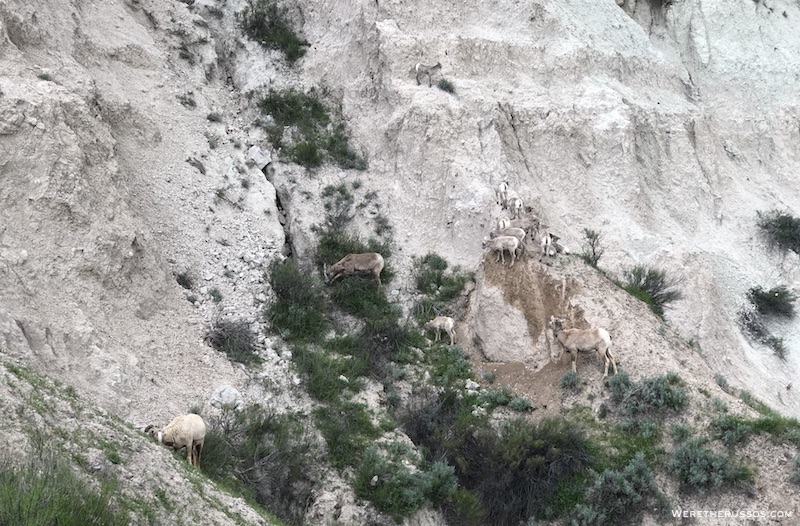 The scenic drive is one of our favorite things to do at Badlands National Park, especially when we're limited on time. This last visit, it took us four hours for the north unit of the park and that didn't include any long hikes.
We always like to stop by the Ben Reifel Visitor Center to speak to the rangers and help plan our time at Badlands National Park. Plus, there is a wonderful short movie called "Land of Stone and Light" on the landscape and the wildlife that live in the Badlands.
One ranger recommended Saddle Pass Trail for a short but steep climb for beautiful views of Badlands National Park. We were also told that the best way to explore the area is to go off trail.
For the best sunset viewing at Badlands National Park, the recommendations are Pinnacle Overlook and Panorama Point. We enjoyed a spectacular sunset at Pinnacle with bighorn sheep and bison sightings in the area.
8. South Dakota Air & Space Museum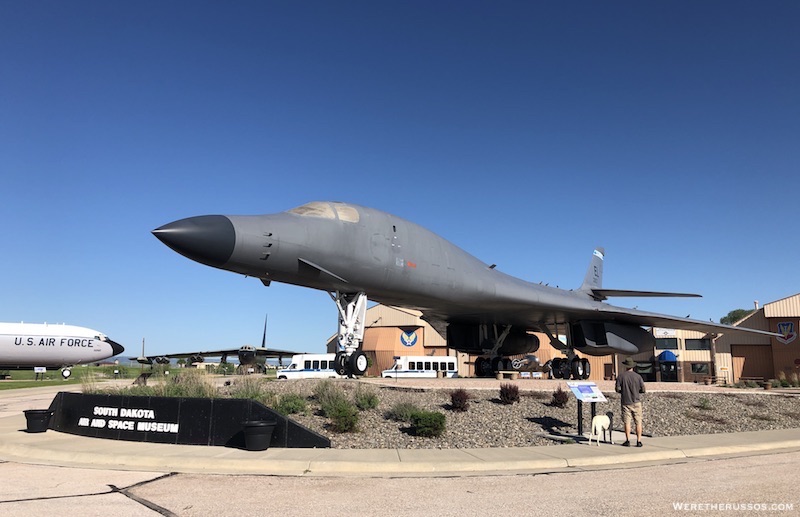 Take a free guided tour of all the airplanes on display at South Dakota Air & Space Museum in Rapid City. Located on Ellsworth Airforce Base, this museum also offers Minuteman Silo Training Facility tours for a fee. Check their website for updates on the tour as they may be cancelled. During our visit we had to get background checks which were performed on-site and were required for anyone who wants to go on tour.
9. City of Presidents: Downtown Rapid City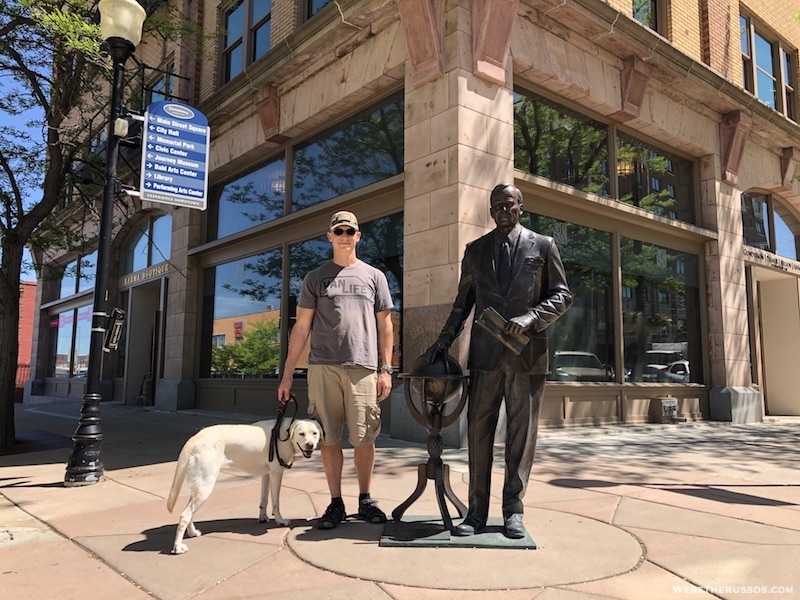 Take a stroll through historic downtown Rapid City to see the life-size bronze statues of the Presidents of the United States.
As of September 2021, there are 43 statues in the City of Presidents. For a quick reference on where each presidential statute is located, download the online map. You can view the map in this self-guided walking tour provided by Visit Rapid City.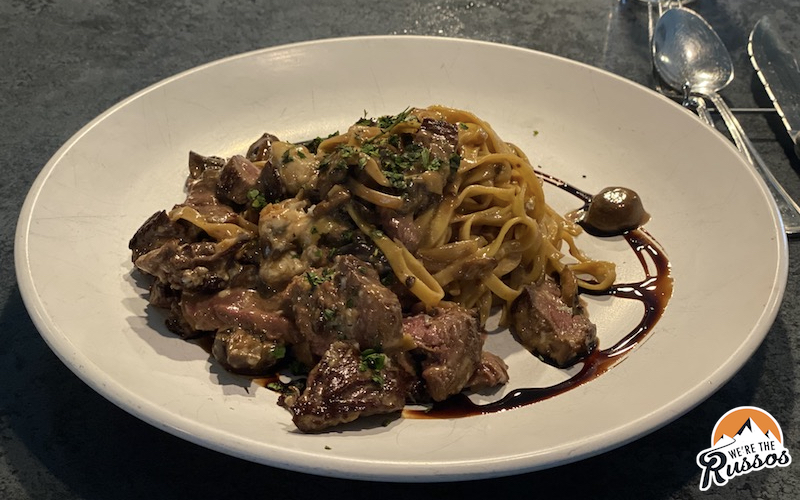 If you get hungry, we recently discovered a couple of wonderful eateries in Rapid City. Tally's Silver Spoon at 530 6th Street is a very popular and highly rated restaurant loved by visitors and locals. Everything we ordered was delicious which included the bison pasta with freshly made linguine and the bison burger. While dining here, the locals next to us recommended Essence of Coffee for breakfast and it did not disappoint. The omelette and breakfast cookies were delicious and the best part was the inside of the cafe was dog friendly.
10. Sturgis, South Dakota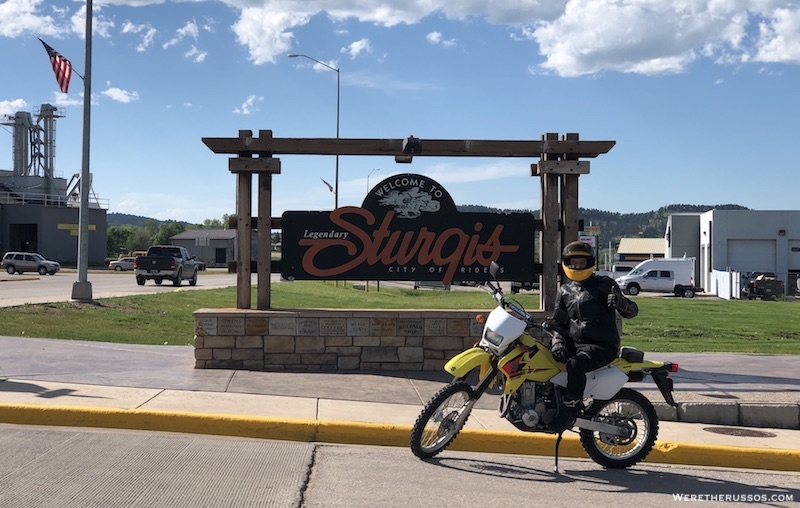 Every August, the small town of Sturgis, South Dakota is transformed into a huge motorcycle rally. Being motorcycle enthusiasts, we wanted to make the pilgrimage to this famous town in South Dakota.
Joe rode the motorcycle from Rapid City to Sturgis via Canyon Road, Nemo Road and Vanocker Canyon Road while I drove the main road in the camper. The town was fairly quiet for a Thursday afternoon in mid-June, but it was still a cool experience.
11. Dignity Sculpture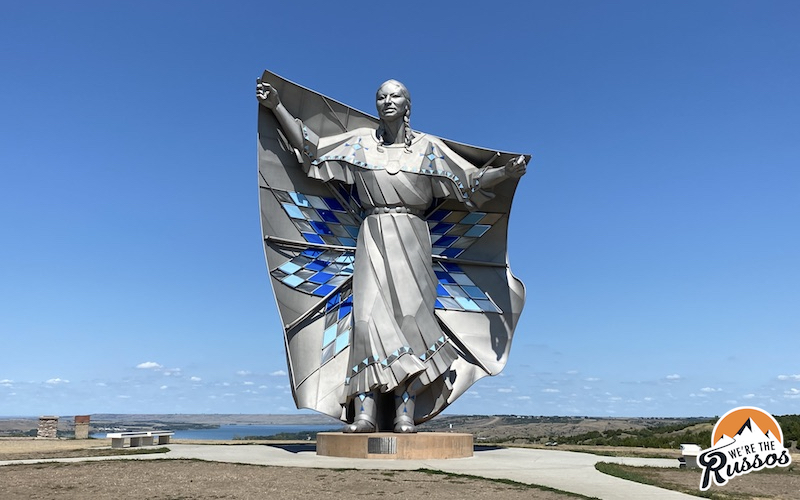 Plan for a break at the rest area near Chamberlain, South Dakota and enjoy views of the Missouri River while standing next to the 50 foot stainless steel Dignity Sculpture by Dale Lamphere. We have visited some beautiful rest areas around the U.S. and this has been one of our favorites and the most memorable.
12. Mitchell South Dakota
As we discovered in our most recent South Dakota road trip, there are quite a few things to do in Mitchell. One of the more well known attractions is the World's Only Corn Palace which we only got to see from the outside due to a private event going on during our visit. The Mitchell Prehistoric Indian Village is a short drive north and has an archeological site that is open to the public. A big bonus for us is that both of these attractions allow pets, which is great for RVers traveling with dogs.
13. South Dakota Tractor Museum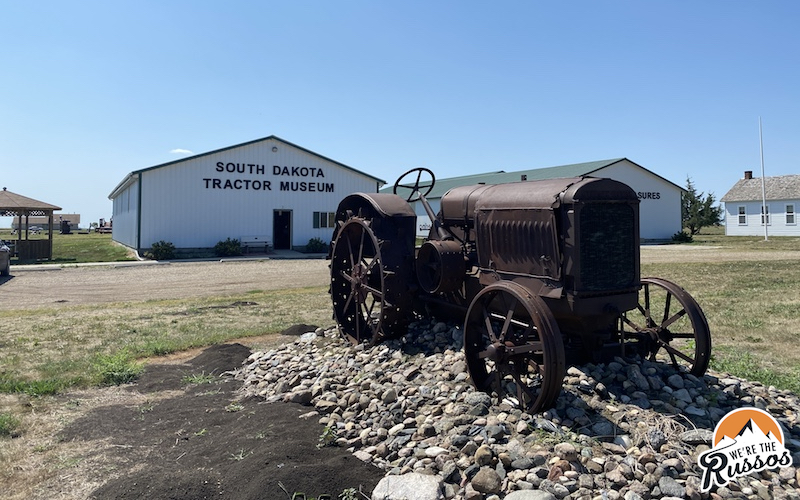 If you're into tractors and old farming equipment, the South Dakota Tractor Museum is well worth the stop. Right off Interstate 90, this free museum has multiple structures that visitors can walk through to learn about the different items on display.
Where to Camp in South Dakota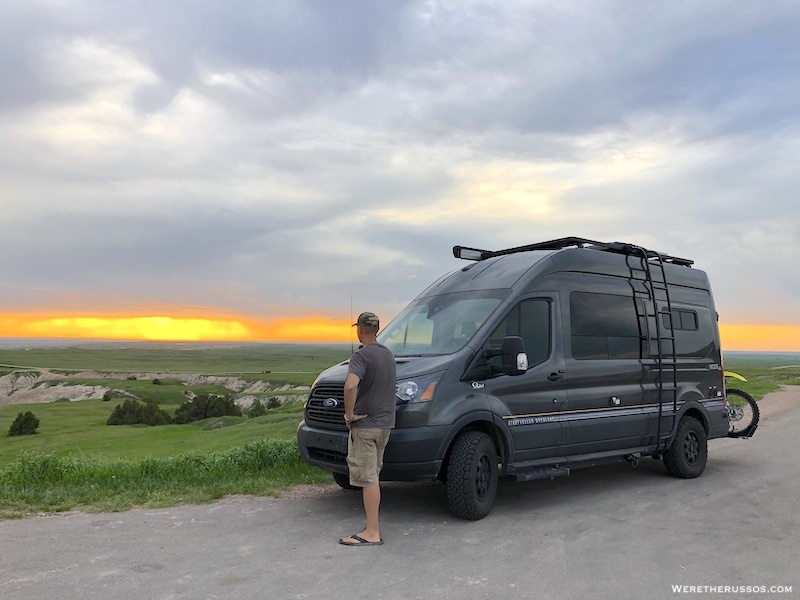 During our first visit, we found boondocking options throughout South Dakota. Learn more about boondocking and how it works. This time, we primarily camped in the parking lot of Joe's mom's hotel in Summerset, South Dakota.
To quickly find campgrounds, RV dumps, propane fills, potable water and more RVing/camping resources we use Allstays. Check out our AllStays Review.
Find nearby Harvest Hosts. Members have access to vineyards, farms, museums, breweries and more. Read our Harvest Hosts Review or use our referral link to receive a discount.
Check Boondockers Welcome to see if there's a host member in the Bend area that can accommodate an overnight RV stay. Read our Boondockers Welcome Review or use our affiliate link to sign up.
What are some of your favorite things to do in South Dakota?