Some of the links below are affiliate links, which means we will earn a commission on the products or services you purchase using the links. There is no additional cost to you and the earnings help keep this website running. Read the Affiliate Disclaimer for more information.
The first time we discovered the charm of Champaign Urbana was in 2016. Our good friend was working at the University of Illinois Urbana-Champaign and we stopped in for a visit on our midwest RV adventure. After our five day visit we fell in love with the area and even planned another RV trip the following summer. So if you find yourself on an RV road trip or making your way down to Florida for the winter, plan for a day or two to check out some of our favorite things to do in Champaign Urbana.
Things to Do in Champaign Urbana, Illinois
During our initial five day visit, we made a travel video highlighting some fun things to do in Champaign Urbana. Watch the video below or keep reading for the full list.
1. Photo Op with Roger Ebert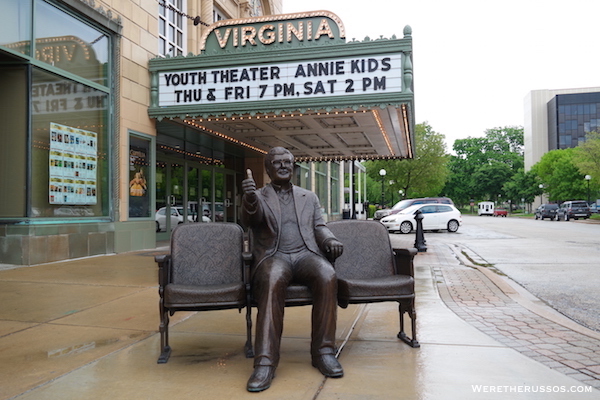 Take a photo with film critic Roger Ebert in front of Virginia Theatre. Roger is a native of Urbana, Illinois and Ebertfest is hosted in Champaign every year where "films that haven't received the recognition they deserved during their original runs" are celebrated. I grew up watching Siskle & Ebert with my dad making this a very cool attraction in Champaign, Il.
2. Finger Licking Good BBQ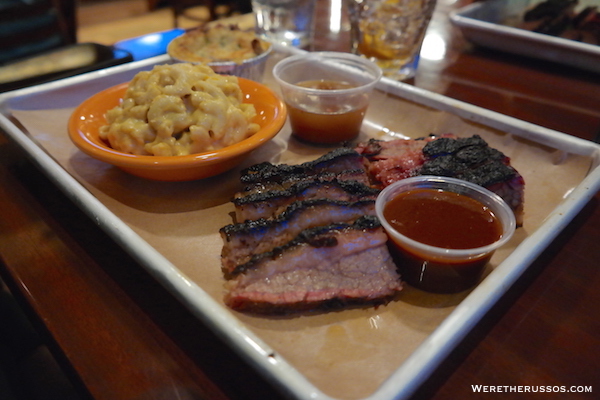 There are quite a few restaurants in Champaign Urbana and one of the local favorites is Black Dog Smoke & Ale House. Some of our favorite items on the menu include the burnt ends, rib tips, Texas cornbread and potato casserole. No reservations, so make sure to arrive early to avoid a long wait and items being sold out.
3. Cocktail with a Roof Top View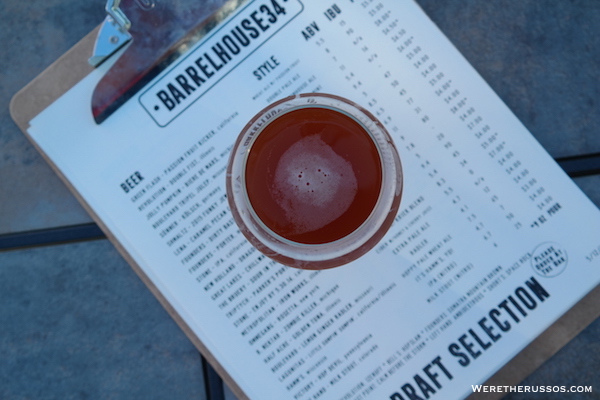 Located on Main Street in Champaign, IL Barrelhouse 34 has a great rooftop bar where you can enjoy the views with a craft cocktail in hand. Dogs were allowed on the roof during our visit which made the experience all the more enjoyable. Pet policies can change at any time, so give them a call before you bring your pup along.
4. Tantalizing Indian Food in Urbana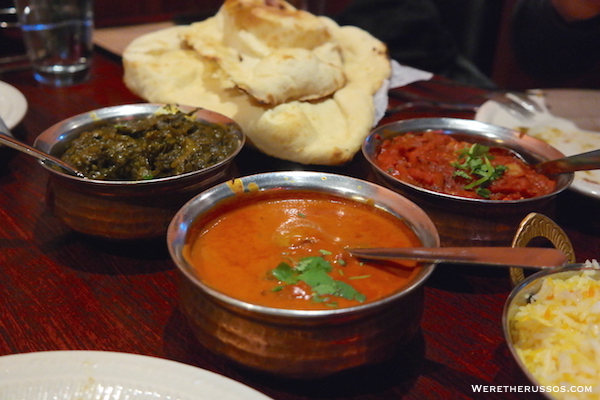 Since our friend is a foodie, we ate at some of the best restaurants in Champaign Urbana including Sitara Indian Restaurant. Our favorite items were the naan bread baked in a Tandoor oven, chicken saag, and lamb korma. I was glad we had a fourth person along for the meal so we could sample a variety of items from the menu.
5. Fresh Mexican Food in Urbana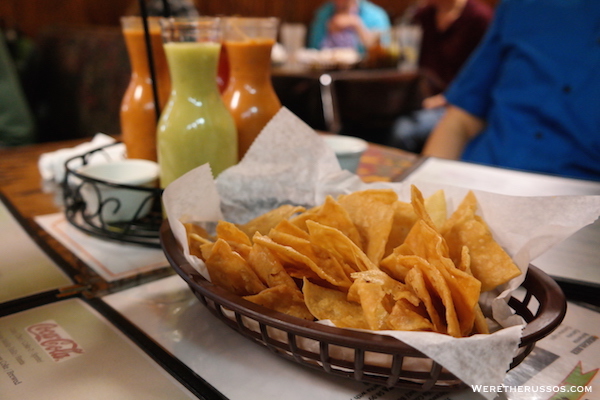 Our friend also introduced us to his favorite Mexican restaurant in Urbana, Huaraches Moroleon. Their signature huarache is a large homemade corn tortilla filled with your meat of choice topped with a grilled pineapple and a side of pico de gallo and sour cream. Careful not to over indulge on the fresh tortilla chips and delicious sauces at while you wait for your main dish to arrive.
6. Coffee at Colombia Street Roastery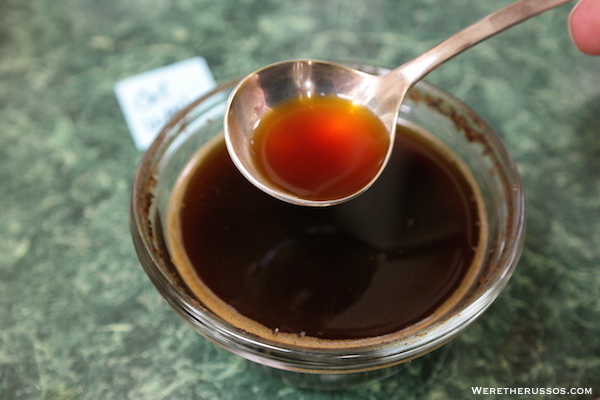 Find your perfect cup of coffee at Colombia Street Roastery. We had the opportunity to experience a cupping with the owner of the roastery and learned a great deal about the entire coffee process. They also offer a wide variety of teas for the non-coffee drinkers. But if you're serious about coffee, check out Joe's post on making a great cup of coffee.
7. Stroll Through the Farmer's Market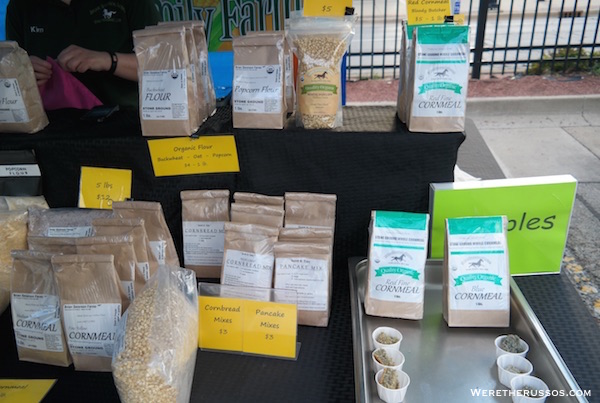 During the warmers months, there is a farmer's market in downtown Champaign every Tuesday and we happened to stumble upon some amazing popping corn that we later made in the camper. Going to a local farmer's market is a great way to get to know the area and find local gems.
8. Beer at The Blind Pig Brewery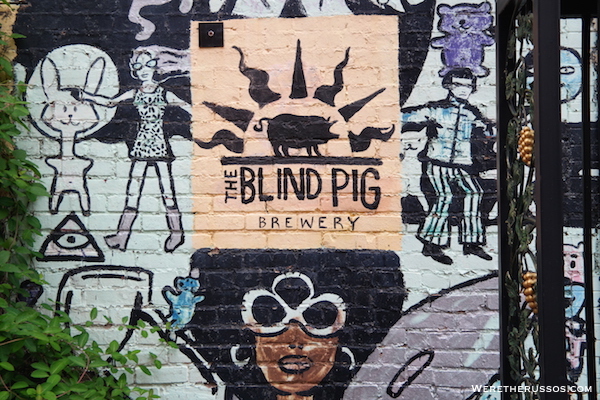 The Blind Pig Brewery is a popular spot to grab a pint and hang out for a while. Depending on what's on draught, you may even get to enjoy a pint of Blind Pig Columbia Street Coffee Stout or the Grilled Pineapple Sour. We popped in during happy hour with our pup Leo and enjoyed hanging out on the back patio.
9. Slice of Pizza at Papa Del's
The Sicilian pan pizza is the deep dish that Papa Del's is known for and the reason for our visit to this popular pizza joint in Champaign. Since the slices were half off during happy hour, we got to sample a variety of pizzas by the slice and both really enjoyed the mushroom pizza. If deep dish isn't your style, they also offer thing crust pizza and gluten free pizza with vegan cheese as an option.
10. Chinese Food at Golden Harbor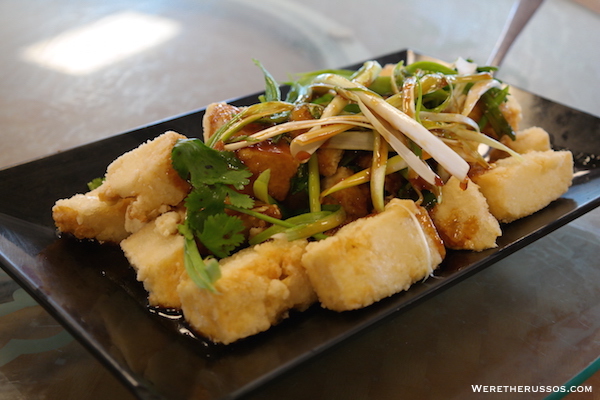 There is a large population of Chinese students at the University of Illinois Urbana-Champaign and it's no surprise that there are several Chinese restaurants in Champaign. Golden Harbor was highly recommended by our friend and known for their crispy tofu and pork belly buns. We enjoyed both dishes along with all the other dishes we ordered.
11. Discover Public Art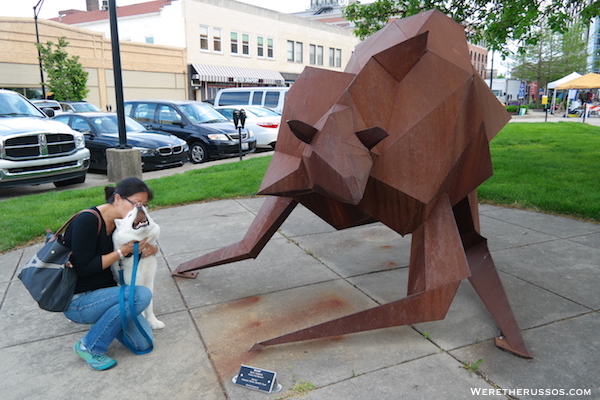 Finally, if you end up eating everything mentioned above, you may need to work some of that off. There are art displays throughout Champaign Urbana and you can pick up a map at the visitors center on Neil Street as a guide.