Some of the links below are affiliate links, which means we will earn a commission on the products or services you purchase using the links. There is no additional cost to you and the earnings help keep this website running. Read the Affiliate Disclaimer for more information.
People often ask us for a list of our favorite places around the United States and we are happy to add Champaign Urbana to that list. There are so many unique and fun things to do in Champaign Urbana, Illinois we barely scratched the surface during our five day stay. We enjoyed it so much, we are planning a one week visit in a few months to return and explore more of the area.
Before a city makes it to our favorites list, we always make sure it's dog friendly. We choose to travel full time with our rescue pup Leo and if a city isn't dog friendly, we typically don't stay very long. The streets of Champaign and Urbana are very walkable and many of the cafes and restaurants with outdoor seating welcomed dogs. The university was also a fun place to walk Leo and the students absolutely loved him!
So if you find yourself on a road trip this summer or making your way down to Florida for the winter, plan a few days or a week in Champaign Urbana and maybe we'll see you there!
Things to Do in Champaign Urbana, Illinois
Photo Op with Roger Ebert
Take a photo with film critic Roger Ebert in front of Virginia Theatre. Roger is a native of Urbana Illinois and Ebertfest is hosted in Champaign every year. I grew up watching Siskle & Ebert and this was a cool experience for me.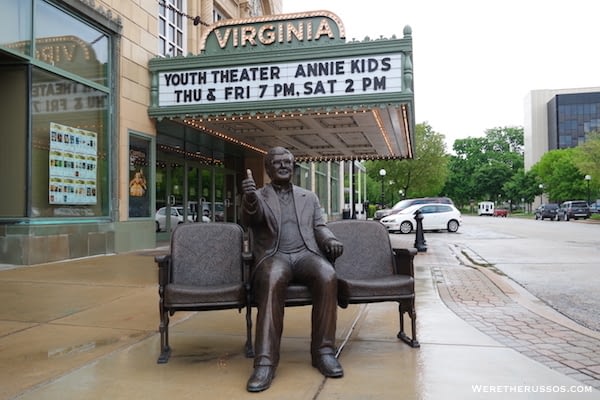 Finger Licking Good BBQ
Black Dog Smoke & Ale House is rated one of the best BBQ spots in the country for a reason. We loved their burnt ends, rib tips, Texas cornbread and potato casserole. No reservations, so arrive early to avoid a long wait and before the good is sold out.
Roof Top View and Cocktail at Barrelhouse 34
Not only is the roof top at Barrelhouse 34 dog friendly, but the setting is relaxing and a perfect way to unwind while sipping on one of their signature cocktails or beers on tap.
Tantalizing Indian Food in Urbana
The flavors are on point at Sitara Indian Restaurant. Our favorite items included their naan, assorted appetizer, chicken saag, and lamb korma. Go with a group so you can sample a variety of items from the menu.
Fresh Mexican Food in Urbana
Careful not to over indulge on the fresh tortilla chips and delicious sauces at Huaraches Moroleon while you wait for your main dish to arrive. Their signature huarache, a large homemade corn tortilla filled with your meat of choice topped with a grilled pineapple and a side of pico de gallo and sour cream is delicious.
Cupping at Colombia Street Roastery
Find your perfect cup of joe Colombia Street Roastery. Sample a section of their coffees before you buy and if you happen to be in town on a Saturday, check to see if cupping is offered that day. Joe's favorite is the Mexico and my favorite is the barrel aged coffees.
Cool Down with a Fudgsicle
There are a few popsicle spots around town and we happened to stumble upon The Popstop. Their signature Gelato style Fudgsicle was rich, creamy and chocolatey. If you're not in the mood for chocolate, there are sorbet and yogurt style pops to choose from.
Take a Stroll Through the Fresh Market
Every Tuesday, there is a fresh market in downtown Champaign and we happened to stumble upon the best popping corn we've ever had! The market is small, but the selection is unique and local.
Chill with a Beer at The Blind Pig Brewery
When beer o'clock hits, head over to The Blind Pig Brewery for a sample of their current beers. We stopped in during happy hour and hung out on their back patio with Leo.
Happy Hour at Papa Del's
Love a good deal like we do? Head over to Papa Del's for their one hour happy hour were pizza slices are half off from 3-4pm. The mushroom pizza was an unexpected surprise and we'd gladly return for another.
Crispy Tofu at Golden Harbor Chinese
There is a large population of Chinese students at the university and it's no surprise there are several Chinese restaurants in the area. Golden Harbor is top rated and famous for their crispy tofu and pork belly buns. We tried both and they did not disappoint. Don't let the higher prices scare you off, the restaurant does not accept tips.
Shopping Spree at AM-KO Asian Market
If you need to stock up on Asian ingredients or snacks, check out AM-KO. The market is small, but they have a great selection. We found every ingredient we needed and then some! Cash only for orders under $10.
Get Your 10,000 Steps In
Finally, if you end up eating everything mentioned above, you may need to work some of that off. There are art displays throughout Champaign and you can pick up a map at the visitors center on Neil Street. Walk around until you find them all and maybe start all over again to get those 10,000 steps in.
Where to Camp in Champaign Urbana, Illinois
We camped at D&W Lake Camping and RV Park Champaign, IL. Below are some more options.
To quickly find campgrounds, RV dumps, propane fills, potable water and more RVing/camping resources we use Allstays. Check out our AllStays Review.
Find nearby Harvest Hosts. Members have access to vineyards, farms, museums, breweries and more. Read our Harvest Hosts Review or use our referral link to receive a discount.
Check Boondockers Welcome to see if there's a host member in the area that can accommodate an overnight RV stay. Read our Boondockers Welcome Review or use our affiliate link to sign up.