Some of the links below are affiliate links, which means we will earn a commission on the products or services you purchase using the links. There is no additional cost to you and the earnings help keep this website running. Read the Affiliate Disclaimer for more information.
When it comes to National Parks, Arches has to be one of the most recognizable and iconic treasures to come out of "America's Best Idea." We've had the opportunity to explore this one-of-a-kind place a few times and want to share some of our experiences and tips for getting the most out of your visit to Arches National Park.
Arches National Park Guide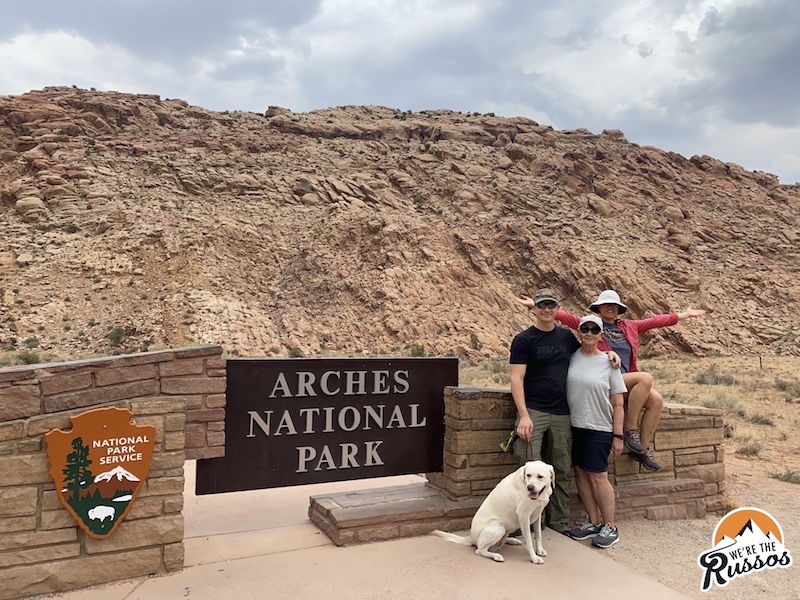 What to Do at Arches
1. Explore the World Famous Arches
Arches National Park is best known for…well…it's arches, of course! The park has over 2,000 natural stone arches, along with hundreds of other impressive rock formations. It truly is unlike any other place in the world.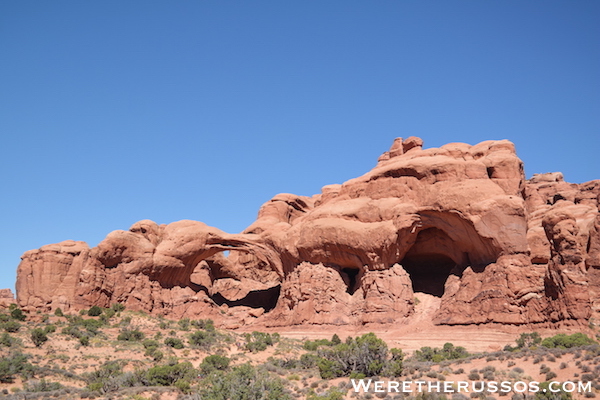 You'll definitely want to see as many of the arches and formations as you can when you visit. Highlights include Balanced Rock, the Windows Section, Double Arch, and the Delicate Arch— the most well-known (and most photographed) of the arches. You've probably seen images of these natural wonders, but nothing compares to experiencing them in person.
2. Hiking, Backpacking, Biking and Climbing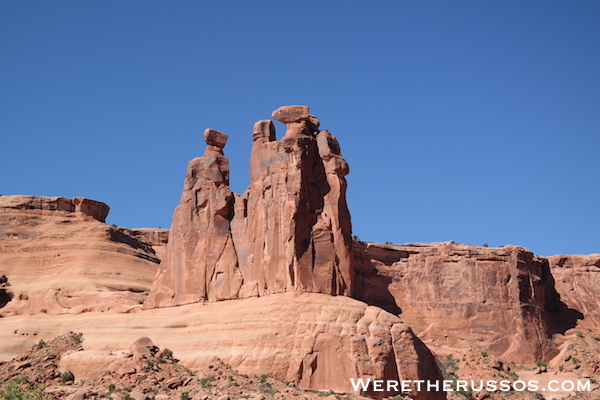 Some of the arches and other formations have accompanying trails (varying in difficulty) you can hike to get a better look. On our latest trip to Arches National Park with Mama Russo during our Summer with Mom, we did the hike up to the Windows Section arches.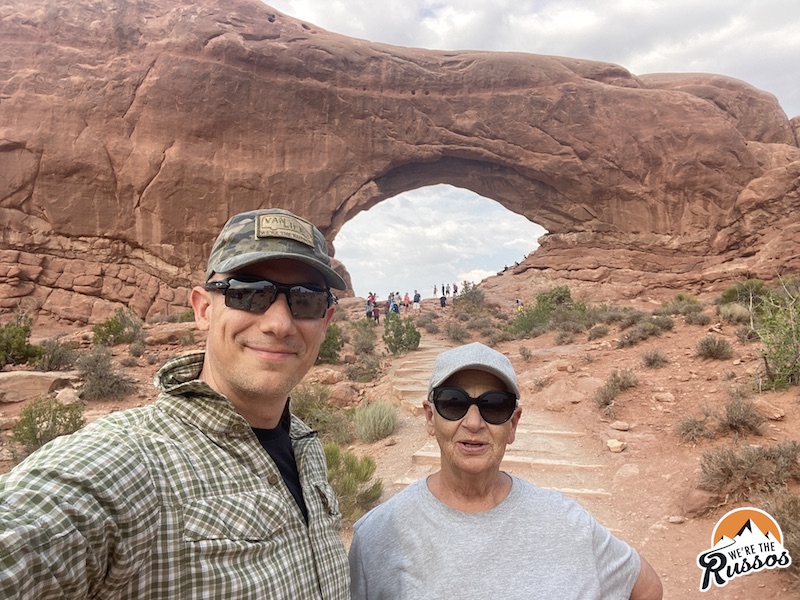 Some of the more popular trails include Balanced Rock (easy), Park Avenue (moderate), and Tower Arch (difficult).
One of my favorite memories from our first visit to Arches National Park was laying under the North Window Arch and looking up at the crevice thinking to myself, we made the right decision to live life on our own terms.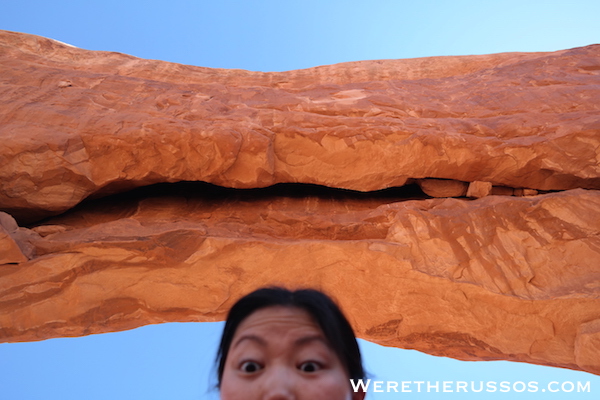 You can also backpack at Arches in a small number of designated areas. Fair warning, backpacking here is more challenging than other places and requires off-trail travel and route finding. Stop in at the visitor center for tips and to get a permit before you venture out.
Tip: Arches National Park does not allow dogs on any of its trails, so be sure to make plans accordingly during your visit. Check out our Guide to RVing with Dogs. That said, our beloved dog Duke absolutely loved cruising around the park when we visited around the start of our journey as full-time travelers.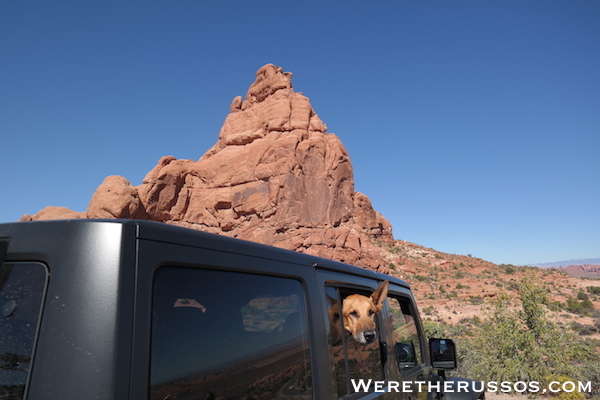 If you're a cyclist, you can enjoy a ride on any of the park's paved or unpaved roads. Be aware that biking is not permitted on any trails or anywhere off road.
For those who are more adventurous, climbing and canyoneering are available in the park. A permit is required and there are rules and regulations to follow in order to protect the delicate environment, so be sure to get more information on the Arches National Park website or at the visitor center.
3. Take a Driving Tour
While you'll find plenty of RVs driving through the park, parking is hard to find in many places. If possible, we recommend leaving your RV at the entrance of the park and driving a toad around. If you happen to tow an off road vehicle behind your motorhome, there is an unpaved road you can explore inside the park as well.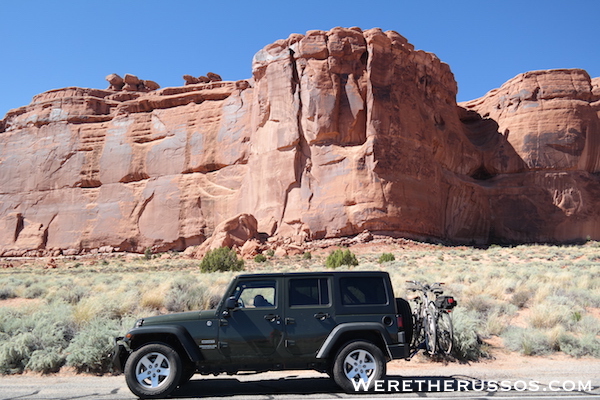 We may be biased, but of course we think exploring Arches National Park in an RV is the best way to do it. Especially if you have a small 4×4 RV like the one we took Mama Russo around the country in. You'll have plenty of space to bring all of the supplies you'll need, plus you can do things like prepare meals and snacks when you need to refuel.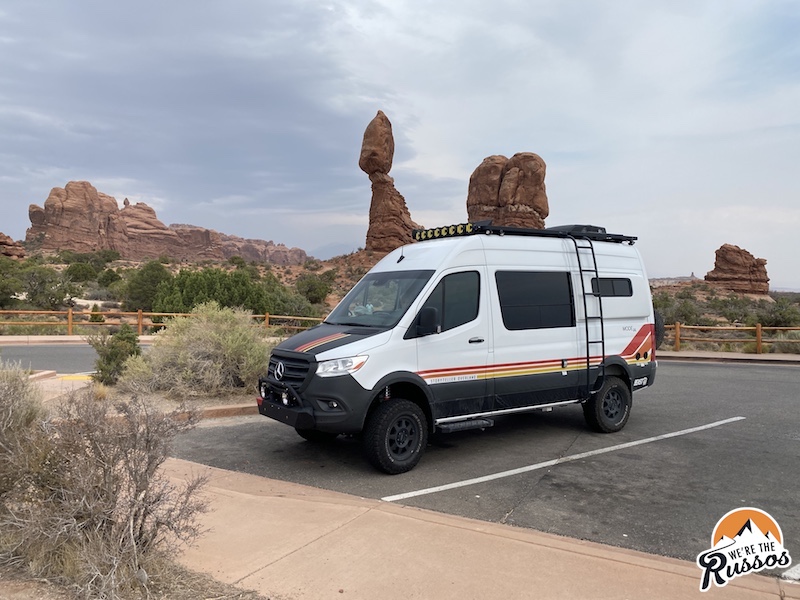 4. Get a History Lesson
If you're into the cultural and human history of our National Parks, there are some petroglyph panels to check out, believed to date back to the 1600s. Wolfe Ranch is another look at the park's past inhabitants, featuring a one-room cabin from the late 1800s that still stands today.
5. Soak up the Sunset
Arches' red rocks are beautiful at all hours, but really come to life at sunset. Delicate Arch is probably the most popular place to watch the sun go down, so you'll want to be prepared for crowds if you hike up there to enjoy it. Of course, you'll also want to make sure you're prepared to hike to Delicate Arch (rated as a moderate trek), and to hike out in the dark.
If you want a less crowded place to welcome nightfall or don't want to hike to a spot, there are plenty of viewpoints of the arches where you can set up to watch the sunset. You really can't go wrong with most areas of the park which will glow in beautiful colors as the sun dips below the horizon.
Where to Stay at Arches
1. Camping Inside the Park
After a full day of sight-seeing and exploring, where do you sleep? Well, the only option for camping within Arches National Park is at Devil's Garden Campground. While we haven't had the chance to stay there yet, it's certainly on our list for the future. Since it's the sole campground in the park, it is full almost every night during the busy season so you should definitely make a reservation ahead of time. During the off season (November – February) sites are on a first come, first served basis.
Devil's Garden is located about 18 miles from the park entrance and offers both standard and group campsites (note that RVs and trailers are not allowed in the group sites). The campground's roads and parking are paved and it offers amenities like drinking water, trash collection, grills, and both pit-style and flush toilets.
There is limited cell service at Devil's Garden campground so you may want to look into getting a satellite communication device, like the Garmin InReach Explorer which is highlighted in our RV Safety and Preparedness article. Learn about more ways to stay connected on the road in our Internet for RVing Guide.
Camping fees range from $25/night for an individual site up to $250/night for their largest group site, which can accommodate 45-55 people.
Tip: If you're lucky enough to snag a campsite, Arches National Park is a great place for stargazing at night with some of the darkest skies in the United States.
2. Camping Outside the Park
If Devil's Garden campground is full, you can find other campgrounds outside of Arches in and around the town of Moab, Utah. Planning ahead and making reservations for these campgrounds is recommended during the busy season as they can fill up by mid-morning every day.
Seven Mile Parking is another option for RVers looking for an overnight spot to park. We camped here when we were in a Class A motorhome. It's a dirt and gravel lot right off highway 191 (look for the Gemini Bridges Trailhead and you will find the parking area next to the railroad tracks). Day use fee is $5 per day per vehicle, and the overnight parking fee is $30 in the general area and $40 in one of the established campsites. As a heads up, there aren't many amenities and you will get some traffic and train noise if you stay here.
Utah also has plenty of public land where you can disperse camp. In fact, this was the first place Mama Russo experienced boondocking during our Summer with Mom. The free camping spot we found was about 30 minutes outside Arches National Park and despite the lack of a bathroom, mom loved boondocking.
Tip: You can use apps like AllStays, Harvest Hosts or Boondockers Welcome to find RV campsites in and around Moab.
When to Visit Arches
Arches National Park is a great destination any time of year, but there are things to consider when planning your trip. The busiest season will be from March through October, so be prepared for larger crowds, more traffic, and full campgrounds if you decide to visit during that time frame.
The weather in Arches and the surrounding Moab area can fluctuate greatly, with temperatures ranging from well over 100 degrees to below freezing. There's also the risk of flash floods so it's incredibly important to check the weather forecast before your trip, and keep an eye on it while you're there as things can change quickly. We recommend looking up average temperatures during the time frame you're planning to visit to give you an idea of what to expect and how to prepare.
Tip: During peak season, Arches National Park can fill up by mid-morning. To avoid being turned away, we recommend arriving very early in the morning (added bonus: you can beat the heat!) or in the late afternoon/early evening when some of the crowds have cleared out for the day. If you do get turned away, there are plenty of other beautiful places to explore in the area, like Canyonlands National Park.
What to Bring to Arches
There are no services (like gas, food, etc.) in the park so be sure to stock up on everything you need in the town of Moab before entering. Since this is the desert, one of the most important things you'll need is plenty of clean drinking water! You can buy water at the visitor center, but its hours will vary so make sure they're open ahead of time if you're planning to get water there. We also recommend bringing comfortable hiking shoes with good grip, sun protection, and layers of clothing for the fluctuating weather.
Whether you're taking your own RV to Arches National Par park or taking a rental RV, the smaller the RV the better.
>>Use this link to Browse Arches RV Rentals<<
Tip: There are no RV dump stations inside Arches National Park, so you'll need to find a dumping facility in Moab.
Whether you're a park enthusiast or not, Arches National Park should absolutely be on your list of places to visit. It's an RV-friendly destination with some of the most beautiful landscape the country has to offer. On wheels or on foot, there's no shortage of things to do and see both in the park and in the surrounding areas. Even though we've been a few times now, we can't wait to go back. We hope you make it to Arches soon as well and have as great of an experience as we've had on our visits.