Some of the links below are affiliate links, which means we will earn a commission on the products or services you purchase using the links. There is no additional cost to you and the earnings help keep this website running. Read the Affiliate Disclaimer for more information.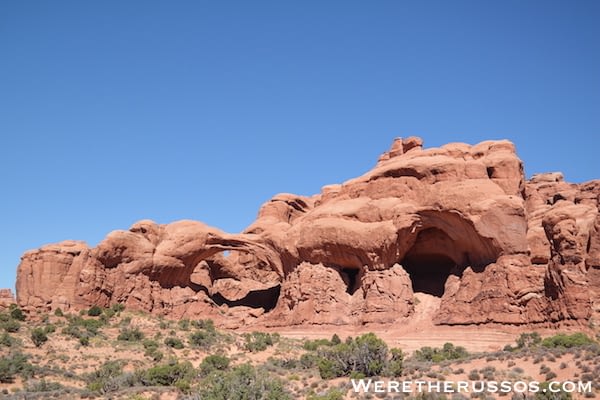 Day 8 of our journey brought us to Arches National Park in Moab, Utah.
This was also the first and last National Park Duke, our Belgian Malinois mix got to see with us. Maybe that's why it took me so long to write about it.
Life is different without Duke and as I reflect back on the first six months of our journey, I can't help but feel the void left by him. Duke was the definition of unconditional love. Not only that, but he was always excited to visit new places, pick up new scents and piddle on every tree or bush he could reach. I'll never forget our drive around Arches National Park with him and the enthusiasm he had for the place, especially when the mule deer were running around.
We drove through most of the park and stopped at many of the pull outs to admire the beautiful landscape. Duke poked his head out at each stop and I could tell he wanted to explore as much as I did.
Arches National Park does not allow dogs on the trails which meant we had to take turns. Joe stayed behind with Duke and Leo most of the time because he'd visited the park several years ago.
One of my favorite memories was laying under the North Window Arch and looking up at the crevice thinking to myself, we made the right decision to go on this adventure. As I think back to those moments under that arch, I imagine Duke laying there with me without a worry in the world.
America is beautiful, and we are going to see as much of it as possible including all the National Parks. If for any reason Arches National Park isn't already on your list of parks to visit, I would highly recommend it.
We saw RVers drive around the park in their rig, but parking was hard to find in many places. We would recommend leaving the RV at the bottom and driving the toad around the park.
If you happen to tow an off road vehicle, there is an unpaved road that you can drive on inside the park.
Where to Camp in Moab
The campgrounds in Moab were full when we arrived. Luckily we found a dry camping spot not far from Arches National Park at Seven Mile Parking.
To quickly find campgrounds, RV dumps, propane fills, potable water and more RVing/camping resources we use Allstays. Check out our AllStays Review.
Find nearby Harvest Hosts. Members have access to vineyards, farms, museums, breweries and more. Read our Harvest Hosts Review or use our referral link to receive a discount.
Check Boondockers Welcome to see if there's a host member in the area that can accommodate an overnight RV stay. Read our Boondockers Welcome Review or use our affiliate link to sign up.