Some of the links below are affiliate links, which means we will earn a commission on the products or services you purchase using the links. There is no additional cost to you and the earnings help keep this website running. Read the Affiliate Disclaimer for more information.
One of the best ways to see America's first national park is in an RV. Joe and I spent four days exploring Yellowstone National Park in a Class B RV with Charley the yellow lab. In this post, I share our five day Yellowstone RV trip itinerary including places to visit, where to camp and tips for planning your RV road trip.
Watch the videos below to see what it's like to explore Yellowstone in an RV and some of the camping options inside and outside the national park.
5 Day Yellowstone RV Trip Itinerary
Before we dive in, I want to mention that driving a Class B RV through Yellowstone is much easier than driving a small Class C RV or even something bigger. You will encounter narrow roads, tight parking lots and short narrow pull-outs for wildlife viewing and hiking trails.
Whether you're taking your own RV to the park or taking a rental RV, the smaller the RV the better.
>>Use this link to Browse Yellowstone RV Rentals<<
Let's get started planning your Yellowstone RV Trip Itinerary!
Day 1: Cody, WY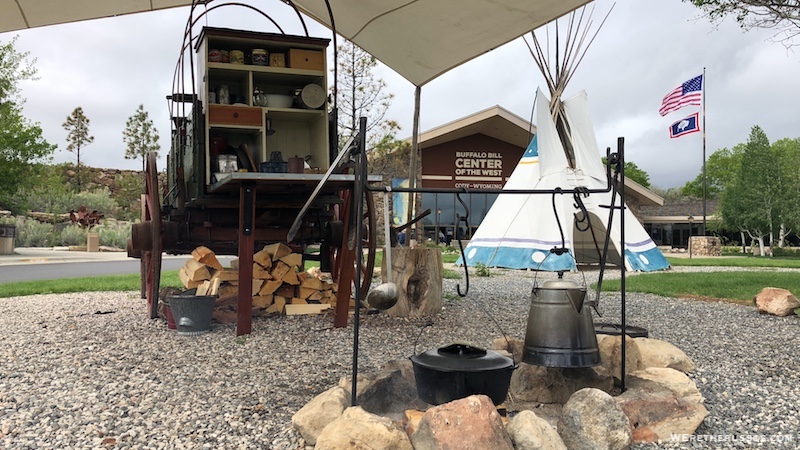 Cody, Wyoming is a great place to start your Yellowstone RV road trip.
Plan to spend the day at Buffalo Bill's Center of the West where you can fuel up on chuck wagon coffee, biscuits and beans before even stepping foot inside the center. There are five museums at the center including the Cody Firearms Museum and the Draper Natural History Museum which has exhibits on all the wildlife found in Yellowstone National Park. There is designated RV parking at the center.
Tip: Cody is also a good place to stock up on bear spray before you get to Yellowstone National Park. If you have the time to buy online, it will be less expensive than at a local outfitter or inside the national park. Bears aren't the only concern as bison and elk can also be dangerous.
Night 1 Camping Options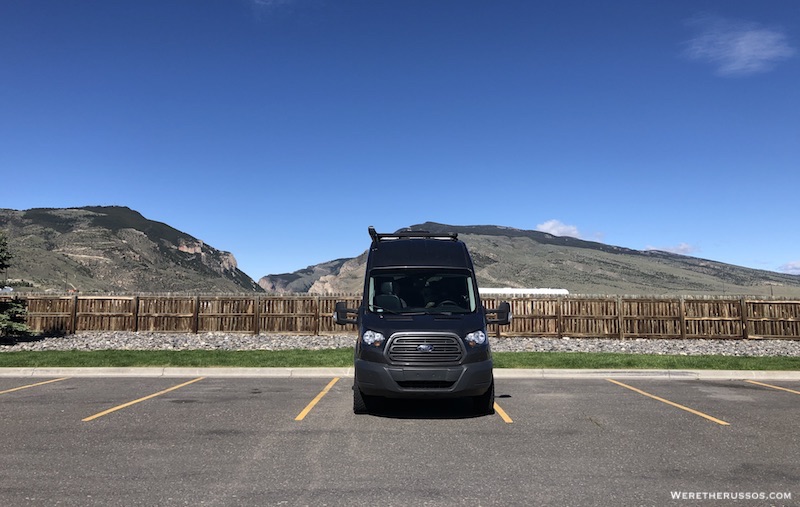 You can choose from a handful of RV parks in Cody, Wyoming or spend the night at Walmart like we did.
Learn more about Overnight RV Parking at Walmart
Day 2: Cody, WY to Yellowstone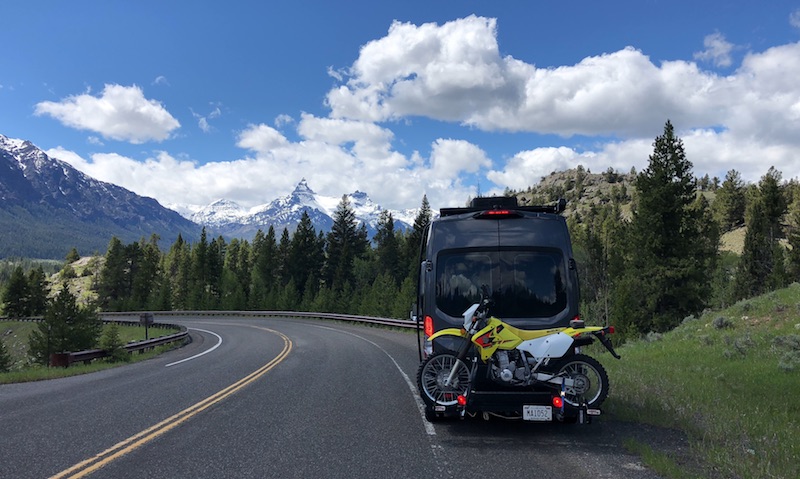 Drive Beartooth Pass to the Northeast Entrance of Yellowstone National Park. The views on highway 120, 296 and 212 are worth it especially of Granite Peak and Castle Mountain. We spotted a moose in Silver Gate, a two mile drive from the Northeast Entrance to Yellowstone.
Depending on the time of year, check the road conditions for closures. There is limited to no cell coverage on parts of this drive so check before you leave. While we were in Cody, the North entrance was closed due to snow, but opened the next day.
Northeast Entrance has an oversized vehicle lane on the right for RVs and buses. Past the entrance is a sign with the status of every campground inside the park. If you do not have reservations, this is one place to check campground availability. Given the size of the park, by the time you arrive at the campground, it may be full.
Pets are allowed inside Yellowstone National Park in developed areas. You will not be able to bring your pet on any of the trails or boardwalks. Read the full pet policy on the park's website.
Make your way to Mammoth Hot Springs via Tower Rosevelt. The earlier you start your day, the more time you'll have to experience everything on this drive.
Barronette Peak overlook is a good spot to scan for Mountain Goats. We spotted several goats with babies on the hillside. They were difficult to see with the naked eyes, but we got to see them through a spotting scope.
Lamar Valley is a popular spot for wolf sightings. We saw a pack of wolves near Slough Creek. This area is also filled with bison and pronhorn.
Tip: There is Verizon LTE coverage in the Slough Creek area.
Trout Lake Trail is a short and easy 1.2 mile loop natural trail with beautiful views. The trailhead parking area is around 1.5 miles south of Pebble Creek Campground. Although it's a short trail, it's worth taking your time to enjoy the wildlife and the views. By the time we finished the trail, the sun was starting to set and we wanted to get to our dispersed camping spot before dark.
Night 2 Camping Options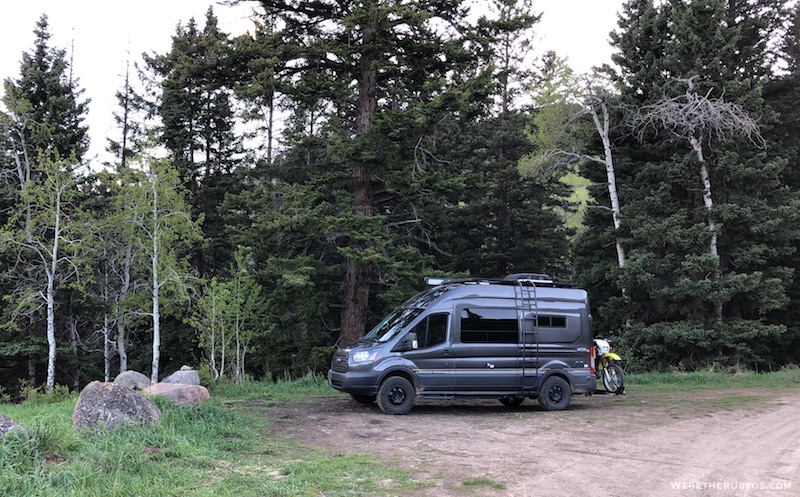 There are several campgrounds between the Northeast Entrance and North Entrance of Yellowstone. Check the NPS website for availability and status. Many of the campgrounds were closed during our visit.
Tip: For the best shot at a first come, first served campsite, arrive early in the morning. You can check online for status and availability or inquire at the park entrance.
If you cannot find accommodations in Mammoth Hot Spring, Grainer has a few RV park options. We found a great dispersed camping spot on NF 3243 using Allstays.
Tip: rent or bring a good pair of binoculars with you.
You can rent a Canon 10×42 at Yellowstone Forever in Gardiner. Rental rates start at $15 for 24 hours and the binoculars have to be returned to the same location.
You can also rent or buy Swarovski binoculars and spotting scopes through Optics Yellowstone in Gardiner by giving them a call 406-224-5277.
Day 3: Mammoth Hot Springs & Tower-Roosevelt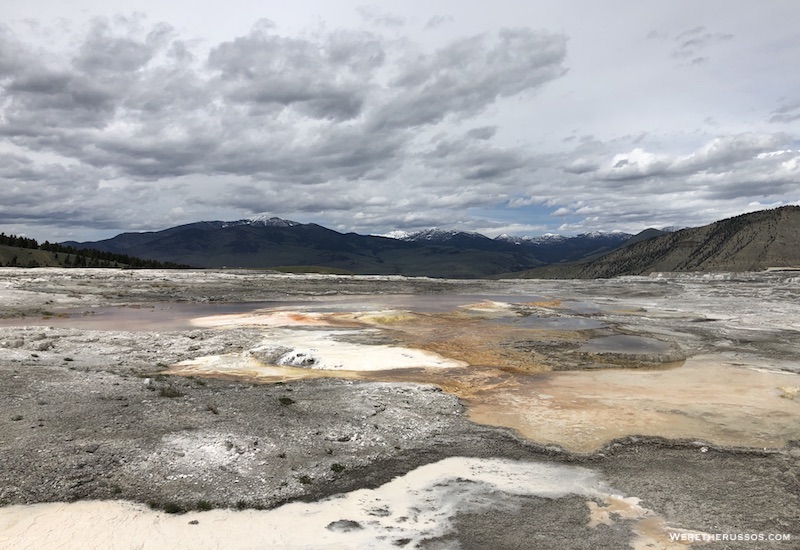 Start your day at the Albright Visitor Center. It's a great place to get information from rangers and volunteers as well as drop off your recycling and fill up your water bottles.
Parking in the Mammoth Hot Springs can fill up quickly especially if you are in a large RV. Arrive early to grab a spot and plan to keep your RV parked there until you're done exploring the area. One of the benefits of taking a small RV to Yellowstone is more parking options.
See the Mammoth Hot Springs. The well maintained boardwalk offers great viewpoints of the various springs in the area. We spotted a bull snake and an elk on our walk.
Beaver Ponds Trail is a popular 5 mile loop that starts near Liberty Cap. Give yourself 2 to 3 hours to complete the trail through the forest to Beaver Pond. Unfortunately, the park rangers closed the trail when we arrived due to grizzly bears in the area.
Drive to Tower-Roosevelt to see Undine Falls and Wraith Falls. Undine Falls is a pull over area where you can walk a few steps down to see the falls. Wraith Falls is a short and easy trail to a beautiful waterfall. On the drive to Wraith Falls we saw a coyote after the car in front of us slammed on their brakes.
Tip: cars are more dangerous than wildlife. We had many close calls with cars coming to a sudden stop in front of us or crossing over the center line. Be extra careful when you're driving an RV through Yellowstone.
Bear jams are a real thing. We experienced several on the drive to Tower-Roosevelt. Luckily, when Joe decided to pull over to make a cup of coffee the black bear and cubs came to us. What followed was a massive jam of bear proportions. We even came across an abandoned car in the middle of the road with all the doors open because the occupants ran outside to look at bears on the hillside.
Tip: give yourself more time than you think you need. From bear jams to construction inside the park, you will likely need more time to get from point a to point b.
Petrified Tree is on the way to Tower-Roosevelt area. Since we have been to Petrified Forest National Park, we decided to skip it and head to Tower Fall Trail.
Tip: there is decent Verizon cell coverage at Tower General Store. The speed is slow, but it's good enough to check email. If you're wondering why I am including cell coverage throughout this post, one of the main reasons is because we run our business on the road and need to have internet access.
Night 3 Camping Options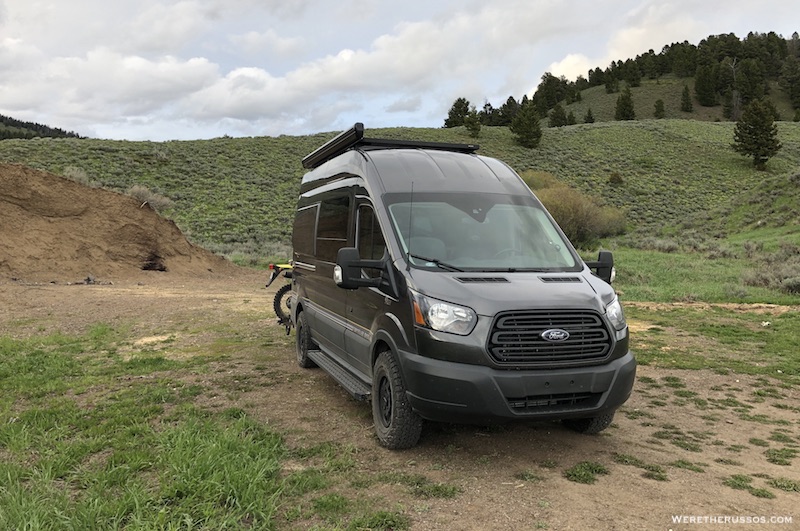 Camp at Tower, Mammoth Hot Springs or drive back to Gardiner. Since Tower Campground and Mammoth Hot Springs were both full during our visit, we drove back out to the dispersed camping spot in Gardiner.
Day 4: Norris & Canyon Village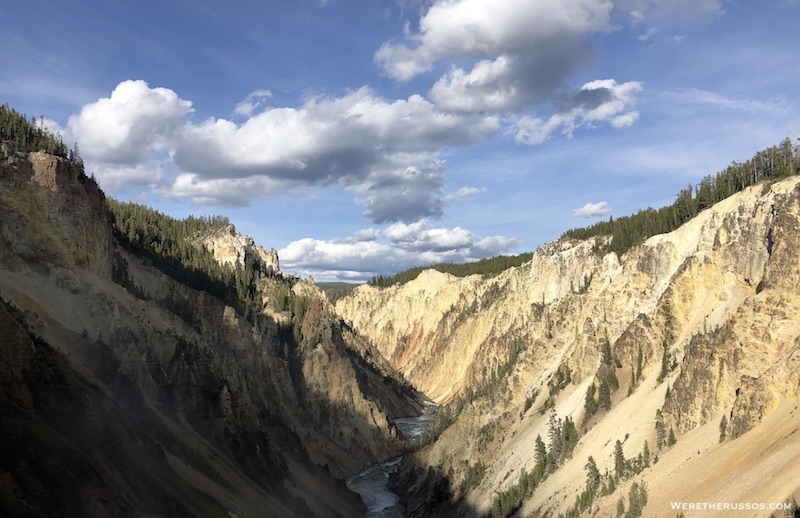 Drive to Norris Campground as early as you can for a first come, first served campsite. While it's great to enjoy dispersed camping in the national forest, Joe and I both wanted to maximize our time inside the park. Of course, if you are able to book a campsite in advance, you won't need to wake up early like we did.
There is plenty of wildlife viewing between Mammoth Hot Springs and Norris Geyser Basin. We spotted elks, cranes, swans, and goose on the drive to the campground. Many credible sources said grizzlies are in this area, but we did not see any during our visit.
See Yellowstone's Tallest Active Geyser. Norris Geyser Basin is home to Steamboat Geyser and when it erupts, it can be four times the height of Old Faithful. Plan your time around a daily ranger talk at this geyser to learn more about it and when you an expect to see the next eruption.
Tip: there is limited RV parking at Norris with cars taking up some of the RV spots when the lot is full. Arrive early to save yourself the headache of trying to find a parking spot. Smaller RVs like vans can fit in the standard parking lot.
Explore the Grand Canyon of the Yellowstone. There are several trails in the area where you can take in the views of the canyon.
Lookout Point for a view of the waterfall.
Grand View offers amazing views of the canyon.
Red Rock Trail offers a better view of the waterfall.
Brink of the Falls will get you up close and personal with the falls. If you only have time for one trail, I would recommend Brink of the Falls. It is a short and steep 3/8 mile trail out and back with an elevation change of 600 feet.
Mud Volcano is worth it. If you have the time, take the easy 2/3 mile trail to see Sour Lake, Churning Caldron, Grizzly Fumarole.
Look for Wolves in Hayden Valley. On the drive back to Canyon Village we saw a black wolf and bald eagle on the other side of Yellowstone River.
Refresh at Canyon Village. It's day four and if you're like us, you're ready for a real shower (not an RV shower) with unlimited hot water. For less than $5 per person, you can get a real shower at Canyon Village and do your laundry. You can also stock up on essential items and get Verizon LTE service in this area.
Tip: If you are staying at Canyon Campground, your reservation comes with a voucher good for two showers per day.
Night 4 Camping Options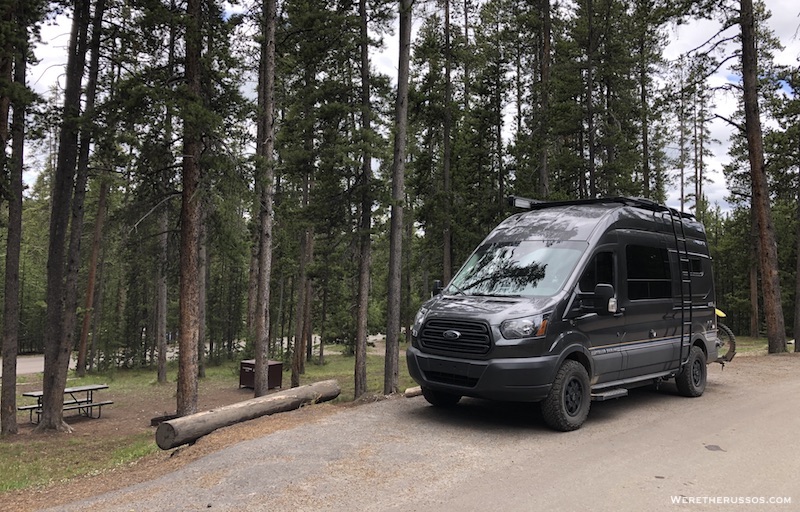 Camp at Norris, Madison or drive outside of the park to West Yellowstone, Montana. We really enjoyed Norris Campground and would highly recommend it if you are able to reserve a site there. Joe and I joked that we paid $20 for a parking spot since we didn't spend anytime at the campground, but it was well worth it.
Tip: you can extend your first come, first served campsite at Norris by going to the campground office. The next morning, there was a long line of people waiting for a campsite to open up. Another reminder to arrive early if you do not have a reservation.
Day 5: Grand Prismatic Spring & Old Faithful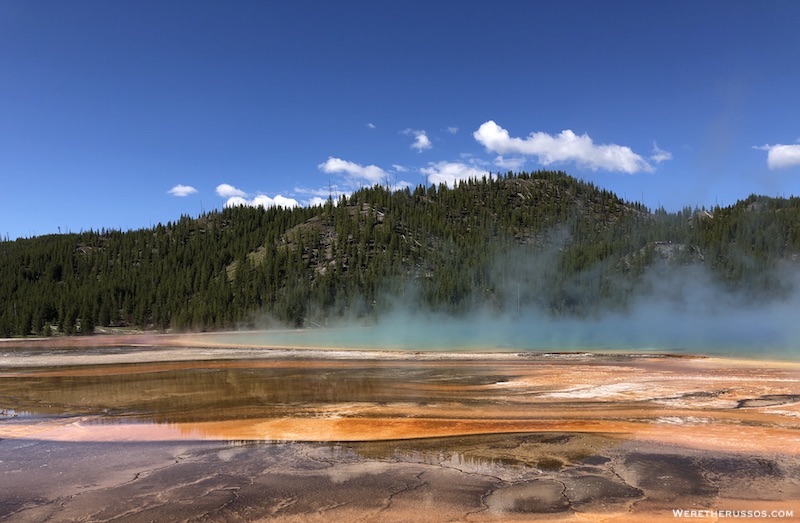 See the Grand Prismatic Spring. This is the largest hot spring in Yellowstone with vibrant colors as a result of bacteria and algae in the water. As Joe said in the video above "seeing the array of colors and the steam rising from the spring was awe-inspiring." Keep in mind, the colors vary depending on the time of the year.
Tip: the parking lot for Grand Prismatic Spring is quite small. There are pull outs past the parking area where you can leave your RV and take the walking path to the spring.
Finally Make Your Way to Old Faithful. The most well known geyer is worth seeing on your road trip through Yellowstone. Check the visitor center or ranger stations for estimated time of the next eruption.
Beehive is the Best Geyser in Upper Basin. While you're waiting for the predictable Old Faithful to erupt, hang out at Beehive to see if you can catch an eruption. It's our favorite geyser in the Upper Basin.
Tip: Verizon cell service is extremely slow in the Old Faithful area. The best cell signal we found inside Yellowstone is at Mammoth Hot Springs and Slough Creek.
Depending on what you want to do and see, you can always add more days to your Yellowstone RV Trip Itinerary. An event in Idaho cut our trip short, but we could have easily stayed for another two or three days.
Thanks for reading!