Some of the links below are affiliate links, which means we will earn a commission on the products or services you purchase using the links. There is no additional cost to you and the earnings help keep this website running. Read the Affiliate Disclaimer for more information.
Mono Lake camping near Lee Vining is a great way to enjoy the eastern Sierra Nevada Mountains. Whether you're traveling through on Highway 395 or planning a trip to Yosemite National Park, you should plan to spend at least one night dispersed camping near Mono Lake.
In this post I'll share how to find free camping, camping conditions, what it's like to camp in the area, and things to do in the area.
Mono Lake Camping Near Lee Vining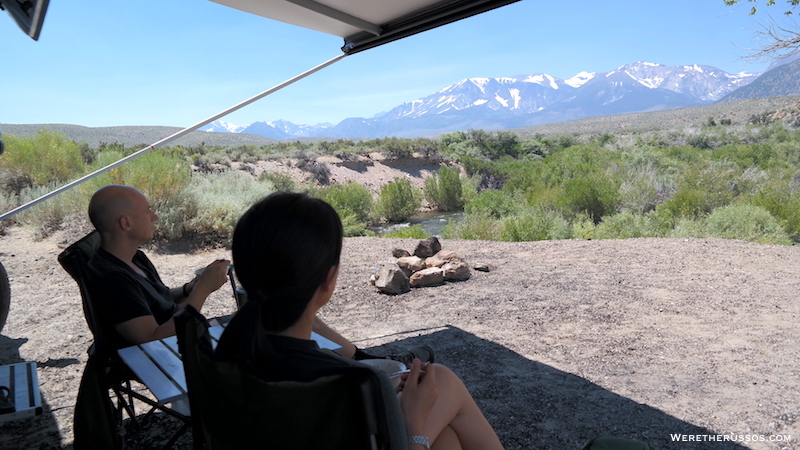 To find a free dispersed camping spot near Mono Lake visit the U.S. Forest Services Ranger Station (1 Visitor Center Drive, Lee Vining, CA). Ask the ranger for a dispersed camping map of the area which also includes rules about campfires and low-impact camping.
This will help you avoid accidentally camping on privately-owned land or within areas where dispersed camping is illegal.
The dispersed camping limits in this area is 28 day within a six month period. Keep in ind the public land
Obtain a free California State Campfire Permit to build a campfire or use a stove top that is not contained within an RV.
As about about road conditions to find out if four wheel drive is recommended for the area you want to camp in.
If you have Allstays, campings options are available with GPS coordinates and additional information.
Mono Lake Dispersed Camping Conditions
There are washboard roads and areas with soft sand. Make sure to check with the rangers for current road conditions.
Little to no shade. Spots with shade are usually occupied by other campers.
Some campgrounds have pit toilets and picnic tables. Sagehen Meadow Campground is one of them.
Tip: Showers are available at Mono Vista RV Park for $3.50 for 5 minutes
What It's Like to Camp Near Mono Lake
We have camped near Mono Lake twice and you can get an idea of what it's like by watching the two videos below.
Video 1: Camping near Mono Lake in a Sportsmobile Classic 4×4 Pop Top Camper. The epic views alone are worth planning a trip to the area.
Video 2: In this Slice of Van Life video we share what it's like to camp off-grid near Mono Lake in a ProMaster conversion van.
Things to Do in the Area
Yosemite National Park. The entrance to the park is less than a 25 minute drive from Lee Vining.
Whoa Nellie Deli. This casual eatery inside the Mobil gas station is dishing up popular items like fish tacos, burgers and pizzas.
Mono Lake South Tufa Site. Learn about the history of the area and take in incredible views of Mono Lake.
Bodie State Historic Park. Take a tour of a former gold-mining community.
This is just a short list of things to do near Mono Lake. With June Lake and Mammoth Lakes near by, there is plenty to explore and see in the area.
Editor's Note: This post was originally published on August 21, 2017 and has been updated for comprehensiveness.