We were first introduced to Sportsmobile custom Class B camper vans at the Florida SuperShow. Angela from Sportsmobile Texas gave us a tour of one of their Sprinter 4×4 camper vans. Ever since then, we have been geeking out over all their custom camper vans. Our favorites are the camper vans that have been converted from two to four wheel drive for off roading. Follow Sportsmobile on Instagram and you'll see some of the amazing places their customers go in their camper vans. There are three Sportsmobile locations: Austin, Texas, Fresno, California and Huntington, Indiana.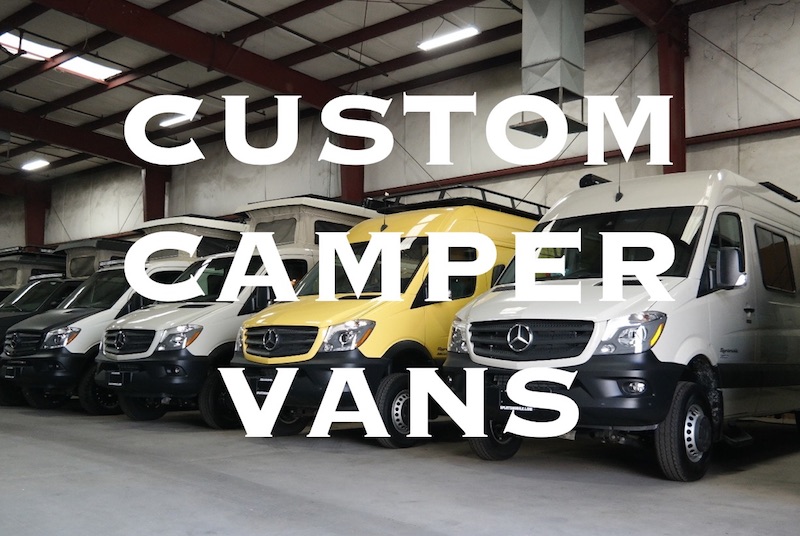 Sportsmobile Custom Class B Camper Vans
This year, we had the opportunity to check out several Sportsmobile camper vans at different RV shows. Luckily, we were able to film a few walk-throughs for our YouTube channel. The thing with custom RVs is no two are the same. Every one is a little different and unique depending on the customer's needs. We learned this when we toured Sportsmobile West in Fresno, California. Check out our factory tour video towards the bottom of this post.
Sportsmobile Sprinter 4×4 Penthouse Top RB50
The penthouse top makes a huge difference when it comes to interior space and the sleeping situation. The bed will sleep two adults and the high ceiling allows us to stand up comfortably.
Sportsmobile Sprinter 4×4 High Roof
Unlike the other Sportsmobiles, this layout has a wet bath with a porta potti. Most of the Sportsmobiles are built for weekend or week long camping trips. Although they are starting to build floor plans that can be used for full time RVing.
Sportsmobile Ford 4×4 Penthouse Top
Although the Mercedes Sprinter chassis is one of the most popular, we really liked the Ford prototype Sportsmobile West had on display.
Sportsmobile West Factory Tour
After meeting Jonathan Feld of Sportsmobile West at the California Pomona RV show, we made our way to Fresno for a factory tour. If there wasn't a one year wait for a new Sportsmobile, we may have driven off with one. For anyone seriously considering a Class B camper van, we'd highly recommend checking out the factory. Seeing the different floor plans and unique builds gave us some great ideas for our future custom RV.
Disclosure: We're the Russos is not affiliated with nor endorsed by Sportsmobile.