Sportsmobile is one of the well known and established Class B RV manufacturers in the U.S.
For anyone seriously shopping for a Class B camper, it's worth checking out their custom camper vans at an RV Show or taking a factory tour.
Van chassis Sportsmobile campers are built on include:
Chevy Express
Ford E-Series Cutaway
Ford Transit (optional aftermarket 4×4 conversion)
Mercedes Metris
Mercedes Sprinter
Ram ProMaster
Custom Camper Van Conversions by Sportsmobile
---
Table of Contents
---
Sportsmobile Factory Tour
The company got its start manufacturing camper vans in 1961 under the original name Sportswagons.
When you take a tour of the Sportsmobile West factory in Fresno, California you will see one of the original 1965 Sportsmobile VW pop-top campers on display.
Watch the Sportsmobile Factory Tour to see the 1965 camper and to learn more about their custom van conversions.
The company has come a long way since the '60s going from basic VW camper conversions to full blown custom conversion vans on just about every chassis imaginable.
There are 4 Sportsmobile Locations:
Austin, Texas (manufacturing & sales)
Fresno, California (manufacturing & sales)
Huntington, Indiana (manufacturing & sales)
Reno, Nevada (store & showroom)
Sportsmobile Custom Camper Vans
Fully Custom Camper Conversions. Joe and I have been shopping for our next camper and love the idea of a custom build. This pricing page will give you an idea of what it would cost to design your own Sportsmobile.
Build on a New or Pre-owned van. Sportsmobile can source a new van for you or you can bring your own new or pre-owned van for them to build out.
Upfit Your Camper Van. Maybe you don't need a full build out by Sportsmobile. You can bring your camper in for a solar upgrade or have a penthouse pop top installed.
Good Things Come to Those Who Wait. To get a fully custom Sportsmobile means you'll need to get on the production schedule and wait in line. The wait time will range depending on the specifics of your build.
Check out the videos below to see some examples of Sportsmobile Custom Camper Vans.
First Classic 4×4 prototype built on the Ford E-Series Cutaway chassis.
Sportsmobile Sprinter 4×4 with a penthouse pop top.
Sportsmobile Sprinter 4×4 hard top.
Wheelchair-Accessible Sportsmobile
For those who need a camper van that is wheelchair-accessible, you can work with Sportsmobile to create a custom van for your needs. Check out their website for examples of wheelchair-accessible conversions.
Sportsmobile Classic 4×4
One of the coolest options Sportsmobile offers is the Classic 4×4. This heavy duty 4×4 adventure van is built on a Ford cutaway chassis with a steel reinforced fiberglass shell.
Features of the Sportsmobile Classic 4×4:
Built on the Ford E-Series Cutaway chassis
GVWR 10,050 lbs
Dynatrac Pro-Rock 60 Front Axle
Advance Adapters Atlas II Gear Driven Transfer Case
2.0 Performance Series Shocks
Ford F-550 Brake Rotors
Watch the Video Series About the Classic 4×4. The team at Sportsmobile West let us take out their Classic 4×4 for a week to get a taste of van life in a Sportsmobile pop top and share our experience.
Video 1: Learn About Sportsmobile's Custom Four Wheel Drive System. Alan Feld explains the 4×4 system in more detail.
Video 2: See What It's Like to Live Out of a Sportsmobile Pop Top. We take the Classic 4×4 for a few days of Dispersed Camping near Mono Lake.
Video 3: Camping at Yosemite National Park in a Sportsmobile Classic 4×4. We learn the bear rules when it comes to a pop top camper van.
Pre-Owned Sportsmobile Custom Camper Vans For Sale
Sportsmobile custom van conversions are well known in the van life community and are very sought after in the used market. You can find pre-owned Sportsmobiles for sale on their website or by searching popular RV listing sites.
A benefit of buying a pre-owned Sportsmobile is getting your camper van sooner. Depending on your build, it can take over 12 months to make your dream camper van a reality.
Since Sportsmobile conversion vans are 100% custom, no two are the same. Every conversion is a little different based on the customer's needs, which means finding a used Sportsmobile for sale could also take a while.
Rent a Sportsmobile Custom Camper
Try It Before You Buy It – We've met many Class B owners who rented their top choices before making a decision. Find Class B Camper Vans for Rent.
Get $50 off your rental using this link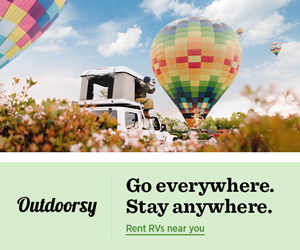 Additional Resources
Join the Sportsmobile Owners Facebook Group
Class B RV Manufacturers – complete list of Class B manufacturers
Cost of Full Time Van Life Living – Monthly breakdowns Class B Van Life
Frequently Asked Questions About Van Life – answers to popular questions about van life