Some of the links below are affiliate links, which means we will earn a commission on the products or services you purchase using the links. There is no additional cost to you and the earnings help keep this website running. Read the Affiliate Disclaimer for more information.
If you or a family member are in a wheelchair, you may think that RVing is not a realistic travel option. Images of unwieldy manual towing equipment, steep stairs and tight spaces probably spring to mind before wheelchair-accessible RVs do. But, in fact, RV travel has a lot of perks that are great for travelers in wheelchairs.
You carry your home with you, so there's always a clean and accessible bathroom that's just yours, ready for use. You have a bed handy if you get tired of driving and need to lie down for a while. If you have special dietary needs, your kitchen is always right there with you too, so you don't need to worry about finding a restaurant in a strange city. No ADA hotel rooms available? No problem!
Of course, not all RVs are designed with wheelchair access in mind. Most units don't come standard with ramps or lifts. And size does matter; many smaller units are just not wide enough to accommodate a wheelchair. Even large Class A RVs or fifth wheels probably don't come with a roll-in shower or assist bars.
So what are the best RVs for wheelchair accessibility?
Joe and I have toured a lot of RVs in the past five years. We've attended just about every RV show and factory tour we could find. We spent most of 2019 testing out different adventure rigs while shopping for our next full time camper.
So when we started to get questions about wheelchair-accessible RVs, even though we haven't used one ourselves, we decided to create a list of all the best options we could find.
These are the best resources we've found for those interested in ADA-compatible RV travel.
What makes a wheelchair-accessible RV?
First things first. What kinds of modifications should you be looking for in a wheelchair-accessible RV?
Whether you're looking for a custom build or an RV made "stock" by a major manufacturer, here are the considerations we've found that will impact most RVers in wheelchairs.
Ramp or lift. Most wheelchair-accessible RVs include a power lift. Some (like toy haulers) may also have a ramp that's usable for getting into the RV from ground level.
Wider doorways. To accommodate the width of a chair, you'll find wider doorways than standard in accessible RVs. This goes for both exterior and interior doors.
Open floorplan. Inside, floorplans will be more open and contain wider hallways to allow maneuverability.
Height adjustments. Heights are lowered for things like counter tops, table tops, appliances and switches. This puts them in reach from a sitting position.
Adjustable headrest. Some higher-end RVs will have a bed with a headrest that can be raised and lowered with a power switch.
Extendable dinettes and recessed sink cabinets. Both modifications are designed to allow travelers to remain in their chair while they're using the dining table or sink.
Roll-in shower or wet bath. Most RV showers have a raised lip to prevent flooding, but wheelchair-accessible RVs will have a roll-in shower and assist bar. Some even have space for a transfer seat or shower bench.
Wheelchair-Accessible RVs by Type
Below is a list of all the wheelchair-accessible RVs we found broken down by RV type.
Class A Motorhomes
At the time of writing, only two major manufacturers have lines specifically dedicated to wheelchair accessibility: Winnebago and Newmar. Both build Class A accessible motorhomes only.
Winnebago Wheelchair Accessible RV
Winnebago has an entire line of wheelchair-accessible RVs, which they call their Accessibility Enhanced line. Their goal is "convenience and opportunity without sacrificing style or function." The idea is that customers shouldn't have to compromise on what they want in an RV in order to have an accessible travel experience.
Winnebago builds three Class A motorhomes that come standard with wheelchair accessibility features.
The Forza is their high-end model. It's a 36-foot diesel pusher with all the bells and whistles Winnebago offers, including an adjustable headrest bed.
The Adventurer, a 31-foot gas coach, is their mid-range option. There's no adjustable headrest bed, but the modified countertops, roll-in shower, assist bars and accessible dinettes/furniture are all standard for Winnebago.
The Intent is also a 31-foot gas coach. It's the only model in their AE line without a permanent bed. Instead, it features a power Murphy bed, which allows for more floorspace during the daytime but does make raising and lowering the bed a necessity. The Intent also has a 5-inch step into the driver's area, where the Forza and Adventurer are both flat.
Winnebago is very active in the conversation around ensuring that RVing is accessible to all. They even have a dedicated Instagram account for their Accessibility Enhanced RVs and customers.
Newmar Wheelchair-Accessible RV
Our first motorhome was a Newmar Class A, so Newmar has a special place in our hearts. The Newmar brand name tends to make people think of luxury, and their wheelchair-accessible line of coaches is no exception.
They market themselves as "the world's first and largest wheelchair-accessible Class A motor coaches." At 40 feet and above, it's true that Newmar's floorplans are larger than any others we could find. All of their models provide a wide, straight aisle from front to back.
Newmar has three different wheelchair-accessible options. All of their models have extra-wide aisles, power-adjusted dinettes, lowered counters and switches, and roll-in showers. Beds include adjustable Sleep Number mattresses for a comfortable night's sleep. Wheelchair lifts are all BraunAbility power lifts.
The Dutch Star 4311 is their high-end diesel offering. This coach is one of the most luxurious on the market in the wheelchair-accessible space. It even comes with a height-adjusted dishwasher.
The Ventana 4311 is their mid-range offering. It's also a diesel coach.
The Canyon Star 3911 is a gas coach and was the industry's first non-retrofit wheelchair-accessible coach. It's worth noting that Newmar has been making accessible RVs as part of their official line longer than any other major manufacturer.
Newmar has several blog posts dedicated to their wheelchair-accessible customers. Some of these contain travel tips relevant beyond the RV industry, like this one on traveling with teens and tweens who have a physical disability.
Sportsmobile
Sportsmobile has been converting vans since 1961, so they're pretty much industry experts in how to do a custom build on a van chassis. They work on all the major van chassis out there: Mercedes Sprinter, Ford Transit, Dodge ProMaster, Chevy Express and Ford E Vans.
While Sportsmobile doesn't have a "stock" line of RVs, you can work with them to design a floorplan that will suit your individual needs. They do have some examples of wheelchair-accessible conversions on their website that you can use to get some ideas flowing.
Among their offerings are: support rails, lowered controls, lowered counters with flip extensions, removable transfer seats, large bathrooms, durable rubberized flooring and siding for scuff protection, and an under-van lift.
TouRig
TouRig is another company that specializes in van conversions, specifically for the Mercedes Sprinter and Ford Transit chassis. They did their first wheelchair-accessible conversion in 2017. You can read the whole (inspiring) story about that first customer on their website.
Born Free Wheelchair-Accessible RVs
Born Free went out of business back in 2017, but they still have a bit of a cult following. For many people, Born Free still means durability and quality. They built wheelchair-accessible Class C RVs, so you may be able to find a used one on the market by searching for Born Free wheelchair accessisble RVs.
We toured a couple of their standard models a few years back if you're interested in checking them out.
Showhauler Motorhome Conversions
We've tour quite a few Showhauler custom motorhomes since we hit the road and even got a chance to check out their factory in Indiana. This company builds custom Super C motorhome conversions for their clients including RVs with a power lift arm. Learn more about Showhauler.
Towable RVs
While motorized options are a bit more common, you can definitely find wheelchair-accessible travel trailers out there as well. Toy haulers may seem like an easy choice, since they always have a rear ramp, but don't forget to factor in interior space and other accessibility features.
Here are some brands we found that make wheelchair-accessible travel trailers and fifth wheels.
Harbor View Wheelchair-Accessible Travel Trailers
Harbor View is the only RV manufacturer we could find that exclusively makes wheelchair-accessible units. All Harbor View trailers come standard with features designed to make travel as easy and enjoyable as possible.
The coolest thing about them is the hand-held remote control system that makes set-up incredibly quick and easy. The remote controls the automatic front and rear stabilizer jacks, slide-outs, electric awning and exterior lights. The tongue jack is also easy-access. The remote-controlled lift and extra-wide power entry door complete the exterior setup.
Inside, you'll find additional features like accessible countertops, roll-in showers, and assist bars.
Weekend Warrior Wheelchair-Accessible 5th Wheels
The Luxe Toy Hauler Fifth Wheel by Weekend Warrior can accommodate customers in wheelchairs with some options offered by the factory. There's not a lot of information available on their website, but I tested out their chat feature. I got a quick response from someone who was more than happy to answer any questions I had.
Dune Sport Wheelchair-Accessible Toy Haulers
Dune Sport also makes custom toy haulers with standard modifications relevant to ADA guidelines. These include a lower trailer stance, widened doorways, ramp gap cover, and enlarged bathroom with roll-in shower.
North American RV Wheelchair-Accessible Towables
North American RV lists making wheelchair-accessible towables as their specialty. There is some information about their standard options online, but it's probably best to reach out to them directly for more on your specific requirements.
Wheelchair-Accessible RV Upfitters
If you can't find an RV from a manufacturer that meets your budget, style or functionality requirements, another good option can be to modify an RV. Once you've found an RV you like, you may be able to add a lift and make other changes after-market.
Here are some companies that do this type of work. Note that there are many of these nationwide; these are just a few that we've heard of.
What if you're not ready to buy?
If you haven't done much RVing yet and want to try it out before making a substantial investment, you can always rent one. The RV rental market has some options available that are wheelchair-accessible, so don't feel as though you can't take an RV on a test run.
RV rental sites like Outdoorsy allow you to rent RVs directly from owners, so the number of accessible options available depends entirely on who is listing their unit for rent in your area.
Outdoorsy has a blog post specifically about finding wheelchair-accessible RVs, including tips on working with owners to ensure that you get what you need out of a rental experience.
Update: reader Kelle submitted a comment below notifying us that handicap accessible filter is no longer available on Outdoorsy's website.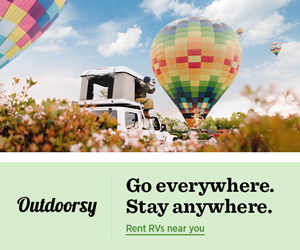 Wheelchair-Accessible RV Clubs and Other Travel Resources
In the course of writing this article, we came across a couple of resources dedicated to helping those with physical disabilities expand their travel horizons. As lovers of travel ourselves, we were thrilled to find these resources and hope you'll find them helpful.
Handicapped Travel Club
The Handicapped Travel Club has been around since the 1970s. The founding members had such positive and therapeutic experiences through travel that they wanted to encourage others with disabilities to meet each other and do the same. Their motto is G.O.A.L. : "Get Out And Live."
The HTC website includes some great information on RVing in accessible vehicles. With over 250 members, it's also a great community resource if you have questions you just can't seem to get answered online otherwise.
They publish a newsletter, hold an annual rally, and have local get-togethers as well. Membership is low-cost (annual dues are $10) and available to everyone.
Wheelchairtraveling.com
Wheelchairtraveling.com has articles and resources related to all types of travel, not just RVing. But they do provide an excellent overview of RV travel in a wheelchair. Their article goes very in-depth on things to consider if you're looking to rent or purchase an RV.
One of the writers also publishes a blog specifically about her RV travels, which contains tips and information along with stories of her experience. She's even written wheelchair-specific destination guides for RVers.
Summary
We hope this article has given you some inspiration and tips on how you can make RVing a part of your life even if you live with a physical disability. We can't say enough about the good this lifestyle has done for us, and we hope to see you all out there on the road.
*Note: This list is specific to RVs made in the U.S. and Canada, but there may be options available in other countries too. If you know of any, please leave a comment below and let us know!
Thinking of getting a Small Class C RV? Check out our list of the Best Class C RV Manufacturers.