Some of the links below are affiliate links, which means we will earn a commission on the products or services you purchase using the links. There is no additional cost to you and the earnings help keep this website running. Read the Affiliate Disclaimer for more information.
Since we love to cook, having the right RV kitchen gadgets is essential. If you have watched our RV cooking videos you probably noticed we love making meals in the RV. Since 2015, we've lived out of a Class A motorhome, Class B Vans, and a 4×4 truck camper. At this point, we're pretty familiar with gears and gadgets for small camper kitchens. These are our favorite RV kitchen gadgets to help you enjoy a great meal no matter how small or big your RV kitchen is.
Best RV Kitchen Gadgets & RV Kitchen Appliances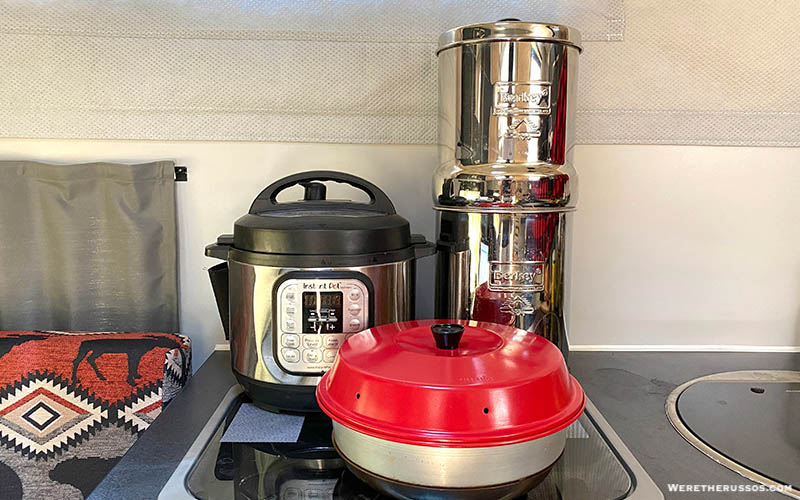 Everything on this list has been "battle tested" in some pretty tough conditions, including in the backcountry with no services (watch our RV cooking video). The beauty is that you don't need an RV kitchen to appreciate these RV kitchen accessories – anyone can use these.
If you decide to purchase any of the items listed, we'll provide our Amazon affiliate links so you can find them easily. By making a purchase through our link, you pay the same price and we will receive a small commission which helps to keep this website running. Thank you for the support!
Without any further ado (and in no particular order), here are our favorite 15 RV kitchen gadgets.
15 RV Kitchen Gadgets We Love
1. Omnia Stove Top Oven
We discovered the Omnia stove top oven at an RV show, and it changed the way we cook in our camper. An RV oven takes up a lot of space, so many people (including us) choose to skip it. But, I still love to bake – enter this lightweight and compact oven that works on a stovetop.
This little oven allows you to make all kinds of things with its default circular shape: cornbreads, frittatas, brownies, breads, and more.
Omnia also make inserts you can use to change things up. I love the silicone liner, which makes pulling out the finished product incredibly easy.
The muffin insert is another Omnia accessory that I use quiet often. Some of my favorite things to make include cheesy egg bites and a variety of muffins. Fill out this form to receive my corn muffin recipe.
2. Instant Pot Multi-Cooker
I don't think it's an exaggeration to say that the Instant Pot changed our lives. This multi-cooker ended up replacing our Crock Pot and had become one of my go to cooking gadgets in the RV. Although the Instant Pot is mostly used as a pressure cooker, it has a slow cooker setting to make my beef stew.
You may have heard a lot of RVers say that everything in their space needs to do at least 2 jobs. Well, our Instant Pot is a 7-in-1 device: pressure cooker, slow cooker, rice cooker, steamer, saute, yogurt maker, and warmer. Like the slow cooker, it runs on electricity and doesn't heat up the RV.
Accessories and attachments can help you get even more from your Instant Pot. We have (and love) the clear glass lid, which allows us to check on progress as we cook using the sauté feature, and the ceramic inner pot, which is nonstick and cleans like a dream.
We don't have this, but they even make an air fryer lid, which turns your Instant Pot into an air fryer on top of everything else! (Be sure to check compatibility before you buy; this lid won't fit every Instant Pot model.)
I've cooked a lot in this little gadget over the years. My cookbook is still in the works, but in the meantime, I wrote up a post with some of my favorite Instant Pot recipes.
3. Cast Iron Skillet
While Joe is our go to cast iron skillet master, I also love to make meals in it. The one we have is the pre-seasoned Lodge Cast Iron skillet. The one thing about owning a cast iron skillet is making sure it remains well seasoned. We use coconut oil and this stainless steel scrubber to help keep it clean well seasoned.
I enjoy making some of my favorite Chinese dishes in our cast iron skillet and Joe recently made a delicious noodle stir fry while camping at Big Bend National Park.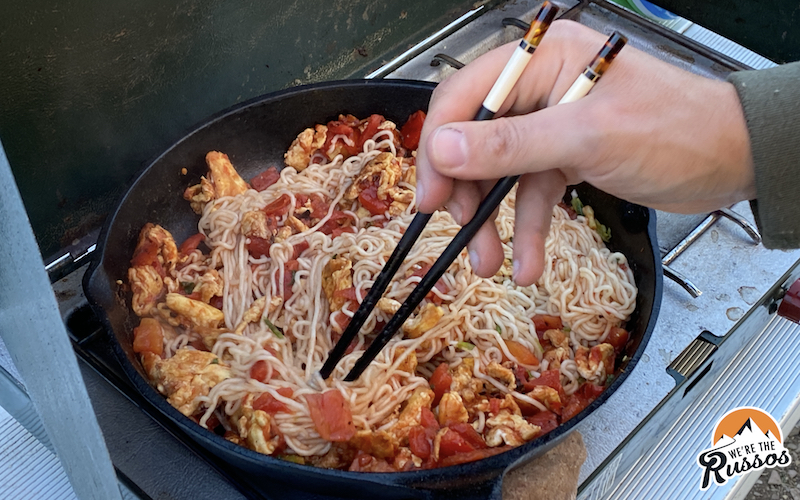 4. Travel Berkey Water Purifier
When you travel as much as we do, you often find yourself in places where you may not trust the water source. Dispersed camping in the National Forest, for instance—or even moochdocking in certain cities that have boil alerts. Other times, the water quality is fine, but the flavor isn't great.
Access to clean water is important no matter where you live. Berkey water filters remove chemicals, bacteria, viruses, heavy metals, fertilizers, and other contaminants from tap water—all while keeping the good minerals in.
Check out our full review of the Berkey if you're interested in learning more. It's an investment, but we've had ours for years, and it's still one of our favorite RV kitchen accessories.
5. Crock Pot Slow Cooker
Before we discovered the Instant Pot, we relied on our slow cooker to get us through travel days in the motorhome, or days when we'd be out exploring all day.
Slow cookers are great because they don't heat up a small space the way a gas stove does, and if you're plugged into electric or have enough battery power, you don't have to worry about using up a limited resource like propane.
You can start your breakfast the night before, or start dinner in the morning. Just set it up, and walk away until you're ready to eat. As RVers, we're all about exploring longer, so slow cookers are a good option. Check out our cooking video playlist for some slow cooker recipes ideas.
6. Nutribullet Blender
We have Joe's mom to thank for this RV kitchen gadget. After borrowing her Nutribullet Rx we fell in love with making smoothies and shakes in our camper. The high speed blender doesn't take up much space, and the blade is plenty powerful to chop ice and frozen fruit. Since we loved having a blender so much, we made room for the it in our small camper.
The Vitamix is the gold standard of blenders. It can do just about anything, but comes at a significantly higher price point than the Nutribullet. It's also bulkier, due to its more powerful mechanism. If you're interested in making smoothies with fresh, woody fruits or vegetables, you should take a look at the Vitamix—particularly if you have ample kitchen storage. Joe's sister has one and she's made some delicious soups in this kitchen gadget.
8. Portable Camp Stove
We wrote about our camp stove in our essential RVing gadgets article, but we couldn't talk about RV kitchen gadgets without mentioning it here, too. Having a Coleman stove with us allows us to cook outside when the weather is nice, which gives us some elbow room and keeps the cooking smells outside.
If you prefer a portable grill for the RV, this Weber gets great reviews and is very popular with campers including many of our friends.
Either way, it's handy to have a propane adaptor hose to connect these propane-fueled gadgets to your onboard tanks, so you don't have to carry the little green tanks around with you.
If you do like the 1 pound propane tanks, FlameKing makes a refillable tank and kit that comes with an adapter and stand.
9. OXO Airtight Containers
You might have seen these pop containers on blogs and shows about pantry organization in a home. We have a full set in our camper, and we love them. They're lightweight, clear, and have an airtight seal. This means we always know what's in them, our dry goods last for ages, and we don't have to worry about spills while we're on the road.
We use containers to store spices, coffee and anything else that we don't want to spill or spoil. The set we have came with several different sizes, but you can also buy individual sizes that suit your RV kitchen needs.
10. Pop-up Sponges
These dehydrated sponges are an excellent space-saver in a tiny RV kitchen. A package of ten takes up less room than a regular sponge, so you can carry a lot of them in a very small space.
I use them for cleaning dishes, and they work great! To use, just add water and scrub away.
11. Collapsible Bowls and Colander
Anything collapsible makes for a fantastic RV kitchen gadget. You can find collapsible measuring cups and spoons, mixing bowls, and tupperware.
My personal favorite is this collapsible colander. It's lightweight, simple to store, and easy to clean. The provided cover allows me to drain or catch water as needed.
12. Mason Jars
You might be surprised to see glass on this list, but I still find that one of the most versatile kitchen gadgets is the mason jar. We use them for coffee, water, salad dressing, or to pickle garlic.
Mason jars also just look pretty! Put tea lights in them at night, and they're great candle holders. Put flowers in them, and they're a vase.
These glass jars are easy to clean, sturdy, and can be found everywhere if you need to replace one.
13. Refrigerator-Freezer Thermometer
The RV refrigerator in our first motorhome didn't come with a built-in thermometer, so it was difficult to be sure our refrigerator was holding temperature well.
This thermometer was a quick fix and one we could leave in the refrigerator door to easily monitor the temperature and adjust the setting as needed.
14. ZipTop Reusable Containers
We were introduced to these food grade silicone reusable containers a few months ago and love all the ways they can be used. Instead of using a disposable plastic food bag for snacks, sandwiches or left overs, we can store them in ZipTop containers.
The sandwich "bags" are ideal for day hikes or picnics because the container is lightweight but sturdy enough to keep the sandwich from being crushed by other items in the bag.
15. Sphere Ice Molds
Not only are these sphere ice molds fun—they also melt slower than standard ice cubes. This way our drinks don't get diluted as quickly by melting ice. We put them in water, cold brew coffee, and cocktails. If you want to try an easy cocktail with the sphere ice, try one of our favorite whiskey cocktails.
Bonus. RV Vent Cover
I couldn't leave this off the RV kitchen gadget list, even though it's technically a rooftop gadget on the outside of the RV. Having a vent cover allows you to run the kitchen vent fan even while it's raining, which has come in handy more times than I can count.
We did a full review of the Fan-Tastic Ultra Breeze vent cover if you want to read more. But in a nutshell, being able to send steam and kitchen smells outside when you're stuck inside the RV is a wonderful thing.
For those of you who have been readers since we started RVing, here is the very first video we made of our favorite RV kitchen gadgets.
I hope you found this list helpful and feel free to leave a comment and share your favorite RV kitchen gadgets.