Some of the links below are affiliate links, which means we will earn a commission on the products or services you purchase using the links. There is no additional cost to you and the earnings help keep this website running. Read the Affiliate Disclaimer for more information.
After the high expense month we had in May, it was nice to see our expenses go back down in June. The RV windshield replacement really drove up our expenses last month. In June, our daily cost was just under $86/day. I think we can get under $80/day fairly easily. Just need to get Joe on board with that first. He's not nearly as excited about cutting expenses as I am.
To view all reports, RV Living Costs: Full Time in a Motorhome for One Year.
Full Time RVing Costs: Motorhome Edition – June 2016:
Expenses:
Total Expenses: $2,578
Cost Per Day: $85.93
Total Miles Driven: 1,359
Generator Hours: 1.5
Jeep MPG: 17
RV MPG: 6.5
Nights At RV Parks: 24
Nights Spent Dry Camping: 6
Meals Eaten Out: 9
Our June 2016 expenses ended up being the lowest we've ever had since we hit the road full time. Compared to last month, we were able to cut $551 ($2,577 vs $3,098). Fixed costs remained the same.
Here are a few notes about our expenses this month compared to previous months:
Food costs (groceries, eating out, coffee and alcohol) increased nearly $200 in June. We spent a total of $465 compared to $267 in May. Although we ate out the same number of times as last month, we spent more money on the meals. A large Costco run also drove up our grocery bill. We stocked up on many items we ran out of. Several of these items will last at least a month which should help keep our cost down in July.
RV park costs were $210 compared to $120 last month. We spent the first 11 nights of June at Newmar customer service. Complimentary full hookups are provided for customers getting work done at Newmar. The rest of the time we spent at Hollywood Casino RV Park in Joliet, IL, Pine Country RV Resort in Belvidere, IL and Cliffside Park in Racine, WI.
We only put 422 miles on our gas coach in June. The Jeep Wrangler on the other hand had 937 miles put on it. This was due to us being camped far away from areas that we wanted to visit. We didn't have to run the generator very much and only put 1.5 hours on it. While we drove fewer miles and used the generator less, we spent more money on gas compared to last month due to the increase in gas prices.
Miles on the RV: 422 – avg mpg 6.5 (201 fewer miles in June compared to May)
Miles on the Jeep: 937 – avg mpg 17 (66 fewer miles in June compared to May)
Below is the breakdown of fixed and variable costs.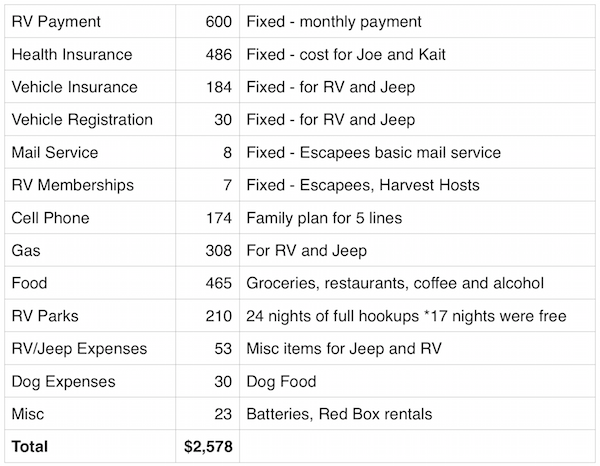 Lessons Learned:
Some things we learned this month that we'd like to pass along.
The roads in Indiana, Illinois and Wisconsin are rough. Gone are the smooth paved roads we took for granted in Florida. The roads in these states have large pot holes with large uneven slabs. Times like these, we wonder if we would feel the rough road as much if we were driving a rig with air ride suspension. We have to do a full sweep of the motorhome to see if there are any screws that fell down. If so, we have to figure out where it came from and screw them back in.
The slow cooker has become one of our favorite kitchen gadgets for RVing. It's perfect for travel days. We can start a meal at night and have a hearty breakfast/lunch before we leave for our next destination. The slow cooker doesn't heat up the motorhome the way our gas range would. Another benefit is that we don't use as much LP gas. We never thought we'd use a slow cooker in our motorhome. Now that we have one, we use it almost every day. Check out the One Pot Meal series on our YouTube channel.
To view all reports, RV Living Costs: Full Time in a Motorhome for One Year.