Some of the links below are affiliate links, which means we will earn a commission on the products or services you purchase using the links. There is no additional cost to you and the earnings help keep this website running. Read the Affiliate Disclaimer for more information.
May 2016 was a high expense month due to the cost of the RV windshield replacement. We were able to cut our expenses in other places to offset the cost. Our daily expenses came in right under $100. If we subtract the windshield cost, our daily cost would have been around $73.
To view all reports, RV Living Costs: Full Time in a Motorhome for One Year.
Full Time RVing Costs: Motorhome Edition – May 2016:
Total Expenses: $3,090
Cost Per Day: $99.68
Total Miles Driven: 1,626
Generator Hours: 9
Jeep MPG: 17
RV MPG: 6.5
Nights At RV Parks: 14
Nights Spent Dry Camping: 17
Meals Eaten Out: 9
Expenses
Our total expenses were $456 higher this month compared to last month ($3,098 vs $2,642). Fixed costs remained the same.
Here are a few notes about our expenses this month compared to previous months:
Food costs (groceries, eating out, coffee and alcohol) continue to decrease. We spent a total of $267 in April, a decrease of $116 from April. Being sick for a good part of May meant we didn't go out as much. We also stayed with friends about half the month. This meant we were treated to many tasty homemade meals. Their hospitality, also helped keep our expenses down.
Dog expenses were high in May. We stayed in a hotel while we were getting the windshield replaced and paid a $25 pet fee. Leo had to go to the vet for a check up and blood work. The bill was $120. Don't worry, he received a clean bill of health.
RV expenses skyrocketed due to the RV windshield replacement. To read more about our experience read our post on RV window repairs and replacement.
RV park costs were $120 for four nights. 10 nights were complimentary at the Newmar factory. Note: the campground is provided for customers getting work done at the factory or picking up their new coach.
We spent most of May roaming between Illinois and Indiana. This resulted in 623 miles on our gas coach. The Jeep Wrangler had over 1K miles put on it because we were often camped far away from places we wanted to visit. We didn't have to run the generator very much and only put nine hours on it.
Miles on the RV: 623 – avg mpg 6.5 (647 fewer miles in May compared to April)
Miles on the Jeep: 1,003 – avg mpg 17 (283 more miles in May compared to April)
Below is the breakdown of fixed and variable costs.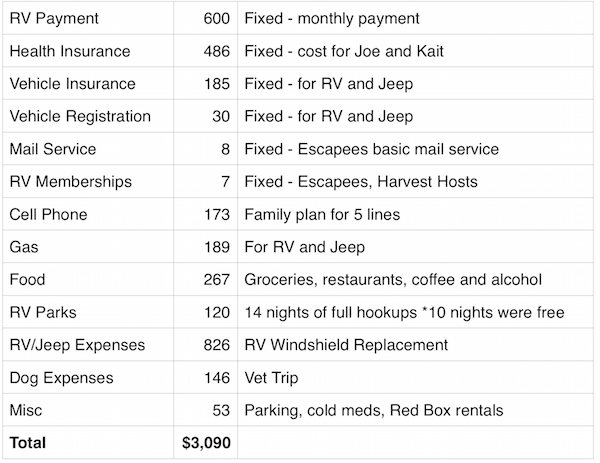 Lessons Learned:
Some things we learned this month that we'd like to pass along.
Full time RVing is a roaming reunion. May was spent reconnecting with friends and family. As much as we enjoy meeting new people on the road, there is something comforting about seeing old friends. Being at a dinner table with 10 people is something we haven't done since we hit the road. The experience reminded us of how great it is to share a meal with loved ones.
Have a back up plan when you get sick. Driving with a bad cold is not fun. For one week, we did not feel well enough to drive our motorhome. This meant we had to look for a place to camp until we felt better.
To view all reports, RV Living Costs: Full Time in a Motorhome for One Year.