Whether you own a traditional house or a home on wheels, there are repairs that come along with it. In the RV world, the Class A motorhome is well known for its grand view of the road and also for its high windshield replacement cost. Unlike a Class B or Class C, the windshield in a Class A is likely one to two large pieces of glass. When we made the decision to go with a Class A motorhome, we knew a windshield replacement was one of the items we had to set aside money for. This is our experience with our RV windshield repair and replacement.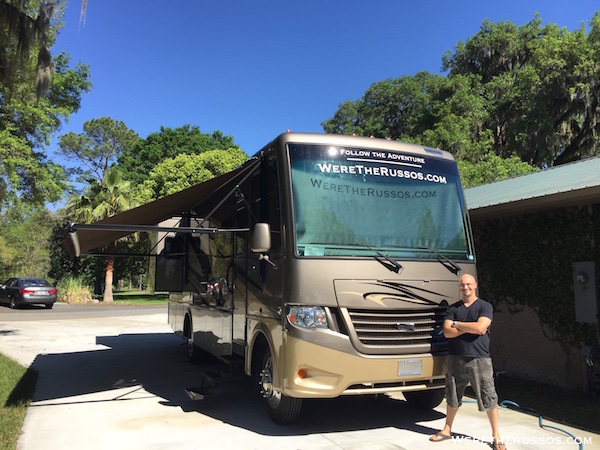 RV Windshield Repair and Replacement
Repair the damage immediately. The first rock chip hurt, a lot. I remember cringing when we heard it hit the windshield and called Progressive immediately to have it repaired. Safelite AutoGlass came out the next morning and repaired the damage for $65, which was fully covered by Progressive.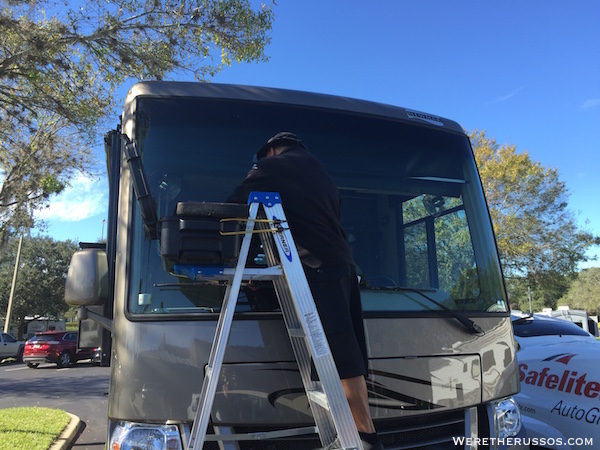 Not All Repairs Work. Seven months later, the first repaired chip spidered out into a giant crack across the middle of the windshield. So nearly 10,000 miles and six rock chips later, we had to get a brand new windshield for our motorhome.
Install New Windshield at the Factory. Since we were no where near Newmar when the windshield cracked, we called them for a recommendation on where to go. The customer service representative said one of the items they recommend having done at the factory is windshield replacements. Otherwise, it could leak, get stress fractures or pop out if not put in properly. We read many stories online which confirmed that these things can and do happen. Newmar will cover all work performed by their technicians for one year from the date of installation.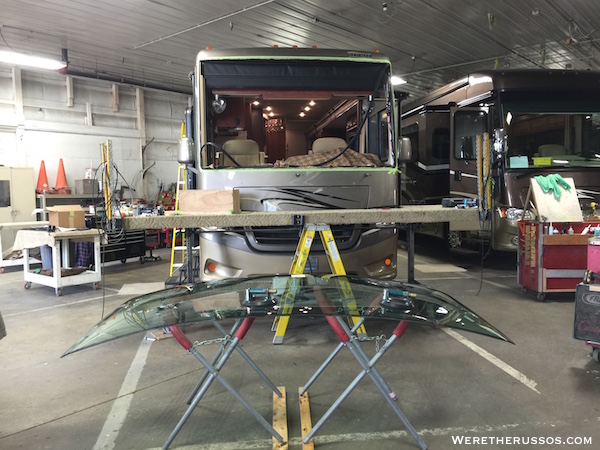 New Windshields Need to Cure. Newmar kept our motorhome in the service bay for one night to allow time for the windshield to cure and seal properly. We ended up at a nearby motel for a night. Our insurance policy has emergency coverage that will pay up to $750 per incident. The claims representative in the glass department confirmed that our motel would be covered through this and we would pay up front and submit the receipt for reimbursement.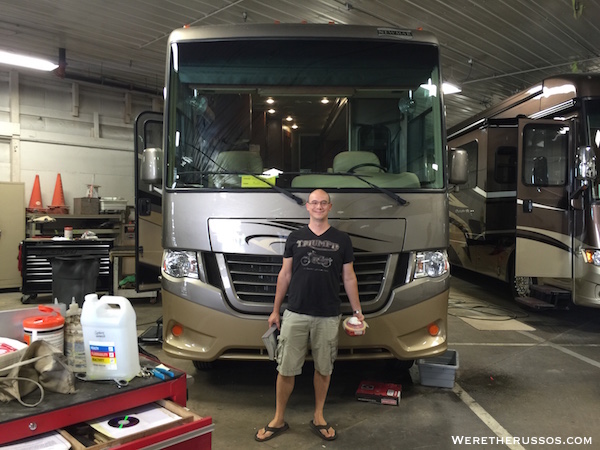 New Windshields are Expensive. The one piece windshield for our motorhome was $1,450 and that's before labor, additional parts and tax. The final cost of the windshield replacement came out to $2,533. We met a Ventana owner that also had their windshield replaced at the factory and their cost was around $2,900. Below is a portion of our invoice (tax not listed).

Insurance Coverage. Progressive paid for a good portion of the cost, but we still had to pay a $500 deductible and the additional labor cost. Since we decided to have Newmar perform the replacement, their labor cost was higher than another company in Elkhart. So, Progressive only covered up to the cost of the quote from the cheaper company and we had to pay the difference. We ended up paying $826 total for the windshield repair.
Not sure there's much we could have done to avoid all the rock chips and the crack and it came down to bad luck. There are products on the market that are made to strengthen the windshield, but we have friends that have been on the road for years without any issues with their windshield. Hopefully this new windshield will last longer than the first one. Now we need to decide if we want to replace the front decal or leave it as it.
NOTE: If you're a Florida resident and have a Florida insurance policy, you don't have to pay a deductible for windshield replacements. Read Technomadia's post about their RV windshield experience for their vintage bus.