Newmar's customer service is top notch. We've owned our Newmar Bay Star since June 2015 and have had multiple interactions with Newmar's customer service department and warranty appointments. All our interactions have been better than we expected (knock on wood). This is our experience so far with Newmar warranty and customer service. We will update this post as we have more experiences to share.
Newmar Warranty and Customer Service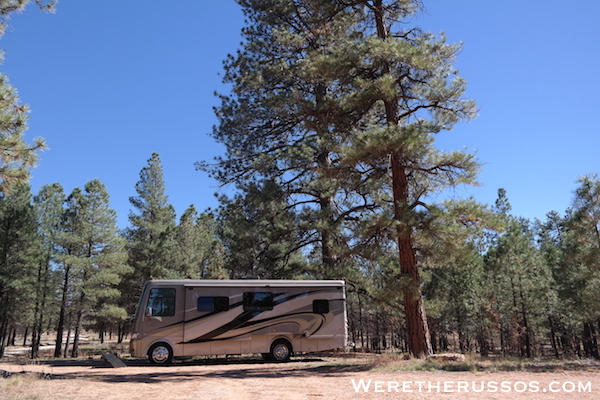 Newmar Warranty
Newmar offers a one year expressed limited warranty (transferable) and five year structural warranty (non transferable – available only to the original purchaser). The structural warranty covers "the steel/aluminum structure of the sidewall, roof or frame" and includes labor and parts.
Every Newmar coach is assigned a unit #. That number is referenced for warranty work and customer service calls. We're told the unit # allows Newmar to track the specifics for that coach from the size and make of the generator, to the interior color palette. Whenever we call customer service or make a warranty appointment we're asked for the unit #.
We reference Newmar's find a service center map as we travel around the country to see where we can take our coach for warranty work.
Experience 1: Before we hit the road to full time, we lived out of our coach for two months to work out kinks and take care of warranty items. One month in and we had good list of items to be looked at. We called Coast RV Center in Aguora Hills – the closest Newmar service center and found out the earliest appointment was over a month out. We booked the appointment and added more items to the warranty list.
The main items we needed fixed were: leaky shower faucet, censor fell off fresh water tank, seal around bathroom sink came off, one overhead LED was dim, and a piece of molding split. The service center had most of the replacement parts on hand and took care of the work immediately. The molding had to be shipped by Newmar, which was sent overnight upon approved.
We appreciated the quick turn around on the warranty work approval by Newmar. All the items were taken care of without any delay that we were aware of. We brought the coach in on a Wednesday morning and it was ready Friday afternoon that same week.
Experience 2: The coach had to be aligned, not something a Newmar service center could handle. Newmar approved the warranty work over the phone and walked us through the process of getting reimbursed for the cost. We found a truck service center nearby, paid for the work, submitted the receipt via email to Newmar. The check arrived about one week after we sent the receipt. A easy and painless process.
Experience 3: We have an appointment with Independence RV in Winter Park next month and will share that once the work is complete. Update: Had our initial warranty appointment with Independence RV and so far so good. They were able to fix most of the items on the list and what's left will need to be approved by Newmar. Once it's approved, the parts need to be delivered and we will bring our coach back for a follow up appointment.
The main items we needed fixed were: readjust and secure the fabric in the awning, replace the front shade and motor, align the bay doors, reattach the shower lining and fix the door rattling. The part for the front shade can take up to 6 weeks so we will go back for our service appointment once that arrives along with the other parts.
Unlike our first experience, Independence RV performed all the work they could in one day and gave us our home back before the end of the day. We do have to bring it back when the rest of the parts come in, but that will also be a one day visit. This is much better than having to leave our home for a few days and find a couch to crash on. We were impressed with their level of service and the attention to detail. They fixed some items we didn't even know about such as realigning the slides.
Newmar Customer Service
There are two ways to contact the customer service department: phone (800-731-8300) or email (customerservice@newmarcorp.com). The business hours are 7:30am-4pm EST and there is an after hours representative for emergencies. We've contact Newmar through both channels on multiple occasions and during off hours.
Experience 1: On our drive from Eagle, CO to Fort Collins, CO we decided to pull into the rest area at Vail Summit Pass for a quick break. We had a difficult time getting the coach door open and once we were out we couldn't close it. We called Newmar right away and the representative told us they could send out a mobile technician to look at the door if we are unable to close it. If we are able to close the door, they could make an appointment for us at the next service center. Fortunately, we had the tools to temporarily fix the issue and make it to the next service center.
We called around 10am and Newmar made an appointment for us at the next service center for the same day. The service center was expecting us when we arrived and looked at the issue right away. We told them how we fixed the door by adjusting the latch and they said it's what they would have done. Since we fixed the issue ourselves, we ended up leaving without having any work done.
This experience demonstrated to us the value and quality of Newmar's customer service. We reached a representative immediately, they provided us with options on how to resolve the issue and were able to get us a same day appointment at a service center.
Experience 2: While dry camping in Flagstaff, Arizona we experienced our first few nights of below 32 degrees temperatures. We called Newmar about how best to handle the below freezing temperatures in the Bay Star. It was a weekend and we ended up leaving a voicemail for the customer service department. We didn't expect a return phone call until the next business day, but to our surprise, Newmar called us within a few hours and the representative stepped away from his son's birthday party to talk to us.
It turns out we didn't have anything to worry about with the temperature. The representative even chuckled when we told him our concern and said he just spoke to a customer who was in a few feet of snow and didn't have any problems. Apparently when the furnace is on, a fan pumps hot air into the bays containing the holding tanks to keep it from freezing. We ended up running the furnace and turning on the heat pad on the few nights the temperature dipped below freezing.
The fact that we didn't have an emergency and Newmar called us back within a few hours on a weekend was impressive.
Overall
We have had positive experiences so far with Newmar's warranty and customer service. Update 6/24/16: We spent nearly three weeks at Newmar factory in Nappanee getting warranty and retail work done on the coach. You can watch a video about our experience below.
Note: Newmar has an online catalog where owners can purchase products. We haven't bought anything, but it's interesting to browse and see what's available and the cost.