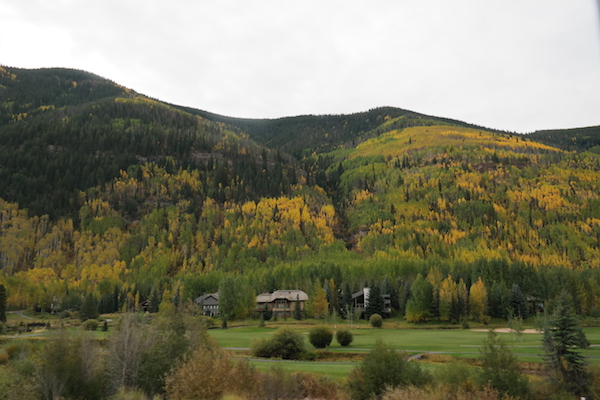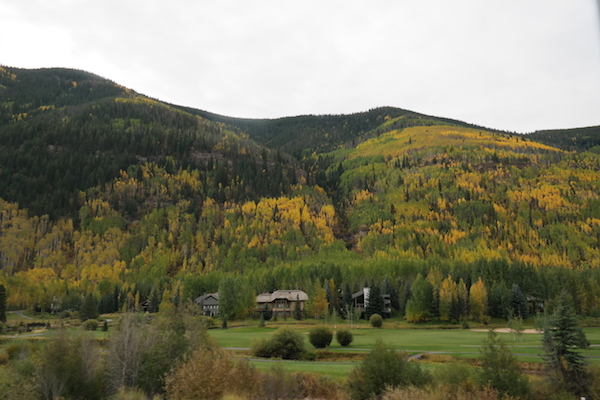 The I-70 drive into Colorado towards Denver is not to be missed. We've done the drive in a car, motorcycle and now in a motorhome and it has been breathtaking each time. We were slightly concerned about going over the Rockies in a gas powered motorhome towing a Jeep Wrangler. However, going up the hill at 30 miles per hour made us appreciate the beautiful scenery much more than we did when we took the car and motorcycle.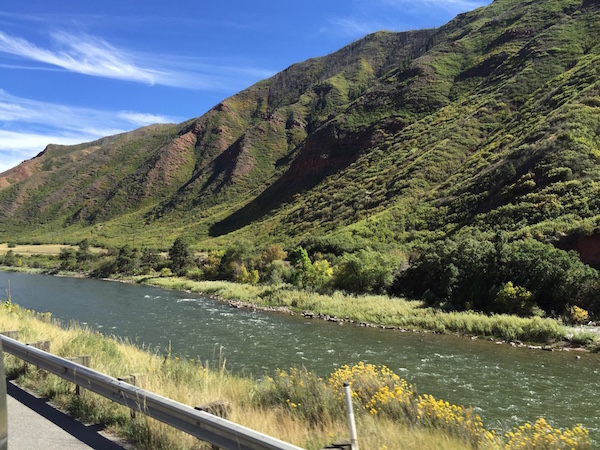 Our first stop in Colorado was at the Fruita welcome center. The main reasoned we stopped here was to take advantage of the free dump station to empty the black and gray tanks before tackling the Rockies. We dumped around 60 gallons, which made us roughly 650 pounds lighter. The two dump stations were very clean each with drinking and non-drinking water. Many RVers stopped here to use the facility during our visit.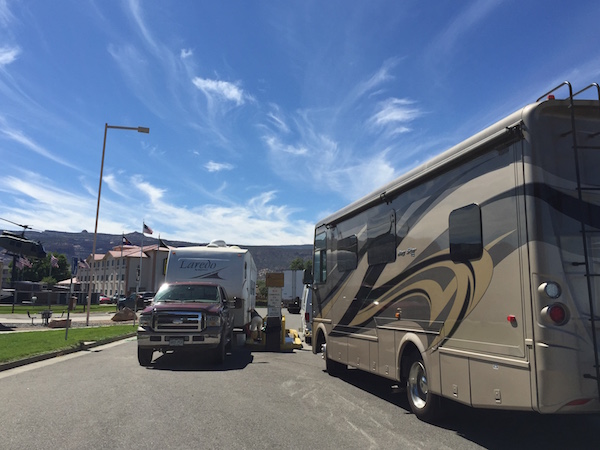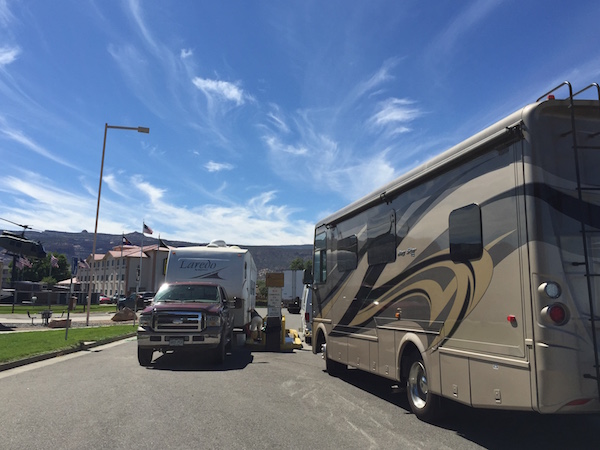 We made our way through Grand Junction, Glenwood Springs and stopped in Eagle, Colorado for the night. There was a good gravel lot adjacent to the fairgrounds and right along the Eagle River with overnight parking. The lot was huge with plenty of room, the only downside was being flanked by semis driving in and out all night. Luckily, we got there in the early afternoon and snagged a spot right next to the fence with a view of the river. One place we wished we visited along this portion of the drive was the Hanging Lake. If you stop in Glenwood Springs, hanging lake is just a short drive away.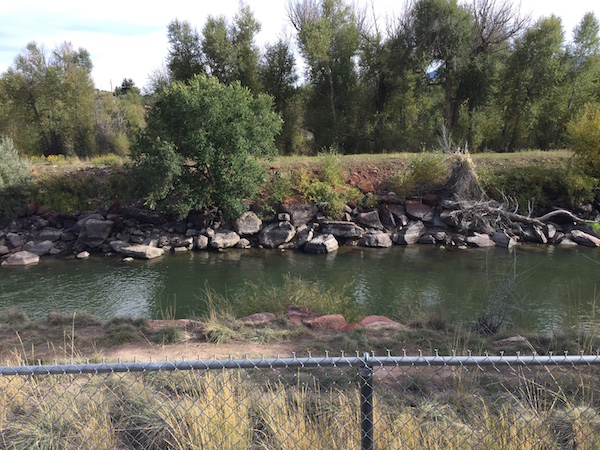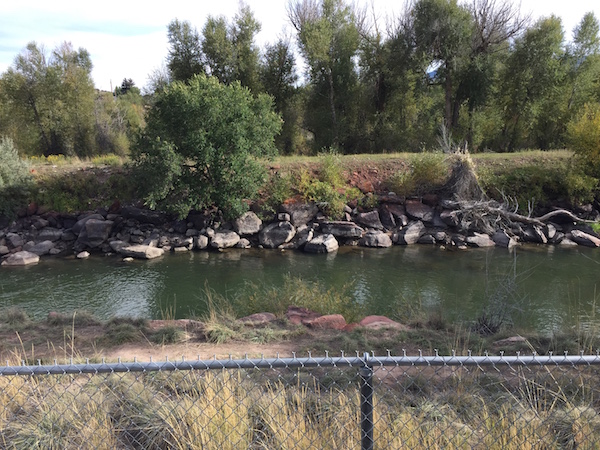 The next morning we hit the road at 9am and made our way towards Denver, Colorado. The drive through Avon and Vail was beautiful and we stopped at Vail Summit Pass Rest Stop around 10K feet in elevation to take a break. During our stop, we ran into a slight problem with the door to our coach – it was stuck! Once we got it open, we couldn't get it closed. Luckily we were well prepared and Joe got out his tools and some washers and fixed the issue in a few minutes.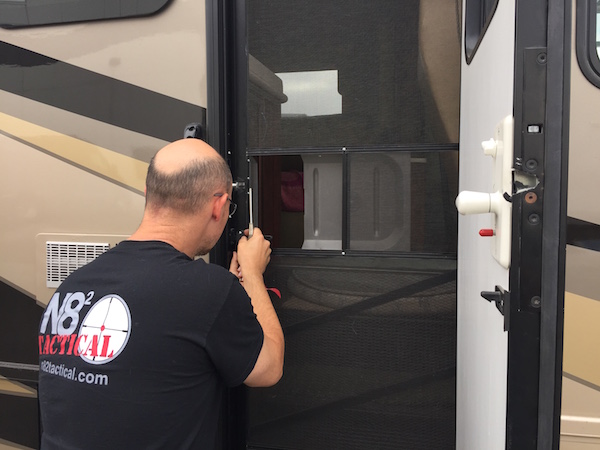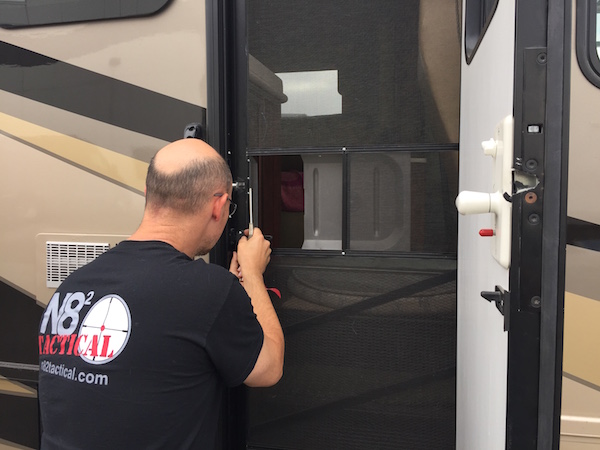 Going through the Eisenhower Tunnel was quite a treat. It's 1.7 miles which is an amazing feat of engineering and very reminiscent of the Lincoln Tunnel in New York City. The entrance to the Eisenhower Tunnel was impressive and once we got through it was a downhill drive towards Denver.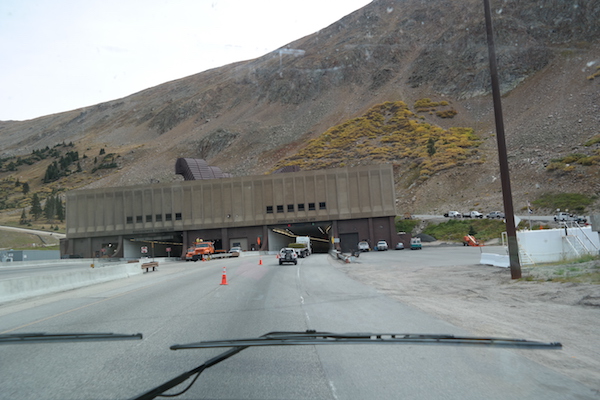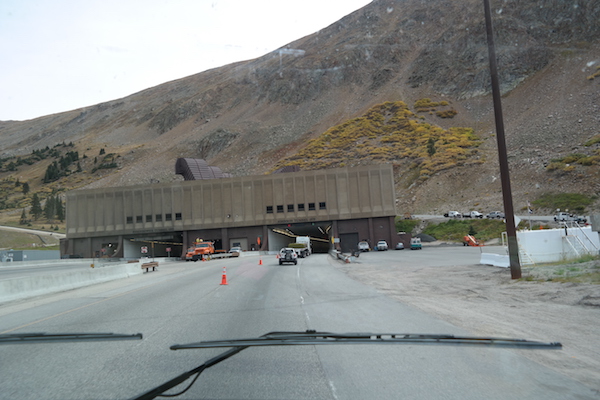 Overall, this is not a drive to be missed, especially in the fall when the leaves are changing. We were a bit nervous prior to the drive wondering if our gas Class A RV would be able to make it up the steep grades towing our Jeep ,but we did it without a problem. We were going about 30-35mph the entire way up, which was a nice change of pace and allowed us to see much more scenery than we had in the past in a car or motorcycle.