There's nothing quite like the joy of seeing that "rest area" sign when you're in need of a break. We've pulled into many rest stops across the United States and one thing we've learned is rest areas are not created equally. The number of parking spots, amenities and rules vary from state to state. While some states allow overnight parking, others states make it unlawful. This post will cover how to find a rest area, parking options, security and our experiences spending the night at a rest area.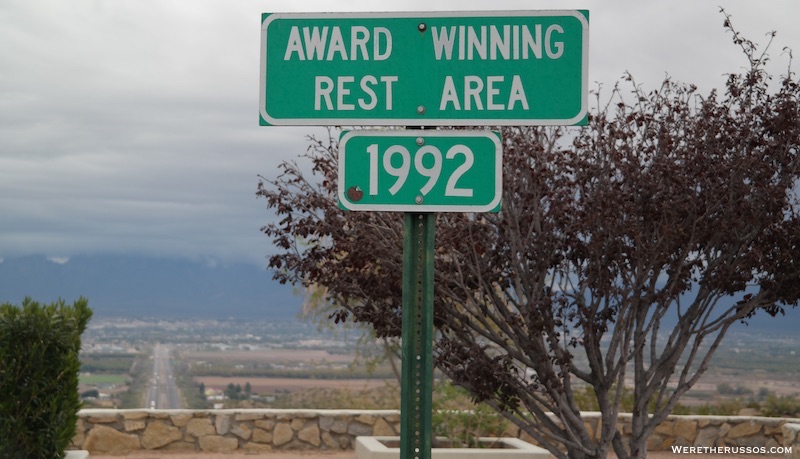 Rest Area Overnight Parking
Each state has its own rest area regulations. To find the most up to date information, visit the state's department of transportation website.
In California, travelers can stay up to 8 hours at a rest area, enough time to get a few hours of sleep before heading back on the road. California Rest Area Policy
In Florida, sleeping is not allowed at a rest area and travelers can only rest up to 3 hours. Florida Rest Area Policy
In Arizona, there is no limitation on how long travelers can park in a rest area. Arizona Rest Area Policy
One thing we like about overnight parking at a rest area is the easy access to the highway. Pull into the rest area, eat, sleep and pull right back onto the road.
How to Find a Rest Area
Besides looking for signs on the highway, we use one of our favorite RVing apps: Allstays Camp & RV to locate a rest area. There are multiple "Rest" filters in the app that can be applied to display all the rest areas within a certain range on the map.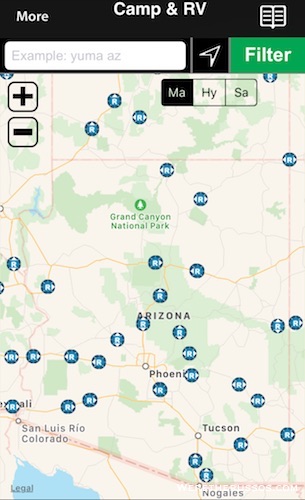 Rest Area Amenities: Free Dump, Hookups and More
Restrooms, picnic tables and drinking fountains are standard at most rest stops. Some provide additional amenities such as free dump stations, electric hookup, wifi and vending machines.
Rest area amenities are often posted at each location. Some amenities can be found in the rest area details section of Allstays.
The rest area near Sonora, Texas on Interstate 10 has WiFi, potable water and an RV dump.
Parking Options: Trucks, RVs, Autos
Rest areas often have separate parking for RVs/trucks with clearly marked signs. These spots are marked by white lines on the ground and typically large enough to fit an 18-wheeler.
When we traveled in the 29' motorhome and tow car, we always parked in the RV/truck section. Watch video of our Class A RV rest area experience.
With the ProMaster camper van, we can pull into a parking spot in the autos section. Watch video of our camper van rest area experience.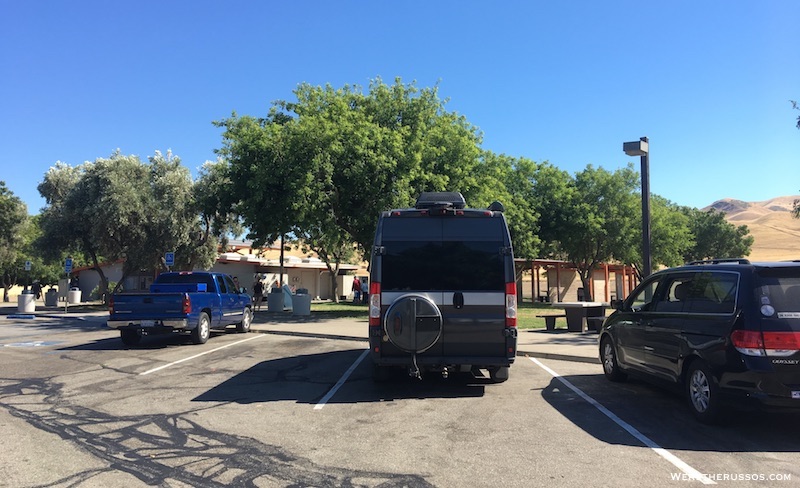 Security
At some rest areas, we've seen posted signs saying the area is patrolled by security. It's not something we take into consideration because there's no way to know how often the area is patrolled. Having spent the night at different rest areas around the country, we've never had a concern for safety.
Rest Area Experiences & Tips
The first time we spent the night at a rest area was in Las Cruces, NM. This was when we thought we were long haul drivers and made an 800 mile trip in two days. The first leg of our crazy drive was from Tucson, Arizona to Las Cruces and spent the night at the rest area. We had no idea until we pulled up that it was an award winning rest area with spectacular views. If you're driving through Las Cruces, New Mexico, stop in for a break and enjoy the views.
Since our first overnight at a rest area, we've spent the night in Arizona, California, New Mexico, Oregon and Texas.
Arrive early and have a backup plan. For the best chance of getting a truck/RV spot, arrive in the mid afternoon. Some rest areas are more popular than others so have a backup plan if it's full. Look to see if there's a Cracker Barrel or Walmart nearby and call to see if overnight parking is allowed. Truck stops (Pilot, T&A, Loves) are an option, but they can also fill up quickly.
Rest Areas Do Close. We've driven by several rest area that are closed for maintenance or closed permanently. Usually, there is a sign on the highway to notify drivers of the closure, but that's not always the case. We have run into situations where we drive up to the exit for the rest area only to be met by bright orange cones. This is where having a backup plan comes in handy.
Pets. Most rest areas have designated pet walks. Look for clearly marked signs at the rest area.
Additional Resource
Looking for more? Frugal RV Travel has a good article on which states allow overnight parking with links to official information.
If you enjoyed this post, check out Overnight Parking at Cracker Barrel.