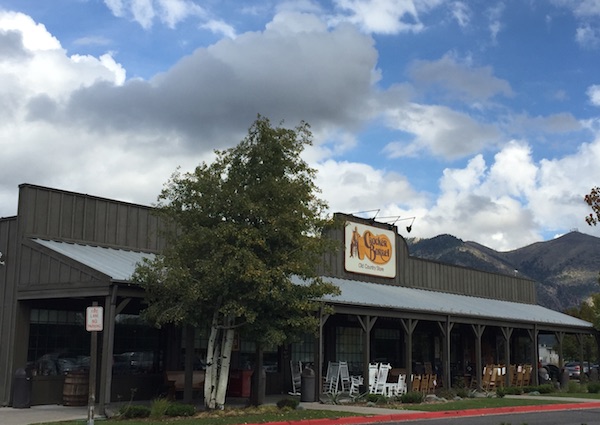 Since we started living full time on the road, we have relied on the RV friendliness of businesses like Cracker Barrel, Walmart and casinos to reduce our RVing expenses. Full and partial hookups are a luxury for us and we try boondock where ever we go. So far, we've had very pleasant experiences boondocking at Cracker Barrel and the staff is always welcoming, friendly and helpful.
Boondocking at Cracker Barrel
RV/Bus parking. Cracker Barrel has a map that you can pick up at any location to see which stores have RV/Bus parking or you can also call the store and ask. There is always a sign for RV/Bus parking which is usually behind the store. The spaces are long enough to accommodate our 29′ motorhome, but not our tow vehicle so we make sure to detach before driving over. The number of spaces vary depending on the store, some have three and others have over ten spaces.
Talk to the manager. Before we head over to a Cracker Barrel, we always call and speak to the manager of the store to make sure they allow overnight RV parking and have spaces available. After we arrived and get settled, we go in to introduce ourselves to the manager so they know who is parked outside.
Jacks, slides and generators. Ask the manger about putting the jacks down, slides out and running the generator. One manager asked us not to put the jacks down without using a pad. Cracker Barrel managers have always been more than welcoming and accommodating and we've never a negative response.
A hearty meal. Depending on when we pull into Cracker Barrel, we will either grab dinner or breakfast the next morning. Regardless of the time, we will always get their hashbrown casserole as a one of our vegetable sides. It's the type of dish that will stick to your ribs and fuel you for the day. According to one of the waitresses some regulars come in just to have a plate of the hashbrown casserole.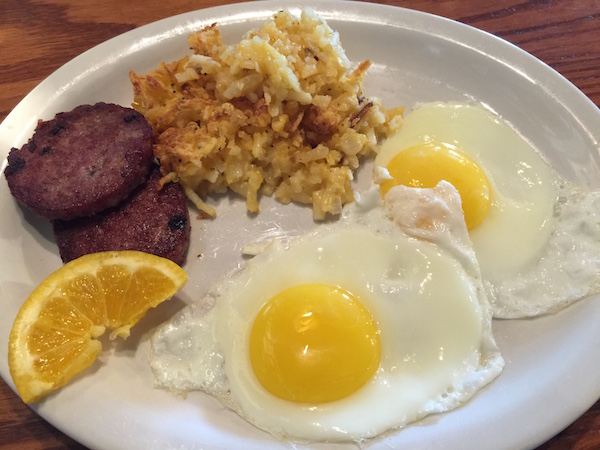 Everyday for lunch the restaurant offers a $5.99 lunch special which we hear is quite popular especially the chicken pot pie on Wednesdays. We haven't stayed at a Cracker Barrel to catch their pot pie, but we probably will somewhere down the road. Besides food, they also have a store filled with an array of items from ornaments to jam to clothes. It's quite fun to walk around and check out all the trinkets.
For us, Cracker Barrel is a good backup plan when we arrive in a new city and need a place to spend the night until we get our bearings. There have been a few instances where a Walmart does not allow overnight parking, but the Cracker Barrel a few blocks away does.
We have found that each location has different rules so it's important to call ahead and speak to the manager. The one down side we've discovered to parking at a Cracker Barrel is having the smell of food in the RV when we run the fans. The perk is getting a hearty meal before hitting the road.
Interested in boondocking? Check out our post on the Pros and Cons of Boondocking.