Some of the links below are affiliate links, which means we will earn a commission on the products or services you purchase using the links. There is no additional cost to you and the earnings help keep this website running. Read the Affiliate Disclaimer for more information.
Imagine you're driving down the interstate, hungry, tired and ready to call it a night. Instead of pulling into a campground, you're looking for a spot to boondock for the night in your RV. One overnight RV parking options is at Cracker Barrel. Keep in mind, every location has different rules so it's best to call ahead and speak to the manager. For some campers, boondocking at Cracker Barrel is a good alternative to campgrounds when passing through a city. Plus, you can enjoy a hearty meal.
Boondocking at Cracker Barrel
In this video, we share what it's like boondocking at Cracker Barrel in an RV. The information is also highlighted in the post below.
RV/Bus Parking at Cracker Barrel
Pick up a map at any Cracker Barrel location to see which stores have RV/Bus parking. Another option is to look up the location on Allstays. When you pull into the parking lot there is usually a sign for RV/Bus parking. The parking is usually behind the store with spaces that are long enough to accommodate a large motorhome.
The number of RV/bus parking spaces will vary depending on the store. We've seen some with three narrow spots and others with over ten spots wide enough to put a slide out.
This is our ProMaster camper van parked at a Cracker Barrel in North Carolina. Since the van fits in a standard spot, we did not park it in the dedicated RV/Bus parking area.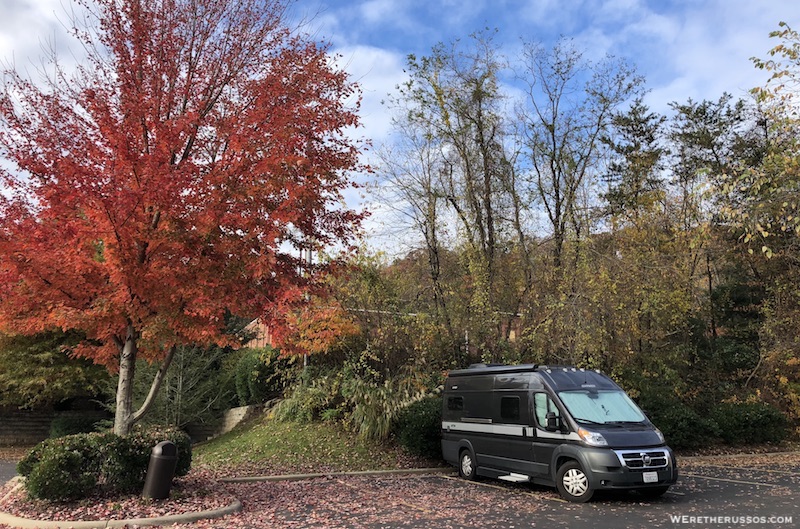 When we had a Class A motorhome, we would detach the tow vehicle and parked it in a standard spot. You will see in the overnight parking at Cracker Barrel video that some locations will allow parking anywhere in the lot.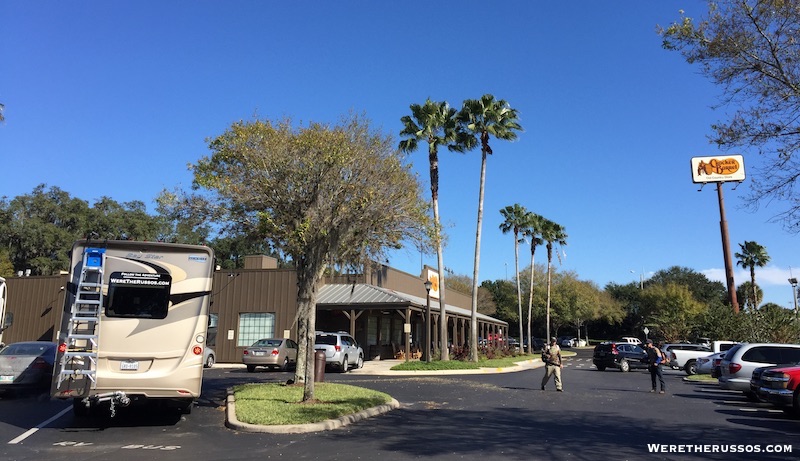 Speak to the Store Manager
We always call the store and speak to the manager before we drive to the Cracker Barrel. This allows us to ask questions about the store's RV parking policy and availability. Is overnight RV parking allowed? Where is the parking located? How many spaces are available? Are the spaces on a steep hill? Once we receive the green light from the manager, we drive to the Cracker Barrel, setup and head inside to introduce ourselves. Unless you arrive after hours, it's good to let the store know you're going to park overnight.
Jacks, Slides and Generators. Ask the manger about putting the jacks down, slides out and running the generator. One manager asked us not to put the jacks down without using jack pads. We've found all Cracker Barrel managers to be more than welcoming and accommodating.
Unlike overnight parking at a Walmart, we've never had a Cracker Barrel manager tell us we couldn't park overnight. The staff is always welcoming, friendly and helpful.
What About Safety?
Once Cracker Barrel closes for the evening, the parking lot is empty. Unless you have a fellow RVer parked next to you, it's going to be a quiet night. If safety is something that you're worried about, bring it up when you speak to the manager.
Some stores have security patrol at night, others have local police that will drive by. We've never been concerned about safety while boondocking at Cracker Barrel. Check out our post about RV Safety and Preparedness.
A Hearty Meal at Cracker Barrel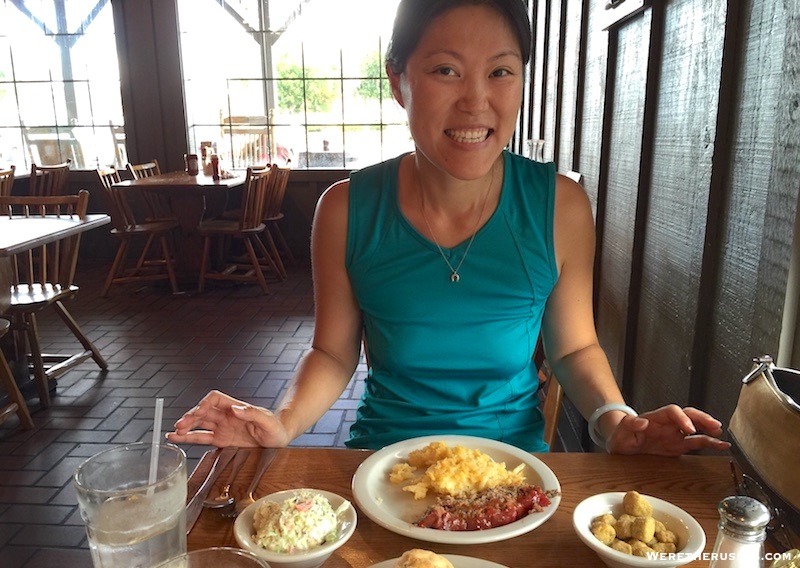 Depending on when we pull into Cracker Barrel, we will either grab dinner or breakfast. No matter the time of day, we usually order the hashbrown casserole. According to one of the waitresses we met, the side is so popular some regulars come in just to have a plate of the hashbrown casserole. Do you have a favorite dish at Cracker Barrel?
In addition to food, Cracker Barrel country store is filled with an array of items from holiday decorations to jam and clothes. It's quite fun to walk around and check out all the trinkets.
Do you enjoy spending the night in urban environments in your RV? Check out our post on Stealth Camping.